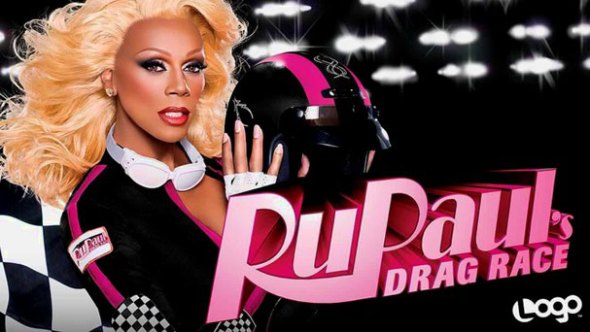 Hello, hello, HELLO! Welcome to my recap of RuPaul's Drag Race!
We hope you enjoyed TTM's take on the cuntroversial episode that saw not one but TWO queens, Laila McQueen and Dax Exclamation Point, sashaying away. It was a sad moment but I think Ru was justified, neither of them were relighting my fire with two very lacklustre lip-synch of the ultimate gay anthem, "I Will Survive", errrr, no, no you will not. See you, bye!
It ended with Mama Ru on the phone to a mystery person, begging them to return, who could it be?? The Ru-niverse exploded with conspiracy theories....would it be Willam, a queen who many think would have reigned over S8 had he not tickled his BF's nads on the sly? Maybe the much loved Russian housefrau, Katya from S7? Hmmmm, it was all a bit shady to me as I feel the only queen who can return is Naysha, the beauty queen who was eliminated in E1, that's how Mama Ru rolls, but we shall see...
Back in the workroom, the queens are all gagging about the double elimination. Chi Chi sums it up, "If you ain't stepping that pussy up, yo ass is going home!" AMEN! They speculate who it might be...Porkchop? Now there's a name I haven't heard in a while! Maybe Shangela? Who knows...
Ru arrives and has the pit crew (WOOF!WOOF!) bring in the props for the mini-challenge where they must gussy up some black judges robes, 'think Judge Judy couture!'. It's a Supreme Court fashion Show! Bob the Drag Queen comes out looking like an extra from Harry Potter who's drunk the LSD-spiked Kool-Aid, Naomi Smalls has some skanky lycra booty shorts on that would make Kylie Minogue blush, Dazza Bazza is looking B.U.D.G.E.T in hot pink feathers, Cynthia Lee Fontaine is giving me serious giggles with her face, loving dat FACE! Betty is all sequined up with some serious face stubble, Robbie Turner appears to have hit the dress up box of Pee Wee's Playhouse, oh Kim Chi just NO, you could have used your time a lot more wisely, Thorgy cracks me up with her Carol Burnett-esque get up and slapstick and ChiChi shows off her expert twerking skills in some gold get up.
WINNER OF MINI CHALLENGE: Naomi Smalls, rilly?? Nah, cannot get behind this decision, Thorgy was much better, humph.
Now it is time to announce the return of......*didididididididdle drum roll*......NAYSHA LOPEZ!! Told ya so....
Cynthia is over the goddamn moon but the other girls are less than impressed, "Naysha should have walked in with her luggage and just kept on walking," says Robbie, meeeeeow! Now it is time for the main challenge of the day, they will be filming "RuCo's Empire", yes, kitty girls, it's Cookie time! Naomi is one team captain and Naysha, as a welcome home 'gift' is the other.
TEAM NAYSHA: Dazza Bazza, Thorgy Thor, Kim Chi, Acid Betty.
TEAM NAOMI: Robbie Turner, Bob the drag queen, Chi Chi De Vayne, Cynthia Lee Fontaine.
Naysha's team is in trouble from the get-go, not only do they have Acid Betty's misanthropic put downs to deal with, Naysha clearly has no casting ability when she tells Dazza Bazza she is perfect for the 'radical activist lesbian role'. Naomi is all over it though, casting Bob as Cookie and it's 'a match made in heaven' because they are both 'handfuls'. Bob is hamming it up all over the place as Cookie and it's pretty damn good but can the other queens hold up?
Chi Chi is confident they can win, they have Robbie, a trained actor, giving them lots of good tips. Across the way, no one can really understand anything Kim Chi is saying but she is certainly trying hard and I think she has some comedy chops. Naysha makes a good call and swaps Kim Chi as Cookie to Thorgy, nice.
Hip-hop star Faith Evans is co-director with Ru and it is Naysha's team up first. Betty and Thorgy nail it but Kim Chi's timing is allll off, she is trying really hard but it is just not gelling.  Ru and Faith try and teach her the 'ratchet tongue tock' that Alyssa Edwards made so famous but Kim Chi don't have a mouth dat works dat way 🙁 But she practises and actually gets it, which is awesome, I love me a bit of Kim. Dazza Bazza does not fare well and Ru tells her 'you're just not connecting with anyone, just make sure you that you command the room', but she looks all sorts of awks in her giant afro, so un-Britney, bitch. Naomi's team are freaking out that Faith Evans is there, do we think they have an advantage having ALL the ladies of colour on their team, let us see. Bob and Naomi kill it, "You say this is an 'over-acting' challenge?" says Bob. "You ain't gotta tell me twice," Seems like this team are also having trouble with the casting choice of the 'strong, gay woman' Ginger Snap, as Cynthia Lee struggles to even get the words out of her mouth, so, a normal day for Cynthia then. Bob declares Cynthia 'hilarious for allll the wrong reasons' and Robbie flubs his lines and voices, which is odd because he was one of the strongest in an acting challenge.
It's time for the workroom intimate moments and we learn that Thorgy lost her Mom when she was 19 to cancer but her parent's were all like 'everything's fine' until, one day, her Dad called and said she should come home to see her Mom and she died the day Thorgy came, so sad. I wanna hug Thorgy so bad! He's angry that he didn't get to say goodbye properly but he doesn't want to upset his father 🙁
IT'S ROLLER-RU!!! YAAASSSSS! Tonight's runway, all the queens are rollerskating, this should be fun.
NAYSHA: you know, I am digging on this Xanadu realness but her skating skills are a little, ah, patchy? Cute booty though and her tuck game in pale pink lycra is EN POINTE.
THORGY THOR: yaaaassss Wired For Sound realness! I love it and she is very at home on the skates, Thorgy FTW!
DAZZA BAZZA: hmmm, not sure about the sparkly cotton ball dress? Looks like she skinned 40 My Little Ponies to make it and not in a good way.
KIM CHI: yeah, I dunno about the parrot get up, she plays it safe on the skates too which, although she doesn't fall, makes her look basic.
ACID BETTY: I am LIVING for this look, it is untold and she doesn't fuck up the skating, she looks like an extra from Mad Max.
NAOMI SMALLS: her outfits are always so, so simple, right? I get it, you wanna show off those pins but glam it up a bit. This is not a great runway, she pretty tho.
BOB THE DRAG QUEEN: she's looking like she is over-thinking the whole not falling over thing. Her outfit is ok but I don't think she is pulling off the Tron-esque roller robot thing, soz Bob. Love you, mean it!
CYNTHIA LEE FONTAINE: looks a bit like she is wearing a nappy in those shorts, ugh. The whole C&W thing looks a bit tired, she need to go. Just nope.
CHI CHI DE VAYNE: owns it in fluoro yellow and this girl can SKATE, lawd! She even goes backwards, now those are mad skills.
ROBBIE TURNER: does ok in a great denim outfit that I think I may have worn rollerskating in 1979. She is also wearing her 'Aunt Diana's hair, I scalped her in 1975', I hope this runway redeems her.
THE VERDICT:
SAFE: Chi Chi, Kim Chi, Naysha, Naomi
Mostly agree with this but I think Kim Chi scraped through JUST. Lucky for her BOTH the Ginger Snaps were turrible. Naomi played it ultra safe today, nothing wrong with that but I can't get a read on her actual personality yet.
TOPS: Thorgy, Betty, Bob
Totes agree with this, Betty wasn't amazing but she differentiated the character better. I can't decide between Thorgy and Bob as to who was the best, why can't we have BOTH? They are definitely cementing themselves as my two fave front-runners. Magnificent, charismatic performance by both.
BOTTOMS: Dazza, Cynthia, Robbie
Hmmm, sorta agree with this. Dazza is such a limp biscuit in my opinion, I feel like she has to rehearse something over and over and over to get it good so she flails a bit in these challenges where prep time is at a minimum. Robbie just spent too much time helping others and Michelle is right, don't be a victim, this IS a competition and you will get thrown under ALL the busses befire another bish help you. Cynthis is lovely and all but not a great actor or dresser, those nappy shorts! Fruit of the LUMP!
WINNER: BOB THE DRAG QUEEN! YAY!
LIPSYNCH: Robbie (NOOOOO!!!) and Cynthia (agreed)
Oh man, I would have picked Dazza Bazza NOT Robbie, grrrr. They have the choice to lip synch in heels or wheels, Cynthia plays it safe in heels but Robbie is gonna rock those wheels, baby! I'm in this for Robbie, he's got so much left to give but Cynthia, sweet as she is, just isn't cutting it. Robbie has a ball on those wheels and even does an impressive twirl. So who will reign supreme as the roller disco goddess?? ROBBIE! Nice flip off the stage at the end too. It is time for Cynthia to sashay away, awww I'm a bit emosh but it was the right thing to do.