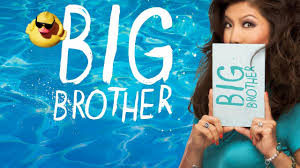 Here we are at the next Live Eviction on Big Brother. I think we all know where this is going; Curly Cue is headed out that door finally. I really don't see any other scenario playing out. But, hey, this is BB, so you never know! Let's go.
Jules comes out in a romper dress the color of a paper bag that a kindergartner or a lady prisoner wouldn't be caught dead in. I think she feels the same way about it that I do. *My stylist hates me*
Meanwhile, back to the house, shenanigans after the POV. Michelle tries to chuck Bridge under the bus to Natalie and Da', when she tells them about their confrontation, but she forgets that Natalie and her are BFF's. No sympathy there.
Bridge cries in the DR that she doesn't have any friends in real life, nor does she have any in the BB house, but darned if Frank likes her for some reason and he's special, blah, blah, blah. Girl, you best be checking yourself; there's usually a reason a person has no friends.
Michelle is in mean-girl mode and still hating on Bridge for being so tight with Frank. She then sobs on his shoulder about him going home and everyone is like - DUDE! C'mon! Frank sympathizes to her face, but in the DR, he's all: well, she could've used the POV on me if she's that upset.
The house guests gets clues to another twist, and they search around the house looking for them. There are posters of countries in the rooms, and they need to figure out the code to dial on the payphone. They know it has something to do with the city of Paris because of a flight schedule that's up, and Paul figures out that he should simply dial P-A-R-I-S on the phone using the alphabet under the numbers, and boom! He's absolutely right.
A recorded voice tells him about a secret room under the payphone that he can sneak into, but that he'd be wise to keep it to himself and come back unseen later if he wishes. So, he keeps it to himself and scurries off to try to distract Frank and Bridge from figuring out the code.
After awhile he can't stand it anymore and goes into the booth and slides through the tunnel to the secret room. There are envelopes all over, and he can pick only one. There are eleven of them and 10 have a one-way ticket, while one has a round-trip ticket. This means that the one house guest that finds the round-trip one will automatically go right back into the house when they get evicted. They cannot open the envelope; Julie will do that after eviction.
Paul tells the whole house what and where the room was, but he won't tell them the code or how many cards there were. They all keep trying and Victor figures it out next, and one after another they all figure it out. Dear bob, if Frank has the round-trip ticket. GAH. A one out of eleven chance.
We get to see Jason, who was Da'Vonne's bestie from their former season. He says he's still the same: broke, living in mamma's basement, working in the grocery. He thinks she has a chance, and he hope the showmances will overshadow her drama.
Meg from her and Jame's season, talks about James and cannot point out enough how they were ONLY FRIENDS. She thinks Da' is James's biggest threat and he should watch her.
Hayden talks about Nicole, and says they dated for a year and a half after their season. He's actually very sweet about her and seems zero bitter and wishes her well. Their showmance was kinda cute.
Mike Boogie, looking shockingly older than I remember him, talks about working with Frank, and he says that he is playing a "horrible game" and making himself a target. He says not to count him out though. Ahhh, remember the good old days with Boogie and Dr. Will?
It is Live Eviction time, and Julie congratulates them all on the envelopes they found in the Secret Room. She then asks the two nominees to state their cause. Frank thanks his family and Bridgette and then jokes about how he hates the rest of the house guests; he'll see Jules in a second. Bridgette says it's been amazing and she's happy to have met Frank, she's sad he's going.
Imma cut to the chase - It is unanimous and when Julie gives the news, and he leaves, the rest of them all say "Ding Dong!" Hahaha
Frank and Julie sit down and it's time to reveal his ticket. The house guests go live to see the reveal and she opens it up. And: it is a one-way ticket, so no more Frank. Awwww. Not really.
Julie asks Frank what happened in the house since they were all working together at first. He's not sure, but he basically blames it on Da'Vonne. She also asks him if he made a mistake not keeping any secrets in the house and he said he probably did; he's always had a big mouth and trusted too easily.
He then watches his goodbye videos and James tells him that there is only room for one America's Favorite Player, while Franks shakes his head and says he gave him that one. Nicole says he threw her under the bus too much, but no hard feelings, Da' says he's Frank the Snake, BAI. Bridge says she'll never regret meeting him, she will never forget their time together.
There is a new HOH and it's called "Perfect Shot". They have to roll a red ball on a curvy slim board to get it to the end. The house guest with the perfect shot gets HOH. If no one gets a perfect shot, then the one that shoots it farthest wins HOH. They get to practice with a yellow ball for as long as they want, but they only get one shot with the red ball. This is going to go on forever, you guys.
America gets to send "America's Care Package," Julie tells us. It's an advantage for a house guest and you go online and vote for which one you want to receive it. See you next time when we find out who is the new HOH!