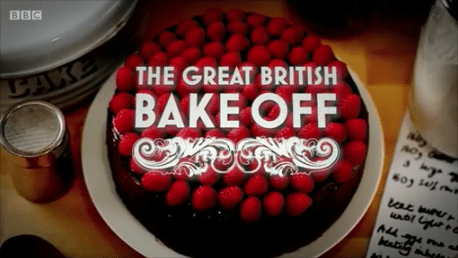 Hi guys! Welcome back to the Great British Bakeoff! I'm trying to gin up some enthusiasm, but Tudor Week sounds....it's gonna be fun, right? Right? Thanks once again to my friends Violet, PL and JS who recommended this show for recapping and / or read it and give me feedback. And help with access. So! very! awesome! Rolling GBBO Tudor Week (?) after the break!
Last week we lost Tom of the Thor's hammer much to Paul's surprise, now I just need Selasi to pull up his socks or he'll be next. I think Jane has this, she just needs to show some consistency and Bob's your uncle.
Everyone's excited but nervous about the quarterfinals, Candice thinks they have a musical counterpart: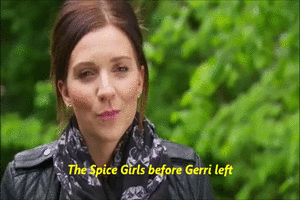 But it's not really the same after the ginge screaming "HE BETTER HAVE A BIG WILLY!!" exits, izzit?
It's Tudor Week! Let's see what our signature challenge is! A display of shaped pies and YAY!! I LOVE making shaped pies! This is gonna be awesome
Paul's thinking Henry the 8th with his laden tables and hot-water crust pies. Selasi's been reading up, so hopefully SOMEONE has a clue. And Jane isn't from Tudor times, Selasi! That might be projection
I make a great Tortiere (French Canadian meat pie) that has JUST the crust they need; my email's on the main page if they need it, right.
Sorry, I love Jane, but this gave me hives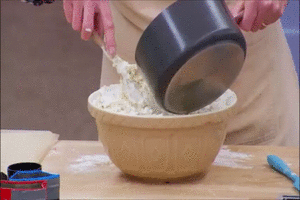 Get a bigger bowl! We'll wait.
While we're waiting for that, let's think about her Tudor Rose Pies. She doesn't have 16 molds, though, er-ooh, that sounds like a pain in the Paul. She's using streaky bacon, which sounds gross but has bacon innit, so I'm reserving judgement. A Jane Seymour pun from Mel and we're off!
Andrew will not be confined to the British Isles, no he will not! He's making a set of super fancy Da Vinci Inspired Geared Pies and that's about right for our brilliant engineer.
Benjamina's fighting wet dough and Candice is walking through her childhood. She's doing two fillings and two different crusts and they all sound vomit-inducing to me, but I'm trying to keep an open mind. Without much success. She's making Cheesy Cheeky (ox cheek? what?) Fish Pies and Macaroni and Cheese Pies and I don't even know. She's shaping the mac and cheese ones by hand and making between 18-22 all together so I will say a little non-denominational prayer for our lady of the M.A.C. counter. All the ohmmmmmms. She's looking quite lovely today, gone with a strong spider-lash instead of the drag queen shading and lip.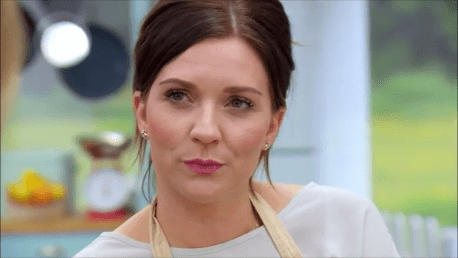 Selasi did his homework, see, so his Bouquet of Flowers is the only one that is truly Tudor. I think it still has to taste good, Selasi! Ohhhh rabbit and pigeon. I'm trying to be more cosmopolitan so I won't expound, Hey! Paul made a joke! And people almost laughed! Good job, Paul, that wasn't condescending in the least.
Benjamina's going on a Mexican Adventure with her Tudor pies! Spanish and Latin flavours were all the rage back in the 1400s.
Dough consistency messing! Everyone seems calm and that worries me. I need just a tiny bit of perspiration, fanks! So far I like Andrew's pies the best because they look so well constructed. I'm concerned about Selasi's sloppy pies but Sue's just over working Candice for an oyster. Got any spares?
Jane's having to re-use her molds, which leads to this: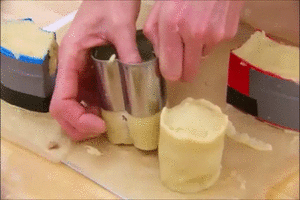 SOMEBODY'S GONNA TELL HER SHE'S GOT A POTENTIAL OOZY SPOT, YEAH?
Oh Selasi. No you didn't. You didn't just grab a pen out of your pocket and plunge it into food you intend to serve to people you don't share bodily fluids with.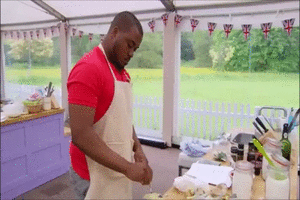 Please tell me I imagined that? Lie if you have to
Sue stands at Selasi's table for a full minute with fresh rosemary jammed up her nose; he addresses all of his comments to the table until snort-laughing for another 30 seconds. I may have watched carefully to see where the rosemary went after... No love
Pies in the oven all! Benjamina can't believe Andrew's all chill, she can't even sort out which rack to use in her oven. All kinds of staring. Selasi offers Mel a pie bribe for more time; I'd take it!
Oh I LOVE Andrew's gear pies! Candice's are a hot mess, I can make a bubbly one going everywhere and burning in the pan too, Candice! Selasi's are all over the place too AND raw in the middle, my goodness.
It turns out I was too rough on Candice, it's a bubbly and squeaky mess all over the place. Candice gets to eat her mistakes, though!
Judging time!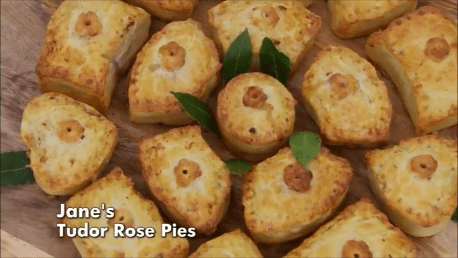 Jane's look good, slight bit of leakage but a great solid filling that tastes first-rate. She even gets a Mary Berry cheer!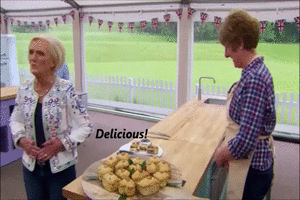 Benjamina's look lovely, but the pastry is not good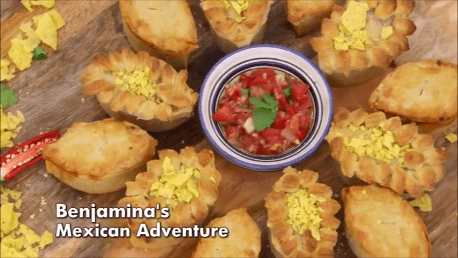 Candice's pastry is too soft and tastes okaaaay. The hot-water crust ones do slightly better, but they are a mess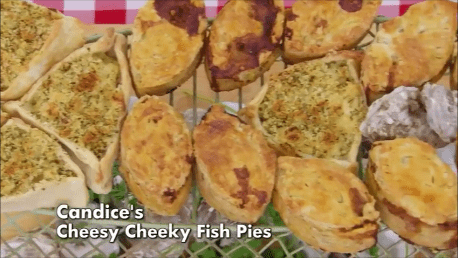 Selasi's shaping is gorgeous! His pastry is uneven, but flavours are lovely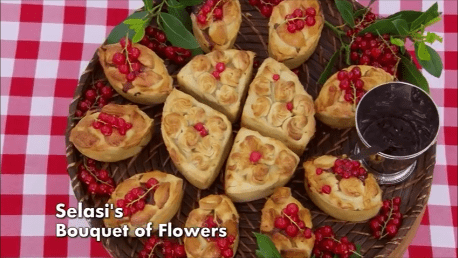 Look! They move!! Andrew does well. Sue would like a pork helicopter, please, fanks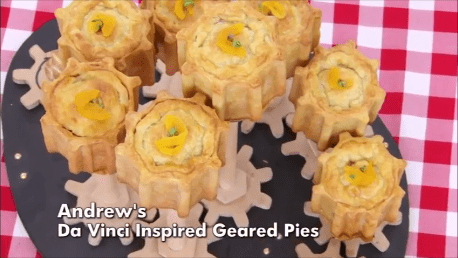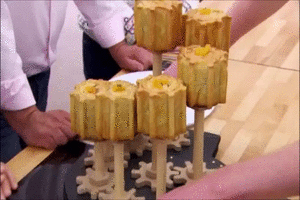 Feedback on feedback, no Curse of the Star Baker! Candice wants to go for it, but she keeps doing a lot and is that the best strategy? She's wondering. I say go for it, might as well be hanged for a sheep as a lamb, do you!
The Paul Technical Challenge is to make 12 jumbles. 6 of each design and I can't wait to see what they look like!
Oh. Like knots of dough. Fancy! Paul says it will show their techniques and also that this food mirrors him: hard on the outside but soft on the inside. Riiight
There's not much for instructions, just make a biscuit dough, then two pictures and no real guidance.
Far too much math is required for figuring out the dough ratios. I don't understand how this is a biscuit. Engineer Andrew is dealing with what every engineer comes up against: inaccurate specs. He's taking the drawing too literally.
So many baking methods! Nobody knows what they're doing and I can almost hear Paul cackling from here. The Celtic knot is particularly difficult to shape properly, Candice's are MASSIVE. They're all pale, nobody knows if they were supposed to put sugar on before or after, it's CHAOS!
Andrew suspects subterfuge re: Candice's suspiciously browned biccies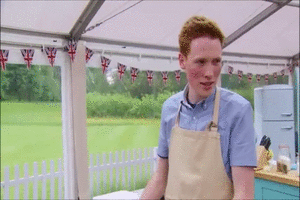 Andrew does middling well, Benjamina's are a lovely colour but are shaped wrong, Candice does well, Selasi's look great to me, not awesome to the judges. Jane's are too pale.
Worst (well, still top 5!) to best are: Jane, Benjamina, Selasi, Andrew and Candice.
Selasi and I are very glad he wasn't last again.
The Show Stopper is a Marzipan Centrepiece in three and a half hours, whut? I don't know what that means but I bet I'll soon find out! I thought Marzipan is what hippies made their children eat instead of real sweets. I may be mixing it up with carob. THANKS, MOM
We get a history lesson about sugar and queens and courting with sugar, sure!
Benjamina's doing a Tudor Sarden with an apple scented whatstis base for a maze.
Jane's making a walnut genoise sponge that looks exactly like a fancy square. It's Swans, Paul calls it fascinating and fiddly and I think only one of those is good.
Andrew's Jousting Knights Marchpane is both authentic and typical: boys love their jousting and sword-fighting, don't they?
Oooooh Selasi's using brandy-soaked fruits in his Fruity Tudor Marchpane! 10 bucks says Mary gives him a wink! Close!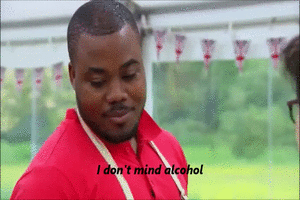 It's not just Selasi making modern AND old-style marzipan (no egg), Candice is as well in her peacock. Yes, Peacock. All I got out of that is that there is EDIBLE GLITTER???
Side note: rosewater is BULLSHIT
Based on nothing. As you were.
Everyone is shaping and molding and Candice's looks AMAZING! I love all the colour, it looks fantastic! This is hers to lose, come on Candice, be our first ThreePeat Star Baker!
Oh Jane's has gone quite dark, and Selasi broke his crown, dang it. I'm very worried about his bake, he keeps breaking things and he even almost lost his cool for a minute.
I love Sue and Mel, they just make me laugh the whole time.
So much tense assembly!! And then it's time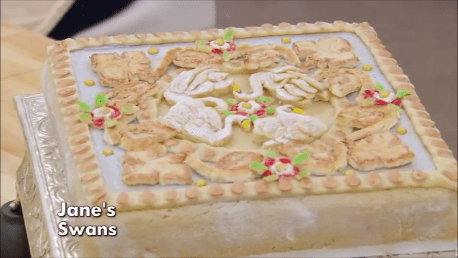 Jane's looks very Tudor, but it's a little puffy on the side. The inside tastes amazing!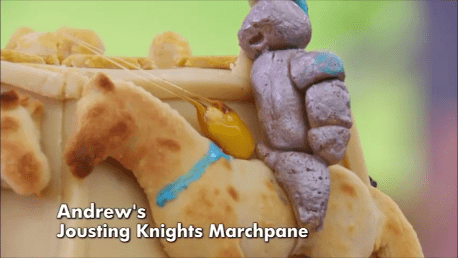 Um. Andrew, the jousting pole...and the marzipan falls off and yeah. It's a schmozzle.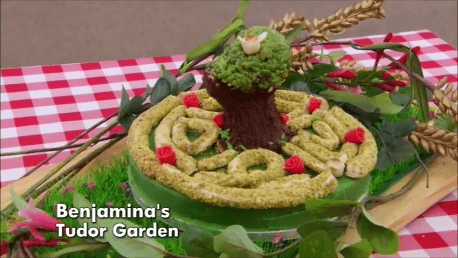 Benjamina has a great-looking centrepiece! It doesn't hold together well, though and the cake is doughy, so it's a wash.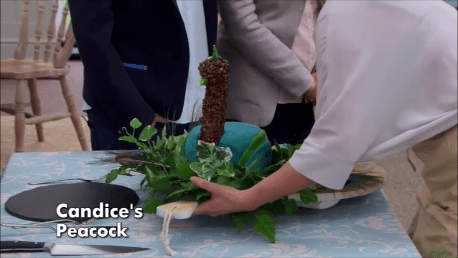 Now THIS is a centrepiece! Go Candice! The sponges are great and she WON this one, yo. I'd say Star Baker is a lock.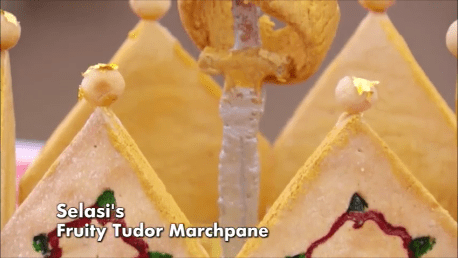 Selasi had to follow Candice, that's not going to go well no matter how you slice it. Great flavour, over / unevenly baked. Paul would have liked more decoration on the crown.
So. Candice is a absolutely going to get Star Baker, who do you think will leave? I guess Selasi, but I will miss him. Like a LOT. He's so chill!
The Star Baker: Candice, woo hoo! ThreePeat!! ThreePeat!!
And going home is BENJAMINA???? WHAT????? COME ON!!!! She's fantastic!!! Selasi's spent MUCH more time in the bottom, come ON!!!!!!
*carefully throwing things around in the kitchen in a controlled tantrum"
Until next time, you lot, for the semi-final with NO BENJAMINA. We're at the patisserie!