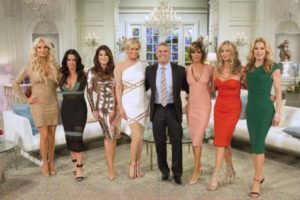 I haven't watched the Real Housewives of Beverly Hills in a loooong time, since it first came out, really, so I'm excited to see who's still kicking and who's had what pulled to where! I originally wrote this for a website called Watch Bravo which is a really cool place to find hilarious, snarky updates and tidbits on Bravo shows, check it out! They didn't use this, and I hate to waste me time, yo, so here it is: let's roll!
Lisa Vanderpump is up first, squee! I love her, she's the only reason person I can stand on Vanderpump Rules because she  doesn't pull her punches whatsoever, she shoots from the hip and a bunch of other cliches that means she pisses people off by truth-telling to their faces. I DIG THAT
She calls her sparkly dress her suit of armour, it does kinda look like rose gold chain mail, hey?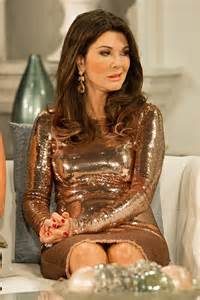 Then we see Lisa Rinna! Dat face. Now, I like Lisa Rinna, she's always been very clear about what she'll do for fame, and according to what she told Howard Stern, that sometimes involves her hunky hubs Harry Hamlin and literally bum-licking, as opposed to the figurative stuff we're about to watch here tonight. My favourite Diva Andy Cohen compliments her wig and it's a credit to her that she immediately and uproariously laughs it off, which marks her as down to earth and completely separate from Erika, who looks confused.
Poor Kyle has her t*ts out for Christmas, awwww, every time I see her, she makes me sad. She was so strong, so gorgeous, and now she just looks petty AF. Do the splits in the middle of the table!
The beautiful Eileen Davidson is next, looking expensive. She has her "sassy Eileen hair" on, watch out!
Yolanda Foster is wearing something that I'm pretty sure came out of a figure skating reject bin; gurl, why do rich people think that beige netting is a good thing? It is NOT A GOOD THING. She promises to stay for the long haul tonight, we'll see!
This is Kathryn's first reunion, let's all be gentle! Nahhh. She's ready in kelly green. Last but never least is Erika Girardi, who is BREATHTAKING. But has no sense of humour, so that sounds about right for BH. Can you imagine having that face? I mean, I'd never leave the house, just stare at myself all day trying to figure out where my cheekbones came from.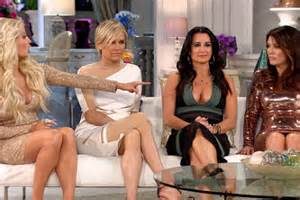 First viewer question! Vanderpump Lisa (I don't think that's how names work, Andy):"what were you thinking flying a horse from Ohio to California?" No answer, really, LV gives no fcuks re: horse poop on jets
Second question! Cara from Dallas wants to know where Kathryn gets off telling Eileen's husband to drop 10 grand on bags? She explains; she meant 10 grand on 3 bags. Much better. And Kathryn keeps bags for 25 years and that must be awesome plastic surgery because I wouldn't have put THAT bag at much over 25 years.
Kyle gets asked about some stupid looking $75,000 rose gold sunglasses (with round lenses?) for herself, she was looking at them for her store, but people misunderstood because she showed up later at lunch wearing some equally stupid looking glasses. While the sunglasses put cheap old Dana's $25,000 sunglasses to shame, Kyle decided not to sell them in her store, as she doesn't believe she has that type of customer. I agree, if she's looking for someone that desperate for status and unable to understand the fragile nature of fame and looks, she should hang out in the fancier strip clubs in the special geriatric seating row and face forward. I hear.
Kyle swears she's never spent more than $600 for sunglasses, but Lisa V defends her more expensive sunglasses by saying they're classic and she's had them for years, like Kathryn and Kyle's bags. They mean purses, right?
There are TWO Erikas: Girardi and Jayne and one pats her p*ssy on a stage? She's very outspoken and very beautiful, but no sense of haha whatsoever. Pass. She did wear Lisa's dress before Lisa did, which Andy points out, that farker, but she seems pretty basic for someone married to a 76 year old garden gnome.
Lisa called her out on the 32 year age difference, says Luanne from Everett, Washington. How did that get resolved? Erika married her dude at 27, and it was not an easy transition, all his partners and their wives HATED her. I have a friend in that position. Her fiance and his friends all wanna do grownup stuff, like Netflix and chill, and she would rather table dance. It's a balance. One helped by the fact that Erika's LAPD police officer son from a previous marriage is so supportive of her raunchy stage act. Her hubs helps out by footing the bill for her year-round traveling Glam Squad; it's high. She's not giving specifics, but the fact that the GS came with her to Dubai...
She gives a "pat the p*ssy" tutorial and when asked about trademarking the phrase says no, it's a dance hall move. Not hers. I mean. If you don't know how to pat the p*ssy, and you need a stupid looking tutorial, you can GTFO, ifyouknowwhatImean and Ithinkyoudo.
Viewer Mary wants Erika to know that she walks away from watching Erika's videos online feeling like she's been watching porn and isn't Erika too old to be carrying on like that, all half-nekkid and shite? Erika is just sorry that Mary has given up on life, because she has not. I have a thing where I expect actors to stop selling ass at a certain age and hopefully display some chops for a fun break, but hey, entertaining is entertaining. If all you wanna sell is ass, you get out there and market that meat, sweet cheeks!
Lisa R apparently called the videos raunchy and Erika doesn't care, but Lisa R is overcome with embarrassment about their moment. Erika.don't.curr. Lisa Rinna is so fame hongray. it's almost embarassing. Alllmooost.
It's interesting that Erika is in a really traditional relationship with her husband, although to be expected with the economic breakdown. Erika Jayne wasn't there in the beginning, though, she developed.
On to Yolanda. Her daughters Bella Hadid and Gigi Hadid are HUGE models (but completely forgettable) right now, and their brother Anwar is looking into it as well. Those are some spectacularly genetically gifted kiddos. Yolanda is asked about Gigi's recent nude French Vogue cover, that's pretty standard fare for models, even generic looking ones. Probably ESPECIALLY the generic forgettable ones.
Yolanda has moved into a condo now, but her Tweeting walk-in-fridge was left behind, sigh. I would love a walk-in fridge more than an extry decade on my life, so I bet that was harder to leave than Foster.
It's time to go over her divorce from David Foster. You know, for a talented musician and producer like David Foster, he certainly goes towards that light a lot, doesn't he? I remember him years ago on a show called Princes of Malibu with my secret shame Brody Jenner and his stepbrother Spencer Pratt. Anway, Yolanda blames her divorce on her Lyme disease, being sick their whole marriage takes a lot out of the sick person, but also the caretaker, and I get that. Everyone was just shocked because they always seemed so lovey-dovey.
Lisa and Andy take turns grilling Yolanda about when / where she knew the divorce was happening and whose choice it was but Yolanda pushes back and refuses to give a definitive answer. Private! Andy asks if they would still be together without the sickness and she says yes. The rest of the women talk about how shocked they were when they heard, they saw no signs! I see that all around me, so many people divorcing and separating, it's a small scale epidemic in BumCuddle, Alberta, Canada.
Andy asks Erika if she knew, if Yolanda confided in her, but she's not answering that! He presses, gently, round the edges and ANDY! Then there's some shit-talking about David and his not-funny jokes.
Eileen has yet to say a word from underneath her sassy hair. One nose wrinkle and a shrug, that's it.
Kyle had a lot of physical symptoms when her mom died. Andy asks if she thinks Yolanda's illness could be actually caused by the stress in her marriage? And then Lisa V jumps in with a reference to menopause, I mean. But it's okay, Yolanda doesn't worry about that, she has a pellet in her butt and she means hormone replacement implant but pellet in the butt sounds more fun to say. I agree. Lisa R wants a pellet in her butt, and stop trying so hard, Lisa! We know, we know. Chill.
Andy wants to know if Yolanda thinks she was depressed? She says circumstantially, not clinically, because that was '99, not NOW baby, and she doesn't want to get married again. EVER. She wants to get well, then her bum to Paris to watch her model daughters on the runway and that's it. DONE.
Now we're on to Kathryn! She's married to Donnie, who I'm pretty sure is SO.VERY.Gay. but they have a lot of money, I gather. She doesn't like Kyle's friend, the Morally Corrupt Faye Resnick, because Faye called her a Stepford Wife in her Book of Betrayal about Nicole Simpson. Kyle and Faye defend the Morally Corrupt Faye Resnick's decision to just ignore any hurt that may have caused, that was 21 years ago: get over it!
TotallyGay Donnie won the hottest house husband, stealing it from long-time title holder Mauricio. Kyle insincerely says that's fine, that's great, and let's get into it. The fur is about to fly and everyone looks nervous. The Morally Corrupt Faye Resnick did NOT like how she was portrayed on the show this season but Kyle will NOT discuss O.J. era Faye, and it's gotta be a problem that American Crime Story was running at the same time. Kathryn is backed by Yolanda and allowed to talk about her experience, since that's valid too, not just the impact Faye's book had on FAYE.
There's a big discussion about Kathryn now,  and you can see Kyle wince, she does NOT want to talk about O.J. Kathryn was married at O.J.'s house, though. Her ex-husband and O.J. were very good friends. I don't know. Faye Resnick said some shitty things in a book a long time ago, Kathryn has the right to her feelings, it's not fair to ask her to not air them to save the Morally Corrupt Faye Resnick's feelings, even if she and Kyle are besties.
Turns out Kathryn's considered a bit of a bully, though, she teases Lisa Rinna constantly about not eating and we get a firm determination from Erika about what does and does not look like someone with an eating disorder. Sure. Kathryn lost her dad as a teenager, though and lots of crying ensues. She just lost a nephew six weeks ago and she's a mess.
Oh ho, NOW we're getting down to it! It's a Lisa tagteam on the mat, going after Yolanda's claim of Lyme Disease for herself and also two of her children. Lisa Rinna even throws Munchausen into the mix, wow. Those are some serious allegations, and Lisa R knew she was going to have to answer to them, so let's see how this rolls. As Andy says: lots to discuss.
Yolanda is hella offended, as you would be, both by people not believing her, but also by armchair physicians Lisa Squared wondering about menopause and depression. I mean. This is her illness, she's checked shite out! It's insulting. And if they say Munchausen many more times, Imma have to start a drinking game for it. For their part, they don't understand why she's posting "sick selfies" on Instagram and is sometimes okay and sometimes not and I think they just don't understand Lyme disease as a DISEASE. It's pretty weird that she brought her kids medical records to a lunch to defend herself, though...?
Two words from Eileen! "Right!" "Exactly!" Thank GAWD she's there to keep things moving along.
Now we're rolling back through every single time Yolanda had a bit of energy or exercised or really did anything but post "sick selfies" like they were just complaining about; it's riveting. Yolanda looked like a whole other person in 2014, though, wow!
Lisa R even thought Yolanda was benefiting from pretending to be sick, but can't say exactly how. Lisa mentions the words "transparent" with how Yolanda should be with them and WHUT? You are not Yolanda's auditor OR lighting coordinator, so check yoself, Rinna.
And now the moment of delicious manufactured dramz that has been foretold for WEEKS! Lisa Rinna accuses Lisa Vanderpump (both Lisas will heretofore be known by their last names only) of manipulating Rinna to provide the more salacious storylines. Regarding Yolanda's sickness for one, if they were all to do what Harry suggested and support Yolanda regardless, Vanderpump said "well there goes our fcuking storyline!" but there's more! Vanderpump called Rinna and suggested the Munchausen (shot!) and all the shit-talking as well. Vanderpump pooh poohs, but not very vehemently, saying she rarely calls Rinna. Rinna triumphantly pulls out phone records, GOTCHA, BETCH! I mean.
Yolanda runs out crying, and we're oot, with a Springer-vibe and producer shot taking us to the end. The promo for next week has us looking at a Lisa battle, and Vanderpump cries, whut? I love her, and screw Rinna for talking tales out of school! See you next time, peeps, keep schwinging!