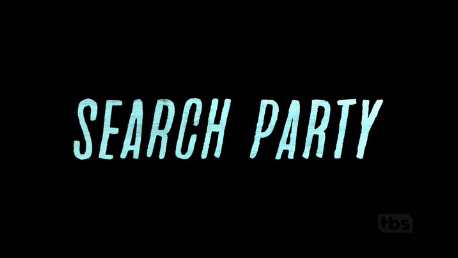 Hi guys and welcome back to the recap of the second installment of TBS's Search Part with Alia Shawkat. I liked her, and I liked Brandon Micheal Hall, let's see what's good tonight.
We left Dory (Alia Shawkat) chasing the ghost of Chantal Winterbottom (Clare McNulty) out of a restuarant loo; GhostChantal left behind a clue in a book!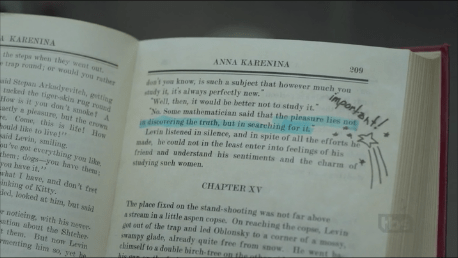 Or you know, an inspiri-quote that everyone uses. It's the journey! Homeless dude next to her offers a freebie: "I'll save you 400 pages. She dies at the end." Jeez, man, SPOILER ALERT.
Dory's jerk boyfriend Drew (John Reynolds) thinks maybe she was mistaken, so do Elliott (John Early) and Portia (Meredith Hagner) and honestly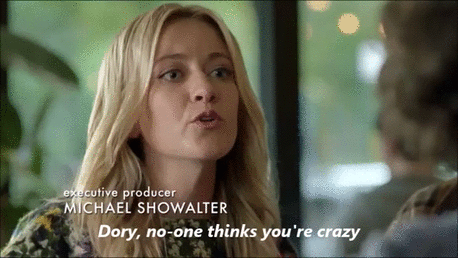 Because she thinks she saw Chantal RIGHT after she found out about her disappearance. Dory knows what she saw. In Flushing, btw, not Chinatown, so...Drew flips out. Out on the street, Drew's being a supercilious asshole about Julian (Brandon Micheal Hall) and I believe I only gave you one episode to break up with this man who treats you like a splooge-bucket, Dory. ONE.
Dory goes to the police, dishy detective (Rafael Poueriet) clearly doesn't give it any weight, so she takes her leave with "I'll just let you get back to shooting black teens because that's obviously all you do." It goes over about as well as you would think.
Dory washes her face in the bathroom, comforted by Lorraine (ROSIE PEREZ!!) who ALSO saw Chantal last night! What are the odds of that? They go for a coffee and I am seriously skeptical.
Drew's not concentrating very hard at work, he's too busy texting Julian and have I mentioned how much I love onscreen texts?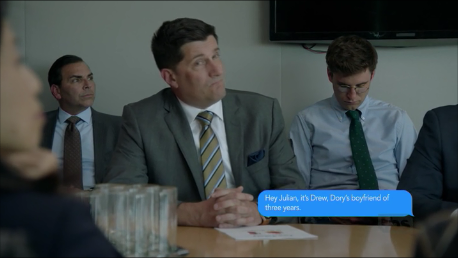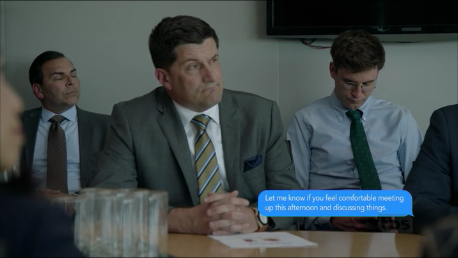 Because no way will that be weird. Okay I'll stop now. At any rate: how does he have Julian's number?
Portia's hard at work filming her TV show, her co-star Trina (Alysia Reiner - Fig from Orange is the New Black!!!!) is much more experienced and comfortable. It's almost painful watching Portia try to find her feet, she ends up talking to the writer on set about whether someone seeing someone after another someone finds a bloody sweater and again: almost painful. Duncan (Zack Cherry) wants to know if she means a good show or like, this one?
Elliott's come to see his (totally not boy)friend Marc (Jeffery Self) at work, he drops an invite to a party he just heard he was throwing after sharing the news of the massive orgasm he had last night in a threeway. Honestly, Marc, this guy was NEVER your boyfriend.
Lorraine tells Dory: she thinks Chantal is in danger.
Julian and Drew are having a super awkward conversation in which Drew's trying not to ask if Julian had sex with Dory and Julian doesn't want the extra milkshake Drew got by accident: it's just bad. Drew finally asks and then ends up throwing the milkshakes at Julian, what?
Dory's walking Lorraine home and ohhhhh I think I have the shape of Lorraine now. I bet she's a paranoid schizophrenic. She thinks they're being followed, and the same people broke into her apartment. There is a portly gentleman walking behind them reading his phone; they duck into a bodega to find a back door.
The other shoe drops; the cashier (Kenneth Maharaj) knows Lorraine, calling her crazy and there's a heated exchange where one's a rat and the other is a pig and Dory sneaks out the door.
Elliott is holding forth at his party, which Marc has attended with another guy: hold tight kiddos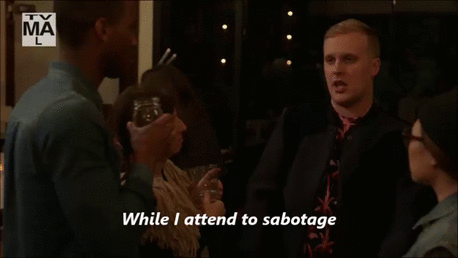 He breaks up Marc's date telling a funny anecdote to give a speech about friendship: he had stage four lymphatic cancer as a teenager and it taught him: you can't fight a war alone. And then he calls Marc his boyfriend. Ohhh
Marc dumps his date without another word.
Lorraine shows up at the bar, what? She's brought shoes, they need to get out of there right now! How did she find Dory? She's in full lurgy; calling Elliott Satan and accusing him of looking at her breasts. Cheese brings on a meltdown and choking Ellilott and yeah: paranoid schizophrenia untreated can be a beast.
After the party, the four friends plus Marc do a post-mortem on the incident, all things considered: Marc thinks Dory had a pretty cool day. Er, except for being yelled at by Drew, the part at the police station and all the bits after?
Drew works on Lego while Dory does more research on Chantal online and yay! She's able to match something up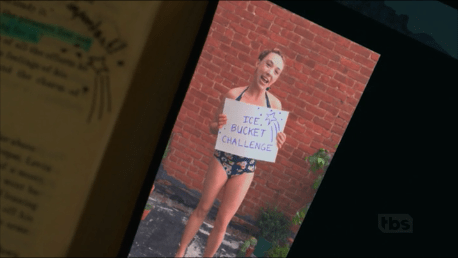 Hmmm. We end with an upset Chantal on a bus, she looks worried! Why hasn't she told anyone she's alive? Until next time, you guys! Cheers