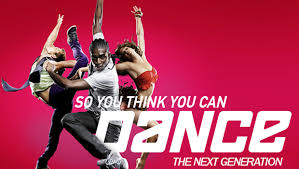 We have finally made it! We are at performances, where we get to see some action, Jackson! So, without further ado, welcome to, So You Think You Can Dance: Top Ten Perform!
Oh hey Cat, hey! You look, errr, interesting tonight.Very tropical in that pantsuit getup! She tells us they're about to make history, as this is the first group dance for SYTYCD: TNG.
The kids and the All-Stars come on stage in all white and dance their butts off. A few of the partners dance parts in their own styles, such as Gaby and Emma, tapping. I must say, that was pretty darn awesome! Christopher Scott choreographed it and it was so good. #impressed.
Cat sounds like she has a cold as she tells us that each kid will dance with their All-Star and also have a solo, then America gets to vote. Also, Marko will take the place of Joshua in the studio, but we are given no explanation as to why. She then introduces our jidges! Nigel, Paula and Jason Deruuuuloooo, who's wearing a man-bun. Huh. Well, verdict: Werk.
Cat then introduces Maddie Zeigler to come out onto the jidges panel and now it's time to get on with it. Kida is brought up on stage to have a talk with Cat. This is new. He is very mature and, ah, I see, it's the pre-package for his dance where they show rehearsal footage. Not much to say, except they look ready as they'll ever be.
Kida and Fik-shun come out stylin' in some cray suits to "Winning," by Fingazz. Christopher Scott choreographed this as well, and towards the end of the dance it gets really impressive. Kida can keep up with the big boys. Jason calls it "fly" and admits that that word is old school, but it's the only word that works. Nigel says that Kida just needs to smile and perform a bit more to match Fik-shun. Paula says it was like a "Trip to Disneyland," and Maddie says it was amazing and precise.
Gaby has has the 30 second questions for Emma and she asks her what she'd be if she was an ice cream. Rocky Road. What's her Zodiac sign. A monkey? Emma asks her if Gaby cheated last season and Gaby cracks up. So, how did you get so many votes, huh? Haha Emma then has her solo and taps the heck out of it, natch.
Tate is up now and Cat asks her how it's been. She says she's notices her voice is squeakier than she thought. Her rehearsal package shows Tyce Diorio wanting her to dance like she's a butterfly, but she has the longest legs in the world, so, super hard.
Oh, you guys. I give this a big fat TEN. You know how I always know? My eyes welled up. My bob. Nigel tells her the jete that they did was magnificent and I concur. Paula says they are magical and Tate is brilliant. Maddie tells them they are effortless and have chemistry for days. Jason says he agrees with the other jidges and it was so emotional. Tate has got this wrapped up, y'all. Nobody can touch her.
Comfort asks Tahani what's hard about being a kid. Parents just don't understand. Animals would be like hairy people if they could talk. And also, greatarific. Her solo is a hard-hitting B-Girl routine and it is fabulous.
It's Jake's turn and he's had advice from Jean-Marc, his choreographer. In his package he is going to do a cha-cha. Jenna is used to being thrown around, so it's a little weird for her. She has to throw the little dude around instead.
"Toca Toca," by Fly Project plays as Jake absolutely keeps up with Jenna steps-wise, but it's still a teensy bit creepy, y'all. It's cute, but kind of odd. Paula thinks it's the most adorable ever and wants to squeeze the living daylights out of Jake. Maddie says they're incredible and he's a ball of energy. Jason agrees and he's captured the room. Nigel says his size doesn't matter equal to his talent and he should go into politics. Haha.
Robert asks J.T. how many teeth he's missing. He says zero, but 4 are coming in. Girlfriend? He wishes, you? No. Trampoline, Robert? He wishes. J.T. wants a pogo stick to jump really high. Or something. It's a two hour show, people. Errrr, cute solo.
Sheadon, now inexplicably paired with Marco, tells Cat he just wants to have fun. Pharside and Phoenix are his choreographers and his hip hop routine will feature him as the Boogeyman. There's tons of tricks and it's supposed to be scary.
"Why I'm Here," by Stakik Link Ft. Young Live, plays while Sheadon chases Marko around a bed. He's dressed as a sort of zombie I guess, and can I just say how I love Marko so so much? They really do play off of each other very well. There are a lot of tricks and this dance was a success. Maddie loved the choreography and he was incredible. Jason thought it was fly, but he needs to work on his exclamations. Finally some real advice! Thank you. They need this. Nigel loved his acrobatic and character work. Paula thinks he's come out of his shell and has improved tons.
30 seconds with Ruby and Paul. Who does she think is the oldest All-Star? You. Who does he have a crush on? McKenzie. Cat impression? She says something about Dancing With the Stars! Hahaha She then has her solo, which is a ballroom delight.
It is time for Jordan and Sasha. Sasha says the whole team is bonding and Cat asks about Kida. Jordan says he farts constantly, they are loud and they are deadly. Haha. Brian Friedman says this dance is about Sasha leaning on Sasha for support. Sasha says it's emotional dancing with her and Jordan feels like her mini-me.
Sasha starts out on the floor to the strains of "The Light That Never Fails," by Andra Day. Jordan comes in and they dance together beautifully. They really are twinsies. Very nice job. Brian Friedman tears up in the audience. Jason thinks it was amazing and perfect. He also says it's the perfect timing for a piece like this, leaning on each other. Nigel wants to know who Jordan is; he's never seen her so stunning and mature. Paula agrees and she's blown away, her technique is amazing. Maddie also agrees, they bring out the best in one another; chills.
Daniella and Jonathan's 30 seconds. Favorite animal: Dolphin, and a dolphin laugh. She asks him if he'd cut all his hair for a million bucks and he says no, but she wouldn't. His favorite movie? Armageddon, but she has never heard of it and he now feels old. Pfffffft, dude. She dances her solo in a fringed-delight little number.
Mandy Moore has choreographed a number for the All-Stars while the kidlets get a well-deserved break. Yay! Grown-up time! All I can say is this is why this lovely humans are All-Stars. 'Nuff said.
Emma's turn. She says in person the stage is smaller, but Cat is taller in person. Her and Gaby have THE RAMP in their routine, which looks hella fun. Emma has a pair of lucky socks that she apparently does not wash and they are, "crunchy." "Watch Me Do," by Megan Trainor, gives their tap routine a nice beat to slide down that lit up ramp. Their feet fly and she's another mini-me of her All-Star. Lottsa fun! Nigel thinks Emma was really good and she'll learn a lot this season. Paula says she rises above. Maddie loves tap and she's a firework. Jason agrees that she sat in the pocket and chilled.
Kida and Fik-shun have their 30 seconds. Favorite color: red for both. Belly dancing or a girl liking anime'? anime', duh. Who is Fik-Shun attracted to in the cast? Gaby! Ohhhhhh. Have you ever sucked your big toe? Say what? His solo is a crazy cool slow animation.
It is now time for Ruby. She says she's been good and Hollywood is very cool. She's like, wow. She wasn't sure if the palm trees there were real! She's got a cha cha with Paul and it's going to be fiery. She also laughs funny, and a lot, apparently. "How Deep Is Your Love," by Calvin Harris and the Disciples, is the song to their dance. Since Ruby is almost the same size as Paul, their dance really really has an advantage to the tiny little fellas. They can do all the lifts and moves that adult ballroom dancers can. She's very good. Real good. Paula thinks it was exquisite and can't get over Paul flipping her over while she was in splits. Maddie agrees with that flip and so do I. Jason says that took so much trust and she set the floor ablaze. Nigel says people say to him that they love him on Dancing With the Stars, Simon; don't worry about that faux pas. She is amazing, he tells her.
Jordan and Sasha's 30 seconds: What car? Red Mustang. New dance move and name it. She twists and bops and calls it the Split and Boogie. She only knows how to count to 8 and count her money, she tells Sasha when she asks her to do the math for how long she's danced. Sasha does not approve. Haha. She has a lovely little solo dance.
Tahani is up next and she says that people have been super nice about her throw up debacle. Her and Comfort got Luther to get their choreography. Super short package, that's all I know. They dance to "Cut It," by O.T. Genasis Feat. Young Dolph. They are dressed identical in torn jeans, white sneaks and red tees with a half shirt thing and jean sleeves. After their hip hop dance, Tahani has a strand of Sasha's braids. Get it? "Cut it"? Maddie thinks it was amazing. Jason says it made him want to dance. He wanted to get in there with him, so Cat tells him to do it and he gets up and moves a bit. Nigel says that she gave Paula more publicity than any of her number one hits. She did fabulous, btw. Paula loves Comfort and she brought out Tahani; she's spectacular and a blessing.
Kathryn and Tate's speed date. VCR stand for? No idea. Dresses or skirts. Cape. Least favorite letter? Zed. WTH is a Zed? The last letter of the alphabet. HUH? She nails her solo. Because. Tate.
Okay. Now we have Daniella. She loves Cat's outfit, which Cat says is a bit nuts, but she has to start off crazy and then calm it down. Jonathon and Oksana will choreograph her and Joshua's salsa. She doesn't know where El Salvador is, but she does know how to salsa! Their salsa is dance to "Latinos," by Proyecto Uno. She is wearing a gorgeous yellow dress with purple flowers and is close to Joshua's size as well. Jason just thanks Oksana. Nigel says she could be on Broadway tomorrow, she's so good. Paula loved it. Maddie says firecracker. Overused word, dude.
Marko and Sheaden. Spell arabesque. Marko can't. Marko asks him if he's funny and smart....Who's Marko crushing on? Maybe Kathryn? Sheaden solos a super fun hip hop routine.
It is now time for J.T. He's had so much fun Cat kids him about swapping out Robert for someone else. They have Mandy Moore and their dance is about expressing himself and letting go. Maddie feels like he should be pushed just as hard even though he's the youngest there. They start out to "Stand In The Light," by Jordan Smith and J.T. is on Robert's shoulders. They are also dresssed the same in jeans and ombre button ups.  Robert does tons of lifts. Very, ummm, cute. The jidges do a Standing O. Kay. Nigel says it was emotional and beautiful. He also says that his arm was twisted to do TNG, but he's loving it. He also didn't want Robert to pick J.T., but he's changed his mind about that too. Paula is crying (blerg) and their being together is a gift. It was her favorite routine of the eveing and then J.T. STARTS CRYING TOO. Dagnammit! Stop giving me the feels! Jason thinks this performance was meant to happen and it spoke to people in many ways. It was exquisite and life reenacted. Well. I don't have ice in my veins. Sniff.
Jenna and Jake have the final 30 seconds. Would Jenna rather fly or do ballroom or be invisible? Ballroom, duh. Travis or tWitch? YOU, duh. Bad habit? She swears too much. *Eyes big* He has a kicky ballroom solo.
We now have the final group dance and it's a hip hop dance to: "Move (If You Wanna)," by Mims. These kids are so talented, the non-hip hoppers bring it something fierce. I'm sure most, if not all, have had all types of dance classes though.
So! What do you think about the new format? I do miss the old show, but at least we have our All-Stars and it's cool watching this new talent! See you next week!