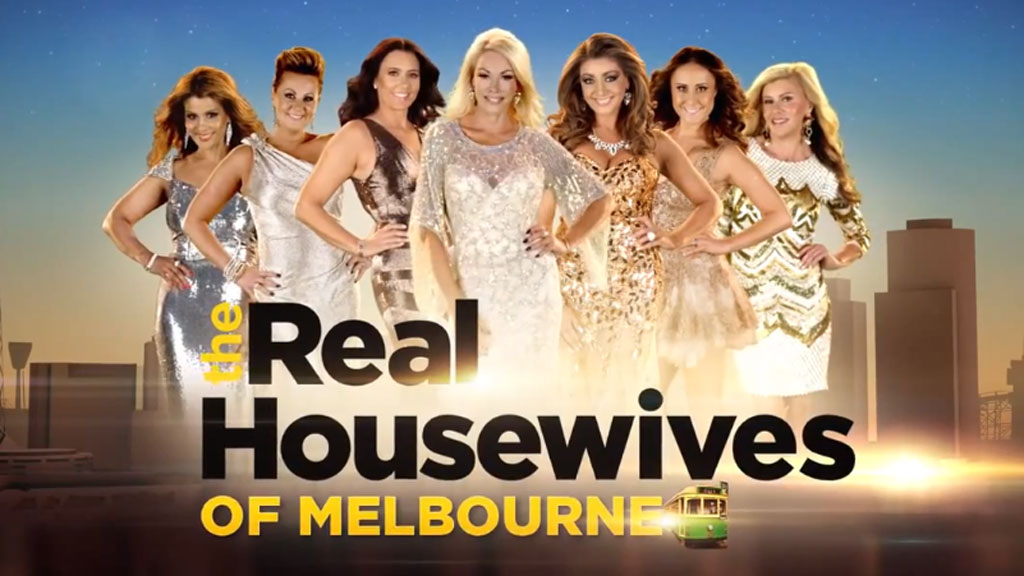 Oh, how I love a wedding and I think this is going to be a DOOZY! Byron Bay is one of my fave places in the world too, in fact, I am off to Byron next week, lol. Don't be jelly 😉
Gamble and Rick are hanging out the famous lighthouse, he is stressing about the bills from the dress maker/wedding planner, he's flying in chandeliers, wut? Gamble is worried that she hasn't got the pre-nup papers from the lawyer and he's so cute, he doesn't want to talk about it because it's 'unromantic'. I love these two, mazel tov and may they never need that bloody pre-nup!
In Melbourne, Gina is packing with her inept assistant, Josh. Gina is also conducting the ceremony but she's not a celebrant just yet, oh man, I wanna get married by Gina! That would be seventy million types of awesome.
The ladies are staying at an appropriately posh place, the Byron at Byron, noice.
Gamble and her wedding party crunch along the beach, she is in higher than high heels on Wategos' Beach which is also a dog beach, ruh-roh. I'm not sure she has thought this through, or maybe the 'wedding planner' hasn't, lol. Stilettos + doggy poop + sand = NO BUENO!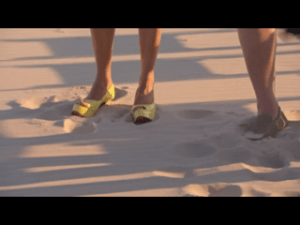 It becomes clear that Gina is going to take charge of this fiasco as she is asking all the tough questions about microphones and carpets along the sand, it is windy as f*ck too. "What are we going to do if it's windy or raining?" asks Gina. Alin just thinks we should 'pray to God' for the predicted thunderstorms to blow over…there is NO PLAN B, PEOPLE!
Over drinks at the fancy hotel, Chyka cannot believe that there is no Plan B, "You never do an event without a Plan B!" she tells Gamble, who is devastated that dream beach wedding that she has had on her vision board for years may not come off. Lydiot wants Jackie's psychic prediction for the wedding but Jackie is all like "this is my day off, I don't do vibes like that" which is code for 'cross my palm with your black Amex and I will think about it, bitch'. Lydiot agrees with me, "It's like if people asked me for interior design advice all the time, people pay me for that" and I still cannot believe anyone would pay her $$ to decorate their home.
Goddamn Pettifleur has an issue already because nowhere on the invitation did it say it was a beach wedding, apart from the fact that Gamble has told the ladies multiple times that it will be on the beach, I call bullshit.
Oh, I forgot that Gina was on Celebrity Apprentice! She is hosting a viewing party in her room the next night. The other ladies think this is a bit gauche considering it's the wedding the following day, they are probably right. I mean it's all well and good if YOU want to watch yourself, but it's Gamble's gathering.
Champagne breakfast in the rainforest! Gamble's little pocket rocket Mum, Jennifer, is ADORBZ!! She spills the tea on what Gamble was like as a child: "willful, independent, always got her own way!" nothing's changed then, lol ;).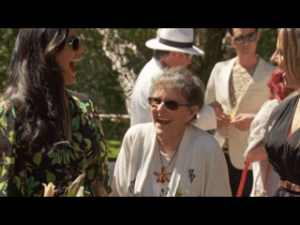 Mama Jennifer and Rick have a lovely moment in the rainforest, she tells him that she is so happy Gamble is settling down with him and he says 'oh, that means so much to me'. Gamble tells us Rick is the first partner that her Mum has met that she has approved of and I believe it, sometimes we all have to kiss a few lousy, good for nothing frogs before we find our sweet prince!
Jackie still has babies on the brain, she can see herself as 'mother of the bride' one day and wants to know if the ladies fell pregnant easily, all of them chorus "YES!". Chyka was on the pill and Pettifleur was practising the 'pull out method' (T.M.I, P.F!!) but they were also in their 20's and Jackie is worried she will have issues being 35 years old. They then regale her with stories of volcanic poos, babies vomiting on you and the ubiquitous boy baby peeing on you during nappy change. Jackie is beside herself, this convo is the best contraception ever!
Rick and Gamble meet the celebrant for the first time, he wants to know if they have written any vows. "I haven't written any vows because I thought people wrote them for you anyway," says Gamble. He also wants to know if they have a Plan B for the weather and Gamble thinks they might have to get married in a church, the celebrant isn't too sure about that, you may need to have booked that a bit earlier, Gamble. She IS having a guitarist play 'Wicked Game' as she walks down the aisle though, so there's one detail confirmed!
That night they go to the 'top pub' as it is known in Byron, it's gale force winds and freezing cold, ruh-roh. Janet has arrived and apologises for bringing the Melbourne weather with her AND her ex-husband Brian, lol. "He's being so much nicer to me than when we were married," she says.
Lydiot is sucking up to Pettifleur who is so simple that she is falling for her gushing apologies. My god, being friends with Lydiot is like being friends with a Great White Shark, you never know when she is going to appear, teeth bared, to rip you apart whilst you are calmly bobbing in the water. "Just don't fuck up…" says P.F "AGAIN!" Lydiot still manages to make it all about her because her hubby got sick and needed a valve replace in his heart, which sounds awful but leave the sob story out of an apology to your friend you dickhead.
Jackie then comes over to make amends with Lydiot too, P.F tries to get involved and Jackie shuts her down, "This is between me and Lydia and I, it's not a three-way conversation," this sets off P.F who tells Jackie to 'stop attacking me' which Jackie clearly isn't. P.F is stirring an invisible pot, "If you want me to sit here and shut up then I will!" ahh, yes, I am pretty sure that's what they want you to do, P.F.
An hour into the function, Gina is off like a rocket and Gamble is upset because she hasn't spent any time with Gina at all. Gina tells her she promised her sons she would spend time with them but we all know she is having the vanity viewing party of Celebrity Apprentice in her room, not cool Gina, not cool at all.  Gamble is pissed off, rightly so.
WEDDING DAY! Alin the dressmaker/wedding planner is clashing with Heath, the manager of the resort about the layout of the reception. Gamble tells us that Alin just broke up with his girlfriend who he was going to marry so he is using her wedding as the one he never had. Well, that's going to bode well then, isn't it?
Janet and Jackie are having a liquid breakfast and dishing about Gina's early departure from the party the previous night. Janet knows that Gina had a viewing party because she saw about a dozen wedding guests in the foyer and asked them where they had been to which they replied "Gina's room for a Celebrity Apprentice viewing party,' and, naturally, Gina was tweeting about it too. Sprung by the Twitter, Gina! #badgirl
Another meeting with the celebrant, Gina and Rick and Gamble turns into the Gina show, she's attached to her phone, quoting tweets about last night's Celebrity Apprentice, ruh-roh, big head alert!
WUT? Gamble is only seeing and trying on her dress for the first time THE MORNING OF HER WEDDING? Geez…..she picks it up and Alin tells her it's only about 18-20kgs of dress, which I think it about half of Gamble's body weight! Luckily she loves it in all its pearly glory, she doesn't even care if it rains.
Nice moment in Rick's room with his son Luke who says that Gamble has 'really brought the family together' and he really loves her too even if he 'has to split his inheritance now,' lol.
Everyone walks down to the beach along the sand because someone has forgotten the damn carpet, Pettifleur is incensed about this and has also rocked up in a Cinderella-style frock that may just upstage the bride, whoops! It's got a fucking bustle!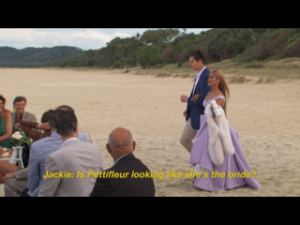 Storm clouds are looming but they appear to part just as Gamble walks down the aisle on the arm of….CHARLES BILLICH? Bwahahaaa that is so funny, my ex-boyfriend used to work in his gallery, oh the stories I could tell you about that man, lo. Anyway, Gamble does look divine and it actually makes sense that Billich is walking her as she works for him and has long professed his father-figure status in her life. All I am going to say is, anyone who may have had their portrait painted by Billich who is not a celebrity, just may have been more than friends with him…
Dang that dress looks heavy, it's taking forever for her to walk across the beach! Hang on, where is the 'Wicked Game' guitarist?? No sign of him, Alin, you should be ashamed of yourself! But the ceremony is lovely and they even found a microphone, yay! Everyone will actually be able to hear them! Gina gets all emosh when she asks them to turn and face each other for their vows, nawwwww. I love these two, congrats!! I'll leave you with some pics of the happy day and see youse all next week!