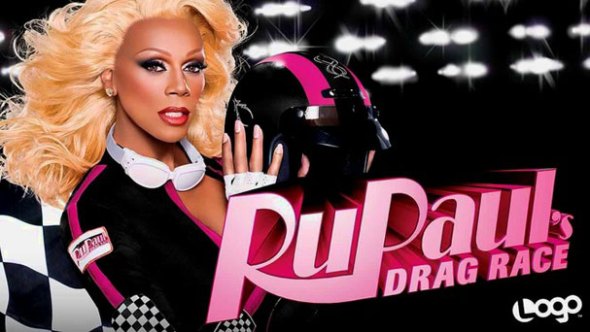 Wow, are we really at E9? It's Top Four on RuPaul's Drag Race, biatches and, honestly, I am really happy with all these gals.
Yes, I wish Thorgy was there, but I am not unhappy with this top 4 at all. It's going to be hard to choose a loser tonight and I am very sure there will be tears before bedtime!
The girls are back in the Werk Room and find Derrick's surprisingly short message. Bob is feeling rough after his stint in the bottom two and Kim Chi is feeling good about her win but knows it's the pointy end of the comp, so it's going to be hard. The girls try to ugly up Naomi by smudging her makeup but chica is still gawjus, lol. "I wanna be in top three," says Naomi. "Bring it on..."
The final challenge is on and Ru has told them to turn up in full face. They will be working on a video for "The Realness" (aka my fave RuPaul song so far!) with Jayson Whitmore. Bob is excited, "I'm a video ho!" she squeals. Naomi is excited too, I'm thinking she will knock this out of the park with those legs. Kim Chi is shifting weight from one leg to another, she be nervous and I think we are all nervous for her!
On set it turns out they have to lay on some sort of platform with silk scarves and look effortlessly glamorous whilst working yo abs so as not to let yo legs fall down, it's called 'flowtography' and looks worse than ANY pilates class I have done! Naomi is a shoe in, those legs go on for days and, after a bit of direction, she nails it, like the glama-octopus that she is. Bob is up next, he's uncomfortable from the get-go, "I'm fallin' off of this thing!" she does not look cute, "I've gone from Viola Davis to Patrick Ewing." Chi Chi is loads better, she is working the scarves and gets lots of praise. Kim Chi struggles, she keeps looking away from the camera which is giving them more 'chin than face' and Bob likens her to an upside-down turtle. Then she falls off the platform, "Drag queen down!" Poor Kim 🙁
Next up is the avant-garde dance portion of it. Bob is up first and is quite lacklustre, the director says "You're at a 5 and I want you at a 10," this sets up Bob perfectly and she nails it. Kim Chi works with what she has in an awesome feather ensemble, if anyone can do 'avant-garde' it should be her. She stays safe but not moving around too much and I think it works, the director thinks so anyways. Naomi is channelling Kylie Minogue circa "Can't Get You Outta My Head" and looks stunning. "She is very mesmerising to watch" says Kim Chi. ChiChi is not really sure what avant-garde is and, whilst she nails the dancing, she keeps getting her heel caught in the mesh of her dress. "Chi Chi, have you danced in a gown before?" asks the director. "Ahhh, no," ruh-roh Chi Chi! They do some weird stuff in front of a mirror and Naomi lies down seductively on a couch and then....."IT'S A WRAP!" Final maxi-challenge done.
BIAAAANNNNCAAAA!!!!!! My drag spirit animal turns up looking amazing, "I'm here for the past winners photo shoot," she drawls."Oh, Tyra, you look horrible!" she tells Bob. "and Jinx gotta TAN!" to Naomi. "You must be that sweet thing that won season 7!" she tells Kim Chi. It's a short but very sweet cameo as she sashays away. Only three weeks till I see her again IRL!
It's Elimination Day and the girls strut into the Werk Room, purse FIRST! "It's the last day of school!" hollers Bob. I'm very sad and more than a bit anxious about who is going to go.
Well, it's Mirror D&M time and everyone is asking each other what they have learned throughout the competition. Bob has learned that his confidence can come across as arrogance and has some sage advice. "Find something about yourself that you like, you might think you're fat or that you are ugly but hey, I have nice teeth!" and it's so true, we don't come out of the womb with self-esteem, it is learned. Kim Chi has learned "that I can't walk in heels, I can't dance and I have a lisp," awwww Kimmy don't focus on the negative! "You know, people just like me for who I am and shouldn't try to be anyone else," Amen to that! Naomi calls her a 'big lovable panda,' which is not only cute but apt. Chi Chi didn't realise how much she hated where she came from and her accent and never thought she was funny. Bob thinks Chi Chi has grown the most and I would tend to agree with that, I love me some gals from the Bayou. Naomi just needs to focus on what she has because what she has is amazing "I don't need to do death-drops and stand up comedy," she says. "But you know who does??" Kim Chi pops up. "BOB!!" oh the shade, I loves it, they all loves each other, ain't love grand. Talk turns to food, of course, and Naomi is horrified that Kim eats deep-fried chicken butt holes. "They're GOOD!" Kim Chi cries. "I mean, you eat other people's butt holes, what's the difference??" Touche indeed...
RUNWAY! Seriously, this is Ru's best look so far, she looks like someone has poured silken taffy all over her, delicious! The first queen is Bob, these looks are supposed to be their 'best looks' and I'm a little underwhelmed by this, he just needs to stop with the spandex tights, we get it, your tuck game is great! The top half is ok, but it's all a bit too glittery school marm for me. Bob, you makin' me nervous! Chi Chi looks fab, the pink is great on her and the hair is sleek and HUGE, I love it, it's the best that she has looked so far. Kim Chi channels the feather gods again with a Maleficent style head dress, a-mazing. "Edgar Allen HO," says Ru. Naomi comes out looking a bit like she's playing hooky from the anorexia ward to go to a retro disco night, I hate it, the satin is ghastly and the whole thing makes her look like a shiny praying mantis. Can she just STAHP with the centre  part wigs too? Ugh.
It's emosh-emosh time where Ru asks them to turn back time to their child-selves. Get out the tissues!! Bob tells his 4-year-old self, Christopher "You are gonna want to change for others, don't do that." Chi Chi tells little Zavion "It doesn't matter where you're from, it has nothing to do with how far you'll go," Kim Chi brings the onion cutters when he tells little Sang "People might shame you for being different, you might feel you are trapped in the wrong body. You're gonna think about harming yourself, or even running away but it will all get better. When you grow up the things you are ashamed of are the things that people will love you for," Ohhhh I love her so. "Kim Chi, you didn't just get better," says Ru. "You got FIERCE!" Naomi tells 7-year-old Davis "You're going to go through a really confusing time but you need to embrace it and be proud that you are not like the other boys."
JUDGES CRITIQUES:
Bob the Drag Queen: Carson is delighted that Bob is finally giving them some glamour and did a great job in the video. Michelle is non-plussed about his leggings. "We've seen leggings a lot from you," Ross thinks she has done a really great job of standing out and has also listened to the judges as well, he has seen him evolve throughout the competition.
Chi Chi Devayne: Michelle doesn't think that her runway is the most creative but that she looks stunning "Love the pageant hair," she says. "It's my favourite thing ever, the hair with the 18 buns in it." Carson questions her taste level in some of the challenges and Ross says "Am I shocked that you are here? Yes, if I had a time machine I would not have expected you to be Top 4," he says. "But you put in the work, you are like the M.Knight Shyamalamalan of drag queens, I didn't see this coming,"
Kim Chi: Michelle thinks that she has gotten to a place where her awkwardness is working for her. Ross has loved seeing her journey. Michelle says "In the whole season there was not one look that you didn't kill," Kim has never lip-synced either, hmmmm, winner, winner, chicken dinner?
Naomi Smalls: Michelle loves the iconic Cher she is bringing it. Carson loved her avant-garde, "you looked like an alien." They love the combo of sweet and sassy and Ross says the Wizard of Oz challenge was the turning point.
Next, RuPaul asks them all why they should be crowned "Next Drag Superstar". Bob says it is because he has statistically done the best and that he doesn't do it for himself, he does it for the people and the community. Chi Chi feels like she possesses the talent and the willingness to grow, she can werk a runway or a video and should get it because she has grown the most. Kim Chi thinks that she has been creative, professional and adaptable but she is already the next drag superstar in her mind. Naomi doesn't want to pigeon-hole herself as a comedian or a dancing queen of a lip queen (SHADY!!), she wants to be able to anything. Errrr, ok.
DELIBERATION: Ru wants them all to get real in the deliberation. Bob gets shade for the leggings and the makeup, Ross thinks she has been so smart and Carson loved the Snatch Game that she snatched from everyone. Ru says that Bob always rose to the occasion in every challenge to make it his own. Chi Chi has come so far and killed it in her lip-sync and her upside down lip-sync in a challenge too. Ross doesn't think she's that original but she is in love with Chi Chi. Kim Chi can serve a look better than everyone, Michelle thinks her looks have always been very smart. Ross loved the first time he saw her and they all love the personal journey she has had to love herself. Carson is not sure if she can work a stage and command an audience but Ross thinks she could change the drag scene completely. Naomi Smalls, Ross and Michelle agree the Wizard of Oz was her turning point and Carson said it was the B&W challenge. Carson thinks she is not quite there yet but Michelle disagrees as does Ross, she is fashion.
Next up is a lip-sync and I did not realise that they would ALL be lip-syncing! ERMAGERD, I think this is great, though. TBH they all do a great job, even Kim Chi and her stompin' feets so I  can't pick it. Ru has probably already decided and it is......
Chi Chi DeVayne.......awwww, I am sad but it's probably right. She has come so far and had a HUGE journey, I cannot wait to see what she does next. Bye, Chi Chi, I hope to see you Down Under soon!