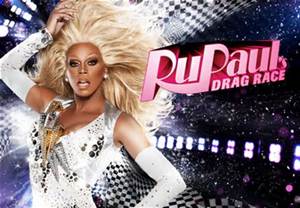 Well, hello, hello, hello Hunty's! It's been too long and yes, I have been sunning myself along the shores of Byron Bay, wading up to my knees in the sea because I don't wanna get eaten by no sharks! Thanks to TTM for taking over and for her SUBLIME coverage of the last two eps inc Snatch Game (I am well jel...)
Ok, we open with the girls coming back to the Werk Room after Acid Betty's departure last epi and Kim Chi is HAPPY! Thorgy agrees it was her time, gurl was always in a bad mood. Naomi has the willies after being in a lip synch for her life and misinterprets the judge's critique of her. Robbie Turner sums it up "the judges don't want you to be ashamed of your body, they just want to see something different for once." Amen to that, if I see her in another Playboy bunny robe and bikini set, imma gonna VOM!
Bob won last week and Thorgy is pissed (rightly!) because she came a close second. "My reaction to Bob winning is this...."
Yep, we would be the same too, Thorgy but Bob did kill it so it was close. Right now they are my top two, so it's reasonable to expect them to be rivals. Bob is getting a bit affected by the hate though. "Thorgy, you're a shithead..." he says. Robbie likens him to Jenga "you build it up and then it's alllll gonna fall."
RuMail reveals it's gonna be a Wizard of Oz challenge, oh yeah baby! But first...."The Library is OPEN!" Because reading is FUNDAMENTAL! I love the library episode, it cracks me and we are not disappointed....
Chi Chi to Thorgy: "Gurl, I love you so much I don't know whether to hug you or put some change in a cup"
Dazza Bazza to Bob: "I had no idea their were different shades of ashy!"
Bob to Dazza Bazza: "It's very hard to have an intelligent conversation with Derrick Barry....the only thing harder are Robbie Turner's wig lines..."
The winner was, of course, Bob the Drag Queen but he wins a whole bunch of jewels that I doubt he will have much use for, Thorgy! Bob had been preparing those reads allllll season.
Mama Ru introduces her favourite book, the Wizard of Oz stories but there's an added twist, the queens must create looks not only for themselves but also to match a partner who will be one of the cast of "Little Women-L.A", who then walk in. I don't really know these ladies at all and it's hard to tell if anyone is well matched but the matches and characters are:
Briana and Kim Chi: The Wicked Witch of the West
Britney and Thorgy: The Citizen of the Emerald City
Christy and Robbie Turner: The Cowardly Lion
Elena and Bob the Drag Queen: Glinda the Good Witch
Terra and Dazza Bazza: the Tin Man
Jasmine and Naomi Smalls: the Scarecrow
Tonya and Chi Chi: Dorothy
First up, Naomi is excited to do some 'designing' and could read fashion mags alllll day long in Barnes and Noble which is cute because bookshops don't exist anymore, right?? I am hoping she pulls something better in terms of an outfit out of her hat. Her partner is up for anything because she 'loves fashion and makeup,' errr, ok then...
Christy and Robbie are bonding over their love of vintage but Robbie appears to be a bit lost. He's not the best at construction so...
Elena is empathising with Bob, who tells her that everyone else hates him because he keeps winning, she did a photo shoot and the photographer was giving her all the attention and the other Little Women gave her shade for it. "I am NERVOUS!" says Bob to Robbie who asks him why. "Because y'all are gunning for me to lose," he says. "Oh no!" says Robbie. "We just want you to trip and fall, that's all!" MEOWWWWW! Bob, you in danger, gurl!
On the other side, Chi Chi still hot gluing the hell out of some sort of sequined fabric whilst he opines to Tonya that everyone sees him as 'the broke queen' and he doesn't understand that, with...a...glue gun...in...hand? Tonya tells her she just needs to keep on keeping on, she never let her height get in the way of anything in her life. "Whatever you make, I'm gonna wear it strut it because you know that's how I roll!" I like Tonya!
Ru comes in and does his usual tour, stopping in with Kim Chi and Briana. Kim Chi is stoked to have Briana as she love Betty Boop and other comic icons, he's also well aware he one the very first challenge and then was in the bottom. I like Kim Chi, I was a bit wary at first but I think she has much more to give, let's see.
Then it is over to Thorgy and Brittney who are still ONLY at the sketching stage, WUT? Nothing to see here.....Dazza Bazza tells Ru he is 'creating elements to attach to a body suit' which Ru reminds him has been pretty much every look he has done so far. Dazza does...not...compute, but kinda gets the message, not only must he not do Britney but he must actually construct or sew something that is not attached to a foundation garment. Well, we shall see how that goes...Terra says she 'doesn't handle losing very well,' hmmmm, shame you picked Dazza then, luv!
Ru also announces that in addition to their runway, they need to do an interpretive dance set in a dreamy poppy field, lol. Kim Chi and Brianna claim to have no idea what this is but they are doing a pretty good job, looks like most stuff I have seen on Eurovision over the years! Naomi, however, has literally no clue at all and is all arms and legs and NOPES. Over at the sewing machine, Robbie is having a 'mare with his fabric, this does not bode well as he has decided to make....dun, dun, dunnnnn-BUSTLES! Gurl, no...
Seems like Chi Chi and her glue gun are done, she is ready to eat Chipotle and watch Clueless, y'all! The other queens are incredulous, you need to use all your time, even if you've finished there is always something you can do better or something else to think of and they are right. "Do something more to your outfit," says Dazza Bazz. "Because it doesn't look that great,"
Elimination Day! Bob is in bits because his entire outfit fell apart and he has to start again....sabotage??? Hmmmm.
The Heartfelt Mirror Moments are brought to us by the little women and it's quite astonishing how close their stories parallel with those of the LGBTI world. "I think that's why I feel so comfortable around gay people," says Christy. "Because they get how I feel, I get treated the same way."
Bob has spent a trillion years getting Elena ready when out pops a production person yelling, "FIFTEEN MINUTES!" and he is still...a....boy! "Ok, face, face, face...it's literally not possible," he is contouring like a madman and Dazza Bazza hopes that the judges 'finally read him for who he is, please read Bob!' hmmm, do know what 'reading' actually IS, Dazza?? Bob is all in a fluster and starts picking up random bits of cardboard to contour with, ohhhhh lawdy, this is gonna be a hawt mess.
RUNWAY! I wish Ru wouldn't be so conservative with her drag these days, it would be cool if she alliterated to the theme as well, no? Guest judges are Todrick Hall in a fabulous, crazy green glitter suit and a more subdued Bob Mackie....oops, soz, I meant Marc Jacobs, he's a well documented Drag Race fan.
CHI CHI and TITI as the broke, beat down Walmart version of Dorothy. Hmmm, the octopussy tendrils of the skirt are doing no one ANY favours and I cannot fathom how she didn't do the RED SHOES! It's not Dorothy without the red shoes, fo shame, Chi Chi...
BOB the DRAG QUEEN and ROB the FAUX Queen: errrr, it's ok but that white lace is a bit cheap and yes, Bob looks like he put his make up on in 15 minutes. Elena's hair is everything with Ru commenting "Linda Evangelista!" which is dead on, chica's hair is en pointe but that's about the only thing. Peplums are SO 2012, hunny!
NAOMI SMALLS and JAZZY JEMS: you know, she knocked this one out of the park I think, especially the way they came out with broken arms up, it looks great. Naomi is alluding to the famous Westwood runway look of Naomi Campbell in the 90's and it's working here. I love Jasmine's makeup, it's totally Scarecrow but without being too costumey.
DERRICK and TERRA BARRY: ohhh the two Britney's are just a wreck, they have some sort of phallic should pads along with, you guessed it, a swimsuite with some fabric wrapped around it! Double-plus NOPE. So unflattering on both of them but I will say something nice, the red glitter heart lips were nice.
ROBBIE and HEDDA TURNER: eeeeek! Speaking of unflattering, I do not think Robbie thought at all about what this would look like on a little person whose proportions are so different. It looks like something from a kindergarten play and I feel for them because I like Robbie very much.
THORGY THOR and THORGEOUS: oh now, this is cute, this I love. I think that they have really alliterated the look brilliantly with the green and the glitter however, those thirsty Dollar Store wigs are dragging the whole look down. So much co-ordination though!
KIM CHI and MISO CHI: oh love the names, so funny! The entrance is perfect too, with Miso up high so it looks like she is normal sized, very clever. The looks are awesome too, I think Kim Chi is gaining more confidence and even though she says she loves doing anime/cartoon look, she hasn't made it too cartoon-ey.
The dream sequence thing is just weird, I don't get it and no one really appears to get it either as the brief is so esoteric. Kim Chi and Miso crack me up with their assault and battery stuff, they have no idea either but they are having a go. Meh....
CRITIQUES: Michelle wants to know if Chi Chi ever contours even though she knows she is not a 'breast queen and Chi Chi says she tried to contour but it looks like it got washed off. "Because your waist isn't cinched we need to balance out the man,". Yup. Ross loves Elena's look but thinks Bob put so much effort into her that he let his own look down. Ross and Marc LURVE Naomi's Scarecrow, "This is how you win the competition," says Ross. Michelle has choice words for Dazza Bazza "It just looks so homemade," she says. "In the worst way," Dazza protests that although he is not a seamstress, he sewed EVERYTHING on him! "It's a piece of fabric..." word, Michelle, word. Todrick knows that he is better that what he just did. Robbie incurs Michelle's wrath not only for the bad bustles but his hairline. "I guess I'm just I'm a little more Old School," he says. "Even Jan Crouch found a way to blend," says Michelle. Marc adores Kim Chi's look and Michelle loved the beginning even though Kim was a bit wobbly bringing down Miso from a great height. Marc was charmed by Thorgy and Thorgeous but Ross didn't think it very memorable.
Ohhhh the shade! Ru asks everyone who they think should go home and it is pretty much a split between Dazza Bazza and Chi Chi with a couple of Robbie Turners. I agree, Dazza needs to go as he is just not understanding how to grow but at least Robbie is talented although I wish he would stop helping people so much. Chi Chi and Derrick get into it over Chi's hot gluing versus Dazza's 'sewing' but the general consensus is, at least Chi Chi's dress looks good whilst Dazza just sewed a single piece of fabric. "At least mine has a hem all round," protests Dazza. Chi Chi gets shaded hard for finishing early too, justified I say.
WINNER: Naomi Smalls
SAFE: Thorgy, Kim Chi, Chi Chi
BOTTOM: Dazza Bazza and Robbie Turnt-her (NOOOOOOOOOOOOOOO!!)
Oh man, I would hate to be up against Dazza Bazza in a lip synch and I prove to be right. This is what Dazza does all day every day for a living and Robbie doesn't have any roller skates to fall back on. Dazza clearly wipes the floor with Robbie and I am sad as I feel like Robbie has brought WAY more to the table so far than Dazza. But then Robbie commits the cardinal sin of the lip-synch and rips off her own wig, NOOOOOOOO, never rip off the wig! Robbie ends up sashaying away 🙁 much as I hate to say it, Dazza dominated the lip-synch as we expected......bye Robbie, thanks for the dodgy hairlines and vintage vibes!