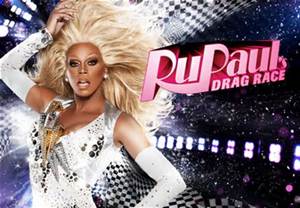 Ooooooh, gurl, we is in for a shady, bumpy ride tonight on RuPaul's Drag Race!
It's getting to the pointy end of the comp and I am N.E.R.V.O.U.S because there are a few that I love and I am really not sure who is going to survive, especially after last week's shocker when my beloved Robbie was booted. One thing is fo sho, the lip sync is counting WAAAAYYY more than it did in previous seasons when it was really just a cursory thing to let contestants believe they rilly had a chance, when, in fact, Mama Ru had usually made up her mind.
Sooooooo, we open to the girls heading to the Werk Room after Robbie's eviction 🙁 and Dazza Bazza is scared because 'at least three queens in the room want me to go home,' ahhhhh only THREE? I'd say they ALL want you to head on back to Vegas, love. Thorgy and Bob give Dazza shit for her 100-year long emotional monologue at the end. Chi Chi is also feeling a bit insecure too which is understandable but I still think she knows her way around a glue gun better than anyone.
It's challenge day and RuMail tells us that it's gonna get political, hunty! Very topical as the USA are in an election year, who will be the first Drag President of the United States?? The Pit Crew comes out and I am HORRIFIED that the queens do not greet them correctly....what happened to the grunting, peeps? They do some silly game, trying to guess who's a top and who's a bottom in the Pit Crew and, of course, it's bunk beds. Shocking no one, there's only ONE top and about 20 bottoms....a top drought in West Hollywood, never. EVERYONE knows there's a top drought, it's fucking global! Ru is sneaky and pairs the girls up himself, lol, this should be fun. Dazza Bazza wins and he wins a......MATTRESS! LOL, the shade of it all.
Ru is sneaky and pairs the girls up himself, lol, this should be fun. They need to promote themselves and smear their opponent. Pairs are: Thorgy vs Chi Chi, Kim Chi vs Naomi and Bob vs Dazza. Start your engines and may the shadiest politician win!
Thorgy immediately tries to psych out Chi Chi by writing down fifty pages of smear and telling her that 'the funny thing about me is I am a tyrant' and I'm worries because she is sooooo confident but also has an editing problem. Considering the ad can be no longer than 45 secs, it's gonna be a mean feat.
Dazza tells Bob that 'obviously, I'm going to call you ratchet' and isn't that getting a bit old? Bob wants to play up the fact that he's smart and Dazza isn't and Dazza is down for that. This pairing could actually work....hmmmm, who woulda thunk? Bob is busy psyching out Thorgy, he's succeeding too, Thorgy is fuming and it's hilarious because Bob ain't got no fucks to give at all.
Kim and Naomi have a case of the 'I Love You Too Much' virus, I'm scared for them as they are great pals and may not piss-take enough for the challenge. As Bob says "They're just acting like Chia Pets in the corner, being so adorable," They better have some fierce looks to fall back on.
Ok, it's time to film! Dazza Bazza is up first and he goes straight into the 'black man in a hoodie steals' trope with Bob, it's not original and his delivery is ok, he's taking direction well. Bob kills it and his ad is hilarious as 'Blackie Onassis and he has Dazza eating babies and it is soooo funny. These two could be the dream team tonight, good one them.
Next it's Naomi and Kim Chi. Naomi is stiff and stumbles over her lines. "It's all about attitude', says Michelle Visage. "I know you know how to be shady." Kim Chi is nervous about her enunciation and it comes across. "I'm seeing the words as they come out of your mouth," says Michelle. They are not taking direction too well and Kim keeps going up to high at the end of her delivery.
Chi Chi and Thorgy are next, Chi Chi is nervous and looks like James Brown and sounds like John Wayne? Chi Chi doesn't want to be too country and more 'presidential'. Thorgy's character is great, fully formed but when Michelle asks him if he wants to do a final scene with Chi Chi to tie everything in, Thorgy declines. Ruh roh, I have a bad feeling about this, she's changing things all over the place too which is taking time and it's boring everyone.
The runway today is 'Black and White' and Bob leads the mirror d&M's but telling everyone about his political protesting and how he was in the Capitol when Marriage Equality passed. Then Dazza Bazza asks Kim Chi if he was born in North or South Korea?? Kim Chi corrects him and tells him in no uncertain terms that North Korea 'isn't somewhere you leave, if you do your whole family will get killed". Turns out he was born in the US but went to elementary school in South Korea. "Americans have it so good here," Says Kim Chi. "There's no drag culture or even really gay culture in Korea,"
RUNAWAY TIME! Guest judges are Thomas Roberts, seems to be a politician? And my FAVE! Vivica A Fox, she is always a laugh. I have to say, Michelle Visage looks A-MAZING tonight with perfect Cleopatra bangs 🙂
Bob The Drag Queen: looks creepy as fuck, like a sneering Harley Quinn. Love...but it's not his strongest or most complete look.
Dazza Bazza: NOT wearing a swimsuit with some fabric tonight, but she looks like a shiny budget version of Morticia Addams. Better than previous weeks but still weak.
Naomi Smalls: taking direct inspiration from the legend that is Raven, this is a great look for her. She is padded to the nines and looks amazing.
Kim Chi: is cracking me up as some bizarre, monochrome Pierrot complete with actual mime moves. Say what you like about her acting chops, girl has creativity oozing from her pores. I love this.
Thorgy Thor: this is a weak look for her. Why are all her wigs so thirsty? Why is she wearing hammer pants? Just, no...sorry....love you, Thorgy, mean it.
Chi Chi: is sparkling in a gown given to her by her drag mother and, I have to say, it's the best runway look for her so far.
We get to watch the political ads and we have the critique from the judges: Bob's ad is a big hit and it is hilarious, "I believe in helping the people, BJ's for all! That's Better Jobs, you fools!". Dazza's cameo as the baby eater is amazing, these guys really went for it. Michelle throws him a challenge, to show her a fully realised 'glamasaurus rex" whatever that means.
Dazza Bazza's is also not bad, I just wish that there weren't so many racial stereotypes? Makes me feel weird. "You came across like you really didn't believe what you were saying," says Carson. "Which is perfect for a politician!" They don't love his runway though, same old same old.
Naomi really goes after Kim Chi in her ad and it is great! Lisp jokes, can't walk a runway jokes, Kim Chi is hamming it up like there's no tomorrow. They love Naomi's runway too. Kim Chi's ad is not as strong, but he makes a strong point by saying that the shady gays are all about 'no fatties, no femmes and no Asians' which is sooooo true. "I don't think you're a big speaker," says Michelle which makes Kim emosh and I AM emosh too! Ru steps in and says that they are at the point in the comp where they have to give some harsh critiques.
Thorgy's ad could have been SOOOOO good! His character is great but he lets it down by shading Chi Chi for being an alcoholic 'always reaching for the bottle' but then doesn;t tie it in with a comedy shot of Chi Chi doing just that. It's slapstick 101 and I am very surprised that Thorgy misses the beat here as she is a theatre queen. She could have won...but the jokes fall very, very flat. Carson tells him his runway makes him look like 'a dead Boy George' which is spot on. He's criticised for not doing the boozy cutaway. "There was no smear in that smear campaign," says Michelle.
Chi Chi doesn't fare too much better, "I'm making sure there'll be chitlins boiling for all!" Vivica tells her she could have 'drawn her ass through the mud' and Carson tells them they were too nice to each other. Chi Chi's only excuse is that she doesn't want to appear like she is 'from the ghetto' because it took her so long to get out but Ru reminds him that the reason he was given a plane ticket is because of who he is.
After deliberation we have the results:
JOINT WINNERS: Bob the Drag Queen and Dazza Bazza
SAFE: Naomi Smalls and Kim Chi
BOTTOM: Thorgy Thor and Chi Chi (NOOOOOOOOOOOOOOOOOOOOOOOOOO!! Not my Thorgy!)
It's the lip sync  and I am so, so scared as it doesn't seem like Thorgy actually understands the song, "And I am Telling You" by Jennifer Holliday,  and the 'gravitas' it requires. She comes off as too much of a clown and, when Chi Chi's beading starts scattering all over the stage, it's the exact type of drama that means Chi Chi wins....my Thorgy is sashaying away and I am sad, but you are only as good as your last challenge and she missed the mark here. Sorry Thorgy, I know you will have a fabulous career, I will certainly be following you!