Welcome, dear readers to the lifestyles of the poor and vapid on Vanderpump Rules! What will tonight's episode bring? One thing is for sure, it's going to Stassi-laden....gird your loins!
We open with Lalalaaaa telling Dani (S.U.R server who just popped up outta nowhere) that she doesn't think she is a very good hostess at S.U.R. I'm not really sure why she is concerned about this, perhaps her sideline as a Yacht Girl has dried up because she's not made mention of any 'trips' since week two? Turns out they live together and they are having a housewarming which appears to only have ten people invited including our fave Witch Queen of NOLA. Things could turn to dramz fairly quickly, if we are lucky. Right on cue she turns up with Christina and I forgot that it used to be Stassi's place, she does the cursory tour around her and Jax's old love pad. Stassi knows that it might be dramatic to turn up but she is desperate for a friendship with Katie so will stalk her appropriately.
Back at Special Unique Restaurant, Jax the Nose is back on the job after two weeks in exile living off Kentucky's Hooter's tips. Lisa VP rocks up and eyes Jax like he's a titless cheerleader a football game. Is he back early? The deathstare is real...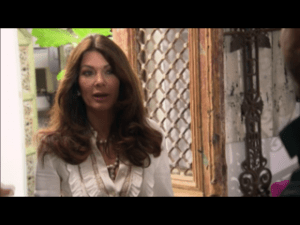 Lisa doesn't think that Jax has done enough penance and is sending him off to Covenant House, the charity she works with who's members came for dinner a few episodes ago. She wants him to help run a clothing drive and donate some of his stuff to them, I only hope they have an industrial sized dry cleaning unit to rid his clothes of the antibiotic-resistantJax Cooties!
Back at the Super Awkward Housewarming party things are super awkward as Ariana-Daria and Sandoval turn up, for some reason Sandoval has hoop earrings in and is studiously avoiding eye contact with Stassi.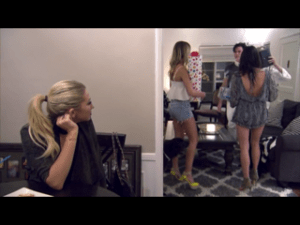 Sandoval walks into the room and totally ghosts Stassi so she decides to make shots and hopefully break the ice. Then Princess Scheana and Soberish Shay turn up which should be interesting because last time they saw each other Stassi was all....
Stassi ends up talking to the only person who can really stand her, Soberish Shay who declares, "Seeing Stassi is a bit like seeing a ghost, a bitchy ghost, a Bitch Ghost." Yes, Shay, yes it is...
Sandoval has had enough booze to tell Stassi that she is a thoughtless pig because she is still Kristen's friend and calls her out for really only wanting to be friends with everyone again because she is homeless and single and lonely. Game, set, Pinot Grigio: Sandoval.
Across town, Waity Katie and Schwartz are having dinner with Jax which seems INFINITELY more fun than the housewarming party. Jax is telling them about how he is buying Kentucky new boobs, even though she doesn't really need them. Not sure where he is going to get that cash from? Maybe spamming his mates' Facebook with Rayban ads? LOL...
They are bitching about Lalaaaa who seems to have gotten back at Katie for the non-invitation to her Pucker and Pout party by non-inviting her to her Super Awkward Housewarming. Bullet dodged, I reckon...
Stassi and Scheana find the time to do shots and catch up on the last couple of years. She also cannot believe that she is staying with KKK but Stassi also can't believe that Scheana would spread rumours about the 'sex tape'. It disintegrates into babble and then Princess Scheana apologises but I am not really sure what for? Looks like these two are going to hug it out...
Back at the fun dinner things become a bit less fun, Jax and Katie want the goss about Schwartz's meeting with Stassi, are they friends now? Did they braid each other's hair? No and no but he does suddenly remember that he invited her to the engagement party!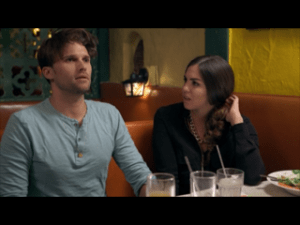 Schwartz gives her some mealy-mouthed version of events where he was 'so mean' to Stassi that he felt sorry for her and then invited her to a thing that Katie would never in a million years invite her to. Geez, Schwartz...you been played, dude....and, if you haven't had Fiancee Sex as yet, you certainly won't be in the future, that bagina is closed down.
Over at Krazy Kristen's House of Slutty Single Life, KKK and Stassi are having breakfast vodkas and discussing how 'fun' Kristen is and Stassi's invite to the most awkward party of the year. Turns out KKK hates Lalalaaa again, which is odd because I thought they united over their hatred of DJ TFB but I must've been making that up. KKK is impressed with the speed at which Stassi is worming her way back into the group or 'up the totem pole' of friendships if we are being culturally inappropriate about it.
Awww the Tom's are singing in the car together...#thebromanceisreal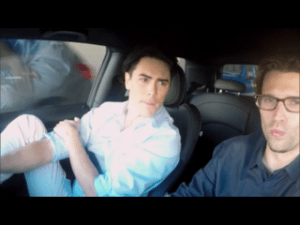 Bwahahaaaa NO! They are singing along to Sandoval's band that is called.....'Charles McMansion'! This...is....untold...T.I.P = Touch In Public...
Talk turns to their imminent meeting with Pandora about the VP Sangria line and Schwartz has feet colder than an Alaskan Weiner dog's nuts in a blizzard. "I feel like I'm all in with this or I'm all out, there's no in between for me," he lets his friend down gently. "So I think I'm all out, dude..." seems Schwartz's work as a Dad-bod catalogue model is paying pretty well now so he doesn't need to schill more crap for LVP.
It's the day of the clothes drive for charity and the boys are at Villa Rosa going through their clothes but they are going through Ken's clothes and skimming off the top. The spot a tasteful nude of LVP and search for nipple and Jax drools he's saving this image of HIS BOSS up for his Spank Bank.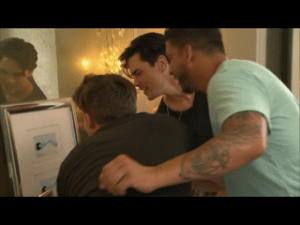 LVP and Schwartz sit down and hash out his lack of balls when it comes to committing to any promotion of the sangria line. Honestly, who is even remotely surprised by this? Schwartz loves Easy Street but if something is too hard he just will not do it, dude could not even be a bar tender at S.U.R for God's sake! LVP tears strips off him and tells him he needs to work harder and that she is disappointed that he is not doing this for his and Katie's future.
Everyone is at a fancy jewellery party by the guy who designed Waity Katie's rock. KKK is there but she has dumped the Really Responsible Yacht Captain, Aleks and is now with some bearded douche in a Panama hat she met on Tinder...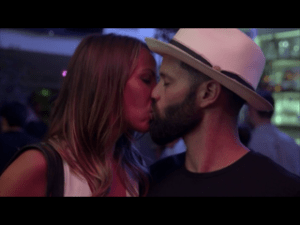 Ariana-Daria lets slip that KKK was not even on the guest list for this party and accurately points out that she has just brought her new bloke into the dragon's den of a party where her ex-boss is the host and her ex-boyfriend is the DJ, what a great first date! She sure knows how to charm a bloke, that KKK.
Waity Katie is justifiably concerned at her fiancee's lack of follow through with the opportunities that LVP keeps littering in his path. She lays down the law for him that they are building a future together and she doesn't want him passing shit up without consulting her, fair enough but she should know by now that her hubby to be is a lazy ass. Schwartz decides to have a brain fart and admits he doesn't know where his head is at and that he's a mess. He's no mess, he's just L.A.Z.Y!
"You don't want to be that 40-year-old out of work actor, that's not cute," You tell him, Waity Katie! It's so not cute.
Jax is waxing lyrical about the new bewbs he is buying Kentucky to Ariana-Daria, he's getting a huge discount from his nose surgeon, Dr John and, seeing with how stoic Kentucky has been through Ugly Sunglass-Gate, he's gonna get her some new titties. Not porn star sized ones though, nice, pear-shaped ones.....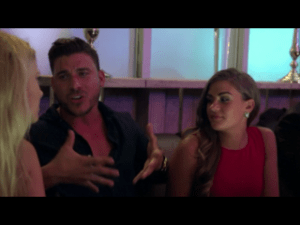 Over at The Shay Apartment of Wedding Nightmares, the after party is in full swing. Jax is white-girl wasted, humping on Scheana's wedding albums and Katie looks like her vagina is shut to Schwartz forever. Katie confides in Princess Scheana that Schwartz invited Stassi to their engagement party and she wants to know why Scheana changed her mind about Stassi.
Actually, Jax looks coked to the eyeballs now when Kentucky tells the group she wants 'tasteful big C cup boobs, maybe a small D' but Jax is infuriated as he actually wants her to get DDD's. "Hang on, if I am financing this then I want 'em how I want 'em," run, Kentucky run, lest this happen to you:
Poor Schwartz, he's already been thoroughly emasculated by his fiancee AND LVP, now Sandoval and Jax are coming for him after he invited Stassi to his engagement party. Jax hits the nail on the head when he says Stassi has a plan to get to Katie through the weakest links around her and the biggest and weakest just happens to be Schwartz. Jax goes nuclear on him and calls him a pussy, then Sandoval goes nuclear on Jax and tells him to pull his head in. Jax is looking more like Satan himself and then pops out the gem "I'm the number one guy in this group," to Sandoval. "You're not..."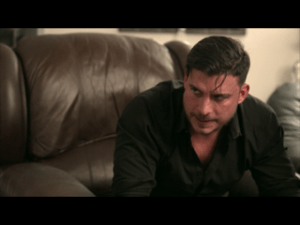 Quite rightly, Sandoval tells him to eff off, things are not all about him and everyone needs to stop castrating Schwartz.
Oh, dear.....looks like the wheels are coming off The Nose's Little Red Wagon! See you next week, peeps! xoxo BM