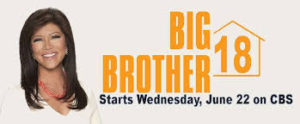 You know it's summertime when Big Brother is on. It's Season 18 already, can you believe it? 18 summers of this mess and we love it! Let's dig right in.
The ChenBot tells us that this summer will be the craziest ever! The house guests will be locked up for three months straight with no outside contact. The last one left will win that cash money. She's going to introduce 12 house guests, but they don't know that there will be 4 stow-aways inside the house already! See? Crazy already! Let's watch the pre-packaged "What? I made it on BB, I had no idea!" videos.
First we have Natalie, who was an NFL cheerleader and now she's an event coordinator for Madison Square Gardens, who "truly makes dreams come true." Uh huh.
Next we have Paulie, a big lug that runs a gym in NJ. But, it's not just a gym, it's "high level" gym. Also, his brother is Cody from BB 16! And no showmances for him. We'll see, guy.
Bronte has a helium voice, but she's a math teacher, so she's super smart. She also is a pro dancer and she seems sweet.
Victor is from New Orleans and he's a hottie in a smarmy long haired way. He lives at home, so...He seems like a total momma's boy and he's super excited to be living with "a bunch of girls that aren't a part of his family."
We have Zakiyah from Charlotte, NC (Holla!) and she's a preschool teacher. She claims to be a Southern girl but also a "bad bitch."
Corey is a baseball coach and he's at Texas A&M. He sleep walks all the time, so that should be interesting!
We have randoms Glenn, Bridgette, Jozea as well. Glenn is a mobile pet groomer and a prior NYPD. He lives in the Bronx and he's married with a kiddo, so he's the token oldie. Bridgette is a traveling ER nurse from Ventura, CA. She says people won't expect her to be manipulative. She seems down to earth. Jozea is a celebrity makeup artist from LA. He says he's had a tough childhood so he'll be good to go. He's also the life of the party: Code: Token gay.
Michelle is a registered dietitian and she "doesn't like people that think that they don't have a weight problem." Do we hate her already? Yes, yes we do! She also says she's afraid of a lot of things, and she lists, like, everything. And her voice. The. Worst.
Paul is in a rock band and he owns a clothing company. He's the tattoo'd leather wearing, big ol' bearded dude.
Tiffany is a teacher from Palm Beach and she is Vanessa's sister from last season! What?! She brags that her IQ is 145 and she's more social than her sister. She dates men and women, so she'll flirt with both in the house. Her voice sounds just like Vanessa's. Erg.
We get a montage of why they all will win BB and then a montage of them kissing and hugging their families goodbye.
Julie welcomes them all on the stage and Natalie, Victor, Michelle and Paul are the first ones to enter the house. They do the typical screaming and jumping up and down. Michelle instantly navigates towards Paul because they both have nose rings, even though he has a cat on his face.Victor loves Natalie and he diary rooms in a Casanova voice about how she'll fall for him.
Next up is Bronte, Zakiyah, Paulie and Glenn. They walk in and Glenn crosses himself. They all hug and introduce themselves. Paul's ears hurt from Bronte's helium voice and Glenn already misses his daughter.
Corey, Tiffany, Bridgette and Jozea are last to enter. More hugs and introductions. Bridgette is so excited she's bouncing up and down in the diary room. Tiffany is killing me because she acts and looks just like her sister. Gawd. Bronte is meditating in the Diary Room and dear bob. They pop some champagne and get to know one another. In a hilarious scene that only BB has perfected:  Victor has eyes for Natalie, then Natalie has eyes for Paulie, then Paulie has eyes for Victor. Poor Glenn tells them he's 50 years old and they're all WHAAAA? Awkward. Tiffany has decided not to tell anyone that Vanessa is her sister, but Michelle has already figured it out. LOL Bronte has figured out that something is off with there being only 12 of them as well.
Julie tells everyone to gather so that she can reveal the first twist. She tells them they aren't alone; there are 4 stowaways in the house with them. Michelle gulps down her champers, haha. Julie tells them they'll be there soon. The first one pops out of a chest and it's Nicole from Season 16! I knew it would be former house guests. They are super pissed, "She had her chance." Ha. James from last season pops out of a trunk next and YES! Get it, James. Oh no. No, no, no, no, no. Momma Da'. Lordy. I think she'll be sent packing soon. The house guests agree. And lastly it's Frank from Season 14. The house guests are not impressed.
The newbies hate the vets and the vets stick together because they know it. Paul, Jozea and Zakiyah form a threesome and talk game. They want the vets out and they mean business. Paulie decides he has to tell everyone his brother is Cody in case he gets found out. It looks like it may have backfired because Paul is very suspicious and Vanessa is scared she should now too. Da' knows for 100% she's her sis and says she ran her mouth last time, but not this time. Well, we'll see about that.
Julie calls them all into the living room again. There's 3 more twists. Number 2 is this: They will play BB in teams of 4 this summer. They will find out how soon, but for now it's time for the first competition. Tiffany likes it, Da' hates the idea.
The backyard has rockets and hills and houses. The vets are split up and they have to pick their teams. So they don't get to stay together. Interesting. Oh! They also have to pick the opposite sex.
Frank picks Michelle because she's the only name he can remember. Ha.
Da' picks Paul, but says Paulie and makes him sad. LOL
James picks Natalie because she has strong legs.
Nicole picks Corey because he's big and muscular and kinda cute.
Corey picks Tiffany
Natalie picks Victor
Paul picks Zakiyah
Michelle picks Paulie
Paulie picks Bridgette
Bronte and Glenn are last of course. Awwww. Glenn says he knew it would happen because of his age.
The competition begins. It's called "Ride the Rocket" and they just have to stay on the rocket the longest. First team off is a Have Not, second team is a Mystery Punishment, third team will get a Cash Prize of 10,000 bucks and the last team will have a guaranteed safety for 2 more evictions. Oh yeah, and one person is going home today. They all about die. They all hop up, but Glenn has a hard time and it's really rude that they filmed that. Ugh. BB can sometimes suck.
They have butts all up in each other's faces, they rest heads on each other's butts, they stretch, they wiggle and then a BB rainstorm gets them. Tiffany is the first one down. Glenn is next, then Nicole. Corey is left all alone on their rocket. Michelle, Bridgette and Frank leave Paulie alone. Da'vonne and Zakiyah fall next. Paul falls off. Jozea falls and his team are the Have Nots. James falls off and then Natalie. They then get hit with BB bird poop and feathers. Bronte falls and that leaves just Victor, Corey and Paulie on their rockets. Paulie falls so they all get Mysteryland. Corey and Victor are left to fight it out. They both Diary Room that they'll do whatever it takes. Natch. And Victor wins it! "Puerta Rican sensation is here to stay and I just proved it." He hopes a hot girl will notice, he says. Ha. Everyone else is either variously pissed or worried.
The newbies gather and talk about how the "Old Heads" have got to go. The vets stress out that they are going to go home because they ain't stupid. Da' goes to the newbies and tries to strategize. They don't even fall for it. They laugh about it after she leaves.
Victor says that his team needs to come up with a cool name. They got nothing. Frank's team comes up with #CategoryFour while Victor and everyone ummmmms. Nicole's team are the #Freakazoids while James suggests PB&J or The Cavalry. "Guys, not to sound stupid, but what's a Cavalry?" asks Natalie. Errm. "It's like a horse unit," says Victor. Da's team are #BigSister. Victor says they need a bad ass name so James's team is officially Team #Unicorn. Yeah.
Tiffany makes the mistake of asking Michelle if she's anyone's sister. Michelle says no, but you are. LOL Vanessa tries to act shocked and innocent but it doesn't work. Vanessa decides to tell her because she knows that she knows. Yeah, it's way too obvious, yo.
Julie calls them all in the living room and congrats Team #Unicorn. The next comp in called "Hit the Road". Whoever loses the final round will go home this day and whoever wins will be the first Head of Household.
They are on a beach-type setting and they have to build a 15 piece pyramid sand castle on a suspended platform. Three people have to hold the platform up with ropes while the other one retrieves the pieces. They then have to switch and pass off the rope. Team Freakazoid is well in the lead while the other two have dropped theirs and have to start over. Da'vonne is being Miss Bossypants and Paul and her clash. Their pyramid drops again. Nicole's team is so close, just needs one block, but it falls. BigSister and CategoryFour are neck and neck but CategoryFour pulls it off! Team BigSister are very poor losers.
Nicole knows she will go home if they lose the next comp. Corey tells her she won't, but I agree, they will so send her packing. Da' waaaaa waaaaa waaaaaa's in the Diary Room. "It's so hard. It's so hard!" It's so hard listening to you!
More puzzles! They have to build a castle out of big blocks, but some of the pieces are decoys so it's going to be a hard one. Glenn keeps telling them a piece is wrong but they don't believe him. Da' is still complaining about Paul being aggressive and I am still complaining about her being an annoying human being. Corey says he's perfect for this because there are round pieces and corner pieces. Okay, fella! So, Glenn was right about that piece. When they're about done they realize it. Once again the teams are neck and neck now. Team #BigSister hit the buzzer but it's wrong. They readjust, hit it again and DING DING, they win it. Ugh. Just ugh.
So either Nicole or Glenn will go home I'm sure. Probably Nicole. See you soon for the eviction!