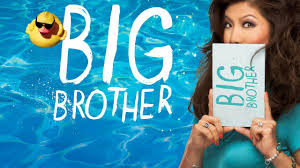 It is Live Eviction time on Big Brother, and I'm pretty sure Tiffany: AKA Vanessa Lite, will be heading out into the studio to meet Julie. There's always a chance that it will be our Mama Da' though, (these dunder heads are not the brightest bulbs) and that BETTER not happen! Let's get to it.
Our Chenbot, dressed in a baby doll-type halter thing, tells us that "everyone has been scrambling," and is there going to be another blindside? Then, she shows us what's been happening since the new nomination of Da'. Tiffany says that her flipping her hair on her doesn't scare her one bit. Then she asks Frank, did you like, see that? She whipped her hair in my face? Like, whatever.
Da' tells her group that she knows she's mad and that it's "shade 101". Her and Paulie lie on the hammock while Bridge and Tiff give them the evil eye over on the couch. He reassures her that Tiff is the one going home.
Meanwhile, Natalie gets pissy at James for being mean to her and passive aggressively lets him know that she like-likes him. He's kind of stunned. They are too cute.
Frank tells dude bros that Da' can be more of an influence than Tiff, so maybe they should keep Tiff. They play along-ish. Then, Tiff works on Nicole; telling her about her crying when Corey won POV and other things, like when she told Tiff about their alliance. Nicole starts getting pissed and starts to think about that.
Tiff then works on Paulie, telling him that Da' has been telling tales to her about them. She tells him that she will work with him, blah, blah, blah. This always happens; I think she's still out. Lame, Tiff.
Da' goes up to the HOH room and asks Zakiyah and Michelle what the hell is going on with the kiki down in the kitchen with the enemies and their group. She knows what's what and rightly calls that Tiff is campaigning FOR HER LIFE.
She decides to go to James and tells him they've got to stop the showmances. His response is, "HUH? I'm in a showmance." HAHA She says, not you, the others. He doesn't like that, and just Awww, mans her. He then goes and tells Corey what she just said, which is not good.
Julie tells us that Tiff and Corey are just like their sister and brother. Emotional and flirty. We get hometown footage and flashbacks galore. They both feel like they have a lot of pressure to live up to their siblings, and they feel like they're their own person. Corey's dad says NO SHOWMANCES; they fuck shit up! Errrr, too late. Then we get Vanessa, *shudder* and she tells us that Tiff started out poorly, but recently got fired up and may go far. Uh huh. Bai.
Julie asks for the nom's statements and Da' thanks the good bob above and misses her baby. Natalie bounces up and plays with her extensions while talking Valley speak; thanks James and blabbers about math and having fun. Tiffany says it's been wild and it's been super amazing. She's been loyal and do what's best.
Julie says it is time to vote. Michelle goes first and casts her vote for Tiffany. Zakiyah: Tiff. James:
Tiff. Nicole: Tiffany. Writing is on the wall, baby. Frank: Tiffany! BAI, she's OUT. Corey: Tiffany. Bridgette: Tiffany. Julie tells Tiffany she's out and she hugs peeps and leaves. The rest of the house guests squeal and kinda partay when she exits. LOL
Tiffany tells Julie it's ALL DA'VONNE'S FAULT! She tells Julie that she aligned with the wrong peeps and she couldn't lay low. She would have totally done it differently and not been emotional.
Video messages! Frank says he's sorry and he wished it had worked out. Same with Nicole. Corey says she was trouble. Da' says in sing-song, "I beat you, I beat you; you tried and failed; I beat you." Hahahahahaha
Julie then tells her about the Battle Back and dear bob, PLEASE do not let her win that!
It's the Battle Back twist tomorrow night and Julie is going to show us what the former contestants think. Glenn has been cooking and blames his team mates for being kicked out. He's going after the vets if he gets back in.
Jozea blames Da'Vonne for being evicted and he's just been playing volleyball and hangin'. He's going to be more chill in the house if he goes back in and not be so cocky. Uh huh.
Victor blames himself for his eviction, and has just been working out. He's after Paulie if he goes back in.
Bronte has been hanging outdoors swimming and getting a tan. If she goes back in, she'll not be so nice and she'll figure out who planned her ouster.
Julie has to tell the house guests about the twists. She tells them to sit and focus. She says the Roadkill comp is ovah! Thank the bobs above! Also, the teams are done; everyone is on their own. Yas! And with that, she says there are more secrets, but that is all she's saying tonight.
Tomorrow we get a special episode of Big Brother for Battle Back, and Sunday we will get the new HOH. See you then! Phew! So much stuff!