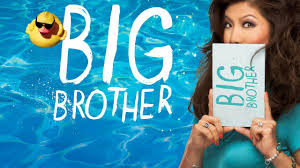 Here we are already at the Double Eviction night on Big Brother! These are always good ones, so buckle your seat belts and get ready for the ride
The Chenbot comes out in a white shift dress that does nothing to compliment; she totally needs another reboot, obviously. She tells us that tonight is double everything: double eviction, double competitions, double the chance for a house guest to have a return ticket.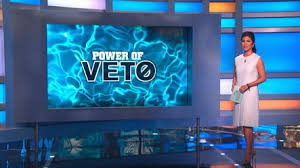 We go back to what's been happening in the house this week and Nat and Bridge talk about how they want Michelle to stay and they'd like to shake things up; they are sick of Paulie running everything. Michelle thinks she has them and also James, but she doesn't know about James and Paulie.
Paulie is still trying to convince Paul to keep Zak, but he still isn't having it. Paul is about done with his ass; he's not playing anymore, he keeps suggesting the wrong people to go.
Michelle campaigns to James to use his power, and he contemplates using it because keeping Zak isn't great for his game. Nat and Bridge tell him they want her to stay and that seems to do the trick. He says he's in.
The group then tells Paul that Paulie is the root of all evil and that James's fans sent him a message that said "Fuck that shit." HAHAHA Well, Paul is convinced and now HE'S out! Well, for now. We'll see.
Chenbot tells the guests that the moment is nigh, the votes will start. The statements can be said. Zak says she's had a great time and she hopes she stays, but do what ya gotta do. Michelle says that everybody was giving Paulie 500 grand just a few hours ago until she busted that wide open. Wow, haha. And then, something about Natalie that I didn't get? Anybody?
Jules then asks James if he'll use his power and he blocks Paul and Corey's votes. Paulie is up first and he votes out Michelle. Natalie votes for Zakiyah. Nicole votes Michelle. James votes Zakiyah. Bridgette votes Zakiyah. Zakiyah is evicted and Jules tells her. She gives hugs all around and joins Julie in the studio wearing a fabulous short blouse and baby poop colored pants.
Julie prepares to open her envelope and the ticket is a one-way ticket. She is going to the jury house. Julie asks her about Paulie saying she was safe. She tells her that she's sad, but he had to do his own game. She acts very numb and like she'd like to go backstage and have a good cry. Her voice is wobbly and she's very vague about everything. She tells Julie she hopes Paulie would like to talk to her after the game. Good luck. All in all, Zakiyah seems like a sweet lady. Sweep him off your brain and find someone worthy, you gorgeous woman!
Time for a new HOH! It is a fast-paced quiz game and it is a more/less statistic based one. First question and Bridgette and Paulie are OUT. Ha! Second question and COREY WINS IT! Oh boy.
Inside the house, of course Corey takes the dude-bros aside and asks, "anybody, anybody?" "What do y'all want?" Ugh and gross. These twits. There's lots of hahas and dudes and and blah blah blahs, Etc.
Julie calls them back in and Corey nominates Bridgette and Michelle. The ladies of course. Duh. So SHOCKING. Next up will bet he Power of Veto.
"Veto Time" starts and the players have to run up a ramp to their ball pit. They have to find their clocks in there and the first one to find them all and fill up their slots, wins. Bridgette starts off really strong, almost gets her third, then Corey takes it all.
Julie tells him he has time to decide if he'll use his POV and yeah, sure Jan. That'll happen. Bridge says thanks, Michelle says she knows she's toast, "Dead man walking," is her exact words. Corey does NOT use the POV. Another SHOCKER.
Bridgette will play the game super hard. Michelle wanted to blow up Paulie's game; she did that. Nicole is a snake, do not trust her, and she is all good going home doing all these things. HAHAHA Love the shade.
Natalie votes out Michelle. Corey votes Bridgette. Nicole votes Bridgette LOLOLOLOL. Victor votes for Bridgette!!!!!!!!!!!!!!!!!!!!!!!!!!!!!! James votes to evict Bridgette!!!!!!!!!! DEAD! I AM DEAD!!!!!!!!!!!!!!!!!!!!!!!!!!!! Bridgette is OUT! I love these people right now. Just for this one brief moment in time. Dear bob.
Julie tells the house the news and Michelle's face is worth EVERYTHING. After the initial shock, she cries and cries and cries. Dear bob.
Bridgette leaves all cheerful-like and Julie immediately goes to open her ticket. She also has a one-way ticket and is headed to the jury house. Julie asks her how she feels about Michelle and her mouth still in the house. Bridgette doesn't have any idea why she's the one out; maybe she's too strong and independent she reckons? Julie points out that her exposing Paulie might have been why and she agrees. She does not regret it though.
Well that was a fun-filled hour, was it not? Love that Michelle just dug her own grave! Woot, more dramaz Sunday night!