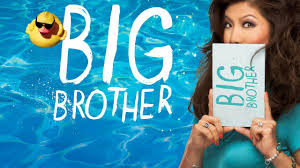 Michelle and Paul are nominated, with Paul as the pawn and Meech as the intended next one out the door. It's Power of Veto time on Big Brother; will one of these two crafty players snatch it up?
Michelle manages not to cry when she's nommed, which she's really proud of and so are we. Nicole wants her gone and she says it keeps her from having any BLOOD ON HER HANDS. But, we all know she's harboring venom from her calling her a snake.
James goes to visit Meech and he tells her that Paul is the target. James is totally out of the loop now, and I gotta say, as much as I like him and Nat and can't stand Nic and corey; I love this. James just cannot play this game. Mr. Wishy Washy.
Nicole wonders if Nat is mad at her and Corey is still flummoxed about the bribe he has from America. Nicole tells Paul she's worried that James and Nat are suspicious, and he says he'll do whatever she wants, so that she won't have BLOOD ON HER HANDS. Good God. These people. WHO CARES if someone is suspicious? It's BB!
It's POV player picking time! Nicole pulls out Victor's name, which, how many choices are there left now, anyway? Paul gets house guest's choice and picks Corey. Meech pulls out James, and he's happy because he wants to win it and keep him and Nat safe.
Meech has everyone's number when she sees that Paul picked Corey for his house guest's choice POV player. James just sits and waxes poetic about his sandwich. He doesn't care; he's safe and so is Natalie.
Meanwhile, #FinalFour talks best-case/worst-case scenario in the HOH room. Nicole is scaaaaaared that she might have to break a tie in the case of that happening on Thursday's live eviction. Wouldn't want to get BLOOD ON YOUR HANDS, now would you, Nicole?
Now, this is right up Corey of the derp's, alley! The POV comp is a Christmas Wonderland! It has everything Christmas, plus, puppy dogs! I think he about passed out when he saw the site that beheld him.
They're all dressed as elves, except Nat, who is the hostess; she's dressed as Mrs. Claus. This comp is a math-type comp. They have to go around to the 3 Christmas sets and try to memorize the scenes. Then, they answer Nat's questions and decide whether to stay or fold with each other's answers. Last one to stay and win; wins.
The first answer is blowing Corey's mind because he's so damn happy seeing the toys and the Christmas scene; he literally thinks he's in the North Pole. The answer to the first question is 77 nutcrackers, so James and Nicole win a candy cane with Vic being eliminated first. They only need 3 candy cane's to win.
Round 2 asks for how many carrots are in the reindeer stalls, and the way that these people are calculating hurts my brain. Especially Corey, who just sighs at the reindeer, with much love and spiral hearts in his eyes. The answer is...513 carrots and Nicole earns her 2nd cane, while James is out and Paul, Corey and Michelle are safe from folding.
Round 3 asks how many names are on Santa's nice list and Corey throws it to Nicole, with 1 billion names. Nicole is even like, dude. Really? The number is...1,879, so Michelle earns her 1st cane. Nicole then figures out what Corey did. These two. Oy.
Paul would've have won by now, but he keeps folding to just watch and wait it out. He realizes with just the three of them left, he needs to start playing. The 4th round wants to know the total number of teddy bears and Paul folds AGAIN. The answer is...139 and Nicole wins the Power of Veto, leaving the noms the same, I'm sure!
Meech knows she'll stay on the block, but thinks maybe Paul will go home. Paul hopes the same thing, wanting the plan to stick of Meech going home.
Nicole tells Corey how smaaaaaart he was for saying one billion names were on the list that added to her winning the POV. Vic comes in and tells Corey he doesn't have to use the bribe to keep the noms the same. Corey realizes he can actually use the bribe "for other things." They tell Vic that he and Paul are totally cool, but as soon as he walks out, she says, "We could totally get one of them out!"
They talk excitedly about doing that instead of keeping the noms the same. Flip flop. Flip flop. Fools. I will just say this: They'd be crazy to KEEP Vic and Paul, because those two are the only ones to ACTUALLY PLAY THE GAME AND EARN THE MONEY, but with that said; I dearly hope they do not realize this and with their poor little candy cane/puppy dog brains, I doubt they will.
Nat tells James that Vic has been distant with them this week and he notes that it all sucks. They *think* that Nicole would honor their deal of final four, but wonder about the closeness with Vic they've got going on.
Victor is "going bananas" in the house. Paul agrees; they need to get laid, big time. Especially since the other four are macking out all of the house right in front of them. The two then make their own dating video and women all over America are all, HEEEEEEEEY!
Michelle is sleeping and BB keeps telling her, "Michelle, please do not obstruct your microphone." to her moans of tiredness. *Brought to you by BB microphone tomfoolery.
Michelle then decides to throw a temper tantrum and says she's sick of everything. She hates the way she looks, she's scared of being on the block, she's the worst! Aaaaaaahhhhhhhh! Poor Nat just tries to help, obviously over her, "No your not." *dead eyes*
Paul and Nic work it out and he tells her that she should take him off the block and put Nat up so that the three of them will freak and that will be a good thing. She thinks that sounds too shady and Paul; that does sound shady, dude. No when to hold em, know when to fold em, fella.
It's time for the POV meeting and Nicole comes out wearing tiny Daisy Dukes and a black lace tank top from Hot Topic meets Contempo Casuals. Michelle just says thanks, and Paul says, #Friendship. Nicole doesn't use the POV, obvs.
Michelle says she will campaign and not give up. James thinks everything is all good; Paul will go home. Paul wants to make sure that Michelle will go home and Nicole doesn't want to be the tie-breaker. BLOOD ON HER HANDS!