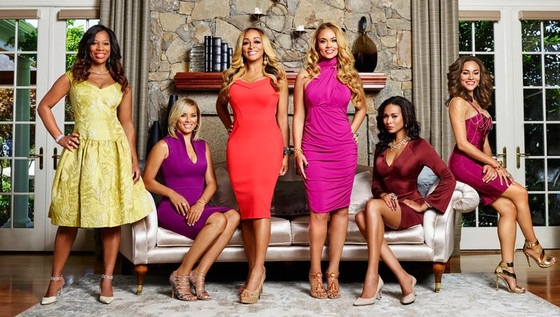 What is happening my fellow Housewife loving gossip hounds! J here to bring you blocks of text shockingly absent of expletives and full of unwarranted snark and snide comments. I feel that I should start with a disclaimer: I am HORRIBLE at reading people and their emotions, intentions, motivations, etc. Somewhere along the way that part of my brain just didn't develop so I wade through life befriending serial killers and trusting anyone, mostly strangers, wholly. What does this mean for you? If you want an in-depth psych analysis of each episode, this ain't yo place. Now let's get down to it!
Our Savior Andy Cohen has brought us a gift. The gift of another city bubbling over with desperation, money, and women who married old, morally questionable men. It's time for a new season of Housewives, y'all! Before the floodgates open and the ladies of our newest city, Potomac, come spewing out in a rush similar to Lisa Vanderpump removing her bladder tampon, let's get to know them first, shall we?

First up: Ashley Darby. Ashley is definitely cute! She fits perfectly into Our Savior Andy Cohen's official Housewives size requirements and has mastered one of the three permitted hairstyles, the middle part with a soft, face-framing wave. She gets 3 out of 5 Housewives.
Ashley has "a spicy personality and an unmatched drive to succeed" which in Housewives translates to "I want the most screen time".  She was the breadwinner for her family and worked 500 jobs at once to support them so it looks like we'll hear her humble brag about that at least once an episode. Cue the fairy tale romance with Prince Charming in the form of Australian millionaire Michael Darby and his two evil stepchildren. Well, I use the term "children" loosely here. Are they still your children if they're older than you?

Let's move it along to Charrisse Jackson! Charrisse is the token old lady of our Potomac group and also the token philanthropist who joins any organization, club, or group that will make her look like she actually cares about the lives of others. In fact, the entire first paragraph of her bio is a roster of every philanthropic group to ever exist north of the capitol. The second half of her bio lets us know that she don't need no nannies to look after her 15 and 17 year old sons and she loves her husband so much that she makes him live in New Jersey. And just like that, you make me like you, Charrisse. 4 out of 5 Housewives!

Ladies and gentlemen, may I introduce to you, the Grand Dame of Potomac, Karen Huger. Grand Dame Karen is a farm girl who used her experience wrangling pigs to social climb her ass off and become Potomac's self appointed Grand Dame.  Grand Dame Karen's husband is CEO of a tech company and her two children will soon be forced to legally change their names to George and Charlotte. With George already off on his own (a college graduate! This is a Housewives first!) and Charlotte counting down the days until she can flee the compound, Grand Dame Karen is worried that her relationship with her CEO will fall apart without the child-glue that currently holds them together. TBH Grand Dame Karen sounds about as interesting as season three of Manzo'd With Children. 2 out of 5 Housewives just because I know it will piss her off.

Hopefully Katie Rost will be more interesting! As an international model, TV personality, (most likely) #99 on 2009's The Vogue 100, and all around rich bitch I think that Katie and her outfits will be hella interesting. Potomac's biracial Kyle Richards has three small children from a short lived marriage to her college sweetheart and y'all, I am so excited to meet three-year-old James Rocco and his 14-month-old twin sisters Kathryn and Renee. 5 out of 5 Housewives for normal, sane baby names!
Side note: I am an absolute sucker for Housewife kiddos. Nothing makes me happier than seeing a toddler clump around in her mothers leopard Louboutins while screaming at her nannies to spoon feed her more kombucha. "Gimme pizza you old troll!" is one of the greatest lines in Housewives history and it came to us courtesy of resident PITA and all around Queen, Milania Guidice. The HouseKids bring drama and sass in a way their mothers could only dream of.

Gizelle Bryant is what I love most about our Housewives: unmarried, unemployed, and unbelievably rich courtesy of her ex-husband. Gizelle is a single mom who does nothing but boss around nannies and pretend like she's the next Bobbi Brown through her makeup line carefully crafted for women of color. I would totally trust Gizelle's beauty advice; do you have any idea how hard it is to match your hair perfectly to your skin? She also has her head up every charity in Potomac's butt because she will not be outdone by the other charity addicts in the group and she will reign supreme as the Charity Queen. Or she exaggerated her philanthropy to make her otherwise snooze worthy bio focus on something other than the fact that she named her daughter Adore. 1 out of 5 Housewives, mostly for naming her child Adore.

Everyone say haaay to Karen #3! Or Short Hair Karen as I like to call her. Seriously though, Karen, Gizelle, and Robyn Dixon all look like the same woman who is experimenting with different wigs and plastic surgeons. Robyn Dixon might look the same as Karen #1 and Karen #2 but she's a boss bitch that's all her own. I don't actually have any proof of this but her Bravo cast photo looks pretty fierce and has this whole, "I'm better than you will ever be" vibe that I'm really digging. What I'm not digging is her living in the same house as her estranged husband after he "broke her heart". Maybe Robyn isn't the bad bitch that I thought she was. 3 out of 5 Housewives!
So that's it! Those are your ladies! I'd recap the trailer but to be perfectly honest, I spent most of it in a panic trying to figure out who was who. Everyone looks the same when they're screaming obscenities through a mask of Botox and Xanax.  So what drama will unfold this season? Who do you think will be Potomac's Kenya Moore and twirl this city into our reality rotten hearts? Or, will it go the way of its DC predecessor and flop harder than Michaele Salahi hopping a fence in a sari?
The Real Housewives of Potomac premiers this Sunday, January 17th at 9/8c. See y'all there!
All photos taken from bravotv.com