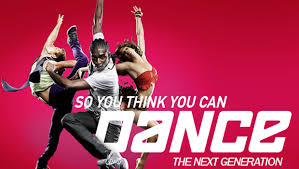 Continuing on with auditions, we go to the Big Apple. Let's see what the kids in New York bring on SYTYCD: TNG
We open with Cat interviewing some kids and she is just the best. She arm wrestles one little boy and he wins even when another boy tries to help. She falls to the ground giggling, saying she's humiliated. We love our Cat. What a great mamma she is, I bet!
RJ and Jake, 11 and 12, are brothers and they are hip hop dancers. Their mom tells them they're heartthrobs and America wants what they got. They have slicked back hair and wear shiny black suits with white tee tanks and loose ties. I don't know, guys. They are good, but by SYTYCD standards? They perform and the judges give them a Standing O, natch. They both get tickets.
Ruby, 12, is from Miami and her mom and dad both dance. They own a dance studio. She's going to dance Ballroom and she tells the jidges she's the current US Junior Champion in Latin Ballroom. This should go well then! She's dancing by herself and it certainly does go well. She's sparkly and precise. Her dad sits there watching and doing the routine so Nigel tells him to join her. She looks even better with a partner. Another Standing O. She's in!
Tate is 12 and she's from Calgary. Her mom is her dance teacher, her dad's a lawyer, her brother is a hockey player and she goes to school at a ballet academy. Not only does this girl have such control and legs for miles, she actually made me tear up a little. Her routine was just beautiful; one of the best I've seen on all these auditions so far, if not the best. Standing O. The jidges agree. Paula is choked up, Jason has no words, Nigel says the mentors will be fighting over her, and she is of course going to the Academy. She is overwhelmed and her mother seems so down to earth and happy at the same time. No hysterics, just a calm happiness. So nice to see!
Valeriya,10 and Alex,11 will be doing Ballroom. They are a couple of cuties that started dancing together four years ago, but "broke up" because Alex was too short for her. They're ready now though, she tells Cat. Boy are they! What sass they have! They have the moves and the look. Just great. The jidges agree. Jason tells them that if he blurred his eyes he'd think they were adults they seem so mature. Nigel calls out Alex for keeping his mouth open which I also noticed. He says he'll catch flies like that. True story. Come get your tickets, you two!
Lucas is 13 years old and a tap dancer. He tells Cat that girls love guys that can dance. He tears up the floor with those tap shoes and let's just say that from now on the jidges do a Standing O for ALL the kiddos. Sheesh. Jason tells him that his face needs to match his face because he is that good though. Nigel agrees, telling him he's one of the best tappers he's seen on the show, so fix that face and come get your ticket!
Liza, 9 and Joshua, 12 were dancing with others when they found each other. Cat asks Joshua what he likes and dislikes about Liza. He tells her that she's always happy while he giggles. Twelve year old boys. I tell ya. They dance a very acceptable ballroom routine, but Nigel passes on Liza. Paula and Jason agree. So, Josh is in and Liza is not. Awwww. It has to happen though.
Kai, 12, is a break dancer from NJ. He dances with adults called the Dynamic Rockers. Cat asks him what he wants to be when he's grown and he says a dancer, but he's not sure if he can make enough money that way; shoes are expensive, yo. Cat asks him if he wins the quarter of a million, will he loan her a bit for some more shoes and he says, ummmm, no. Hehe. He goes on stage and busts a move and a half. Nigel asks two of his mates he dances with to show some moves and Jason's face goes o_O Come get your ticket, ya cutie.
Douglas, or Dougie says the shirt he's wearing is like a Michael Jackson thang going on. His mom tells us that he had a hard time when he first started ballet. A teacher's Aide was laughing at him for taking ballet ballet class and they had her fired and put up his dancing picture in the studio. She cries as she says she makes sure she's there to support him. He dances a jazz routine which is not as en pointe as the jidges hoped. They give him a ticket anyway, wanting to see what else he can do.
Olivia, 12, is from Rochester, NY. S he's a snake in her routine and Cat asks her what the story is. Just a snake. Just a snake slithering around in the grass? Yep. Awkward silence. Haha She is another one with amazing control and gorgeous legs and feet. All the jidges are uber impressed and compliment her massive control and stunning moves. Get over here and get your ticket, girl!
No more auditions! That was it. Next episode is at the Academy. The kids meet Maddie Zeigler and the mentors. There's choreography and cuts and tears. Join me soon for Episode 4!