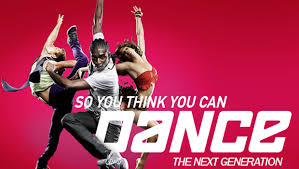 Welcome back to So You Think You Can Dance: TNG! Last week we finally got our first performances, and this week we have to see our first dancer go home. Which little buddy will it be? Let's see some new dancing and find out.
Cat, dressed in a sort of chain mail get up, tells us that the dancers will dance out of their styles this time. At the end of the show, one of them will go home. The group comes out with a fun Bollywood dance. I loved Robert's Bollywood with Billy Bell in Season 7. Remember?
Cat introduces our jidges, Nigel, Paula, Maddie and All-Star tWitch, who is subbing for a traveling Jason. Hey, tWitch, heeeeeey.
Sean Cheesman is choreographing Jordan and Ruby in an extremely tiring dance. The girls say they are worn out from it. They come out and it is crazy cool - their costumes alone are cool as heck. But they keep up and compliment each other very well. All the judges compliment them and can't believe how they had such stamina.
We then get a promotion for the new Ice Age movie and an inexplicable dance with Sheaden and Marco. It was good, but not explained? I guess it's the new equivalent to the solos. Ah, yes it is. They are dancing with each other instead of the All-Stars, so instead of solos, this instead. Got it.
We next have Tate, and I guess all the kids are asked to talk about Ice Age, but I'm just going to skip right on over that if y'all don't mind. What can I say about her dance with Kathryn? Perfection? Well, yeah.
J.T. and Emma get Nappytabs for their new performance. Now this should be interesting. Once again, Napoleon says he's not taking it easy on J.T., he's pushing him harder...blah, blah. Just like his dance last week. I gotta say; this routine is kinda freakin' awesome! Emma is just outstanding; she hits her marks really hard and makes the right faces. J.T. did okay, he tried hard, but he's just too young. Nigel agrees pretty much, saying he felt disconcerted watching him flap about. He says he'll learn and grow, though. Paula thought they were on it. Maddie thought they were cute. tWitch thought it was a sweet treat, (no, you're a sweet treat!) but work on stuff. Also, #SwagTarts. And Cat stole J.T.'s tiny top hat.
Kida and Fik-shun dance, and of course knock it out of the park. They get a standing ovation for this slick dance. I predict these three in the end: Kida, Tate and Emma.
This Bonnie Story contemporary choreography for Jake and Tahani is about bullying. They have to bring the emotion and I'm almost out when the song is a Danny Gokey one. I summed up all my willpower, sucked it up and watched. Tahani was miles ahead of Jake in my opinion. Let's see what the jidges think. Uh oh. Jake is crying, so they can't say diddly squat. Paula talks about how bullying is awful and they were en pointe. Maddie says they found the connection and bullying is not cool. tWitch commends them on their support and love and connection for each other. He's proud. Nigel agrees with Paula; bullying sucks. Nigel does give Jake a few pointers at least.
Ruby and Jake take the stage for their dance. If Emma doesn't make it to the top, then Ruby or Tahani will. These girls are really superb. Jordan is up next with Sasha and she's another excellent one.
Daniela and Sheadon get a cha cha with Umario Diallo and he's having a bit of trouble teaching him out of their comfort zones. She keeps getting upset because she's having a hard time learning it and it's in her style. She is so much taller than Sheadon the dance is a little bit awkward. Plus, she's dressed in a tiny pink skirt with a cut off tiny pink shirt, so...Just nope. Maddie loved it, loved that Sheadon kept up as a hip hop dancer, but he should watch his posture. tWitch thinks Daniela is fabulous, but she needs to bring Sheadon in more. Sheadon brought his personality and he's proud. Nigel liked what Umario did with Sheadon; he was awesome for a hip hop dancer. Daniela got lucky picking her style, she was great. Okay, jidges, whatever. Paula tells Daniela to remember the F word: Fun. Family show, Paula!
Emma and Gaby show everybody what's what and give me some "goosies," (thanks JLo) with a fabulous tap for sure! Woooohoooo!
Kida and Tate get Nappytabs for a farming routine. The kids enjoy working with them because they say they're so funny. They come in driving mini tractors and wearing overalls and flannel shirts and work boots. Well now, that was fun! tWitch says it's awesome and Tate was amazing. Nigel says they are two of the best on the show (werd) but he wants Tate to get a bit more tight, but yet she is tight? Okaaaay. Paula thinks it's incredible and any choreographer would die to work with them. Maddie also thinks they're incredible. Must be the new go-to word. #INCREDIBLE
Jake has started the slow downfall from cute to irritating to me as he dances with Jenna to a ballroom routine to JLo's "Ain't Your Mamma." Bye.
Yay! We get an All-Stars routine while the kidlets rest up! It's a trippy knights and queen mish-mash and it's very cool.
Second round of routines: J.T. and Emma have Spencer Liff for a jazz routine. It's set on a Broadway stage and lets just say it was, errrr, my go-to word: cute. Nigel gives a shout out to "West Side Story," but wishes there was more connection between those two. He says that he did make up for his last routine though. Paula says it was great, but more rehearsal will make up for the missing connection. Maddie was worried about the ending, but they nailed it. tWitch gives it up for them, they killed it.
Tahani and Comfort dance their dance and I do just love how these kids match their All-Stars so much. Little mini-mes! Daniela and Jonathan dance a sweet ballroom dance and I love her neon green dress!
Jordan and Ruby get contemporary with Dee Caspary. Jordan is going to help Ruby feel better after she's lost a relationship. They need to find a real connection for this one since they are playing best friends. They are in sort of night gowns and they have gown to throw around and shove in and out of a dresser while they dance. It looks pretty tricky, and they do an awesome job. These two are terrific. I mean #Incredible Paula is impressed by Ruby and they both shine. Maddie agrees and loves the choreography. Also, #Incredible tWich thinks they are consistent and connected well. Nigel thinks they should be proud of themselves this week.
Kida and Tate get Nick and RJ for a fusion of jazz, ballet and all kinds of fun stuff. At first they were a little concerned about Kida, not Tate, but then he showed his stuff and no worries. They were #Incredible, natch. Great choreography, awesome dancing. What more can we say. Jidges agree! tWitch offers Kida advice to work on the shape on his arms though, which is nice. These kids NEED advice, not sweetness and light. Nigel says they were superb. Paula says it was fun.
Yay. J.T. and Robert. You know, I know the demographic is probably different this season, so younger people are watching. I wonder if that means they will vote for the little bitty cuties instead of the more mature, already honed their skills more, ones? Oy vey. Just had severe trauma inducing flashbacks of AI.
Sheadon and Daniela are Prince and Princess and are stuck in their castle according to Spencer Liff's choreography. They start out on a double throne and seat-dance, then they hop up to Broadway style dance. It's cute, but not anything that will inspire votes. The Broadway ones never are, unfortunately. tWitch loved Spencer's routine, and it WAS cool, but...voters. He loved it. Nigel says Fosse was unique and Liff managed to bring out the unique too. He asks Daniela if she googled Fosse because she used her ponytail just like his style and Sheadon says "Yes" haha. Daniela did not, so he tells her to check him out on Youtube. Paula and Maddie loved it and says Daniela has legs for miles.
Last routine before the cut. Tahani and Jake get a jive routine from Emma Slater and Sasha Farber (DWTS shout out!) and Tahani is worried because she's never done the jive. They come out dressed as little jailbirds to the tune of "Jailhouse Rock." These two nail this jive and Tahani is once again the shining star in the couple. #girlpower They get the standing ovation and the crowd goes wild. Nigel says the personality, technique and performance is fabulous. Paula thinks it was a brilliant routine, but watch the flick-kicks, but whatever, she says. It made Maddie smile. tWitch is so proud of all the versatility and tells them to get out if it keeps them from leaving the show. He didn't see nothin'.
All right. Down to the yucky part; the results. Cat tells them out of the thousands and thousands, they should be so proud that they made it to the top ten. The bottom two dancers are Daniela and Sheadon, she tells them. She asks what the jidges think and who they will save. They keep Sheadon. GAAAAAAAHHHHHHHHHHHH No. Just no. Whatever. Anyway, they give her a nice goodbye package. See you next week!