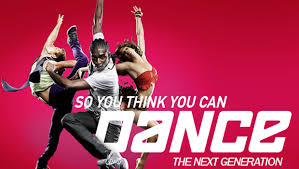 Already one dancer gone, and tonight we'll lose another on So You Think You Can Dance: TNG. That will leave only eight kids standing, which I believe only gives us about a month left of our show. Let's enjoy it while we can!
Cat, dressed in some kind of lovely bird feather dress, opens the show with our dancers coming out to the tune of Meghan Trainor's "Thank You." The All-Stars join them in the middle of the performance dressed just like them in suits, sleeveless polka-dotted dress shirts and top hats with feathers, for a fun romp together. Sometimes the costumes alone are worth watching this show.
Cat introduces our jidges, and Jason Deruuulllooo is back from his travels. Jake is up first and he has a samba with Jenna, that Dimitri is going to choreograph. I'll skip all the chats with Cat. Yeah. They are going to take on the "Hip Hip Chin Chin" that many have already perfected.
Not even close, buddy.
Nigel thought it was terrific and Jake had great samba hips. Paula wants to squish Jake to death and thinks he's a wee ninja. Maddie loved it and he makes her smile; he keeps up with Jenna. Jason feels like that samba was just like Carnival in Brazil. Also, he thinks Jenna is smokin', and "pa'nanah." Or something. Whatever he said made Jenna die of embarrassment.
More kidlet tomfoolery. SKIP.
Tate will dance with Kathryn, and their story is: Tate can't let go of her. There's an hourglass and time is running out. It's a contemporary piece that Brian Friedman choreographs. It's a beautiful piece where the ladies dance between, under and over two lengths of silk tied to towers along the stage. The silks disappear and then they reunite at the hourglass. Paula says Tate is technically amazing. Maddie had her breath taken away, and Jason can't tell the difference between the All-Star and the contestant. Nigel tells her she is well and above all the others. He says she can do anything she wants to do.
Kida and Fik-shun have a hip hop Dave Scott performance where Fik-shun is his puppet master. I gotta say, that thing was one of the coolest hip hop performances. Maddie agrees, and tells Dave the same. Jason thinks they are perfect together, but they had "level issues." He says Kida needed to add some smiles and such, have more fun. Whatcha smokin', Jason? Nigel disagrees with Jason, "sorry, mate" and thinks a puppet has a hard time smiling. I agree with Nigel this time. It fit the character. Paula thinks Kida is holding his own with Fik-shun.
So cool, Imma share it right here! Have a watch!
The kids get another group dance and it's "The Hunger Games" meets "The Walking Dead." Enough said.
Jordan and Sasha's dance has "something to do with a saxophone." Ray Leeper is the choreographer, and "he sweats a lot." It's a jazz routine and it's supposed to be sassy and super fast. Fast and sassy it certainly is. I also love the eighties costumes they wear. Jason loves Leeper's piece and thought they had fun, but warns them to stay in sync. Nigel agrees, but says Jordan keeps improving. Paula says the routine was very hard, but the showmanship was awesome. Maddie thought it was great and it was #amazing. Blerg.
Sheadon and Marco have Luther Brown in a swag dance where they want to make sure they kill it since they were in the bottom three last week. Well, it was good, but I didn't see anything special enough FOR THE STANDING OVATION THEY JUST GOT! What? Nigel says it showed the best of Sheadon. Paula couldn't take her eyes off him and he's so authentic and joyous. Maddie agrees and thinks it was his best performance yet. She says it's stupid how good he is. Jason says he did it and he loves the underdog. He thinks he had the performance of the night. Okay, jidges. Jason must have passed the dutchie.
The All-Stars have their group dance and it is some king of weird. Awesome weird in a really weird way. Travis Wall rocks my world. They are dressed in an assortment of bras, corsets, bloomers and tights and have smudged faces. All but Kathryn, who has a nightie that they pull off of her revealing her bra and bloomers. She then smudges her face, takes red lipstick and applies it above her mouth line and...well, you can see it down below.
Miriam and Leonardo are choreographing Ruby and Paul in an Argentine tango. They have to perfect a gancho, which is when a partner hooks their leg around the others. Ruby has not done the Argentine tango, so it's different than a regular tango. Well, they certainly got the gancho down pat. Very nice. She looks like a little ballroom pro out there and gets a well-deserved standing O for it. Paula loved it and says the ganchos were perfect. Maddie thinks the footwork was #Incredible and Jason felt like he was on vacation watching it. Nigel thought it was beautiful and like a summer night; it was like watching a movie it was so beautiful.
Tahani and Comfort play sisters, where Tahani wants to be like her big sister but big ain't having it. That Tahani can move her body in ways that are crazy. It was excellent. Laure Courtellemont choreographed this one, and Maddie tells her it was #amazing right off the bat. Jason agrees, and says that Sean Paul choreographed it fantastically! Ummmmm. They tell him Laure did, but he can't even pronounce it right and still doesn't get it. He finally gets it and says, OH, that's the SONG ("Get Busy"). Then, Nigel says the dance had a kind of African vibe to it and Jason argues that, no it did not. (He had said it is Caribbean) Nigel asks Comfort where it's from, and she says Jamaica, but we are all one. Jason! You need to either cut back, or smoke some more, son.
J.T. and Robert have a dance where Robert doesn't have purpose in life but when he sees J.T. he sees a younger him in the mirror and gets inspired. My main man Travis Wall is doing this one, so there's that! I'm kinda tired of this angsty booshit with these two though, you guys. Sigh. I love Robert, but this kid is going to be here for a long while and I'm not feeling it. Sorry. Nothing personal. It's all just so contrived. Of course standing O. Blah blah blah. Jason: Wow, Travis, you're the best. Nigel says Travis, already nommed for an Emmy, should also be nommed for this one. He tells them they're his favorite couple. Paula: #Incredible, and he's got heart and emotion. Maddie shouts out to Travis as well and thinks J.T. isn't just cute, he's next level.
Emma has to "be strong and not so cute" in her routine and it's going to be hard for her, she says. Chole Arnold are choreographing them to a dance that will show that girls are empowered. #girlpower Wow, another one that did deserve their standing O. Nigel loved everything about it. He can't believe the "bloody speed," and he is loving them. Paula thinks the tap was the cleanest she's ever heard. Maddie is literally speechless, and then she says all the words: firecracker, sassy... Jason thinks it was all that.
It's time for the bottom two. It is Ruby and Sheadon, unfortunately. Cat asks Nigel what the jidges have decided to do. Nigel says that the dancer leaving in ninth place is: Sheadon. We get his goodbye piece and I think he will do well in life. He's a great dancer and seems like a good friend to all the cast. As he cries and hugs everybody, he makes me tear up too!
See you next week for the top eight!