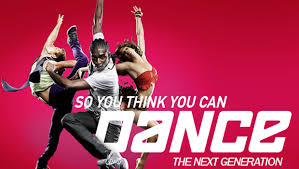 Moving on to The Windy City, SYTYCD: TNG is getting closer to the kids landing at the Academy. It's going to be an interesting season. Let's head onward!
J.T, 10, is up first and he cracks Cat up by telling her "Nothing" when she asks him what he has to say to America. He means it too, the kid is not one of those look at me, look at me hams, dying for the camera. He also is quite the jazz dancer and the jidges reward his mad skills and refreshing attitude with a ticket to the Academy.
Tahani, age 12, is a hip hop dancer that believes you have to give good face to be a good hip hop dancer. Werd, girlfriend. She tells Cat she'd have her own bedroom if she won the prize at the end, as she shares now with her messy brother, "Boys," she sighs. The jidges rise up with tickets to the Academy and she runs up hugs Nigel, then Paula and then she pukes all over her. Paula is super sweet and later Tahani tells Cat she was so happy that Paula squeezed her too hard and "all the happiness came out on her jacket." Ha!
Emma, 10, is a tapper and she is going to tap to Paula's "Cold Hearted." This girl's feet fly on the dance floor, she even adds in some awesome ballerina spins that make her dance amazing. The jidges agree and after Nigel insults Paula for a minute or two, Jason tells Emma that, "Mom must have cleaned those taps with Pine-Sol, that dance was so clean." She's going to the Academy!
Tia, 12, is a ballerina and don't be nervous, Tia. Nigel only has the principal dancer of the Joffrey Ballet Company, Fabrice Calmels, in the audience watching your audition. Ready? Cue music! She dances pointe and Nigel calls over Fabrice and goes and sits with Tia's mom. Fabrice tells her she is a wonderful dancer and gives her a helpful piece of advice to watch her right foot because it flexes down when she's doing the battement. This guy knows what he's talking about and I'm sure coming from him she's delighted. Paula and Jason and Fabrice hold up tickets, she's going to the Academy!
Leana is 10 and she's a ballroom dancer. She tells Cat that her partner won't be auditioning because he's a bit older than 13, like 40: he's her instructor. Cat tells her that she's almost as old as him and she's a dinosaur, Leana says, "I don't know." Cat cracks up. LOL This girl has got the "it" factor and the jidges know it as well. They tell her her flicks are outstanding her facial expressions are awesome and she gets tickets to the Academy!
Cat interviews some of the kids that have made it to the Academy and one boy would buy a hoverboard, a girl would buy a white Camaro, but the best answer is a boy that would "add to my Louis Vuitton collection." Cat agrees.
Alex, 13, lives on a farm and the jidges ask him if he has pigs, he says he does. Does he eat them? Well, yeah. Duh. He dances a jazz/hip hop fusion and he brings the house down. He's got style, this kid. It's the first time the audience has given a performer a standing O, Nigel tells him. He gets a ticket to the Academy, natch.
Ainslee, 8, is a tiny little thing that looks more like she's 6. She's too adorable for words though and when Nigel asks her if she has a boyfriend she looks like she'd rather fry ice or pound salt any day of the week. She dances to 2NE1's "I Am the Best" which is awesome in itself, and she is really good. She just needs another year or two to get super strong and hit her moves harder, she's just a tad too young I think. The jidges agree and pass on her cute self.
Diana, 10, is very, very bendy. It's a contemporary routine and she mostly sticks her leg in places that most people would never even contemplate, but the jidges are blown away and earns a standing O along with the Academy ticket.
Daniela is 11 and her mother trains her as she was the first Cuban to win World Ballroom. Well. Them there's some credentials! Daniela is all sass and hips and a gorgeous little dancer. Jason asks mom to give him a quick lesson and pervy Nigel is allowed back because mom is grown and hot so he joins in. She shows them the ropes and Pervy leers at her and Daniela gets tickets to the academy in the end. Alls well that ends well!