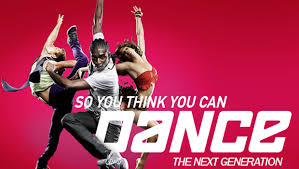 We are back at the first trip to the Academy with the kids vying for a spot with the All-Stars on So You Think You Can Dance: TNG. Who's got what it takes to dance with the likes of Fik-shun, Robert, and Katherine, et al?
Finally with the OG SYTYCD theme song! Well, a really quick version, but still. Cat tells us that the kids will finally meet Maddie Zeigler and face the All-Stars, be put to choreography by the likes of Travis Wall and then show the All-Stars their stuff. The All-Stars will then start the process of cutting and choosing who stays. By the end of the first day, there will be 50 left. By the end of the week, each All-Star will have to pick just one kid to work with for the rest of the competition.
One of my favorites, Tate, from Canada starts it off first and she slays it with a contemporary routine. The All-Stars yell out "Nice!" and "Work!" so I think they are impressed too. Robert stands up, like, WHUT?
Tap dancing Emma, goes next and she's a nervous wreck but gives some damn fine face and really works it out. Girl's got some spunk and some moves. I am thoroughly impressed. "Like the definition of firecracker," says an All-Star.
We then get a montage of a group of kids with the All-Stars oooohing and ahhhhhing over them. Cat tells us that there are only two dancers left: Stella and Jefferey. Remember them? The girl that cried and begged the judges to give her partner a chance because he lost all that weight to be there? That's them.
They do a wonderful job, but I think Stella is through and Jeff is still not quite right for the show. You can tell he's worked his ass off to improve and he looks even more in shape and he hits his lines better. He did so well, but he doesn't have that natural "thing". He'a amazing though. Hats off.
Catherine, Robert and Sasha pick the first three dancers. Tate is called up, natch, and Catherine and Sasha both want her. They have to persuade her to pick them. Pick Catherine, girl!!!! Do it! Tate picks...Catherine! Yes, Tate knows. That's my girl! Backstage, Maddie welcomes and congratulates Tate.
Next up is Sage, who evidently dances his pants off during his solo. They show it in retrospect and it looks like he sure did. Robert wants him and gets him. Sasha gets Diana, Jade, Ashley and Bostyn so far. Robert gets Sage J.T., Gavin, Enoch and Joziah. Catherine gets Tate, Brooklin Brightin, Quinn and Avery, who adorably tells her, "It's such an honor, thank you."
There is only one spot left for Sasha, and Ava hopes it's her. She's the one from the auditions that cried when she told Paula she was kicked off a team for being so tall. They show us her solo and I think she must have the spot because, kids... But wait! There's Jordan, also 13, and she is homeless with no car who can't afford dance classes. Oh boy. They show us her solo. This is going to be a hard one, but I think Sasha will pick Jordan.
And the next and final dancer called is... Jordan. Yep, well, good for her. She's so happy. Cat tells us that Ava still has a shot being chosen by an All-Star out of her style.
Sassy-pants Jake, solos a kick-ass ballroom routine that tears the floor up! He then proceeds to walk down the steps and trip down them. Too cute. All-Star Jenna picks him and he says, "I gotta question. Do you have a boyfriend?" and she asks him if he has a girlfriend. It's very cute and not annoying! He's a keeper!
Jenna then fills her card with Lev, Joshua, Parker and Dougie. We then see Ruby's solo, who danced with her dad in New York. She nails it and Jonathan and Paul fight over her. She has a hard time deciding, but goes with Paul. Paul also gets Shelly, Leera, Sophia and Lennox. Jonathan gets Danila, Ollany, Victoria, Rylee and Camila.
Gaby gets tapper Emma , Jazzy, Ryan, Ava and cutie Lucas. The remaining kids are hip hop and Fik-shun, Joshua and Comfort are the All-Stars. Kida is first up; he's the hard-hitter who lost his dad. Fik-shun tells him that he sees himself in him and Joshua tells him he has more of a "broad spectrum of dance" Kida picks Fik-shun. Fik-shun takes Jaryan , J.J., Lior and Alex. Joshua takes Merrick, Romeo, Tre, Sheaden and Kai.
Comfort picks Tahani, Aniyah, Fiona, and Logan, leaving one more spot left. This is apparently a wild card spot. Phoenix gets the spot, and she has already been on SYTYCD. She danced with Cyrus on his season finale. Her solo impresses Comfort and that is her final pick.
We are down to fifty dancers now and there are tons of tears for the kids and the moms.
It's the second day and the fifty kids have to learn a Broadway routine from Warren Carlyle. He says the routine has everything and the kitchen sink and they only have 20 minutes to learn it. Their All-Stars are there to help them through.
Robert and Paul's teams are first to perform. Ruby and Sage go first. Ruby does very well, unfortunately better than Sage, but we'll see. A few do really really poorly and then the final two Shelly and J.T. get a pretty big intro. Shelly is a step behind J.T. the whole time, but then J.T. forgets his steps at the end. Ohhh, then he cries after, saying he was nervous.
They have to cut one kid from each team. Paul cuts Leera and Robert cuts poor Enoch, who is very mature about it and then cries just a wee bit after.
We get another montage of the kids: Kai and Diana are cut and Ava is cut while Gabby cries to have to do it. I forgot who she was, Gabby looks so different! Jaryan is out of his element doing Broadway and Fik-shun wants him to own it. Will he make it? He and Victoria start their performance and Jaryan is struggling hard. He starts to give up and walk off stage, but Fik-shun tells him to never give up, he believes in him. Poor kid, he's got tears in his eyes and his head is hanging.
Jonathan cuts Ollany and Fik-shun asks Jaryan what happened and he says he doesn't know. He tells him he has to cut him. Jaryan starts crying and tells him he gets bullied at school and then another boy dancer comes and hugs him. It is heartbreaking. Fik-shun gives him a heartwarming talk and walks him off the stage. Backstage the kids surround Jaryan and tell him that he's a top fifty SYTYCD dancer and hardly anybody can say that! It is awesome!
Awww, this show, y'all. Next episode, the 40 remaining get NappyTabs and Travis Wall! Woot! See ya then!