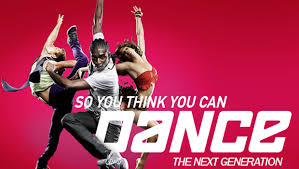 We are on the last bit before the top ten start competing on So You Think You Can Dance: TNG. That's when it really gets good, and we get to see what these kids really got in them. Let's see which nine kids have what it takes! (because, duh, Tate)
We get an intro with the stupid text message pop-ups from the much beloved All-Stars, and then our gorgeous Cat reminds us where we're at: There are forty remaining contestants and they have two more choreography routines to learn: Travis Wall's contemporary, and Tabitha and Napoleon's Hip Hop routines.
The kids' first dance to learn is Nappytab's. They get to rehearse it for an hour and then it's time. Robert and Comfort are first to judge. Remember the girl, Tahani,that puked on Paula? She's up first with Josiah, who's on Team Robert. Comfort and Robert stand up and WOOOOOO at their dance moves, and the kids really do take it next level, especially Tahani; girl can DANCE.
Aniyah and Sage, and Gavin and Logan dance next, and we just get super quick glimpses. J.T. and Phoenix are last, who both disappointed on the first day, so they have a lot to make up for. They do well, but I'm just not feeling Final Ten, ya'll.
Robert and Comfort have to cut one kid each. Robert calls Gavin down and he says there is no connection, so he cuts him. I can't believe he kept J.T., but we'll see. Comfort calls Logan and Phoenix and says she worries Logan doesn't have enough fun. She also wants more from Phoenix, so she asks them to each DANCE FOR THEIR LIFE.
Logan dances first and she does a hip hop routine. She noticeably and smartly smiles more and tries to have more personality. Good listening skills, girl. Phoenix then does a more intense-faced animation type dance. She's really good, but I feel like the animation is her only wheelhouse. Comfort saves Phoenix. Again, I do not agree with this. Poor Phoenix melts down for poor Logan. Awwww.
We get a super swift montage of more kids and we find out that Merrick, and Lev are cut. Much tears ensue.
It is Travis Wall time! Woohoo! He says he won't treat the kids unlike the adults he teaches. The All-Stars help the kids during the instructions. They get 90 minutes to learn the moves this time.
Team Kathryn is up. We have Tate, Avery, and Quinn. All the judges sit like they are transfixed and I am too. I don't know who she could pick and her fellow judges feel the same. Katheryn says she has to go with her gut and cuts a trying-to-not-lose-it Quinn. Tate and Avery are through.
Sasha and Robert are up with some more of their kids. Ashley and Sage are cut. Over J.T. Okay, Robert. I love the kid, but he is not top 10 dancing material. Oh, I don't like saying stuff like that about kiddos.
Tappers. Emma, Ryan and Lucas are up! They have had some ups and downs, so they must impress. Gaby has counseled them to use maturity in their dancing. Oh, Lucas can't quite reach like Ryan can. Gaby says...Lucas is cut. The other two tappers hug him. These kids are so sweet.
More montages. Team Jenna's ballroom kids make her cry. Team Comfort's hip hop kids make her oooh and ahhh. Team Johnathan's impress him. Team Fik-shun is happy.
Jenna has her cut. She cuts Dougie. Lennox is cut. Trey, Kaniyah, and J.J. are also cut. Choreography is over. We are down to 20 kids. The All-Stars have one-on-one conversations and then they dance solos so that they can pick their one kid. The All-Stars give us a preview of how heartbreaking it's going to be.
Nigel gives the All-Stars a pep talk while the kids are in a holding room. Tate and Avery are best friends, but they are vying for the same spot with Team Kathryn. She talks to them both and now it's time. Oh boy. She says she going with her heart and gut and she picks... Tate! Of course she does. She hugs Avery while Avery cries.
Sasha chooses Jordan. Fik-shun selects kida, (not a typo, there is not capital letter) natch. The first three spots are filled. Joshua and Jake talk to Jenna to see who gets the ballroom spot. They have both been stand-outs like our Tate and Avery, so this will be rough as well. Jenna picks Jake and he cries when she tells him. This kid is the best. He's the one that flirts so well.
Robert has J.T. and Josiah while Joshua has Romeo and Sheadon. Joshua and Robert are both crying while they have to make their picks. Joshua picks Sheadon and Robert picks J.T.!!! What?!
Now we National Dance Day stuff. A Megan Trainor song with random peeps dancing and even our lovely Michelle Obama. It's Saturday, July 30. Learn the routine and submit your video to Fox, yo.
Paul is up next with the choice of Ruby or Sophia. Sophia isn't even a ballroom dancer, but he took a chance because she is that good. He is so conflicted, he's acting like it's Sophie's Choice, y'all. In the end he can't even hardly say it. But, he keeps Ruby. He tells Sophia it broke his heart. Ruby is the fab ballroom-er that daddy danced with.
Gaby has to choose between Ryan and Emma now. Cat asks them what's been the best part of the week. Emma says, "sleeping". Gaby selects this smart gal as hers. Camilla and Daniella are Jonathan's final two to choose. He takes Daniella.
So we have just one more spot left. Comfort's two ladies, Phoenix and Tahani. Phoenix can sometimes lose choreography and Tahani can be too cute, so she needs to bring the nasty sometimes. Comfort wishes she could mesh them both together, but since she can't she'll pick...Tahani.
And that's it! Onward to the stage and the dancing we love! See you shortly for more, So You Think You Can Dance!