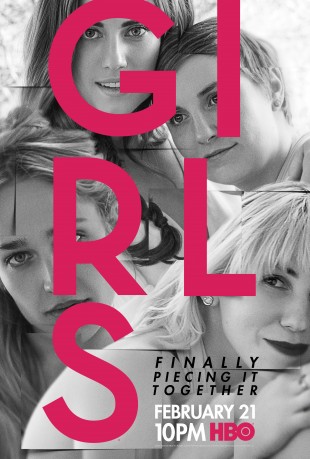 First, I must preface this by saying I watched all episodes of this with online friends (save the last 9 which I bingewatched over two days in preparation) and I LURVE Girls. That's fair warning!
Last season was a blur! Hannah (Lena Dunham) moved to Iowa, briefly, where she argued with and offended absolutely everyone in her undergrad writing program (in Iowa??), then moved back to find Adam (Adam Driver) in a serious relationship with a woman with the incredibly unlikely name of Mimi-Rose Eleanor Howard (Gillian Jacobs) who had an abortion but didn't tell him and eventually got back together with her ex-bf, who was smashing wobbly bits with Jessa (Jemima Kirke) on the side. Elijah's still a hilarious jerk with the best lines on the show and he was totally right: Hannah's dad, the fantastic Peter Scolari, is gay.
Ray became an elected official and was still very much in love with Marnie (Allison Williams), who had relegated him to the Friend with Benefits Zone after Desi ponied up, left his girlfriend and proposed to her. Shosh (Zosia Mamet) harboured feelings towards Ray, but was dating someone else who was "this close" to falling in love with her and told her not to take a job in Japan. Seeing that it was literally the ONLY job she could get, she took it anyway. Hannah became a substitute teacher, got inappropriately close with a female student (that IS about her emotional range), no, not sexually, you prevert, and started dating another teacher at the school, Fran (Jake Lacy), who is cute as a button. Adam's sister had a baby in an extremely ill-advised home water birth and all was as we know it in the Girls universe.
Wedding time!  Shosh is rocking some truly unfortunate blonde hair and kimono as she steams all the bridesmaid dresses. Marnie is wearing a bra and spanx, but excuse me, the spanx is loose. THAT IS NOT THE POINT OF THE SPANX. Now technically, I don't wear spanx, like, ever, but if I did, you better believe they'd be cutting off circulation to some appendage.
Hannah cut alls her hair off! She looks like a teenage couch potato, in "I WOKE UP LIKE THIS' sweatshirt and pajama pants. Now, I lurve Lena Dunhan with the fire of 4 suns, but it always feels as though she's trolling us with her clothing. Aww, in comes Jessa. Usually I hate narcissistic, manipulative ahole Jessa, but look how gorgeous she looks here??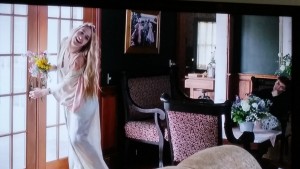 Shosh agrees with me, whimsical /  beautiful is perfect. Jessa bathed in a stream then dried herself running here and did I mention Hair and Makeup is almost here? Hannah's gotta coordinate, half hour each for the bridesmaids and three and a half hours for Marnie.
Can I disclose something? This is exactly why I hate weddings. I mean, when I was younger I dug the open bar, but now I do whatever I can to avoid them. Too many speeches, takes too long, costs too much and too many three and a half hour hair and makeup seshes. I eloped, and if I ever ended up looking at a wedding or vow renewal in the future, it would be Notary Public all the way and a group dinner at a pub later, wherein I MIGHT or might NOT tell people what the occasion was. Weddings are a NIGHTMARE. I still cry, though, I'm not a MONSTER! I just do it while cynically wincing at the wastage.
Fran shows up, he looks great, but Marnie is NOT happy. I'm going to paraphrase the conversation she has with Shoshanna about it, you just have to imagine the pauses. Marnie can't believe Hannah is being so inconsiderate and non-supportive ALL DAY and now there's someone with an actual PENIS inside the hallowed halls of Marnie's MASSIVE boudoir.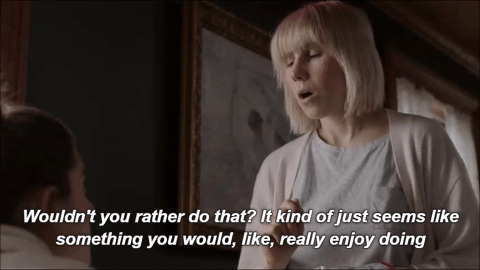 Shosh is a great friend, runs right over and tells Fran to GTFO, so Marnie, NOT a great friend, immediately says "oh no, it's fine, unless YOU want him gone, okay then." Shosh is speechless.
Hannah thinks it's ridiculous that Marnie wanted her to shave her armpits, but Fran backs Marnie up, Hannah's not great at it; patchy. Very patchy. She lugs him over to the men's cottage, where Ray (Alex Karpovsky), Wolfie (Baron Vaughn), Desi (Ebon Moss-Bachrach) and Elijah (Andrew Rannells) are astral traveling. Okay, not Ray and is it weird I can't figure out who Marnie is marrying?? Ray had an AWESOME fight with Desi where he laid it alllll out for Desi, how worthless he is for treating Marnie like a choice and not even a good one and how he would treat her better and blah blah...Desi didn't show up at his and Marnie's record company showcase that evening, but Ray did, and helped Marnie play solo. SO. I don't know if she's still marrying Desi, or now marrying Ray?
Side note: I used to hate Ray. I still kinda do. He's so angry all the time! But he's also brilliant and I could never resist a big sexy brain like that. I always saw him with Shosh, though.
Er um awkward, Adam is there in the men's quarters and it's super weird when he talks to Fran. Adam looks good though!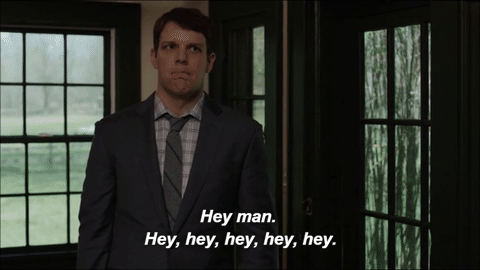 Ray tells them to STFU, they sound like an ee cummings poem and I love ee cummings poems! In walks Elijah, so rested and invigorated after meditating, which heretofore he had thought was just naps. Check the bulge!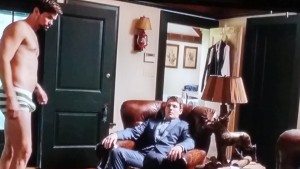 And given Desi's speech thanking everyone for being there, it's him Marnie is marrying. HAHAHAHA it's awesome when he gets to Ray "I thought it was a mistake. Maybe it still will...be a mistake. But right now I feel like I'm happy that you're here." That is premium hippie dippy shade rye chair.
He doesn't remember Fran at all; it doesn't seem like any of Hannah's friends really like him. Fran brought beers! Elijah demurs, he's gonna take MDMA just before the ceremony, safety frist!
Shosh is up first in the makeup order! She chats with the makeup artist Bebe (who did Sophia Bush's makeup at her sister's wedding), but Marnie is tense and micro-managing and her usual ahole type-A self. Selena Gomez meets Jeebus!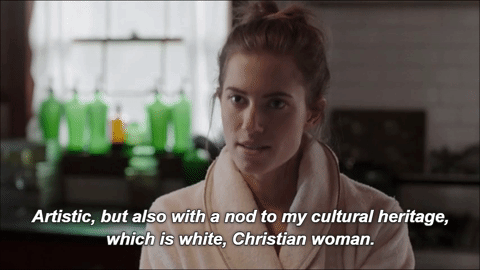 Adam and Jessa are pretty good friends now. They're both in the program and I guess that makes sense. Ahhhhh Adam kisses Jessa!! And then they look at each other and she says "I can't" and then they totally make out!! WHUT THE FECK, JESSA??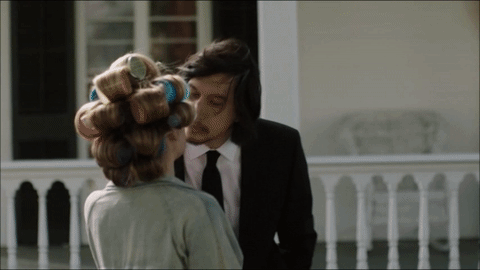 Ray is raking Fran over the coals over his intentions towards Hannah (do you ask her about transgender politics or is she just about attempting new sexual positions until her knees blow out and her p*ssy caves in??), but really it's because the love of his life is marrying someone else and he doesn't have the guts to stand up and stop it because he doesn't think she wants him anyway. I would agree with that statement, Ray, she'll bang you when she needs a confidence boost, but she never saw you as End Game material.
Desi is losing his mind and as he's running away screaming that he's scurred, ahahahahahaahah Wolfie says Desi's quick to pull the engagement trigger, but he thought maybe eighth time was the charm. AHAHAHAAHAHA. I mean. He's marrying the White Christian Protestant Princess, surely he knows walking out isn't an option, right? Her mother is a lunatic!
Makeup and hair time! Marnie and her mother fight about Marnie's stupid floral headpiece and flip out on the esthetician, they try insisting Hannah get extensions or a weave or something and feck that y'all.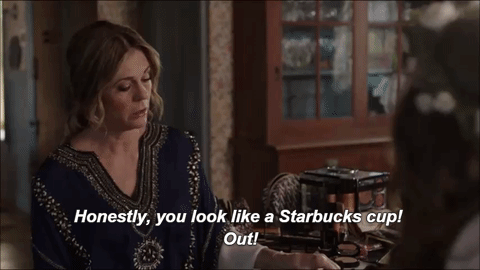 She bails and meets Fran in the car for a bounce; awww it's been AGES since I saw Hannah's bewbs, they used to be in every episode. They look bigger?
Fran gossips about Desi's engagements and the ring being Clementine's (whut??) and Hannah's gotta go! She's gotta tell Marnie! Cue the sky opening up and the rains falling. Marnie didn't get a tent, of course. Hannah says she doesn't have to tell her anything now, Marnie will just end it all herself.
Ray finds Desi floating in a creek, communing with nature and contemplating the grand void. Somehow Ray manages to talk him into returning to the wedding, which was the exact opposite of his intent, off he marches!
Oh noooooo. Marnie looks like a drag queen who lost her blending sponge. That ain't right.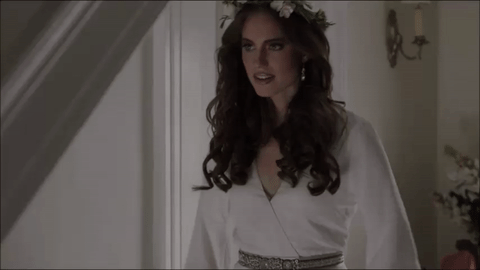 The lined lips...the blush streaks...the EVERYTHING. Why would you want to weigh down the face if the dress is light? Shosh is done up in some Marilyn Monroe stuff and maybe wonders if it's a little dark? Bebe has HAD it and snaps:"Sophia Bush, grateful!"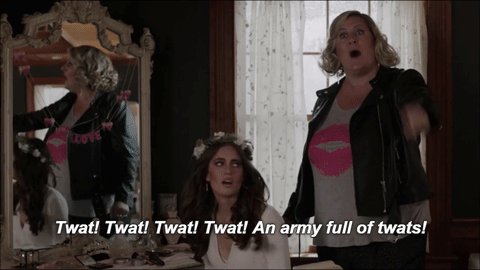 Marnie loses it next and I am boycotting the assholish nature of her character so I am not transcribing it. Essentially, she's mad that she looks crazy and she doesn't care that rain on her wedding day is good for fertility, that's why she wears an IUD!! Ahhhh! Whatever, ho
See? I may be too opinionated
Hannah tracks her down to the bathroom and argh, talks her into going through with it, instead of telling her about Desi and his 8 engagements and the ring, because that's what you do; like Lauren Weisberger said in Revenge Wears Prada: you walk!
Jessa fixes everyone!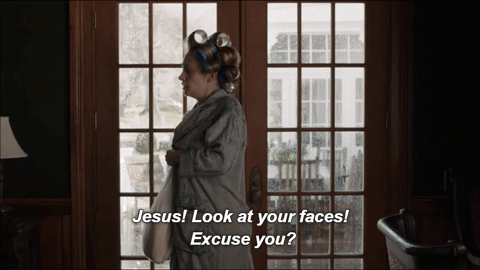 Elijah takes his MDMA, Desi douches it up, the bridesmaids wear rain jackets and this might really be happening.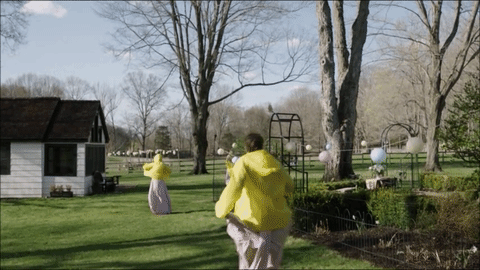 But I sure hope it still doesn't, cuz I like Desi even less than Marnie.
I will say, though, Girls always has the best music at close and this is no exception
And we oot! Thanks so much to Veronica for all the wicket gifs, see you next week, Girlies!!