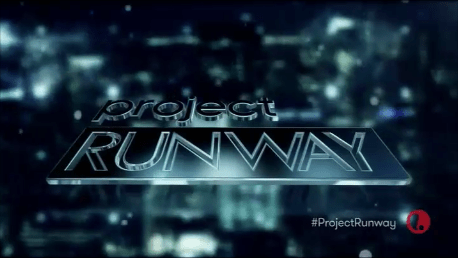 Good morning and welcome to Project Runway season 15! I love this show and have watched it off and on since the begnining, I especially loved Ashley Nell Tipton's winning plus size collection last season. I recapped that season on the BookieWook starting here. Ready for season 15?? Me too!
Not to get it twisted, I'm not into fashion. I like to look at it, the same way I like to look at art, but I don't, you know, WEAR it or anything. I just love this show for the raw talent of the designers, they make stuff! Out of cloth! And sometimes other stuff! In a matter of hours, WHILE we're watching. Mind=blown. Plus there are lots of pretties and not as much manufactured dramz as other reality competition shows (you know who you are: NEVER AGAIN HK!!). Plus Tim Gunn is amazing and nobody could ever beat Heidi Klum and Zac Posen's facials. LEGIT
We're having a party!! But first, let's meet everyone! Brik's dad has the BEST advice; say yes ma'am, no sir and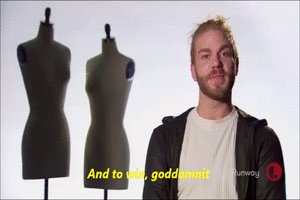 And Dexter is no one-trick pony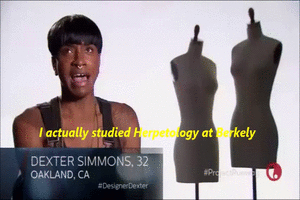 Ian Hargrove may look like a square (he does ready-to-wear exclusively), but nobody can tell him nothing. Confidence can be a very good thing. It can also sink a designer if they can't accept constructive criticism.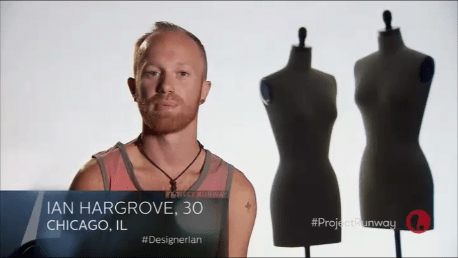 I love Tasha's voice, it's like smoky butterscotch and don't tell her what she's supposed to look like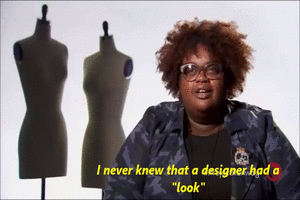 Erin's our usual mouse-in-glasses, I bet she does art: NAILED IT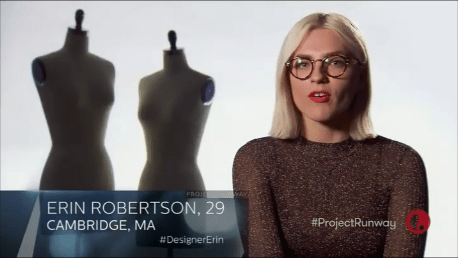 She's partly Mormon (there is no Partly - you either drink caffeine or you DON'T, sister!)
12-year-old Roberi Parra has been in fashion for how long?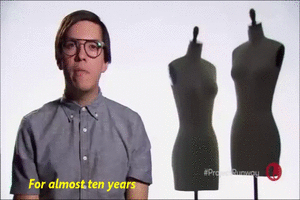 So I think I am just old. He looks like Mondo Guerra and I'm already emotional so I need a minute. Mondo was awesomesauce.
Woo hoo, we've got a designer for the mature set! This is Linda from Milwaukee and she wants it BAD. She's reinventing herself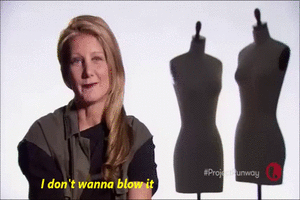 Former model Laurence is gorgeous and statuesque and NO WAY only two years younger than me! I could be her mama! Well. She does leatherwork and used modeling to put herself through design school.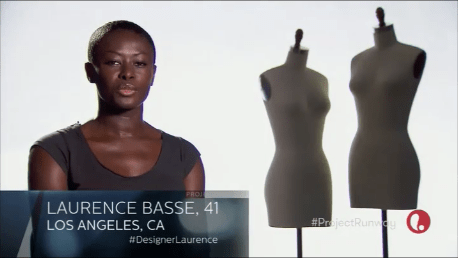 Nathalia, well, she's young. She's already questioning Laurence about her animal skin sustainability plan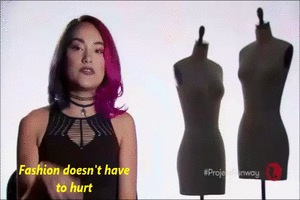 Cornelius and Nathalia know each other and have previously competed (she won, she made sure we knew that - hey confidence is important!) so it will be interesting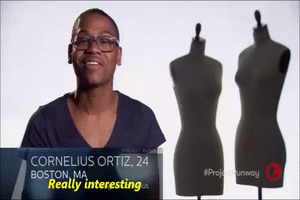 Oh god, I hate Jenni's laugh already. It goes on forever and sounds like a seal being clubbed.
Remember when you were in your twenties and you thought you needed ALLS THE ATTENTION on you in crowded public spaces so you'd laugh really loudly (maybe even in a trademarked fashion) so people would notice just how much fun you were having and just how much fun you ARE?
Show time! Heidi and Tim stroll in and it's about to get real! The first challenge is right now, motherhumpers!! Good thing everyone's been drinking! Erin's excited that the challenge is to incorporate elements of the launch party into their design, she loves cocktail dresses! Oh but wait: it's also JUST with the materials in the launch party. Have fun kids!
Kimber does not get it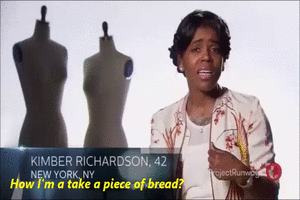 Sarah is likewise worried, but more for the competitive aspects. Turns out she always looks like that, though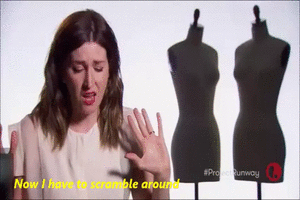 So the first challenge is an Unconventional Materials one, hm. They have 5 minutes! It gets ugly fast when Cornelius and Mah-Jing throw down over flowers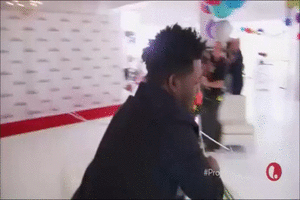 Alex has a similar strategy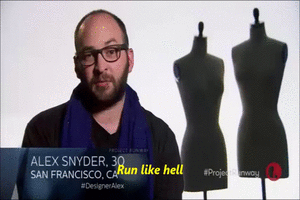 And Brik just knows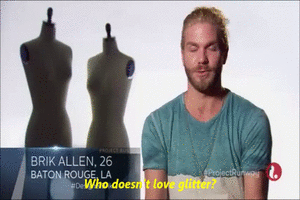 Workroom time! The designers all head out while Heidi and Tim drink out of two separate champagne bottles. I love you, Tim. Only you could make drinking straight from a champagne bottle both prissy AND classy.
The designers are freaking out at realising that this all is HAPPENING: look! Their names and everything are listed! They have work tables! I'm not even making fun, it would be amazing and surreal. Ian's not excited about this challenge, he says fashion designers just don't glue shit together. He's right, that's Drag Race! GO BIANCA!
Tasha's feeling intimidated and blocked up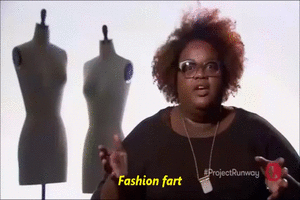 But Erin is 'CITED. Tim comes in to do the JustFab promo (WHERE'S MAH CHEQUE??) and give them their deadline: 1 am this night. Holy shite. Welcome to Project Runway!
I'm already worried about Brik. He might like glitter more than oxygen, but his art looks a lot like 90s Forever21 shite.
Roberi chose all the paper lanterns, but the metal wires inside are making a mess of his fingers, hang in there wee Almost-Mondo!
Ian's clothes are not wearable-art, he makes CLOTHES. I'm not really sure about his work, it looks Already Available.
Tasha's making hammer pants and an elongated top because why not? Mah-Jing tells her to pray off her nerves, pray it off!
Alex has an actual company, and an affected drawl that's going to make me crazy already. I love REAL drawls, but he sounds like a bored Valley Girl and I'm already feeling stabby.
Tim Time!! First critique mentoring! Brik is first: he gets props for the 30 pounds of glitter but it needs MOAR! MOAR GLITTER! Tim Gunn is everything.
Ian is ready for his "crit" but not apparently ready to accept any of it. His shift is very basic but that's what he was aiming for, he does not do avant garde. Or volume. He's not changing anything. It was nice to almost know you, Ian! When you define yourself by what you DON'T do, you've already painted yourself into a corner.
Nathalia's bride of TinMan gets okay reviews, but Tim LOVES Cornelius's fruit and flower buffet of a dress. Tim also digs Alex's placemat look, calling it elegant. Tasha's having a material shortage issue and she's panicking.
Erin's Big Bird look gets lots of pauses and nausea, so. Roberi's look is really cool and Alex is worried: THIS is his competition. Laurence's gets called too Conventional for a Unconventional Challenge.
Jenni of the Stupid Laugh thinks she's an "average Picasso"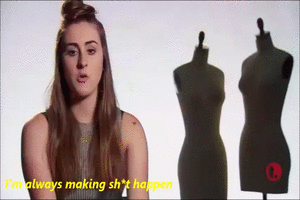 But Tim's wondering if she's forgotten the challenge. Add the boas! She must be our Kelly from the Deli this season with those earrings.
Dexter gets read for making a basic dress out of unconventional materials, I actually quite like his dress but I have no taste: remember that.
I'm sorry: I love Brik already. His hair plaits and facial expressions have me won over and I'd like all his opinions, please.
Oh hey! We've got a straight dude this season! Mah-Jing is married with a child and he loves them as much as fashion. That's as rare as obnoxious yellow boas!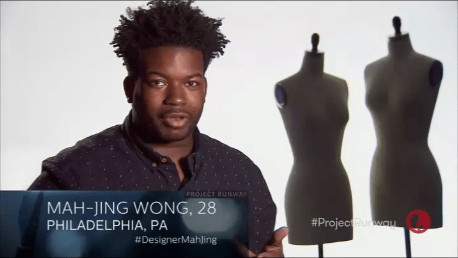 Model fittings time! Everyone but Erin has a dress to put on and listening to the designers shittalk each other's designs in interview is illuminating: I like Jenni less and less every time she opens her mouth. Roberi's dress is great, but his model's vagina is out and her arms don't know where to go
Brik thinks his glitterpants are something a unicorn could wear, if he just..wait, a unicorn COULD wear them! He'd have to make some alterations first, but he's totally high AF right now, right?
Time's up! Back to the hotel for three hours sleep, then back to the workroom. Project Runway is a slavedriver!
There are still a few designers that haven't gotten any face time, gimme some names!
Everyone but Dexter loves Brik's pants, which worries me. That's the guy that usually goes home, damnit. Like KiwiDuncan last season and his drapey Grecian coral look. Hair and Makeup time, while Brik's model is attaching yet more glitter to Brik's pants. It's like a glitter bomb went off and they'll be finding it EVERYWHERE. Jenni calls it "herpes of art supplies. It spreads"
So! Much! Mark! Kay! product placement! I don't care, it's gorgeous and their eyeshadows are a dream.
Alex thinks Mah-Jing's days are numbered, but Rik is more concerned about Erin. Hi Rik! Finally!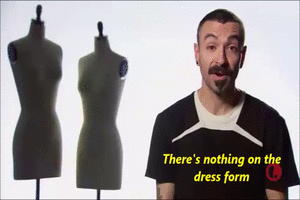 Runway time!!! I'M SO EXCITED!!! Heidi comes out in a cheetah-print two piece (it looks...cute) to tell them the prizes. Let's just say: LOTS. Too much to list but actual cash this time, too, not just the $100k to launch their lines.
Judges! We have Zac Posen! Nina (bedhead) Garcia and Savannah Guthrie! Tim Gunn is there and he has a save! Sorry, sorry, I'll try to tone down the punctuation
Runway time:
Mah-Jing starts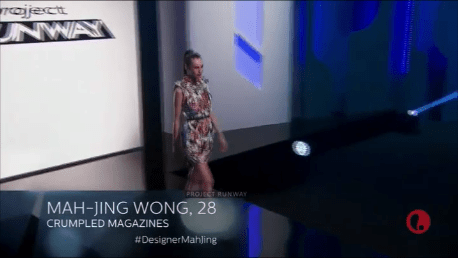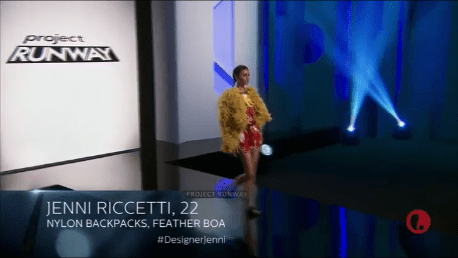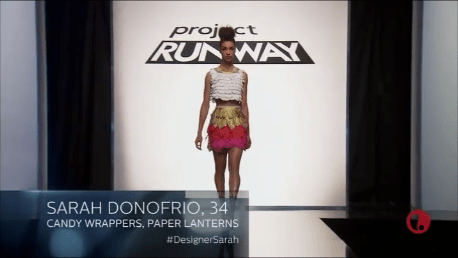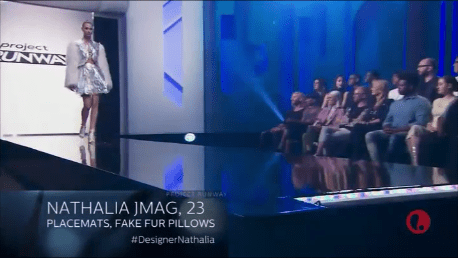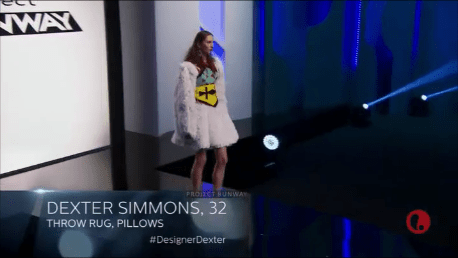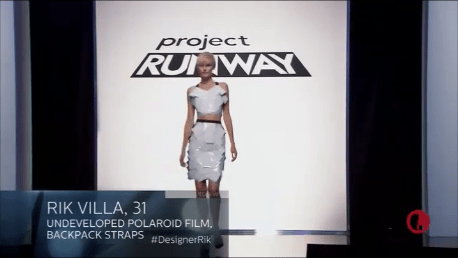 I'm sorry, look how stupid Ian's looks: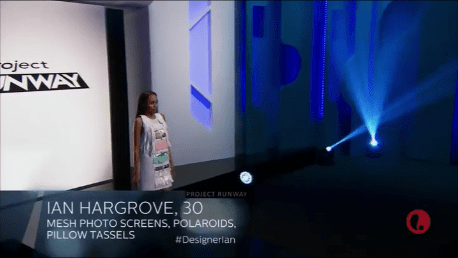 Still going: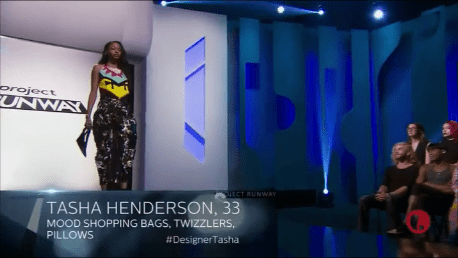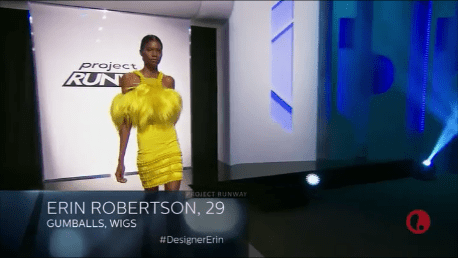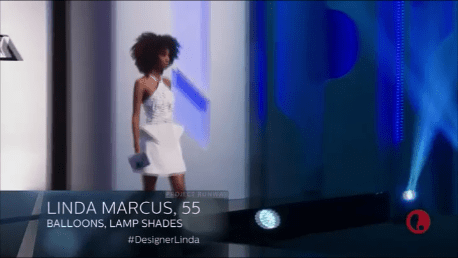 And Kimber's made her model look like she's wearing fancy wedding maternity foil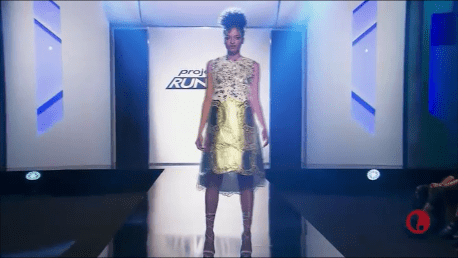 And on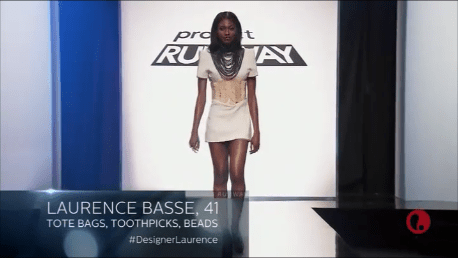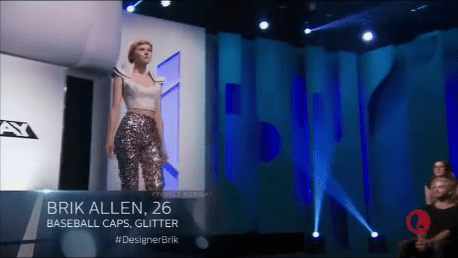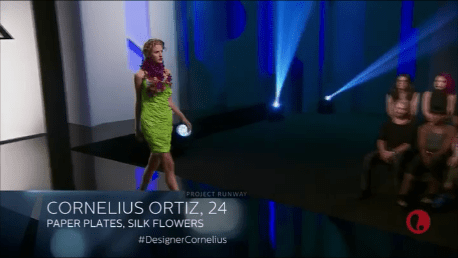 I loved Roberi's before, but now it's looking a little diaper-ish, no?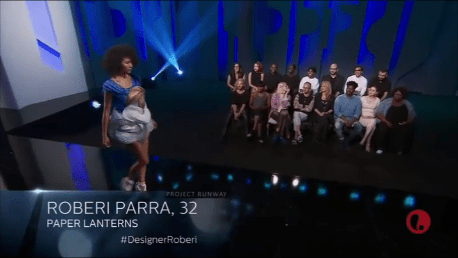 Alex says he about "wet his basement" when he saw his design, it's FLOOD your basement and that's GINGER MINJ'S LINE!!! Get it straight, hippie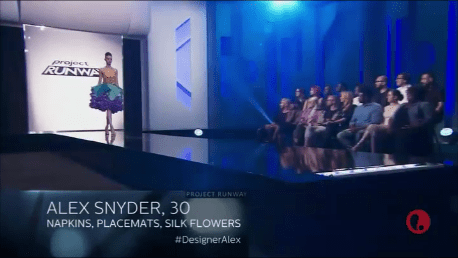 And that's it! We're done our first runway for season 15! Judging time:
Called forward first are: Roberi, Dexter, Tasha, Eric, Ian and Brik. Everyone else has moved on. Oooh I'm worried about Brik!
We're starting with Tasha: Heidi loved it, Nina calls it effective, Savannah just likes the Tim / Heidi bag and Zac: 2 legit 2 quit.
Brik: Heidi thinks she looks mis-matched. Nina likes the hats and hates the pants. Zac calls it "Lady Gaga on the top and ABBA on the bottom" and the hair didn't match either. Hot mess.
Erin: Heidi calls it a "stand.out.look", slick and perfect looking. I hate it, but I love how well-made it looks. Nina calls it "very editorial" and they seriously, all love this yellow monstrosity! Erin doesn't know where to look! It's "magically muppet-y" and one of Zac's favourite pieces ever on the show.
Dexter: Zac calls it an Alaskan Poodle look; Nina a runway piece, tribal and chic; Heidi loves this look, super gutsy and finally Savannah calls it resourceful.
Side note: most of the judges critiques sound like things you say to your children when you're trying to not crush their tender spirits: it's super gutsy and effective! What an interesting editorial school project!
Ian: basic.shift.dress. Sucked sucked sucky suck succcckkkkkky suck suck sucky dress. Credit for My Little Pony colour scheme. Sucky suckkkkkk suck
Roberi: Savannah HATES it, Nina's seen it on Project Runway already, Heidi loves it, so screw you two! Zac likes it too, so we have a balance.
Nobody can believe Brik's pants died so badly on the runway, he cries as he tells everyone they called it "Star Wars" with prairie hair.
Time for the judges to feel up the models, Zac gets right in there, doesn't he? And he digs the glitter, just part of why I love him. Iffin I was being honest, I'd have to admit that I love Nina more, but I don't have to pick, so why should I?
I already have a favourite; if they keep Ian instead of Brik, I will cry too
Erin and Dexter are top two: how could that much yellow be winning? I mean. Alaskan Tribal yellow, but still. I bet Erin takes it and she does!! Erin and Big Bird take the runway! She's so mellow and chill, they have to ask her if she's happy.
Now we're down to Roberi (in) Brik (better be) and Ian (bai Ian!): YAY!!! BRIK IS IN!!! Oh man, I imprinted FAST on that bleached blonde manbun!
Ian stands behind his dress, so good for him. I like how he believes in himself, even though he calls all the people he met "concession prizes" which doesn't mean what he thinks it means. Tim will miss his spunk (ER) and sends him to the workroom to clean up his space.