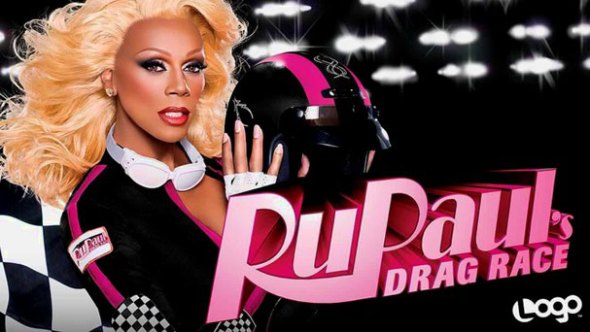 Hayloo huntys!! I'm TalksTooMuch (fair warning), but you can call me TTM and I am SO 'CITED to be recapping Drag Race with BeckyMae! This week is my turn, I threw up all over the comments last time because I LOVE this show, woo hoo! Let's roll, ladies!
Last week we met everyone and lost the forgettable Naysha Lopez in a snoozy bagina-pounding-free lip sync battle with Laila McQueen, whose lazy stripper oeuvre overtook Naysha's Pointer Sister impersonation and ChiChi tore her panties in an unrelated incident.
So far I love mouthy Robbie Turner and country ChiChi but Kim Chi...does good makeup and is super creative. I'm not convinced yet that she's a Queen queen, if you know what I mean, I'm not seeing any personality, but she may just be shy. LIKE DRAG QUEENS ARE KNOWN TO BE.
They're back in the workroom reading Naysha's final lipstick missive on the mirror and girl, Robbie you better be afraid. After that Lambchop impersonation last week? It was kind of funny that she forgot to choose a category for herself, though.
Cynthia is sorry to see her drag sister Naysha go and I'm just waiting to see the last of Cynthia and her cucu. BeckyMae described her as trying for a Cuban Lucille Ball schtick and that's perfect, but all she's doing is irritating the Sam Hill outta me.
Laila holds forth on who she thinks SHOULD have been in the bottom; Naomi for her $5 dress and Cynthia for her Detox dress knockoff but guuurl. If you don't take this as a giant Fix YoAct moment, I expect I will see you in about 87 minutes, lazy strippering your way home.
Guest judges this week are Lucien Pane, Jamal Sims and Ester Dean from Pitch Perfect which explains the epi title! We *may* have done a review of Pitch Perfect 2 on Bookie, we weren't super impressed next to to glorious original. ANYWAY, we roll!
Walking into the room first, purse clacking ladies! These best squirrel friends are ready to take on the day and go get that nut (s). Wow, Thorgy is much younger than I thought. I think it's the neck veins.
They sit and wait for their SheMail, shite-talking Naysha, who WAS the prettiest, but remember wee Kenya Michaels? She was the prettiest and even though she competed TWICE in the same season, she still didn't get far. Pretty only gets you in the door, hunties.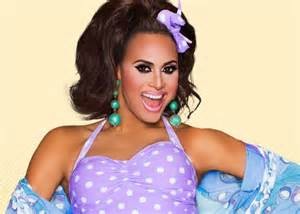 They decide Britney must "think" she's the prettiest, when Ryan asks why he can't "know" that, Acid Betty says 'cause Naomi's in the room. Oooooh bUrn! Saved by the siren! They've got Ru on the big screen!
Their next challenge is clearly a singing one, oooh, cutting them out early, Mama Ru! Laila looks worried, Dax Exclamation Point looks confused and I think Thorgy just threw up in her mouth.
In walks RuPaul in a suit and how to describe...it's like when your cable isn't working and there's all this static...and you throw on a green hat and red cravat...
First, they're having a mini-challenge, a Latin dance-off to "Cha Cha Bitch" feat. MamaRu, hola Pit Crew! They're bringing in clothes from Out of the Closet, a thrift store which benefits the A.I.D.S healthcare community.
They have to get into quick drag and Thorgy isn't shaving?? WHUT? Bish please. There's Alternative and there's lazy and I didn't think I would agree with Acid Betty about anything but I'm with her on this.
AB Soto, the OTHER "Cha Cha Bitch" singer, shows up in a pink suit covered with pink rhinestones to go with his pink shirt and his pink hat and it's AWESOME! He tells them to work their something and their something else and it's so fun!
You know what, that little Cynthia made me a believer: best dancer and no talking FTW. ChiChi also did a dead drop so woot! Bob the Drag Queen was the worst, of course, but he did say Kim Chi has "two left feet and vertigo" so he's doing his thang!
Thorgy...well. Thorgy is a Conceptual Artist, I can tell. If Thorgy was on Sesame Street, I would not be able to pick her out. RuPaul gives her all the props for her Frida Khalo realness.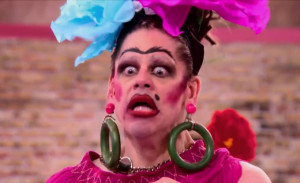 The two baddest bitches are: Cynthia and ChiChi! Woo hoo! They'll be team captains in the all dancing (mmmm *defeated downward pointed nod* hmmmm says Kim Chi) all lipsyncing Bitch Perfect Extravaganza ya heard?! Heard!
They're werking with famous choreo Jamal Sims and here's the teams:
Cynthia and her cucu are heading up Team Lady Bitches from the Lace Front Institute of Technology with: Bob the Drag Queen, Derrick Barry, Laila, Robbie and Kim Chi. Nobody wanted Kim Chi. She understands.
ChiChi is leading Team Shady Bitches; the bad girls from Lake Titicaca Academy of Braids, Weaves and Waffles: Acid Betty, Thorgy Thor, Dax Exclamation Point and Naomi.
You know I loved ChiChi off the hop, but I see some depth, y'all! She can sing, she can dead drop, let's see if she can lead a team! Acid Betty tries to step in, suggesting choreography review first, but ChiChi ain't having it. They need to know when they come in before they start coming in, ifyouknowwhatImean. Acid Betty just has a strong personality and I'll say it: she old. Old people get set in their ways and used to being in charge. Or we could just go with what old friend Thorgy has to say: Acid Betty is considered so artistic that she gets away with being an ahole. Ohhhhh and *whisper* that's why she doesn't work in New York, oooohhhh. That's the Tea!
Team Shady Bitches..is in trouble Dax EP and Thorgy CAN'T COUNT TO FOUR. And they want to do funny, being Comedy Queens, but ChiChi is all nooooo. Twitch, bitch! That's it!
Over on Team Lady Bitches, they're splitting up parts and Laila is worried her role as Regina George's little sister is gonna leave her too much in the background and HOW is this little mouse a Drag Queen again?? She says she's the alt queen back home, where exactly is that?? Iowa?
Acid Betty is polling the Shady Bitches as to whether they've ever been in a show and just had to...get it done. She just keeps pushing and pushing and taking over and taking over and ChiChi, you need to HANDLE that!
Ru is checking in on Cynthia, who can't remember her team name, but says she picked her lady Bitches carefully: dancers, comedy, actors, makeup artists...cut to Kim Chi. Oh hay gurl! Ru asks point-blank if she can lip synch: nope. Partly because she's worried about her lisp, but Ru says his kingdom was built on a lisp, LOL, true dat. Kim Chi also can't dance and doesn't do comedy, but I hear she has a hell of an Instagraham account, so let's see what that does for the team later in the challenge. Ru braces Laila about whether she's ready to not be lip syncing for her life later, she's gonna step it up, swearsies!
Over on Team Shady Bitches, Ru cuts right to the management Q, putting ChiChi on the spot. I love how honest she is: guuurl, I don't know how to work with this many big personalities, at home I'M THE STAR and Acid Betty won't STFU. I may have paraphrased that a little, but that's what she meant. And Ru is oot!
Ooooooh!!!! There's a new confessional called the Shade Tree!!! It's in the back and there's a neon tree and I can't WAIT!
Choreography time! Cynthia is acting like the girls at the end of the competition, drooling over Jamal Sims like he's ACTUALLY made of chocolate and wants to know : did her "teets" look "jello"? And thank you subtitles, or I wouldn't have known she was worried about plaque and not her bosoms.
The Lady Bitches are not doing well. You know how sometimes someone says they can't dance but they can and they just don't wanna raise expectations *coughGingerMinj - I love you!cough*: this is not Kim Chi. She cannot dance. She falls. But she's game and I DIG that!
The Shady Bitches are doing a little better, they have something for Jamal to work with, anyway (thanks to ME crows Acid Betty), they look a little Butch Queen doing it though, hay? Jamal's gonna make it better. Poor giant pretty Dax Exclamation Point is having a hard time, hunty. He's sweating like a hewer in church and fading fast. Jamal likes Thorgy's comedy twist, so ChiChi can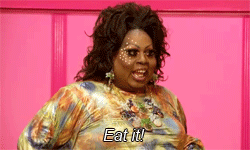 Dax Exclamation Point is really struggling and I love her and she will make it WERK. Also having a lot of trouble is our Korean delicacy and she uses the Shade Tree to say she doesn't want to let her group down. GURL PLEASE. This is for SHADE. Go cry by the makeup mirrors like everyone else!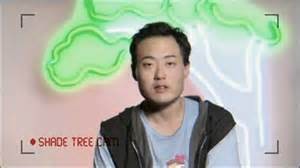 More bitching by Acid Betty on stage during water break, Jamal listens and it's just so UNPROFESSIONAL!
Back at the makeup mirrors, ChiChi and Kim are visiting and then it turns into the most lovely session: Kim Chi used to be almost 350 pounds and Acid Betty was big too and so was Dax Exclamation Point. All right, you finally got me with the cutting of onions, I was also a very big lady not that many years ago and no, it doesn't ever go away mentally.
And Kim Chi is a virgin; saying people don't think of her that way. Nuh uh, says Acid Betty, I was TOTALLY coming on to you! Bob says Kim Chi doesn't realise she's a good looking 6'4 man and she needs to own that. Only on RuPaul's Drag Race does that sentence make sense.
Over at the other mirror, Cynthia is talking about growing up in Puerto Rico, yaass there ARE a lot of gays there, she says. ChiChi wanted to be in a gang, he had a gun and was a gangbanger until his dad beat the crap out of him for having a gun. High five parenting, PapaChiChi! He was trying to stay deeep in the closet, but coming out was a turning point and now she's blessed to be here with you bitches. Amen!
Bob carries on because that's what Bob do, I bet that gets EXHAUSTING after a while.
Runway time!! Ru looks GORGE in geometric butterfly gold and blue lame realness.
Michelle even looks nice for once and not like a knock-off Jersey Elvira!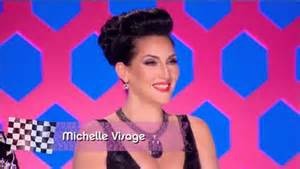 Lucian Piane is adorbs as always, Jamal we just saw and Ester is a songwriter too! She wrote Firework (um), Super Bass (like!) and S&M (slightly repetitive and let me shut up, I haven't ever written a song and my musical taste is turrible) and that's cool!
Musical time! Naomi looks FANTASTIC but Thorgy's lip synching is bad. Very bad. Laila completely fades. But over in Lake Lake Titi Titi CaCA, it's dragapella realness! So much fun! Dax Exclamation Point turns it OOT! Cynthia is fine until she tries to inject some of that CubaLucy, pfft, cut.it.oot. Oh my goodness, it was SO GOOD, I think it may have been the best production I've seen on Drag Race. So much better than Season 7s dance fusion anyway.
Runway time! I'll do an amalgam as BeckyMae did last week, because let's just say this TV says it's HD...but this is not screen-grabbable.
Category is Movie Premier Realness; Cynthia looks..okay in a green sequined dress (don't she know Michelle HATES green??). She's thinking Sofia Vergara and Rosalin Sanchez lovechild, the judges are thinking Valerie Harper. Bob the Drag Queen is wearing a see-through black gown and a giant fro: meh. Oh fro she betta don't! Derrick Barry is chanelling Ann Margaret in red hair and a short tight dress. Laila is going for Category Classy Broad this evening in purple and green sequins and don't these betches know about Michelle Visage and green?
Robbie Turner is Marilyn in platinum blonde hurr and a gorgeous red fluffy strawberry died Vera Wang wedding dress. For reals for reals Vera Wang? Kim Chi is going slowmo with a Mae West looks, she calls it ethereal and serene, I don't know if that came across, but it's purty! ChiChi is walking around puddles on the girls, doing a figure 8 on the runway in a Diana Ross red sequined look with fleurs. Lovely but you know, not a stand out. I almost forgot to write down what Naomi is wearing, I was transfixed. Those legs! Greek sandals, a flowing cape and not much else. She's almost too beautiful. Acid Betty is rocking an art deco Marie Antoinette look, eh. Dax Exclamation Point is out next and it's not my favourite look on her. She's so straight up flawless, adding alla that just looks like too much gilding on the lily and there are two layers and it just looks messed up. Thorgy is rocking a sequinned Liza Minelli jumpsuit and yeah. It works for her but she walks like a truck. A truck out of gear.
Judging! 6 ladies are called forward, the "rest of you bitches in the background (exactly) are safe". Ru hates safe. Laila is up first and she looks soooo nervous. Michelle calls her out for being drowned in her dress and Luican says she faded into the background. Kim Chi gets props from Michelle for substituting character for dance ability and Jamal doesn't even care she can't dance: he just wants to smell her. Michelle is concerned about her walk, which can't even really be called a walk..but she gets a pass. ChiChi gets rave reviews for her work in the musical, but her runway look is called basic by Michelle and Dreamgirl realness by the two other judges that have seen Dreamgirls.
Jamal gives Acid Betty credit for being concerned about her team and while Thorgy, ChiChi and I swallow our tongues and Ester starts in on her dress. She doesn't get it, and I think that IS the point. Dax Exclamation Point gets shade for her padding from Michelle and bad feedback on dress length from Jamal. It's as though she stuck one on top of the other and he and I don't understand. She got a bit lost in the musical too, didn't fully commit. Thorgy Thor gets lurve for her jumpsuit but shade for her eye shading; lighten up TT! And we're oot and the judges are deliberating.
Do I talk too much?
In the bottom are Laila, Dax Exclamation Point and Kim Chi.
On top are Acid Betty, ChiChi and Thorgy.
The winner is: ChiChi, of course! She's won a four-day all gay getaway to a bed and breakfast in New England, yay! No. No, you don't have to go across the sea to get to New England.
Lip syncing are: Dax Exclamation Point and Laila and we SO called that.
They're dancing to I Will Survive??? No energy from either but Laila looks so BUDGET. And does a really awkward half-split and er. Don't do that.
And holy shite, Ru sent them both packing! I thought that in the beginning, I mean, how can you not have ENERGY lip syncing to I Will Survive?? I saw the last double elimination and she was right there too, but now there's shenanigans, Ru asks for Michelle's phone so she can call someone to come back. Wouldn't that be hilarious if it was Willam? Especially after all the OTHER shenanigans with the RuPaul Best of the Seasons Tour and her getting kicked off..Let me just say this: Sharon Needles owes her crown to Willam, if he hadn't broken the rules and gotten kicked off just at that time at elimination, Sharon was about to go home. Latrice always takes it to church.
So we're out huntys! The incomparable BeckyMae will be back next week to pick up where this epi left off, To Be Continued and all, thanks for listening, love yous, mean it!