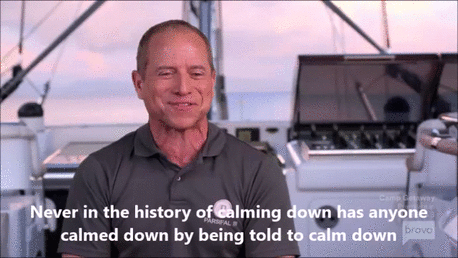 It's time for the uncomplicated tale of three hour tours near Corfu, hahahah just kidding, we're watching the extremely complicated Below Deck Sailing Yacht crew and their shenanigans on the high sea. Rolling into BDSY S1:E14 The Birds after the break!
Last we saw our Below Deck Sailing Yacht crew, we were mid-excruciating-couple-fight between chef Adam Glick and chief steward Jenna MacGillvray, who did not know what she was getting into with this piece of work. Adam…has issues. Currently he's angry about Jenna not being appreciative enough for the wild flowers he scrounged on the beach for her, she said she'd cry! Instead she tiredly hugged them and told him he was nice.
He wasn't angry enough to not have sex with her, just enough that he bailed after calling her a corpse immediately after the sex. Literally, everyone was surely still sticky.
Oh wait, that was Bravo and their infamous editing, Adam did threaten to leave but then stuck around to argue for hours, yaaaay.
It's 9 am on pre-charter day, so it's okay that they didn't get any sleep, just cleaning today. Third steward Georgia Grobler is up and at 'em already, chatting with first mate Paget Berry about her upcoming date with deckhand Christopher Miller. Chief engineer Byron Hissel is skeptical, everyone can see the chemistry between Georgia and Paget, except Paget's girlfriend, deckhand Ciara Duggan.

A completely not obvious full check on Georgia's bum, shown while producers ask what kind of guy Georgia should date.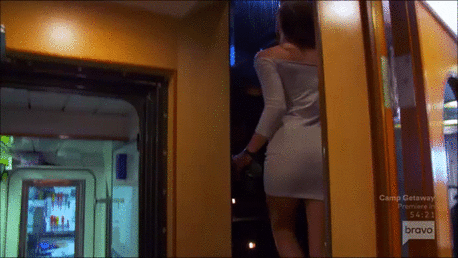 Spoiler alert: it sounds a lot like Paget.
There's just one person not in a relationship on the Parsifal III, that's second steward Madison Stalker and she's soooo over dealing with all the couples.
Georgia put on a dress, did her hair and makeup, Chris threw on some jorts, a baseball cap with a sweat-soaked headband and a t-shirt I can smell from here. I really need to steal some of the mojo an average guy brings on a date with a hot girl.
Fish spa time! Wee fish eat dead skin off their feet while Chris tells us he thinks he's sexy, but "niche." Dude. You can't call yourSELF sexy.
They're having a decent time, but Georgia's still completely wrapped up in Paget, so there's not much she can do right now.
Back on the boat, it's extremely quiet between Adam and Jenna, who haven't talked yet today. Byron gave Madison a hard time the night before for causing drama (that he didn't understand), he learned after that Madison's sister was murdered horribly and has decided to ease up on Mads. "No wonder she works so hard to stay positive" indeed but still: unrelated to what she was feeling last night.
Georgia and Chris pop in to see Captain Glenn Shephard when they get back, then she runs off to change after Paget and Ciara pop up to see how the date went.
It would be soooo much easier if Georgia actually liked Chris instead of Paget and instead of Paget liking her, but things rarely work out that well in real life.
Adam's been sharpening his knives for what feels like HOURS.
Georgia's been thinking about talking about Madison's past without her consent and decides to give Mads a heads-up about telling the whole crew about Madison's sister being murdered.
Madison is furious.
How dare Georgia share something like that AND imply that it's the basis of something so trivial like being annoyed about being the one single person on a yacht full of couples?
*Side note, ignore if you aren't into oversharing recappers. When I was young (WHAT I was young once!!) I quite regularly was the odd woman out. I would go out with friends, they were usually dating, I was in my footloose and fancy free stage, aka hophase. I would be okay most of the time, but once in a while after a particularly trying evening, I would leave wherever we were and just go home solo without telling anyone. One time, I hid in a parking lot when all my paired-up friends were trying to find me. It's not easy being a seventh wheel sometimes. I'd be pretty pissed if someone decided to connect that to my father dying when I was little, so I totally hear where Madison is coming from.
The next charter is less than a day away, so that means it's time for a Preference Sheet Meeting with Captain Glenn! It's not going to be awkward at all with one half of that meeting not talking to each other, no siree.
Who do we have coming aboard tomorrow? I'm glad you asked! Primary Charter Guests and best friends Kerry McReynolds and Dino Cresci will be joined by friends ahhhhh wait. Primary Kerry has stage four cancer and isn't in remission any more. That means. That means she's dying and this is a trip to honour her life. I'm glad she gets to go somewhere beautiful and be taken care of really well and I don't even know her. Ah. Okay. Dino's niece Jennifer Nescovic will be joining them, so will Mark Nitsche, who's celebrating a birthday. Friend Chris Harrington is there to help celebrate Kerry's life, along with another guy whose name I couldn't quite see.
*I totally didn't just cry that whole time.
Then I hear guest Jennifer Nescovic has described herself as "emotionally allergic to mayonnaise" and I'm back!
Paget slaps his girlfriend and subordinate on the arse with a chamois on deck, Chris isn't taking any of that!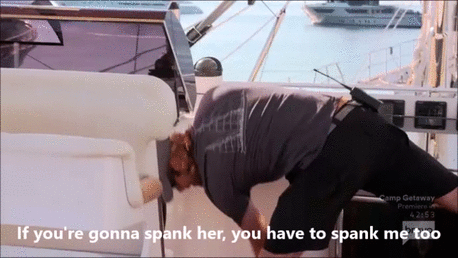 (English. You know)
Georgia and Madison hug and make up, thank goodness. I don't know how it would be for Madison without one good friend aboard.
Provisions are heyah! This is usually a time of cameraderie and many hands making light work but Adam's still pissy from the night before so goes stark raving at the grocery people. He flips out on two of them while everyone watches, including Captain Glenn, dude, take it down a notch.
Captain Glenn is no dummy, he clocks this as a couple fight immediately and decides to wait it out.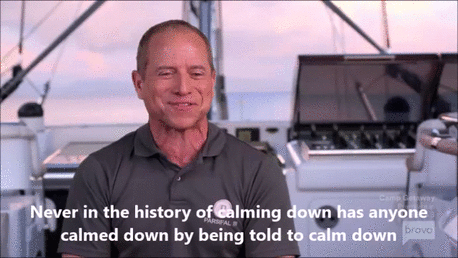 He's not wrong. Someone once told me to relax and it's like they didn't even see my haircolour.
A murder of crows attacks the Parsifal III's mast, every sailor alive just shivered without knowing why. Paget even radios Captain Glenn, everyone is so superstitious. Captain Glenn fills us in on other random superstitions, you're not supposed to whistle on a boat (cut to Adam whistling in the galley) or stock bananas (cut to Adam whistling while unpacking bananas in the galley).
I thought the main one was that you weren't supposed to have women on board, right?
Captain Glenn does the 15 minute warning call before guest arrival, I love that he calls out "let's get ready to charrrrtttteeerrrr" because he's as much of a nerd as I am.
They're here!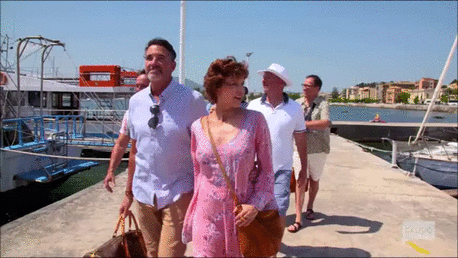 Ahhhh she looks so nice!*not crying* Okay, I'll stop, like Madison, you can't define someone by the worst thing that's ever happened to them and especially without their consent.
Boat tour time! Primary Kerry says the boat is "rad" and I have to agree. It's super windy, so Captain Glenn decides to start sailing right away as these guests have asked for as much sailing as possible.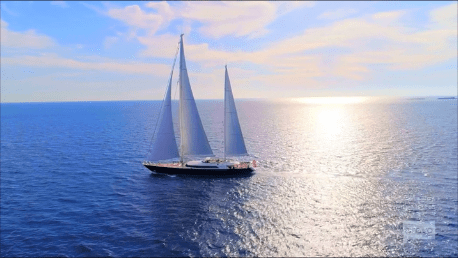 I mean. Look at that!
It's extremely quiet in the galley and crew mess, Adam doesn't have any random people he can yell at and Jenna is waiting for him to calm down. She should…just run, yes?
They're doing 12 knots through the wind, the heel is substantial. Just waiting for a number…
18! 18 degrees of heel!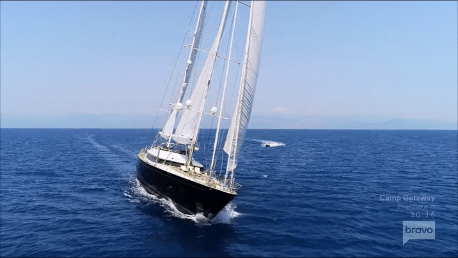 We zip up to 24 knots out of nowhere, the yacht is almost over on its side.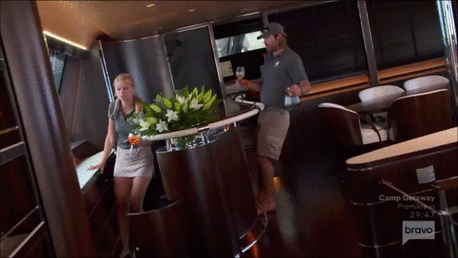 It must be said that the guests are enjoying it much more than the crew.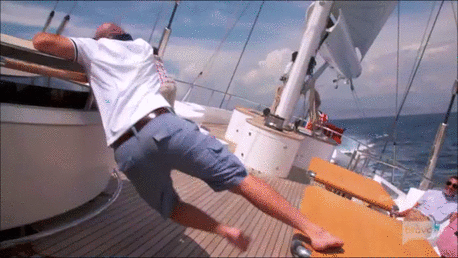 We're at 27 DEGREES.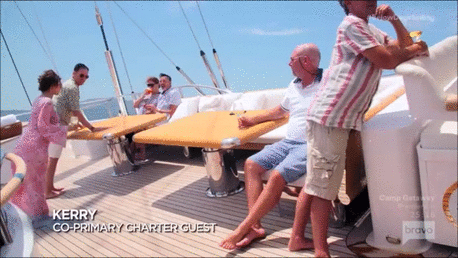 Captain Glenn knows what to do, he gets close to the wind and something something WHEW.
Primary Kerry and guest Mark make smallchat with Jenna, asking her why she got into the business, etc, and Jenna actually says, to a dying woman, "I could die tomorrow."
Jenna lost her dad to cancer four years ago, this charter is very emotional for her and she wants to make sure this is absolutely the best trip of Primary Kerry's life.
The Parsifal didn't come out of that wild ride unscathed; when they dock somewhere lovely and take the sails down one of the deckhands notices that there's hydraulic fluid all over the deck. Ciara: it's the CROWS!
Or the fact that you were at 27 degrees of heel going 24 knots for a period. One of those two things.
Awww, Chris can't figure out if Georgia likes him or not, but he checks in on here and walks away with "I'll be thinking of you" which would be really sweet if they didn't live literally three feet from each other.
The guests finish up a yummy-looking lunch then Paget arranges for some watersports in a secluded bay. Madison, Ciara and Chris are sent along to help. It's so gorgeous.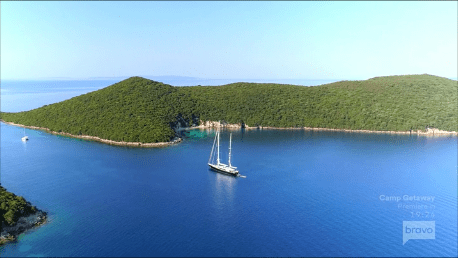 Georgia cleans guest cabins while Jenna writes love notes to Adam so they can get back together. He was disappointed when she wasn't as excited as she said she would be when he got her flowers, so I guess this is a way to make him feel special.
I do agree that life is too short to fight and waste time.
Jenna drops off the bag of love notes with Adam, he could read two a day and it would last the season! He reads one, says nothing but saves it and she crumples. She walks out crying, sigh.
Byron isn't just our biggest boat gossip, he's also an engineer and he's able to figure out what's wrong fairly quickly AND it's fixable. Yay!
Paget has been selected to serve the birthday cake, he's the "hot deckhand" or "hot piece of a**" if you ask Chris.
In the crew mess, Ciara makes a joke about Paget and boobs, Georgia chimes in that it's jarring when they say something sexual, it ruins the "brother and sister" vibe of Paget and Ciara. You wish, Georgia, pfft.
You can actually feel that Adam's relaxed in the galley a scootch, since Jenna is working to get in his good graces and things are going his way again. I do think it's shitty that every time they get into an argument she mocks him living alone in his van.
Everyone gets ready for supper, awww, Jenna's setting the table when the guests descend with their own decorations, I love that!
Jenna gives Paget a heads-up, not only is he the hot deckhand delivering cake, he'll be doing it shirtless. Now, Paget is definitely muscular and that type of thing, but he was chubby growing up it's left him with an unrealistic view of his own body. He's worried people will think he's silly for having his shirt off.
You see? You can't really ever know about people, I'm pretty sure I thought Paget was your average meathead and while he's not perhaps the sharpest tool in the shed, he's not vain or trivial and I'm sorry for pre-judging him.
Paget pumps up his body and his confidence, Adam sends out a fantastic dinner. Paget is so scared, awww, you're doing amazing sweetie. Go serve that cake!
Hahaha I love Mark and he loves all the cake!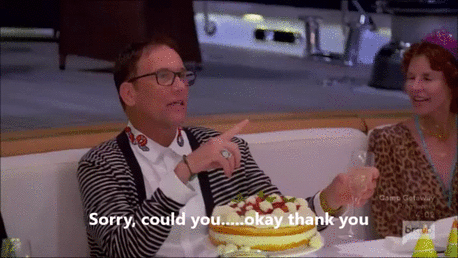 The cake is cut up silently by Adam, Jenna decides she's had enough of this garbage. Even though Georgia has to sing for the guests in the salon, Jenna drags her over to cover service first so she can have a talk with Adam while the guests are awake.
Jenna and Adam talk on deck, he doesn't see any future with her or anyone, he just wants to get in his van and blow. Georgia's gorgeous voice and guitar playing takes us out, they've got quite the multi-tasking crew here, don't they?
Until next time! Cheers