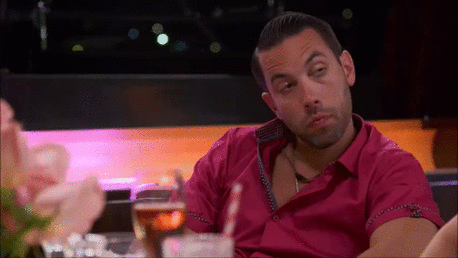 I hear things got messy for our chief steward this week on Below Deck Sailing Yacht, 'bout TIME. But let's see what actually happened, yes? Rolling hot into my recap of BDSY S1:E16 Dope! after the break!
We open where we left, in Captain Glenn Shephard's office with chief steward Jenna MacGillivray discussing the recent hiccups in service. By that I mean the fact that she left one person on service and went to cuddle during.charter. I mean, if it was just that one time, you'd probably let it slide, right? But all season Jenna's been at best an absent manager of her interior crew, preferring to hang out in the galley with chef Adam Glick.
You know, they really are well suited in that way.
Captain Glenn doesn't waste time getting to the day in question, to be confronted with a wall of "That totally didn't happen" re: only one person being on service.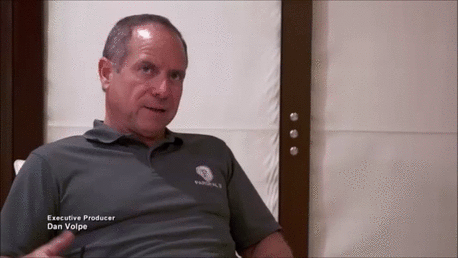 Since Captain Glenn was clearing glasses and wiping down counters, he's fully aware of who was down and who was on service and lying to him is a bad choice.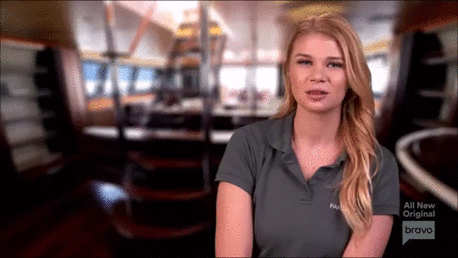 THEN Jenna says she can't recall and since it's literally the day before yesterday: the OllieNorthDefense does not apply.
Captain Glenn perseveres; and about lying down with Adam…maybe pump the brakes, sister. Keep it clean and PROFESSIONAL. Both of yous.
Third steward Georgia Grobler is about coming out of her skin trying to find out what's going on, second steward Madison Stalker doesn't know either, okay??
A doctor makes his way on board to see newish deckhand Chris Miller who lifted a seabob and tweaked his back something awful. He still managed to dig rocks, lift heavy things, go up high on the mast and a sexy hot tub striptease, but painfully. Nobody wants a painful hot tub striptease.
The pain and tingles have gone into his foot, he's lost feeling in spots and the doctor is very concerned. He may have nerve damage, he'll have to have an MRI before the doctor will clear him to work.
WHY would this have to happen for the last charter? Wait. It always happens for the last charter! They're always a man down on the last charter on Below Deck and Below Deck Mediterranean! Is it a case of Push Through Itis??
Jenna complains to Adam in the kitchen, but you really can't shittalk on a superyacht. The Parsifal III looks roomy, but crew quarters are so tight that the Captain is always about four steps away and he's going to hear you whining about being taken to task about service.
Now…who was it…that you said was shite on service…but who insisted she was always working…but you said WASN'T but now Captain Glenn has seen exactly that…who…oh right, it was MADISON.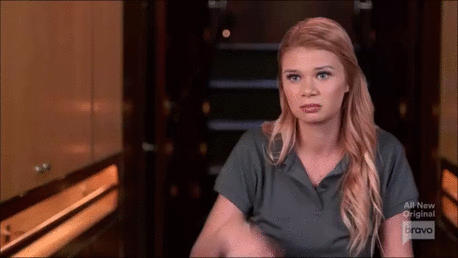 Captain Glenn gets the bad news about Chris, let's get this MRI going, the charter starts tomorrow!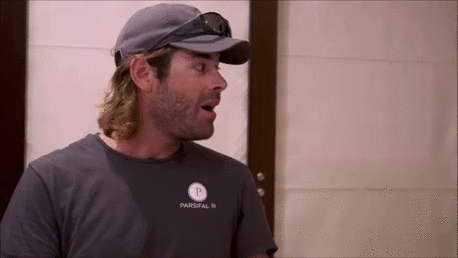 They tell first mate Paget Berry, who feels sorry only for himself. Sorry the nerves in your back are potentially seriously injured, Paget. Oh wait.
Jenna confronts Madison while they're cleaning cabins because she's a shitty manager. She forces Madison to give an opinion about her and Adam carrying on in the crew mess then yells at her for having an opinion.
Jenna storms out, she's not telling them to do ANYTHING, SO THERE!!
Madison takes Captain Glenn aside, she didn't say anything bad about Jenna, right? Captain Glenn has had it. He was very careful to tell Jenna that the complaint came from outside her department but Jenna is a bully of the insecure variety. Of course she is then mean to someone she has control over.
Captain Glenn takes off like a shot with Madison trailing in his wake, she doesn't like drama!
Madison.
He finds Jenna in the master, do they need to get Georgia? No, okay, time for another chat. It's much uglier this time, Captain Glenn takes Jenna to task about her actions: "you're defending them and they're indefensible."
Wooo.
We're clear that Captain Glenn would fire Jenna if there wasn't only one charter left.
It's a somber night on the Parsifal, deckhand Ciara Duggan and boyfriend Paget decide not to leave the ship for dinner. They've got a charter the next morning and a person down, better to stay on board and wipe stuff with pizza in hand.
Last pre-charter preference sheet meeting of the season wooooo! Who we got, coach?? Nicole Gary will be our last Primary Charter Guest of the first season of Below Deck Sailing Yacht, awww! She's from Manhattan and likes long walks on the beach. Dislikes: people who frown. I'm joshing, she's in real estate, she likes EQUITY! Friends Noelle Nikpour, Jeanette Spinelli and Nick Buchanan will be joining Nicole, who wants a Pink Party replete with a seven course pink tasting menu.
Pink….tasting menu?
That sounds like a LOT of beet juice being stuffed where it shouldn't, which is literally everywhere.
The guests give a note about expecting great service, Jenna cracks a joke that they're going to be disappointed and Adam cracks up. Captain Glenn does not.
Adam reviews the tasting menu with Jenna, then she calls her team together for another meeting! Yay!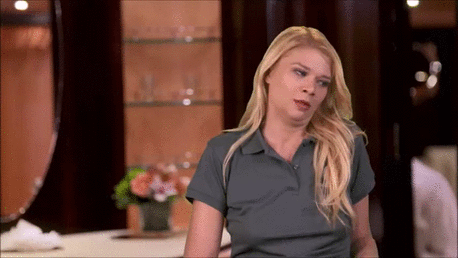 She tells Georgia to HTFU and Madison to focus, whatever, Jenna. Maybe admit you've been slightly distracted but you're back on course and ready to knock out this last charter, that would go a lot further.
Everyone works like crazy except poor Ciara, who is coughing and cranky. Is she sick too? Then I might feel bad for Paget, he'd be carrying everything on deck, literally and figuratively.
Guest arrival time!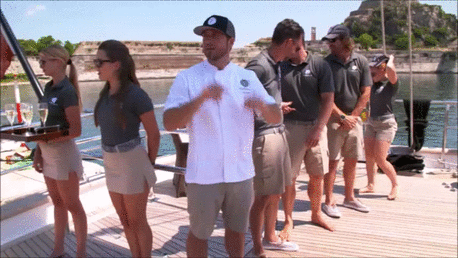 I like the looks of Primary Nicole! Lookit Mr. BowTieShorts behind her! Why don't more people make an effort to wear cool stuff?
Boat Tour! We seem to be zooming through really fast, but it's the last one of the season, guys! We won't see the Parsifal again until…okay, next week. But after that!
Adam and the crew bring up snacks for the guests in the salon, why does he sit? He's not confabbing in a workshop with pals, he's serving them food in a luxury superyacht, stand up and stop the manspread.
Madison and Georgia unpack guest luggage, I think that's the part of traveling rich I would find the most awesome and terrible. Get out of my stuff! But also press it and hang it up and put it all away again, thanks. Good thing there is exactly zero chance of my traveling rich. Whew!
Paget hurts his knee to go with his pulled hamstring on the other leg while Chris hovers around hopefully. He's not even allowed to pick up shoes until the doctor clears him.
Captain Glenn is Canadian, he's not going to mess around with Health and Safety. Canuck represent!
Chris gets a call from the doctor, it's not good news. He does have a disc prolapse and he'll need to see a specialist, no lifting anything until then.
It's Nicholas Buchanan that is the fancy dresser, woooo! Now he's in reflective shorts and I think I've figured out why I may have had issues dating in the past: I really dig dudes who are sometimes only into dudes, apparently.
Other charter guest Billy LastNameCouldn'tSee, maybe Billy Lolli? heads down to his room to sniff something. He pops up on deck to ask to drive the boat as Paget gathers some more chairs for the guests to sit on. Paget's eating lunch at the time, I guess it would have been too much for Jenna to ask chief engineer Byron Hissel who was right there or something.
The wind picks up, it's almost time to go sailing!! Look how gorgeous!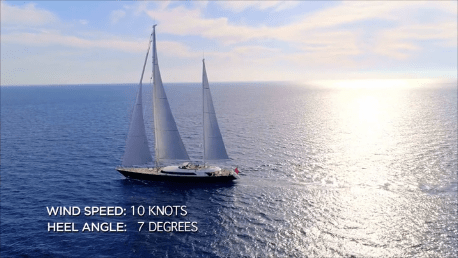 And now in motion: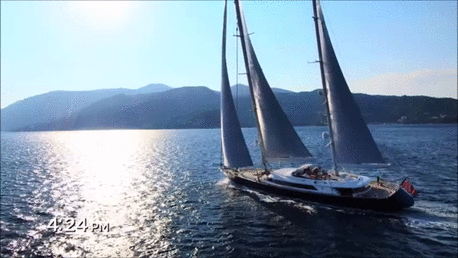 Chris calls Captain Glenn for a chat as Ciara tells Paget she's sick too. Yep, I finally feel sorry for Paget, his whole department is dropping like flies. He comes into the crew mess, "And then there was one." LOL
We're up to 8 degrees heel, charter guest Jeannette is driving with Byron supervising. The wind dies and the sails are stowed. Most of the guests are napping when Captain Glenn drops anchor at Avlaki, Corfu, they're missing a spectacular sunset.
Paget and Georgia have a nice moment on the bridge, he's going to miss her! Almost as much as she'll miss him, that type of crush can be a nice reminder that you're alive.
The interior team sets the table with a beautiful pink table setting while Adam works on his pink menu, that seemed like not a lot of time to prepare for such specific requests, didn't it? Billy the Guest just haaaangs around the table.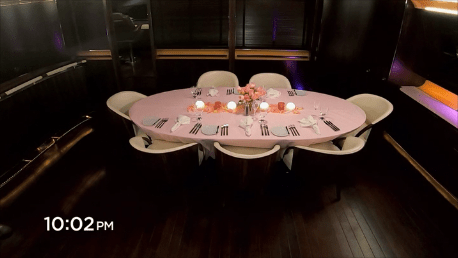 Primary Nicole fell asleep on deck and doesn't wake up until 8:30, half an hour after supper is supposed to start.
Why did nobody wake her up??
It's 10:00 pm and the Primary is just now putting on makeup, her friends are about to faint from starvation and Adam's losing his mind in the galley.
I'd like to feel bad for everyone but:
Nicole Gary is the Primary Charter Guest
That means she's paying
If they cared so much about supper, they should have woken her up
She's paying. Shhhh
It's just that it's past 10 pm and they've requested a seven course tasting menu. 7. That's going to be a very late night for everyone. Next time someone shake a shoulder!
I'm kind of obsessed with this table!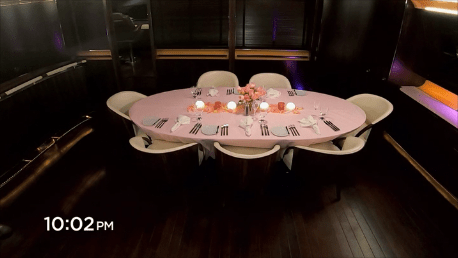 Primary Nicole looks beautiful but Noelle Nikpour is ready to cut a betch.
First course! Prosciutto and Parmesan with truffle.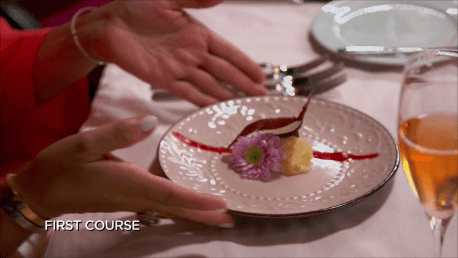 There are only five guests, that seems like a tiny group for a yacht this size. Billy can barely keep his eyes open, Jenna wonders aloud if everyone is on drugs.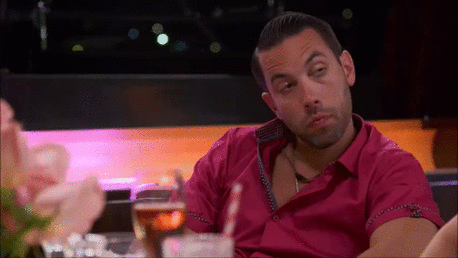 Second course! Grapefruit salad with grapefruit vinaigrette.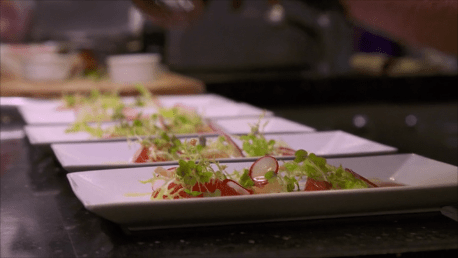 Billy leaves before eating to go to the bathroom. I'm confused because his peeing sounds like sniffing.
Third course is smoked trout with caviar and crostini.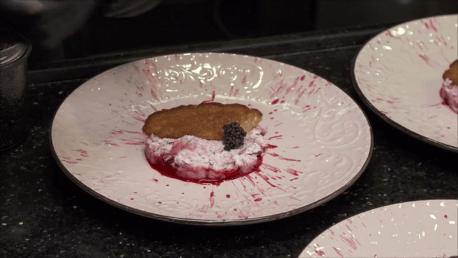 Sorry, I've been recapping GBBO a lot lately and it involves a lot of food pictures.
Fourth course! Beet salad with goat's cheese.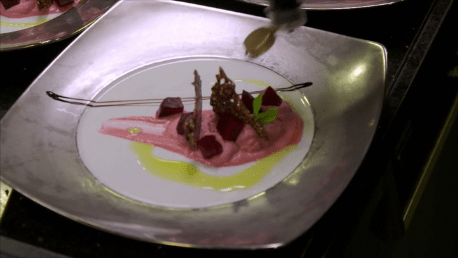 Fifth course: lobster with pink potatoes and Bearnaise. Primary Nicole is very excited about the lobster.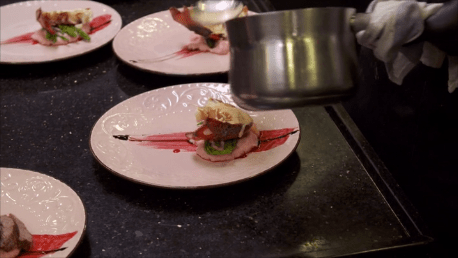 Jenna uses the time in between courses to yell at Madison for not getting the cabins done sooner, Madison is also leaving the cabins to come help serve so we don't know what the hell Jenna is talking about.
Chris takes Jenna aside, he saw something under Billy's nose earlier, now she has to say something.
It's 12:15 am and we're finally getting our sixth course, watermelon granita.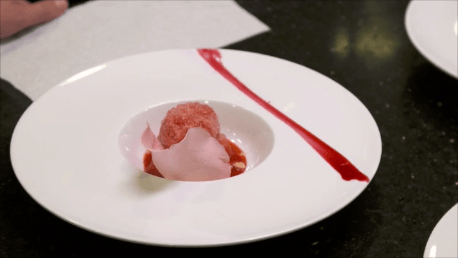 Last and seventh course is dessert!
Yay! Adam comes out for that one, he did a great job with a weird request. The guests head to bed save Billy and Nicholas, who stay up chitchatting in their room until 3:45 am while Madison and Chris clean the boat.
Oh wow, this is the last day on charter? Already? Huh. I thought for sure they'd be on charter a couple of days, but Byron says this is the last day of the season so it must be.
Jenna tells Captain Glenn about the mysterious powder under Billy's nose as Adam serves breakfast at 9:45 am. Nick says he and Billy didn't sleep at all, I wonder if it was just that the Bravo crew fell asleep at 3:45 am.
Captain Glenn is very concerned to hear about this suspicious white powder under Billy's nose, he would have liked to have been notified in the moment so he could have viewed it himself. He wakes up Chris to confirm and then views the guest himself. Billy is obnoxious, but Captain Glenn brings up a valid point: what if it's not cocaine but prescribed Adderall? I understand that can be snorted, right?
All I know of Adderall I learned from gossip websites.
Captain Glenn asks to speak to Primary Nicole and we're out for today! Next week is the season finale, it looks like we get a peek inside Billy's bag, wooo.
Until then, cheers.