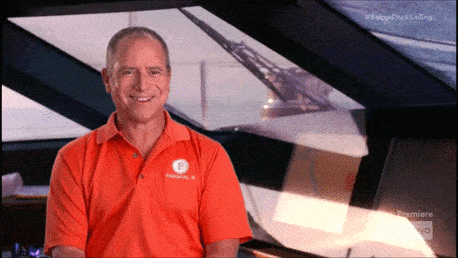 You guys!! I missed that Below Deck Sailing Yacht was back, who forgot to tell me?? You? Was it you?? The one with the hair in back?? Okay, no harm, no foul, we're back now and ready to roll into whatever kind of season we're going to get with a pandemic raging across the entire world. Rolling into my recap of BDSY S2:E01 Running on Fumes after the break!
Ooooh and we're back for the SAILING! Hai Parsifal III!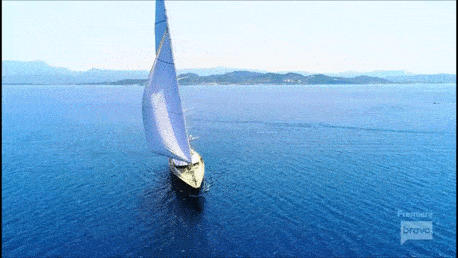 The only returning crew member is Captain Glenn Shephard, he's got a whole new team and I can't be mad about that.There wasn't anyone I would have liked to see again, although I hope the mean ginger and her clueless boyfriend are still together.
First Mate Kevin Sorbo Gary King is going to be naked a lot, apparently.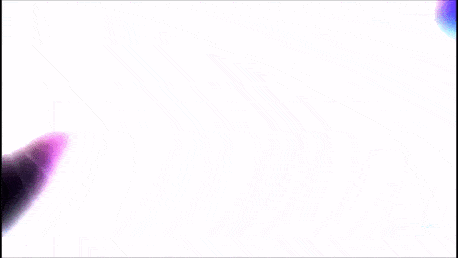 Chief Steward "Very Irish" Daisy Kelliher is already calling herself a b***h, jaysus, ease into things you lot!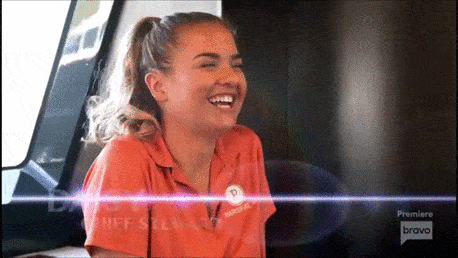 And yay, another female chef! Hai Natasha De Bourg isn't taking anyone's guff.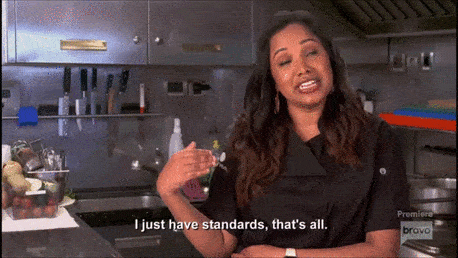 Second Steward Dani Soares …likes to show off her awesome body?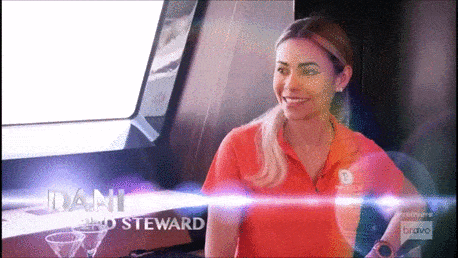 Third steward Alli Dour is bubbly and adorable, at the beginning of the season anyway!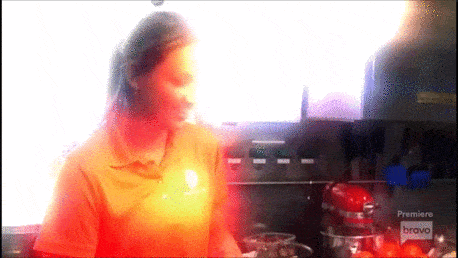 I don't know if deckhand Sydney Zaruba is Canadian or not, but she sure sounds like it. Let me see your maple syrup!!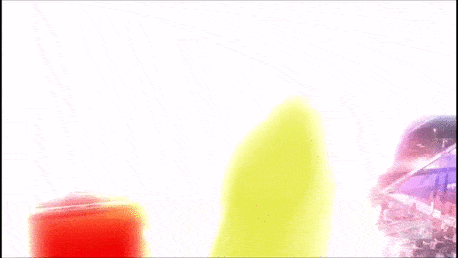 (Looks like we see pretty much everything else this season)
Deckhand Jean-Luc Cerza Lanaux is basically a baby giant, he's super young and almost 7 feet tall.
Ooh Chief Engineer Colin Macrae is adorable. He has his own catamaran that he runs charters on.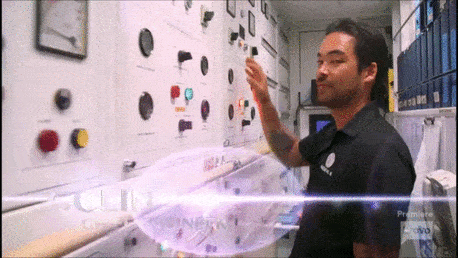 And that's it! We're on the Parsifal III again and I am actually starting to get worried about MeanGinge+Dumbo. Throw us a line, Cap'n Glenn? We're in Croatia!
Captain Glenn is back, he's looking fit, and he's ready for Daisy from Dublin to arrive! She's a legacy, her whole family has been involved with sailing so she's going to try very hard not to embarrass anyone. That's from her grandad who represented Ireland in the 1964 Olympics to the entire nation of Ireland. NO PRESH.
Kevin Sorbo Gary King arrives next, he won't stop talking about his hair and how lion-like it is. Look, Fabio, it's not the 80s, you're not HeMan and no1curr.
Chef Natasha from Trinidad and Tobago certainly isn't suffering from any confidence issues, get it girl! Let's see whatcha got!
Everyone else trickles in, Daisy is very diplomatic in asking everyone who they want to share with and with how many. Not even flexing, you can tell she's not American anyway, they usually like to fly their stripes right off the bat so everyone understands who's in charge. I love that Captain Glenn makes a point of greeting each and every crew member when they come onto the boat.
We have a massive proliferation of accents below deck, and several languages to boot! I was wrong about Sydney, she's from Florida, not Canada. Same same right?
So remember I said Jean-Luc was tall? He makes Captain Glenn look like a prematurely aged toddler.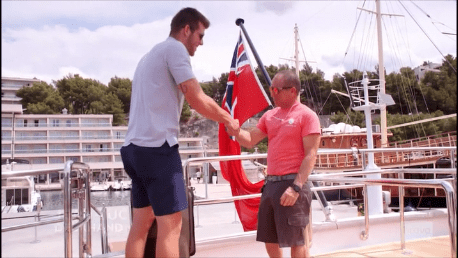 Beautiful framing, Bravo!
Captain Glenn calls everyone on deck for a briefing, they have a charter coming tomorrow but there's a LOT to be done. Get at it!
Boy I don't like Gary already. He's a tool, and not even a useful one.
Daisy thinks it's great that her strong second stew can train her green third, I wonder how that will turn out. Dani seems more interested in being cute than gunning for the top job, so maybe!
Chef Natasha warns the interior staff that she can't take anyone stressing out…that's literally kitchen work. It's rushy all at once then it's quiet. That's…meals.
All hands are on deck for provision delivery, boooo when do we see preference sheets??
Ask and ye shall receive! Woooooo we've got co-primaries Rusty Niedwick and Nikki Linn and if one isn't an adult film star, I'll eat your hat. Before you get huffy, I have nothing against adult film stars, I'm even a fan of the selected works of NeverYouMind, but they could maybe up their game as far as nomenclature goes.
Joining our happy couple are Alex Fernandez, Gregory Richmond, Rhonda Hodges and Natalie Starr. Oooh Primary Nikki is the type of vegan who won't let anyone else eat meat either boooooo.
My brother straight up called my dinner a "plate of murder" once without blinking.
Natasha isn't fussed, whatever the guests want: that's what she's there to make. I think less-experienced or spoiled chefs who maybe rely too heavily on their particular specialty can find that more difficult.
Alli is 100% a "plate full of murder"-type of vegan, she's excited that everyone will be with her the next four days wooo!
The crew works hard at cleaning and fluffing until 10 pm that night, then breaks for beers to get to know each other a little better. They're all single, yiiiikes. Gary swears he doesn't break the golden rule of yachting: "don't screw the crew" but. We saw, Gary.
Everyone hits the hay early, but totally-tatted Jean-Luc has a really hard time falling asleep given his body is seven inches longer than the bunk.
His tired bum pours diesel fuel all over the deck 20 minutes before charter. 20 minutes! It's not his fault, the bottle wasn't marked properly, but that doesn't make it any faster to clean up. Because this is a toxic substance, they can't wash it into the ocean, they're got to do a proper cleanup. In 20 minutes.
They get it done with four minutes to spare, 4 minutes! Into dress whites, mates! Guests are here!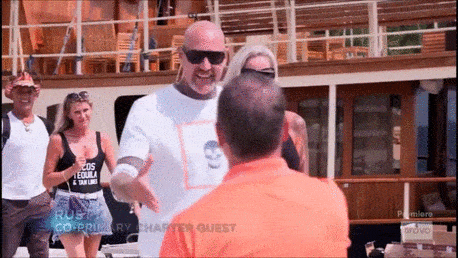 Ohhhhhhh, okay, this is filming DURING COVID! These guests have all been tested and been through quarantine for this vacation, Captain Glenn wants to make it the best one ever!
There is a man with a mohawk in a Speedo holding a unicorn boogie board, in case you missed that.
Daisy takes us on our first boat tour, wooooo!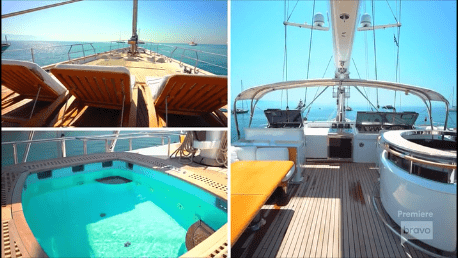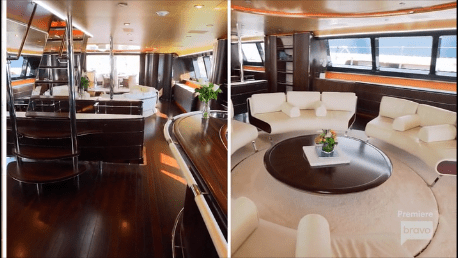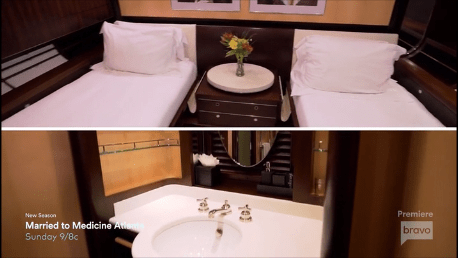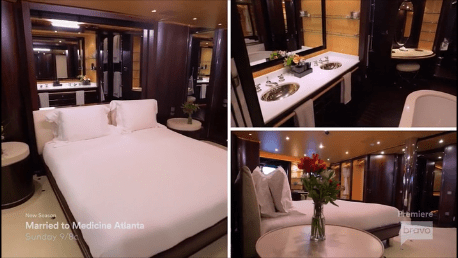 Here's Speedo Greg, in all his glory. His crotch doesn't stop the entire day, it's like a sweaty hirsute metronome of yuck.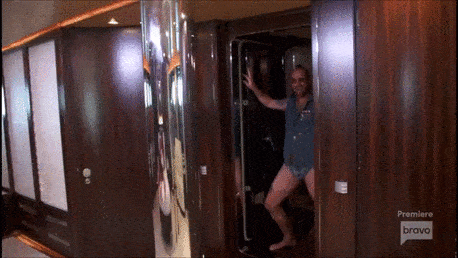 The boat is away; Captain Glenn entertains on deck while the interior crew works on stowing. That's when everything that could possibly move is put away under lock and key. One of my favourite parts of the sailing yacht experience is the sailing and figuring out the degree of heel they rock into. It's super cool.
Captain Glenn directs the crew to open the sails…and we're sailing!!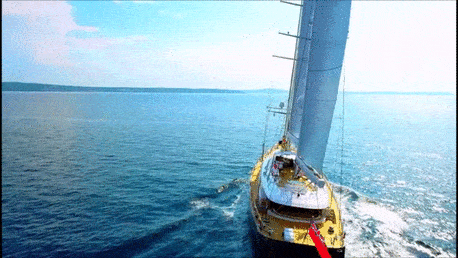 Gary gives his crew their shifts for the rest of the charter, Captain Glenn is already impressed with Sydney, woooo! Time to dress for dinner, whatcha got for us, Natasha? Beetroot carpaccio. HARD PASS.
Primary Nikki is far too sober for her drunk friends, she bails during dinner and that's never a good thing. I mean, everyone but her has been hitting the bar like drunken Deloreses, better make sure we haven't got any night swimmers.
Aww that made me think of Nightswimming by R.E.M. A very nice but misguided young man made me a mixtape with that onnit back when I was young and dating. I am happy to be old but I wish I knew more people that were also.
The dinner was supposed to be a celebration of life for Primary Nikki's dad who just passed, but her friends are just not getting it. They stay up after she leaves and harrass the stews about their tattoos. Dani has several, Daisy just has one inside her lip that says "F*** OFF" because 2020. I totally get it.
The remaining guests go to bed early and it's just Jean-Luc up by himself to work on deck. He has a huge to-do list from Gary but not a lot of experience, I'm sure he'll figure it out!
The next morning Natasha is up and working on carrot bacon (which has to be better than portobello mushroom maple "bacon", which is the worst thing I've ever eaten in my whole life) but the guests would rather sail than have a sitdown breakfast. Daisy asks Natasha for breakfast burritos or other handheld foods; it's not getting through.
Natasha gets her way and Daisy sets up a sitdown breakfast, frustrating the guests. They want to sail! They want to sail right now, not sit down for carrot bacon! Daisy carefully maneuvers around the decision, but they definitely notice their requests are not being met.
There is very little time to stow once Captain Glenn gets those sails up, Daisy and Alli are running. What did I tell you about Dani being there for a good time? She was a chief steward on her last boat but decided she just wanted to have a good time on this one. WHAT DID I SAY??
Captain Glenn is looking forward to giving his guests a "lively sail", that's what he's calling going into some special winds that will make the boat dance on the water. What's our heel, Cap'n!!??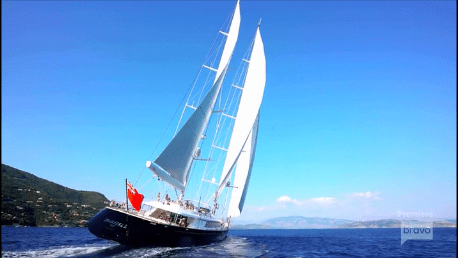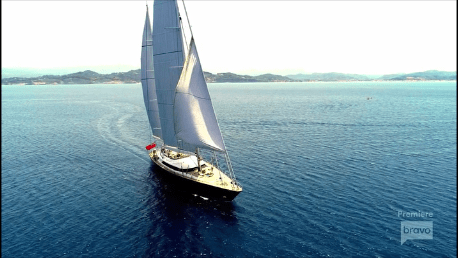 I don't know, but it's purty!
We set anchor in another part of Croatia, approximately four miles from their last anchorage. While we're sailing, Gary wakes Jean-Luc up to ask him if he did the things he already knows Jean-Luc didn't do. You can see Gary's experience in how he moves but. C'mon bruh.
Jean-Luc makes it up on deck to start his shift a while later, he's assigned to the swim platform where all the water toys are being enjoyed. He focuses more on Primary Nikki and Natalie flattering him than on guest Greg on a paddleboard; it's not long until someone raises the alarm. Where's Greg?
You know he isn't sober.
He went with guest Alex, who is much calmer and trying his first snorkeling, neither is within sight. Captain Glenn sends Jean-Luc out on the tender to find them, we end the first episode with him shouting into the rocks.
Season preview woooo! Let's see: drinking, jumping into water, drinking, alcohol, guests, jumping in water, dropping things, dropping things, Captain Glenn chiding crew, dropping more things, guest falling down stairs, drinking, naked bum, condom discussion, more drinking, twerking, lesbian sex, wind, anchor problems, hookups, hookups, fireworks, actual fireworks, boat hitting the dock, Captain swearing and we're out!
Cheers, everyone!