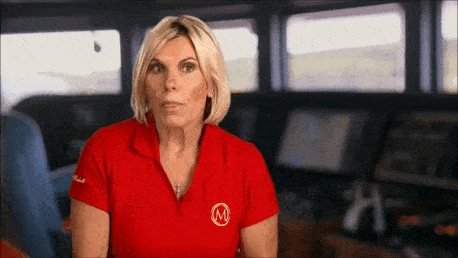 We're back in Croatia with Below Deck Mediterranean and a deck/stew with the inability to pronounce her 'r's. Wheeeee! Rolling into bad weather in my Below Deck Med S6:E11 Should I Stay Or Should I Go? recap after the break!
Bosun Malia White is out on deck in the middle of a bad storm, screaming into the radio periodically for…emphasis, maybe? Steward Lexi Wilson keeps radioing deckhand Lloyd Spencer while he's helping Malia set anchor, not now, Lexi!
Chief steward Katie Flood is too wrapped up in her own melon to notice, really, she agreed to having the help of deck/stew Delaney Evans last time but is now regretting it and can't make up her mind. She needs help, yes. But every single other crew member will have to switch bunks if Delaney stays, Katie is crumpling under that pressure. She doesn't like to feel bad.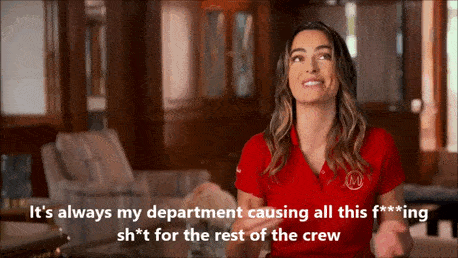 I mean, I get it, nobody wants to look bad. But. You're the boss? Maybe you could act like one?
Katie cries on Captain Sandy Yawn's shoulder while Delaney shittalks her in the laundry room to Lexi. She's going to do so good, Katie won't be able to fire her! Ever!
The deck crew is all over Delaney's Instagram account, seems our Delaney has 'quite a body.'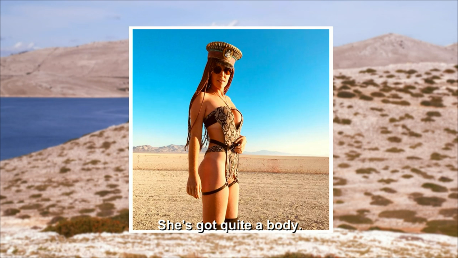 Wow, those boat polos cover more than I thought was possible!
Mzi 'Zee' Dempers likes all her photos LOL you can't do that! Unless it's on deckhand David Pascoe's account, that's cool then.
Steward Courtney Veale serves up all the booze, she looks super chill around our 8 rich ladies. We've got Halie Porter, Niki Wiley, Kristol Yeager, Sarah Hyden, Andrea Coughtry, Danielle Stratton, Ashley Brown and Bailey Hancock on charter with us, they're all gorgeous and like to talk about their various menz peni.
The weather means no water sports which means woooo deckies dressed like firefighters giving our guests lap dances woooo!
David is adorable and apparently smells great but wading pants up to his nipples is not a sexy look.
Lap dances are followed by beer pong, the boys still in their firefighter outfits. Danielle Stratton is still going strong, even Primary Nikki is shocked after Danielle's "69, 69, I swallow' musing into the ether.
Malia rescues her deckies.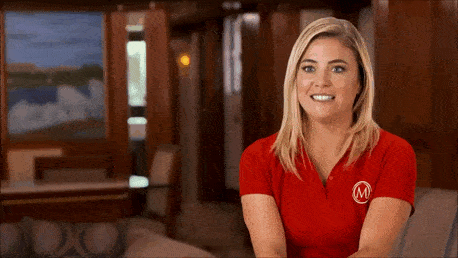 Chef Mat Shea burnt his fingers badly the first night of charter, he's choosing to not complain about that but rather that he has to share a cabin with Chief Officer Yummy Marten.
Huh. So, some more about Delaney. She was a debutante, which involved 7 years of etiquette training. 7.years. So even though she's practically naked on a public account on Instagram, if a guy swears more than 9 times on a date, he doesn't get another.
That seems…incongruous.
It is useful, though, because etiquette things are like stew things!
The guests are putting Mat through the paces with their gluten-free and several different preferences all at the same time. One of the guests specifically asked for a plated meal instead of the family style Mat's been cheating with, but either Katie didn't tell Mat or he forgot. Kristol sits with an empty plate as Bailey pours ranch onto her plate to for dipping her pizza.
Lexi does a shitty job on turndowns and teaches Delaney at the same time, Kristol has now told all her friends about her missing entree, did she not even get supper??
It's a grim night aboard the Lady Michelle, well, you know, as grim as it gets on a superyacht, Mat can't stop talking about how he's lost his cabin to this stupid fourth stew because Lexi couldn't do her job.
Poor Delaney.
It's the next morning already, Mat's already up in Katie's grill trying to get her to fire Delaney, he REALLY wants that cabin back. She thinks it's being a bitch, but I think the main problem for Katie is making tough decisions that may make her unpopular. She can't find a way to twist this so nobody is mad at her.
Everyone but Lexi is hard at work setting up and getting ready for the beach picnic; Lexi is sleeping on the floor of the laundry room. The beach picnic is to be followed by a white party (too late) in the evening, do they all like to get down like it's 2003 or what? Why all the same events / themes?
Engineer Lloyd rigged up the slide so to be faster, it's working great! It looks like a carny ride but whatevs.
A jetski poops out in the middle of the ocean, I don't know why we're all gasping. It's within spitting distance of the boat. The problem may be that someone forgot to put in the drain plug; Captain Sandy comes booting down to the swim platform to find out who's to blame but Malia covers for her guys.
Captain Sandy does not agree that Malia gets to decide what she tells her about the deck crew, however.
Lexi, who slept in the laundry room while everyone else was working, thinks Katie needs to step it up because she packed a longer table cloth than necessary and two different colour of blue cups.
Lexi. For real?
And maybe stop calling Delaney 'Deloni."
David forgot to check the plugs in the jetski, both were loose, neither Malia nor I would have expected that of him.
Captain Sandy no longer trusts Malia entirely. She asked her a question she already knew the answer to so she could judge the response.
Mat prepares a bunch of sushi for our ladies, one of whom has just given him and his food a 4/10. She just has high standards, she guesses in a strong southern accent.
It's pouring rain so the deck crew moves to cover the cushions all in white clothing so it's a wet back contest up in here.
Lexi loves how hard working Delaney is, and yeah, I guess you do, Lexi.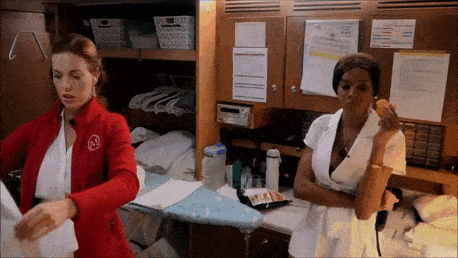 Let's not forget that Lexi not doing her job is why Katie needed extra help in the first place.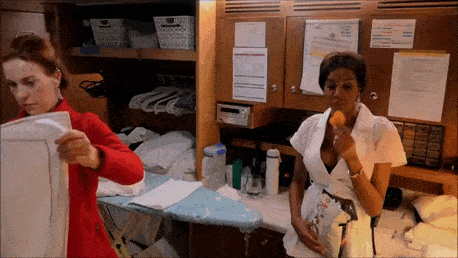 Danielle is not just twerking and drinking for our entertainment, she's also a minister running for mayor. She shoots a campaign video while doing a striptease in David's firefighter outfit in the hot tub. Yes! In the hot tub!
Katie keeps trying and trying to make everything come out so nobody is mad at her, but she can't and apparently now is the time to deal with it. She talks to Captain Sandy, who would just like her to make a decision already.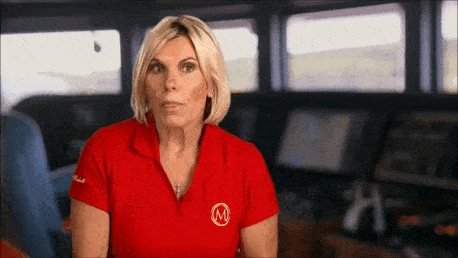 But we won't see that decision tonight! Nope! Until next time, everyone, cheers!