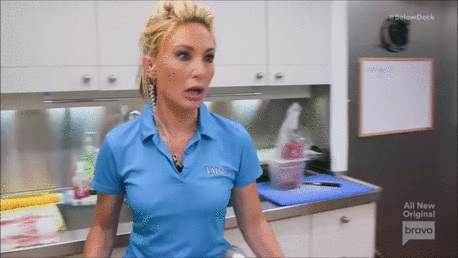 This is the second part of the holiday cliffhanger we got; what's happening on Below Deck this season?? Why is everyone being so mean to Kate Chastain?? Did she come back after walking away last episode? She betta, it wouldn't be even close to the same if she wasn't there! Let's find out in Below Deck S7:E13 Exodus after the break.
We ended last episode with chief steward Kate Chastain walking off superyacht Valor and away from Bravo's cameras. Bosun Ashton Pienaar went from trying to forcibly snog her to punching windows in his anger at her. It was not awesome. Everyone's very intoxicated and things escalated when deckhand Tanner Sterbeck sided with Ashton after sucking up to Kate all night.
Nobody can handle being told over and over that everyone hates them. No.one. Kate's off in the night without a word to Captain Lee Rosbach and nary a camera to capture how she feels at that very moment.
We can totally guess, though!
Everyone else finally crashes, waking up just under 5 hours before the next charter. Kate is still gone.
Second steward Simone Mashile knows nothing of the huge blowup the night before, she was too busy trying to make Tanner jealous while he was trying to mack on Kate.
Kate's roomie deckhand Rhylee Gerber lets Simone and second steward Courtney Skippon know what's going on, it would be a nightmare to think about being on charter without Kate.
Ashton was in a blackout last night when he went off, he's trying to figure out what happened. He just knows it wasn't good.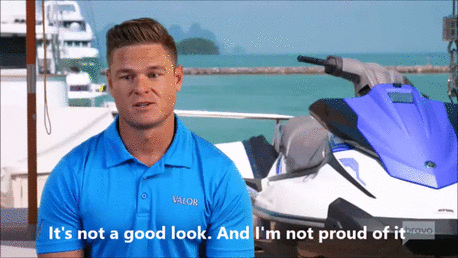 The deck crew gets caught up on what's going on then Captain Lee starts calling for Kate on the radio and Ashton goes to face the music.
Simone isn't going to just sit there, there's work to be done! You know who IS comfortable not doing anything with their boss away and two hours until charter starts? Courtney sits on her phone in the crew mess eating potato chips.
Ashton tries to explain why Kate left, but since he doesn't exactly remember, it's not going well. He also didn't think about Kate wandering alone at 4 in the morning in Thailand, but Captain Lee sure has.
Courtney hugs lead deckhand Brian de Saint Pern with her arms AND legs then he scoots to work and she pouts over ironing while I grit my teeth. Chef Kevin Dobson feels exactly zero sympathy for Kate, he thinks she cares only about herself.
Kevin. Just. Shut up and cook.
Kate isn't answering the phone for Captain Lee either, but there is more time than I thought, yay! Simone is fed up with Courtney's whiny and bad work ethic with Kate gone, she's not letting anything sink this charter.
It's after 5pm and Kate is back on the boat and on camera. Yay! She's no quitter.
She makes a radio call to notify everyone and immediately receives a summon to the bridge from Captain Lee in return. A quick stopoff in her bunk to brainstorm with Rhylee as Captain Lee calls AGAIN.
Up she goes to apologize for worrying Captain Lee, but she felt that was the best thing for her to do.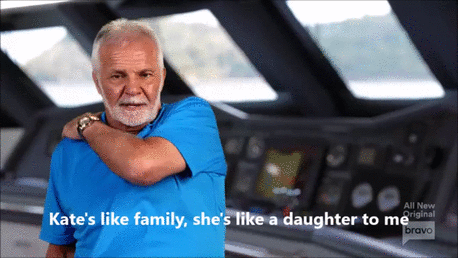 Okay, we have 19 hours to charter, woooo. Ashton calls Kate to the master suite for a chat. Wow she looks stunning!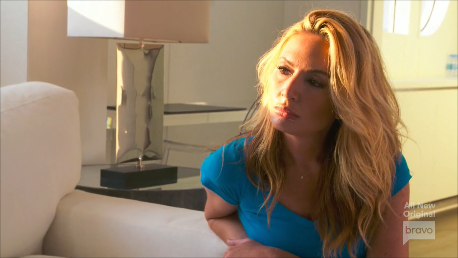 She accepts his apology and they hug it out.
Time for our Pre-Charter Preference Sheet Meeting! The Primary Charter Guests are Nicole Orsini and Zak Eagle, a power professional couple. Lauren Taylor and Justine Vastano will be joining the happy couple, oooooh, Justine is a private chef so careful, Kevin! Jamie Stone rounds out the group and is one of two birthdays along with Primary Zak. This is going to be a high-maintenance group, y'all.
It's the morning of charter, who's excited?? Me TOO!! Everyone works hard on finishing cleaning the boat and Rhylee starts gossip-mongering. Kate told Rhylee about Tanner kissing her, but Tanner's not admitting nada to shitstirrer Rhylee.
It's guest arrival time!! Hai Primary Nicole and Zak!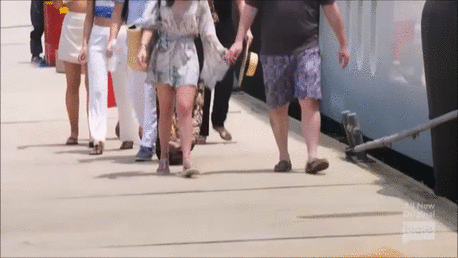 Courtney whines that her wrist "does not have the capacity" to hold four glasses of champagne, nice cameraperson cut to Simone, easily supporting four of the exact same glasses without drama.
Primary Zak looks like he comes from Alberta, Canada and plays hockey in between smoking weed on the weekends and not talking about his feelings. That was not what I expected.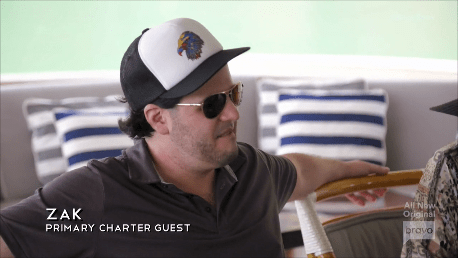 The private chef makes herself known immediately.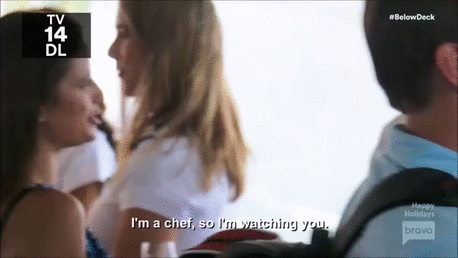 Boat tour!! Oh wow, this is a first. One of the guests, Jamie Stone, is almost in tears because she wants her own room. She won't share with anyone, which means that another guest will be sleeping in the sky lounge, thanks to Kate's quick thinking. Seriously, she didn't skip a beat but now THAT guest looks on the verge of tears.
The crew de-docks smoothly while I try to hug lawyer Lauren Taylor through the TV as she will be sleeping in the common room with zero privacy. Two of the other guests are insanely conventionally attractive, the boys are about drooling. That's chef Justine and someone named Molly.
All the water toys are deployed for the guests, who are too busy drinking and rating the attractiveness of the crew. They declare Ashton and Tanner the most attractive, did they not see Brian and/or Kevin??
Chef Kevin sends out fancy pizzas and Italian shared platters, but the preference sheets stated no cheese, so. It's not going great.
DID THEY ALWAYS HAVE THAT CLIMBY THINGY??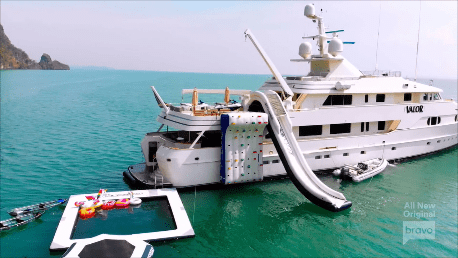 How awesome is that??
Guest Molly is not just (must be) a model, she's also funny and down to earth. Ashton is in love.
Everyone works hard to put away the toys while the guests dress for supper and their fancy masquerade party.
First course is matzo ball soup, somewhere in there Tanner and Kate are smiling at each other. Ohhhh, he really doesn't remember kissing Kate. Well. I didn't realise he was in a blackout too, but I guess the way everyone was pounding shots, it makes sense.
The rest of supper went really well, except for when Kevin and Kate forgot that they were supposed to be serving a double birthday celebration. His rainbow cookies were cute, but there was no cake and no candles so the guests are confused and unhappy. Especially Jamie Stone of the I Will Not Share a Bed With Another Grown Person So Everyone Else Will Have to Sleep On The Couch.
Kate and the crew bring out two flaming shots of absinthe as birthday candles while the other guests roll their eyes.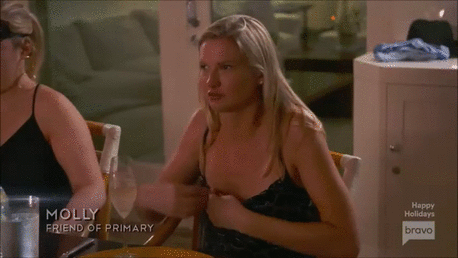 It's pretty calm after that, everyone wrapping up and heading to bed.
Rhylee is excited to take the guests on a fishing trip, this is her time to shine! This is what she does in Alaska, I'm looking forward to seeing her take the lead!
Lauren approaches Captain Lee nicely about the room situation, I wouldn't have thought of going to him, but it's going to work!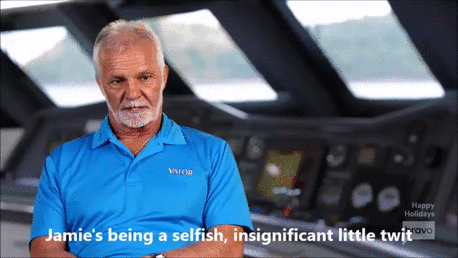 Everyone hates Jamie, for real. I don't recall Captain Lee shittalking a guest directly like that in giffable form, he must have been really pissed.
The room that Lauren will be sleeping in is Captain Lee's, wow. It's the only spare nice room and it's not really spare, is it? He directs Simone to clean out his room, awwww.
Rhylee and Ashton take the guests fishing, it's going quietly, which worries Ashton. If this was good fishing territory, why are they alone?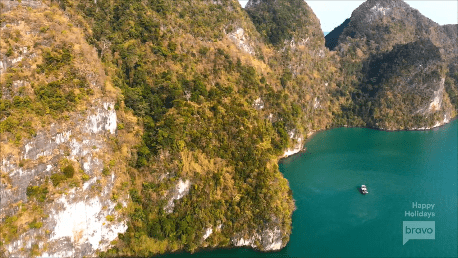 He makes a call to confirm and sure enough, they need to move.
Jamie wakes up alone, everyone gone and nobody wanted her to come with them. It would be awful if she wasn't such a scrunt.
Speaking of: Rhylee is not responsible for knowing the exact best fishing spots in Thailand, ASHTON. Honestly.
Also: stop shittalking your crew with other crew members, it makes you a bad boss.
The guests are all hongray and in the mood to test Kevin; make them something fancy, monkey! This is not his favourite breakfast ever. He sends out three salty omelets, nobody is happy.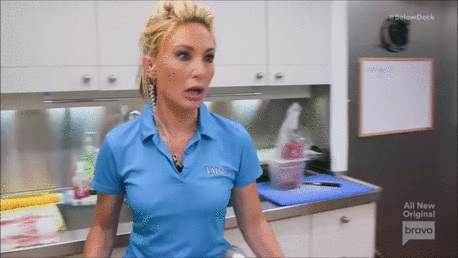 Ashton runs to the Captain to rat Rhylee out about the fishing while Kate harumphs in the background.
Speaking of uncomfortable conversations, guest Justine decides to have a Come to Jeebus meeting with Kevin in the galley.
I…don't understand what she's doing here. Is she asking her daddy for a pony?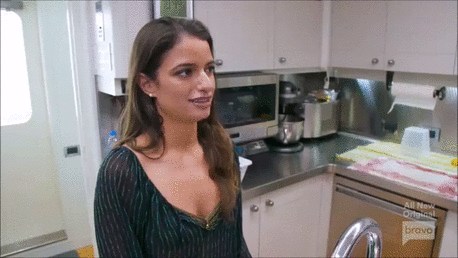 This is a grown woman about to give constructive feedback? Ah, but "chef to chef" she thinks he needs to go a little more upscale tonight, mmkay? Wow, Kevin is actually rude back, he can't do that! Honestly. And we're out. Until next time, cheers!