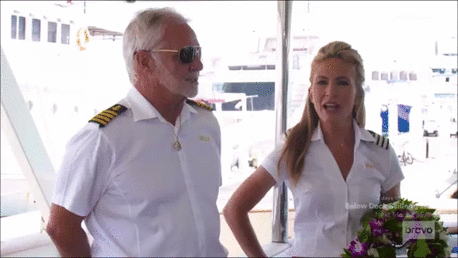 Are you ready for the very last charter of Below Deck season 7?? I SAID are you ready woooo!!?? Jemele Hill, formerly of ESPN and now of The Atlantic, and girlfriends will be joining our crew, I'm excited! Let's roll into Below Deck S7:E17 Let Them Eat Penis Cake! after the break.
We're not meeting our new charter guests just yet, first we have to put another epic fight to bed. Chief steward Kate Chastain is doing her level best to hold her own against the boygang of bosun Ashton Pienaar, lead deckhand Brian de Saint Pern, deckhand Tanner Sterback and chef Kevin Dobson, but there's a lot of them. They're all also being very loud after their night out drinking in Thailand, Captain Lee Rosbach gets woken up and he's not happy about it.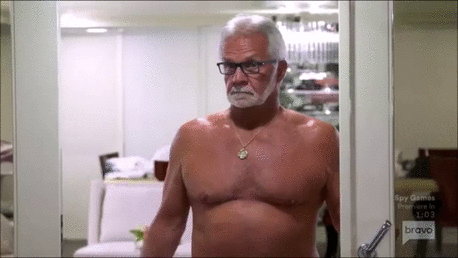 Kate flounces off to bed to cry, all bravado expended to make it there without breaking down. It's difficult to be hated by and ganged up on by so many, even if Tanner is interested in her romantically.
Kate's roomie deckhand Rhylee Gerber completely understands, she's stuck working with these guys too. They alternate between ignoring her behind her back and ignoring her openly.
It's the next day and Captain Lee is ready to deal with his immature and unruly crew. Come to Jeebus meeting right NOW!
He doesn't want to know what happened the previous night, he just wants it over. And if anyone can't handle working together: here's your plane ticket home. Anyone could get fired, no matter what charter it is and it's only two and a half day. Captain Lee could "eat a sh*t sandwich every second for two days" they can muscle through a luxury charter!
I have so many questions! How big is the sh*t sandwich? Do I have to stay up all night eating sh*t sandwiches? Is this for the tip? Get back to me!
Ashton calls his crew together for a meeting after Captain Lee's meeting, but Rhylee is down in the laundry room and it takes her longer to get on deck. Does Ashton, her boss and leader, wait for her? Oh hell no. They use the time to talk about managing her.
Provisions are heyah! Everyone works hard to get the boat ready, Kate ordered flowered headpieces and good champagne to boost morale, yay!
Tanner is still earnestly trying to hook up with Kate, but he keeps wanting to schedule it.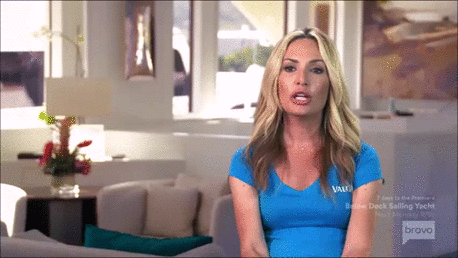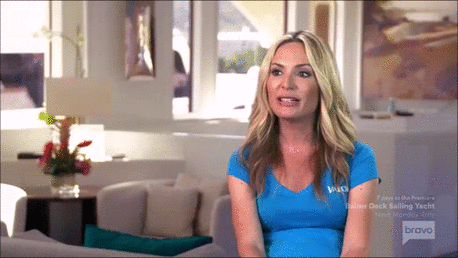 Second steward Courtney Skippon has been dating lead deckhand Brian de Saint Pern, but as solid as they were is how rocky they are now. First he said they were just having fun then he started yelling at her for disagreeing with him, Courtney is not on board with this seachange. It took almost a full season, but I finally agree with something Courtney says!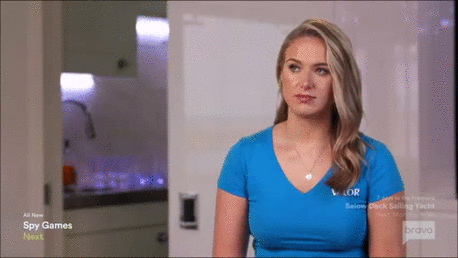 Courtney initiates a discussion with Brian, who sees her defense of her boss and friend as disloyal. Seeya, Brian, you and your penis ravine ain't that cute. Not even.
Courtney goes upstairs and cries on chef Kevin then Kate. Boatmances are impossible. She's crying on Kate, Brian's whining to his brus; he thinks it's different when he does it!
The guests are coming, time to get into dress whites, wooo!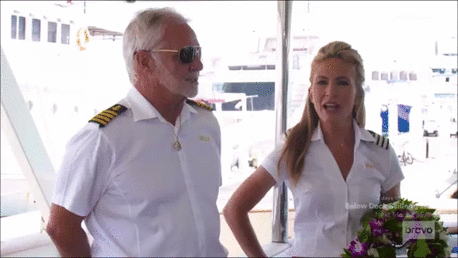 Primary Jemele Hill and friends are here! I think one of the others is Chantel Franklin but that's the only other name I caught.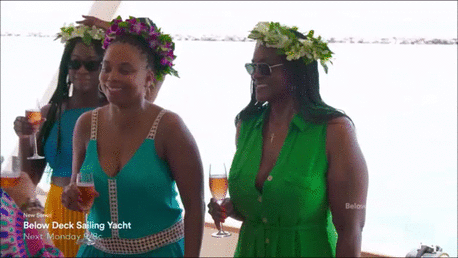 Boat tour! It's so pretty and clean, I don't know why I imagine it smells like second stew tears and deckhand sweat. Everyone loved the yacht, almost as much as they like the "hot" Captain. Time to get ready for the 90s Bachelorette Party with all the inflated peni possible!
Kevin works away on lunch while second steward Simone Mashile gets to know the guests. They guessed right away that she's from Africa. Primary Jemele spent quite a bit of time in South Africa too.
Lunch time! The guests are just having so much fun, Primary Jemele likes to give the crew a bit of a hard time but it's all in fun. Not as much fun is the bickering in the kitchen between Kevin and Kate. He's really dismissive of her and her role as head of Interior and goes around her whenever possible.
Captain Lee and the deck crew anchor in the middle of somewhere gorgeous and extremely hot while I come to realise that Primary Jemele is not the least bit laid back. She asks Kate what the plan is for the rest of the day and Kate tells her supper is at 8:30, but Primary Jemele wants to make sure everyone understands that supper is on HER schedule.
I get that and Kate has mentioned that to Chef Ben Robinson before as well; guests don't always like supper and play times set for them. I wouldn't think you'd need to make a big proclamation about it, just instead of asking what's going on, tell everyone what's going on.
JetSki time, too! The guests have so much fun, Ashton and the crew taking everyone out.
Uh oh. Primary Jemele has picked up a coolness from Kate that she does not like. She thinks Kate should interact with them more, but one of the friends sticks up for Kate, she's doing her job!
It was lots of fun conversation then awwwwwfulllly quiet when Kate came in and served drinks without saying a word. That was very quiet for her. I'm not sure why the guests are taking it personally. Primary Jemele asks Kate if they're getting on her nerves, laughingly, but there is no right way to ask someone to fake more happiness when they see you.
Meanwhile, Simone is having the best charter of her life. These guests LOVE her, they've never seen a female black yachtie before and I am literally shouting at my screen "TELL THEM ABOUT YOUR MATH DEGREE!! MAYBE THERE'S A JOB!!"
Kate keeps calling Primary Jemele a **** in her bunk. Girl.
Kevin is having an awesome time cooking, he really is an amazing chef. You can tell the kitchen is his happy place, he putters around singing to himself "that smells like heaven, or should I say…Kevin!"
The guests dress for dinner as Kate and Rhylee set the table; they do great table settings on Valor. So pretty! The guests play Never Have I Ever in the salon before supper, they're having so much fun. The deck crew starts decorating for the bachelorette party while Kate complains over and over about Primary Jemele's question.
Surely Kate must be used to this type of thing from a guest, right?
Supper time! It looks delicious and it ends with a chocolate and peanut butter tart. Party time!
The best thing about the 90s is that it's all coming back! I wore rompers all the time in the 90s, now they're everywhere again! Doc Martens, pegged jeans, plaid flannel, I don't even have to shop.
Primary Jemele stops the party right in the middle, Kate and I tense up. BUT! She wants to apologize to Kate for pre-judging her, whew. Thank the wee gods and little boarlets. Kate thinks like recognises like, awww, respect!
It's the next morning and Primary Jemele is definitely sleeping in. The Captain pulls anchor and this last charter is almost overrrr. The guests busy themselves on their phones and we set up anchor here: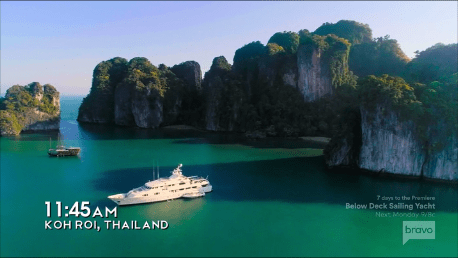 Not pictured: extreme heat.
Kevin's in his head too much, he has to make a penis-shaped cake but he's saying c**k too much. Just…too much. Like Kate screaming on about ****.
There will be a beach picnic shortly, once Kate and Kevin stop fighting about what to put the lamb in. I suggest the garbage. Kevin is focused on Pyrex baking dishes instead, which Kate is not happy about because they're much heavier than Tupperware containers.
This is a real argument between grown people, watched by millions and written about right now by yours truly.
And hey! Ashton thinks he's done every single thing he can do to accommodate his junior deckhand with the most to say. Just the fact he phrases it like that shows exactly how little work he put into fixing this problem with Rhylee. But Rhylee can be exhausting, so I'm not sure what the solution is there.
Kevin's not done complaining about Kate, he finds a good partner in Simone, who loathes Kate now that she found out about Tanner liking Kate and them kissing. Okay, Simone wasn't Kate's biggest fan anyway, but the knowledge that her boss is hooking up with the guy she hooked up with…did not go over well.
The beach picnic is set up, the food is ready and the guests are on the way! They eat in this beautiful little area with a secluded beach and there are masseuses on the sand! Yay!
They think Kevin's lunch is the best meal so far, even though some of it is served in Pyrex and some in IKEA Tupperware containers. Kevin's back on the ship stressing out about the penis cake, he's in over his head!
Tanner cheers him on, let's "go Betty Cocker on it!"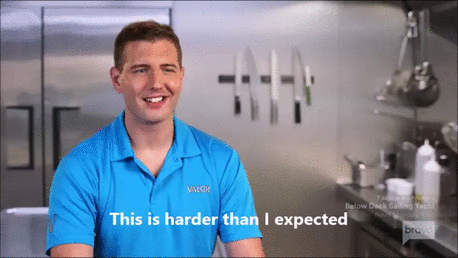 Kevin is going all out for the final supper, making fresh crab ravioli, skirt steak waygu and that.cake. Did he make it…chocolate? I am so over that cake. So over.
Kate has to move supper indoors because of wind, which makes it more difficult for her and the crew but much much warmer for the guests. Captain Lee joins Primary Jemele and her friends, but Primary Jemele started the day with bourbon, so she's barely hanging on.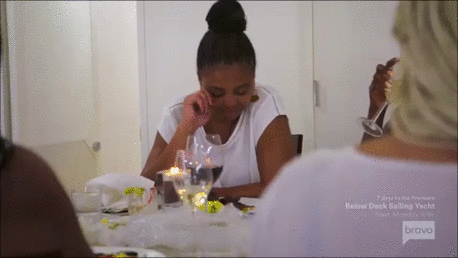 She heads off for a nap before dessert and the c**k cake, good choice! Kate thinks this is perfect, Kevin's been a dick to her all season! And yeah, she was bitchy back.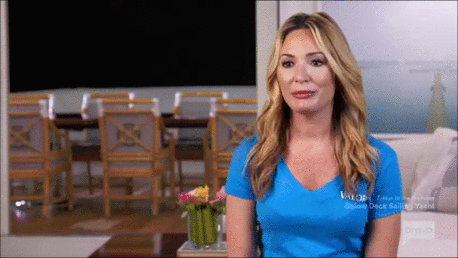 Kate may not understand the meaning of "hiding" exactly.
Captain Lee and the guests are in the middle of a serious discussion about life choices and helping out kids that need a hand when Kevin bursts in.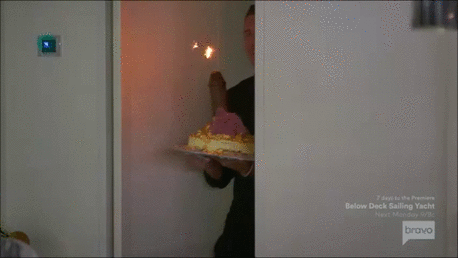 It goes over like a lead balloon. Kate should really have let Kevin know that Primary Jemele had gone to bed, she encouraged him right up until he walked out. We're out with Captain Lee declaring "I'm not taking a bite!"
Until next time! Cheers