Well! We just lost ANOTHER crew member on Below Deck.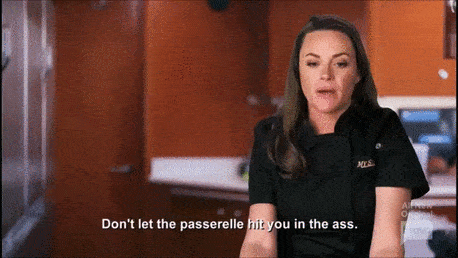 Are we going ahead with this charter or not?? Let's roll into my Below Deck S8:E08 No Way Rosé recap after the break and find out!
Okay. So chef Rachel Hargrove couldn't stomach the capricious whims of the stupidly rich OR being separated from her adorable tiny boyfriend any more so she bailed right before charter, leaving Captain Lee Rosbach twisting gently in the wind in Antigua.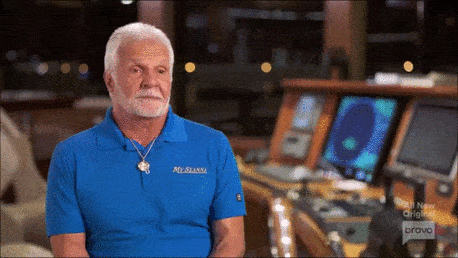 Are we going to be hosting a charter for upcoming primary Bryan Guarnieri and impossibly named friend Wickliff Shreve or not??
Captain Lee has four hours to find a chef, everyone good is booked, so who we got? Oh and we're down a deckhand too, since Captain Lee fired deckhand Shane Coopersmith last episode too. He would have fired second steward Elizabeth Frankini too except he didn't want to go into the charter two people down.
Well.
How'd that work out for you, Captain Lee? You might as well have fired Elizabeth for gassing everyone with laziness, have a fire sale WOOOOOOOO. No staff for Bryan!!
Elizabeth mixed soap with bleach, didn't follow direct instructions and put everyone at risk of toxic gas poisoning.
With three hours to go, a super cute guy approaches My Seanna and…he's Rob , the new deckhand. Boooooooo we need a chef! Plus, he's only used to sailing boats (which look way more fun after Below Deck Sailing Yacht, no joke) so we have another steep learning curve.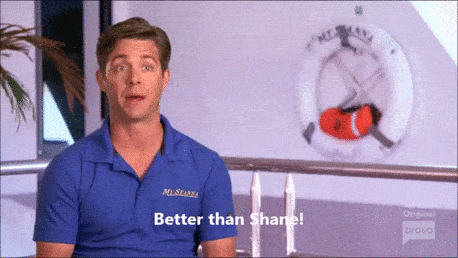 Isabelle 'Izzy' Wouters pops up on deck and agrees to take Rob to the room he'll share with bosun Eddie Lucas. Francesca Rubi agrees with me that Rob is super cute. Full disclosure: I couldn't pick him out of a lineup of a bunch of generic white dudes, but he has pretty eyes and big arms.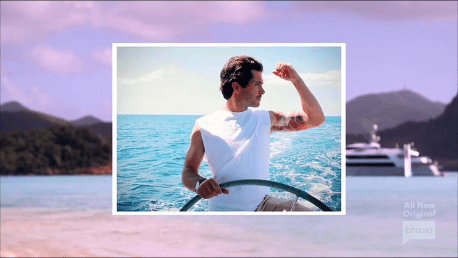 He's a Canadian like me, from Toronto! He comes from a long line of pirates and hookers, not even joking. I got nothing.
With two and a half hours to go, chef Rachel Hargrove walks back on the boat.
WHAT
THE
Don't do it, Captain Lee! Don't you take her back! You know what she put you through these last 12 hours!
Captain Lee is speechless as Rachel apologizes for her unprofessional behaviour and manner.
(She yelled "Go F*** yourself" and "eat my cooter" at him about a thousand times yesterday and refused to even make two meals to tide him over)
He stares at his phone, no doubt willing it to ring with the news that the best yacht chef ever was just alighting from a cab in Jolly Harbour looking for a little pickup work for the season. Instead, it remains silent and he finally answers.
She's back in, it's the only thing he can do, really.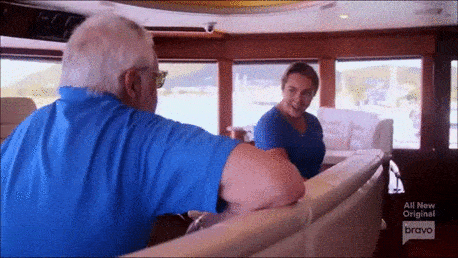 Francesca isn't one to give in so easily, Rachel screwed her over with Elizabeth, playing both sides of her face and really: being a dick to both. Let's just say Rachel was in a bad place.
Eddie and I side-eye Rachel, but we are both far too kindhearted for our own goods so we'll be nice. We will just never trust her again.
Francesca takes her team aside to explain the nightmare charter awaiting them in a mere matter of hours, steward Ashling Lorger takes notes but Elizabeth just looks on, stunned as Francesca rattles off one millionty things. After the debrief, Francesca keeps Elizabeth for yet another talk.
Holy shite, 20 minutes to guest arrival and provisions literally just arrived. This is going to be such a difficult charter, there is no way we're going to have smooth sailing.
Hai charter guests, we've been dreading you!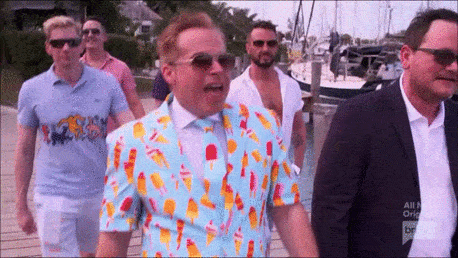 They're adorable, though, Izzy calls them "tiny gay teddybears" and she's not wrong. Primary Bryan has a high voice and a red goatee that all screams leprechaun, but I guess we can split the difference.
The guests AND crew change into more comfortable clothing, time to get this party started wooooo! A very smooth de-docking later, of course our charter points out how much bigger their boat is than everyone's else's.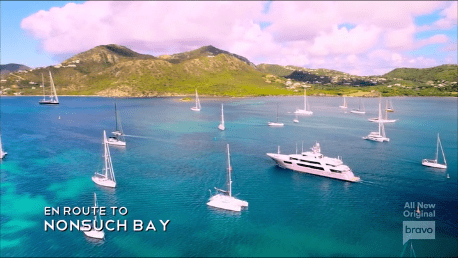 (MEN)
But so far they're being super adorable and not demanding at all! Complimentary even!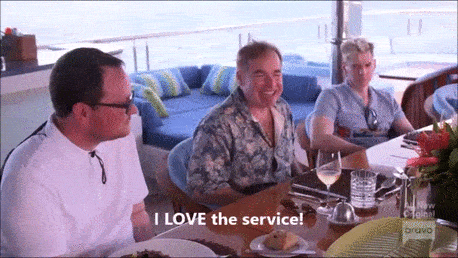 I'm going to have a hard time not capturing literally everything he says. Primary Bryan wants Eddie for dinner, which means he hasn't seen deckhand James Hough yet. Apparently everyone wants that on their plate.
Francesca shades Elizabeth by saying she pours wine from the neck of the bottle, I have no idea how that denotes very low standards. I mean, it would be awkward, but that means bad service?
Eddie and Rob gossip on the swim platform, I'd call it sharing news about COVID-19 but there may have been a Trump impersonation so it is what it is.
There are unicorn floaties!!!!!! Hai Deborah and Bruno!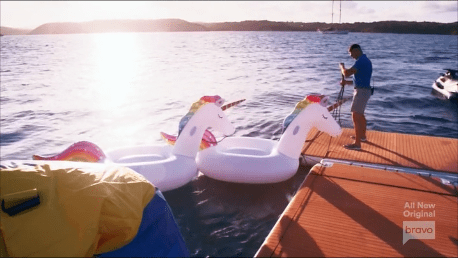 Rachel cooks her arse off in the galley, she has an eight course Mardi Gras tasting menu the very first night and she's going all out. Captain Lee doesn't trust her any more, but we know the food will be good.
The guests dress for dinner, Francesca and Ashling set the table and James flirts with Elizabeth. She just got out of a relationship, calling herself "possessive" and when they admit to that…
Time for dinner, wooooo!! I'll try to capture every course, I love tasting menus!
First up! An *something* oyster with a micro-cilantro and a Yuzu pearl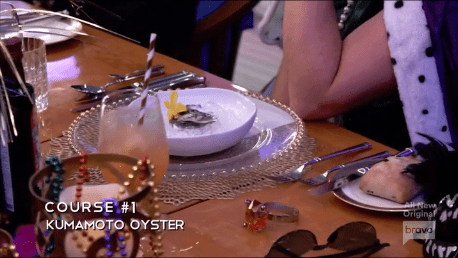 Course two! Roasted red pepper and bell pepper gazpacho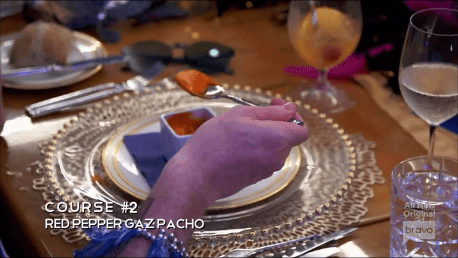 Course three! Lightly sauteed tomato concasse with green beans in pistachio oil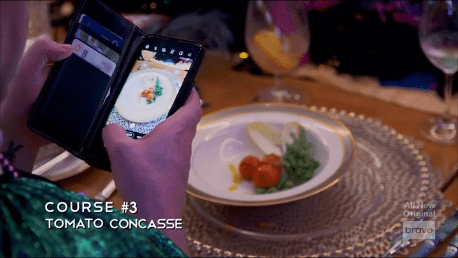 Course four! A smoked andouille sausage with pickled okra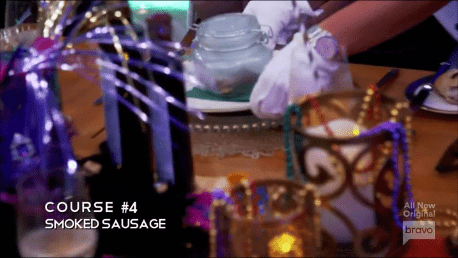 Course five! Blackened steak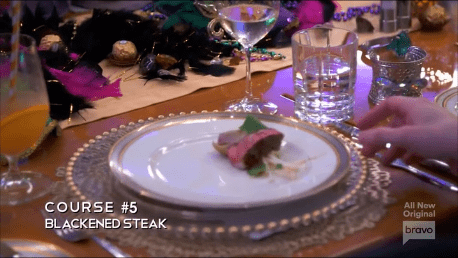 Which leads Izzy to declare Rachel a lesbian's dream, thanks to her dexterity and good hands. She..points.
Course six is a vegetarian gumbo, which is not the point of gumbo (sorry but it's NOT)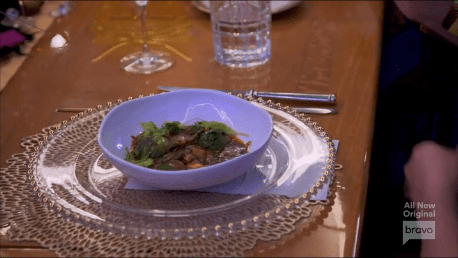 Course seven! Poached crawdads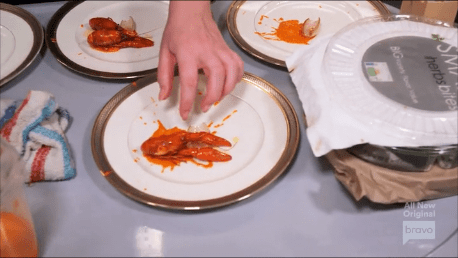 And finally: King Cake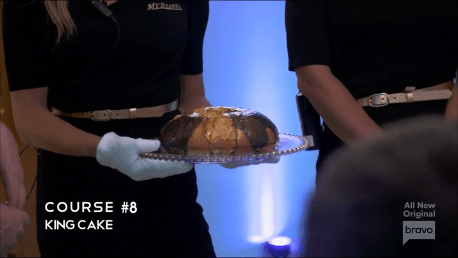 Rob goes to bed, Izzy stays up on deck with Elizabeth to clean up after supper. Francesca walks in on Elizabeth standing and talking about how mean Francesca talks to her and girl: I have only one complaint. You can whine and clean at the same time. People have feelings, sure, but pick up garbage and wipe a table while you're moaning that your boss thinks you're lazy and don't do enough.
Francesca is starting to feel very isolated on this crew. It feels as though everyone is talking about her (because they are).
Elizabeth completes cleanup by 1:45 am and awakens the next day to do affirmations before starting shift. Our lone remaining hippy dippy. She didn't actually complete the cleanup, though, she left up the decorations, so. Francesca reminds her to not be up so late next time and hey: work faster!
The guests are up early and looking for brekkie, Rachel is making French toast again and still sucking up to the Captain.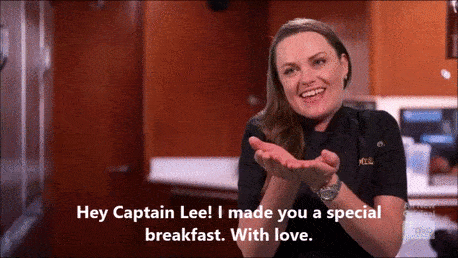 Elizabeth is sent to do cabins, the Master needs changed sheets but did she just tell Ashling ALL the sheets need to be changed?
That can't be.
Eddie supervises the deck crew setting up the slide, which is…upside down! How? How did that happen? Everyone but the guests hate the slide. It's super tangled, so Eddie jumps.out.onto.it, then, inexplicably, Captain Lee joins the fray.
Doesn't he remember that we started this season with him falling in the shower and busting up his ribs??? He just climbed out the side of the BOAT.
The guests all watch, agog, as Captain Lee saves the day and the slide and walks back on the boat like the badass he is. Wooooo!
I love our guests.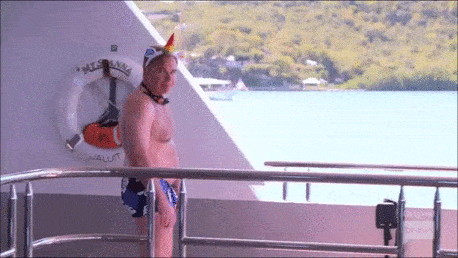 Rob awkwardly flirts with Francesca, claiming he doesn't know how to flirt. Alright, Robby, we saw the arms and the 400 sexy selfies including a fireman getup so whatever.
Rachel is doing a high class low-country boil, it looks amazing! Giant lobster! Andouille sausage! You can tell she's still feeling bad about her hissy fit because she's not as profane as usual. Not one meal has been threatened with being f*****d in the mouth.
Elizabeth has been assigned the beach s'mores picnic this afternoon, Francesca must be giving her another shot. Last time Elizabeth forgot everything and caused the crew to lose a solid $5,000 – 10,000 so I hope she's realigned her chakras or what have you. She ends up in the woods talking about Prometheus, good lord, woman. Pull your shite together.
Guess who only brought one bottle of rosé for six tiny gay teddy bears on a beach in Antigua???
I mean.
Francesca confirmed with Elizabeth that she was bringing lots AND Elizabeth wrote it down.
You know when you're not doing a great job and you know it and it makes you freeze and move even slower? That's Elizabeth right now, and she's trying her hardest.
Eddie runs back and grabs some wine, party solved!
The problem is, Francesca has to work all day and into the night because she can't trust Elizabeth to do what needs to be done and Ashling has to keep working in the laundry room because Elizabeth was shite at that. So you can see why Francesca wanted to fire Elizabeth and get someone, anyone else; she can take no time off.
Speaking of the laundry room, remember when Elizabeth didn't listen closely and told Ashling to change ALL the guest sheets when it was just the Master that needed it? That's exactly the type of shite that she does, she doesn't LISTEN. So Ashling spent all that extra time doing something that didn't need to be done, and is still trying to get caught up now.
It's a beautiful sunset in Antigua, Francesca and Ashling ask the Captain for permission to swim and they both head down the slide. So gorgeous.
James and his new bestie Rob watch, James murmuring "please be see-through" because he's a creeper.
Elizabeth is very sad to hear that Francesca and her bestie, Ashling, got to swim. She's shocked to hear from Eddie that Captain Lee is rooting for her to make out the season, that's the exact opposite of what Francesca wants. That's where we leave it, with Francesca pushing Captain Lee and him waxing warning about the devil you know.
We're out! Have a fantastic and Merry Christmas and Happy Holidays and all that good stuff, cheers!