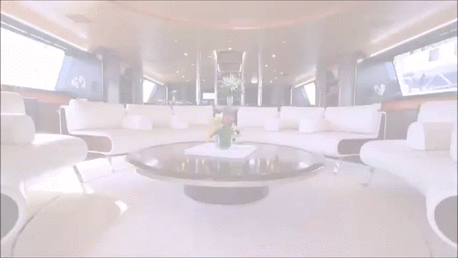 Well well well, Bravo found a new way to have us watch rich people eat fussy food while crew members canoodle drunkenly in small spaces: Below Deck Sailing Yacht. Is it Below Deck but with more spilled cutlery and tableware? We don't know! Let's find out in BDSY S1:E01 after the break!
Below Deck Sailing Yacht or BDSY as I will be calling it, will be sailing around the Mediterranean, ably helmed by Captain Glenn Shephard who sounds…Dutch? Ish? We've got one familiar face, but let's just say chef Adam Glick not my absolute favourite Below Deck alumni. Probably closer to least favourite ever, but let's see if he's grown at all since Below Deck Mediterranean. It could happen!
A little bit about the boat Parsifal, it's 180 feet long but has a 200 foot sail. I know zero about ships, but doesn't that sound tippy? It's named after a Wagnerian opera, just like me! Wooooo!!
Let's meet everyone! We've got Adam (yaaay) and a veteran chief steward Jenna MacGillivray who seems to think forthrightness is a weapon. 'I AM HELPING YOU BE NOT A SHIT WORKER. YOU'RE WELCOME' kind of thing.
Paget Berry is the first mate and he thinks he's hilarious. I also think that! We'll probably not get along. He's helped out by redheaded deckhand Ciara Duggan who does not like to be underestimated.
Girl. Don't you be a Rhylee Gerber, getting into fights all the time, we need Positive Ginger Representation, ya hear?
Second Steward Madison Stalker looks exactly like an actress whose name I can't think of…and a right riot. I like her immediately. I know people like to be deep and mysterious and unlikeable because that's hella deep but I like people who don't take themselves that seriously.
Third steward Georgia Grobler (what an unfortunate name for school) sounds like Olivia Colman but could pass for a blonde Katie Holmes; she looks like a right sarcastic person and we're going to get on fine. Maybe.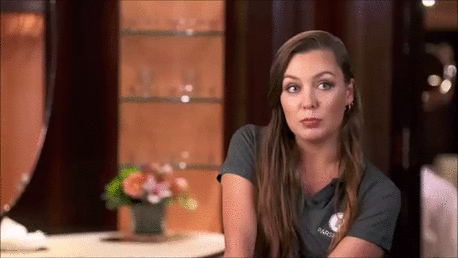 Chief Engineer Byron Hissey seems pretty chill for an engineer, he must be one of the drinky ones. Deckhand Parker McCown is a blonde Jake Gyllenhaal who has been drinking far too much of his own Koolaid.
Opening montage! The boat hits dock! Ciara holds a rope! The Captain swears! Ciara is still holding the rope! Someone pours champers in their mouth in the hot tub! Ciara! Captain running! Adam being Adam. People snogging! Paget running to help Ciara hold the rope! Credits!
I think I have it, Madison looks like a blonde Hailee Steinfield!
We open in Gouvia, Corfu, which looks suuuupppper pretty in the sunlight. Captain Glenn has been on the Parsifal for more than ten years, time to get ready for the charter season! Ciara, Paget and Captain Glenn have been working together on the off season, Ciara and Paget are even dating. They're cute, why did I think he was so much older?
It's 26 hours to charter and Captain Glenn wants to talk new crew members. Now this is something different, usually Ciara is running the Interior, but she's out on deck this time around. She calls herself the mom on the boat, but now she'll be working directly with her boyfriend of four years.
Chef Adam is the first to show up of the new crew, he assures us that he's still the same "d*ckheaded a**hole" he's always been. That sounds about right, he never did have a good grasp on anatomy.
Next to arrive is Jenna who even walks with an attitude. Ah, I see, she's from Sault Ste. Marie in Ontario, Canada. I was wrong about Captain Glenn's accent, he's not Dutch, he's from Montreal.
*In case we just met, I'm Canadian and I will now be spending this entire season of Below Deck Sailing Yacht trying not to give into my intrinsic biases.
Chief Steward Jenna "came up like a goddamned Navy Seal" and thinks Adam is cute, so clearly, we're just not going to get along anyway, even if she wasn't from
I'm joshing. I love the East, especially Ontario where I know many people, including an estranged sibling.
Second Steward Madison is pretty confident about her abilities for someone who struggled getting a wheeled suitcase down a flat boardwalk.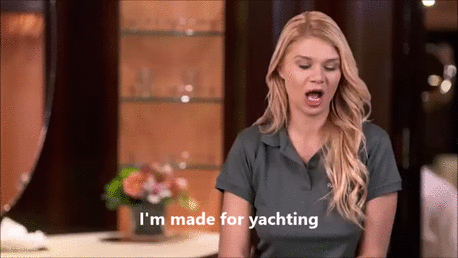 She runs on coffee and candy, the rest of the crew is already picking up on her Energizer Bunny vibe.
South African third steward Georgia arrives like a boss b*tch, I was also fooled by her accent, which she got from her mum.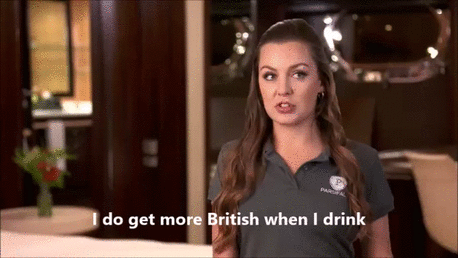 It takes two deck crew to carry Madison's suitcase aboard, that must be a lot of candy!
Chief Engineer Byron has worked on the Parsifal previously and awww, he has a one year old little girl! She's adorable!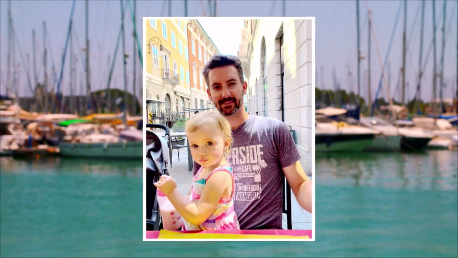 Parker is American, maybe that's why he comes across as completely relaxed. He already knows he's been made great again, right? He shows up with a duffel bag, he'll be working with our happy couple.
Jenna takes her interior crew into the main salon for a meeting; it looks like the laundry room blew up all over. There are cushions from outside, their insides outside, it's a mess. Ciara has no sorries for that, they put in teak!
Jenna lays down the law, do what you're told and no problems! Madison calls herself the Energizer Bunny, I JUST SAID THAT. Georgia's not used to working with a team and right there is going to Jenna's challenge for this season. She tells us she's not their mom and she's not going to be nice about anything and I love it when people think being rude to people is a character strength.
Let's just say Ciara is at home at sea, she grew up on a boat and was homeschooled there too.
Adam and Jenna shittalk Captain Glenn, Paget and Ciara, who they think should have had the Parsifal charter-ready. Erm, nope, that's why you're here a day early, I bet you'd work faster if you shut up. Or as Kate Chastain from Below Deck says: a little more work, a little less yapping.
Captain Glenn explains his management style to the crew, Adam takes this opportunity to shittalk his former boss Captain Sandy Yawn, who he says was a micromanager.
Okay, this needs to be addressed. Captain Sandy had to deal with Adam deliberately feeding a Primary Charter Guest a food he specifically requested not be used in his meals. SPECIFICALLY. Adam sabotaged the crew so many times with his bad attitude and weird emotionally-driven decisions, she had no choice but to monitor him. And this arsehole is still shittalking her, after how supportive she's been of him off-charter-season?
THIS: is Adam Glick.
Jenna continues to complain about how much work has to be done, honestly, whatever. It's time for our first Preference Sheet Pre-Charter Meeting already, wooooo!
Our first Primary Charter Guests will be Alan and Jennifer Ward, aka Names Impossible To Google. They look like nice people, if that helps? Their daughter Emily Ward and her friend Peyton Fair are joining, as are Italian model Alessia Caprio (Paget gaps in excitement) and bar owner Guy Somers. This is a sort of the beginning of the honeymoon by Alessia and Guy, awww!
Work continues! Madison shares dating stories with the crew while I hope with allllllll my cold black heart that Ciara and Paget make it through this season. They've been dating for four years, but a TV crew and all this additional pressure….
Madison likes to get drunk tattoos because sometimes young people mistake bad life choices for character quirks.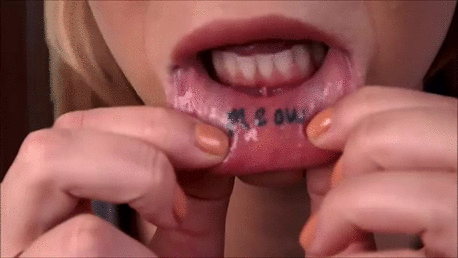 Provisions are heyah! Even the Captain jumps in, what? He calls himself a hands-on Captain but I'm trying to picture Captain Lee Rosbach of Below Deck wandering around with a box of lettuce on his shoulder and I am unable.
The crew calls it 13 hours before charter, it's dark and I think only one cabin is set up. Adam and Parker are in the Bro Cabin, they'll be flannel-plaid'ing it up like mohos.
The next day it's a huge rush to get everything set up, not made any easier by Jenna testing her crew to find out if they're looking at the clean mirrors from enough angles.
Awww, the crew doesn't have dress whites, they have grey dress polo shirts. It's just not the same! But the guests are here, that's the same! Hai Wards and friends!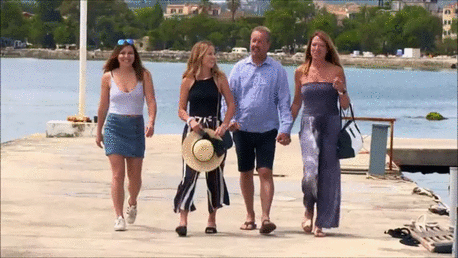 Erm. Just Wards, then? Where are the other two? Did the honeymooners decide that yachting with a family wasn't as romantic as it sounded in the planning? They will try to join later in the day.
One small note: Jenna railroaded in there and welcomed the guests to the ship, that should have been Captain Glenn, if he'd had a chance. He makes a point of "formally" welcoming the Wards asea while they're on the Parsifal.
It's our first boat tour SQUEE!!
Highlights: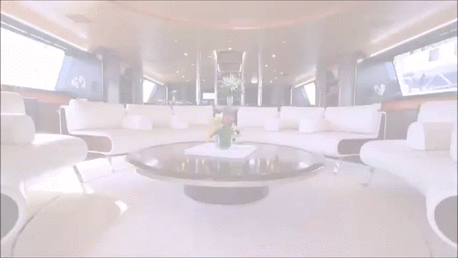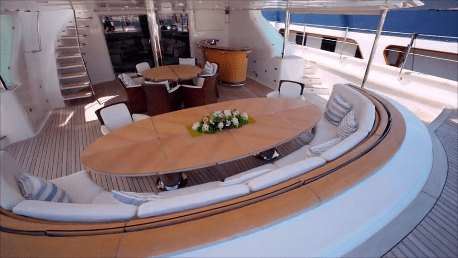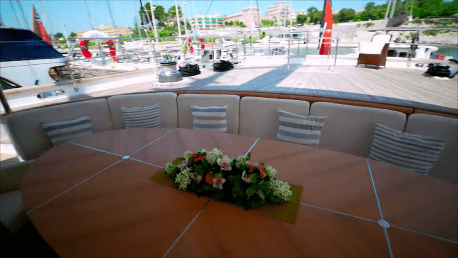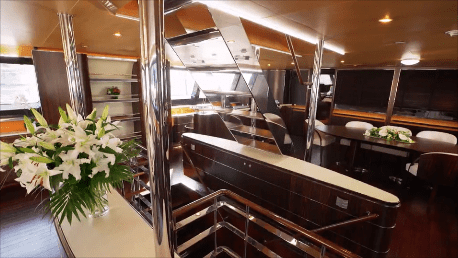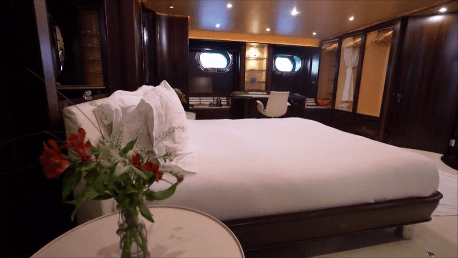 Adam preps food in his dirtbag basecap uniform while Paget and the gang de-dock from Corfu and we're sailing! Okay, technically, we're motoring, but the sails are going up! The thing is, that means everything gets choppy and they haven't finished putting everything away yet. This is about to get messy.
We're sailing!! It's beautiful.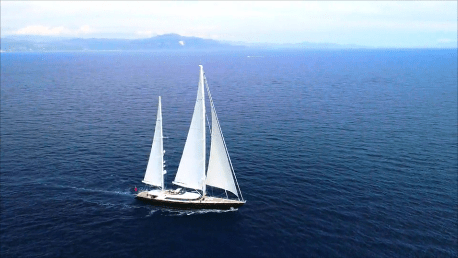 Just a little tiny bit on its side. They're only at a 9 degree heel, but it feels and looks like much more. Something's sprung in the kitchen. You can tell Ciara is used to being in the Interior, she comes into the galley to tell Madison to check crew cabins after the tilt.
Then Ciara goes outside and tries to play grabass with her much more professional boyfriend Paget, who doesn't want her being handsy in front of the guests. Literally right in front of them. Ciara knows she's on charter right now, right?
Lunch time! The guests ask about the hot tub, sure they can use it this afternoon! Jenna and Adam, there's maybe something.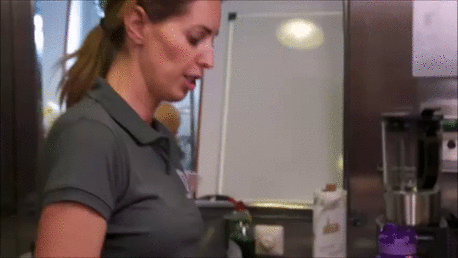 They're perfect for each other.
The hot tub is not hot. Not even warm-ish. That's a cold tub and nobody wants to sit in that. Byron is summoned to turn on the heater, which is off. It's just that simple. Jenna explains that nicely to the guests, who are super chill. You know she wanted to blame that on the people who had been on the boat the last 9 months.
Strongly, strongly struggling to not immensely dislike Jenna. We're countrywomen!
Erm, we get a lesson on sails, one of which is called a Donkey Dick. I am not even joking, this is not my word!!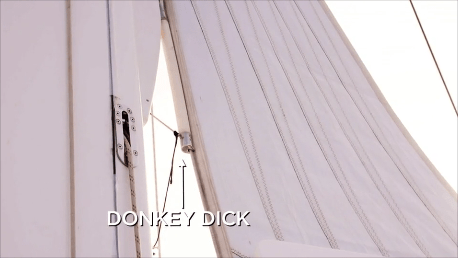 Anyway, that's out of track, so the sails are going down, just in time for the remaining guests to call and say they'll be in this evening.
Look where they're anchored!!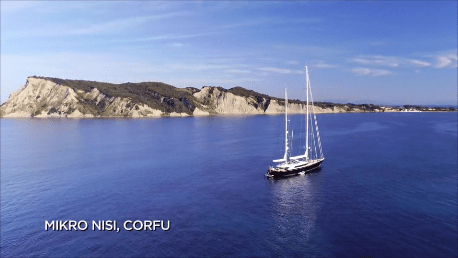 Soooo pretty. Jenna and Adam bond over the broken engagements in their pasts, Jenna has lots of blurred out photos of exes from the past few years and you know what she says? She picks the wrong people. Because of course it's all THEIR fault. I always wonder if people like that do the math on the common denominator in those crappy relationships.
Wow, I need to calm down, I don't even KNOW her! I bet she hugs puppies and skips rope like a goddamn champ.
Time to change into dress…blacks? Dress black cotton? The stews try to set up for dinner, but there are no steak knives and all kinds of steak being prepped for dinner.
If Jenna mentions how long the crew has been on the boat one.more.time I will motherf*cking RIOT.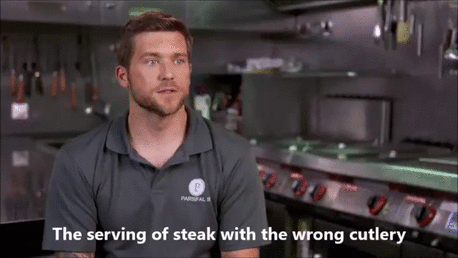 Seriously, we just watched them talk about steak knives for the last five minutes, and not that we don't have steak knives, we just have CREW ones and that's not good enough. For the love of
The other two guests have made it to the ship! Guy is loaded and loud, and unmarried to Alessia. They missed their own wedding! Jenna has made this about her. For real. She tells the guests that Captain Glenn can do the deed for them and then we're done and into the season preview!
Until next time!