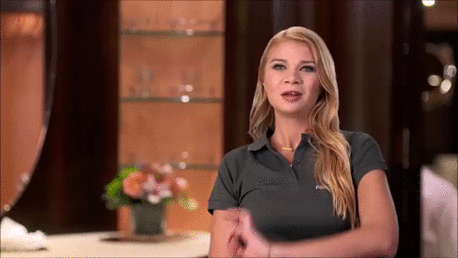 We're back already with Below Deck Sailing Yacht, I guess this late recapping is really paying off! Makes it feel all binge-y and everything! We met the crew and our first charter last time, are we having a wedding this week or what??! Let's find out after the break on Below Deck Sailing Yacht S1:E02 My Big Fat Bleak Wedding!
Last time we showed the yacht Parsifal III to Primary Charter Guests the Wards, now chief steward Jenna McGillivray shows around late arrivals Alessia Caprio and Guy Soames. Whereas Alan and Jennifer Ward have been pretty chill, dese guys are already drunk and obnoxious.
I'm having a hard time comprehending how much I dislike the chief stew already, so I'm just going to hold my breath and push through every stupid thing she says. Like when she says she prefers to do silver dinner service for six by herself.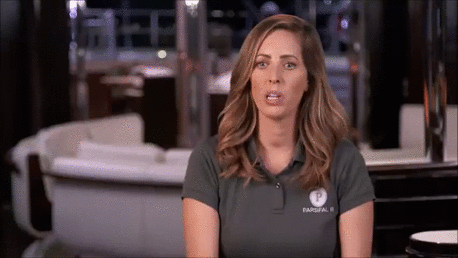 She's going to be arranging the junior stews like puppets. Second steward Madison Stalker knows what she's doing but third steward Georgia Grobler is much greener and is trying to learn as quickly as she can. Madison is super happy Georgia is willing to be taught.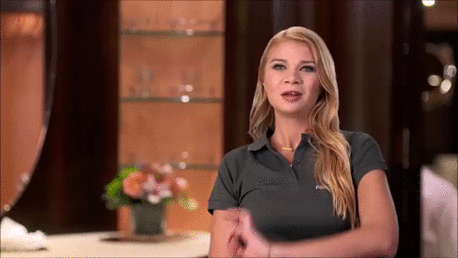 In the galley, we have chef Adam Glick, turning out some beef for dinner just shortly. Oh, okay, Jenna's gonna let her puppets run plates for dinner, nice. Adam comes up to introduce his food in his dirty chef's clothes and backwards dirtbag baseball cap because that's fine dining.
Deckhand Parker McCown sits on the floor in the crew mess instead of going to bed, Chief Engineer Byron Hissey is hanging out too, juicing some oranges for Jenna. He wants to be where the action is! The…orange juicing action…Deckhand/former chief steward Ciara Duggan is no more enamoured of Jenna than I am, she's just holding her tongue better.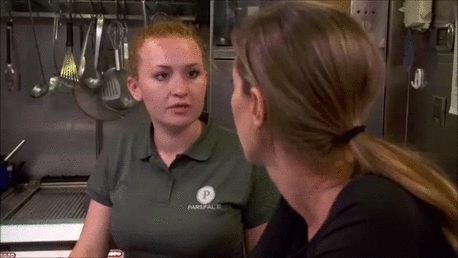 The guests are having a great time, Jenna shows them a vanilla chiffon cake for graduation celebration then brings it back for slicing and to once again complain about how she can't find something fancy for orange juice.
It's the next day, I can't get over how beautiful is the Parsifal! It's gorgeous! Jenna is extremely unhappy that she's got a wedding to shoehorn in between water sports, but Captain Glenn Shephard is pretty chill. He does question whether or not they can pull off the type of nuptials these guests expect, however.
First Mate Paget Berry is Ciara's boyfriend and now kind of her boss on deck, that's…going to be a challenge. They work on taking out water toys while Adam serves breakfast and Jenna drools all over him.
Jenna checks with the guests, sure, they'll get married! Alessia wants a dress and a hairdresser, so Jenna comes up with a plan to have someone bring a stylist and ten gowns aboard.
Adam and Jenna hug, the drooling may be mutual. He worked with chief steward Hannah Ferrier on Below Deck Mediterranean, he calls the difference between working with each night and day. Hannah's the dark part, got it.
Captain Glenn heads up to look at the sail, a rope is out of the something? He needs to get it fixed so the guests can sail, nobody charters a gorgeous ship like that to motor around.
Guest Alessia even helps raise the sails and then they're sailing, yay! The stews struggle to lock everything down and clean everything up that fell over, time to get ready for hair and makeup!
Parker's ready for Paget and Ciara to marry too! He'll DJ the wedding!
Prospective groom Guy is into his fourth tequila.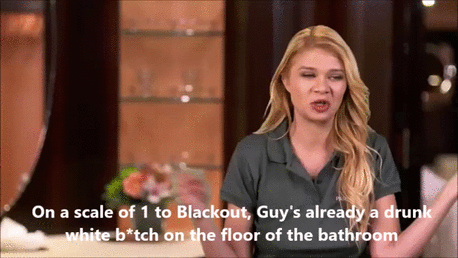 Prospective bride Alessia picks out a shorts/lacy top combo and the wedding is on!
Orrrrrr not, Primary Alan overhears an argument in their room and asks if everything is okay but it is very much NOT. Guy is drunk off his ass and Alessia's not having it. Parker and Captain Glenn head down to defuse the situation, awww man. Alessia asks for a few minutes alone so the crew step outside within hearing range to make sure it's okay.
Yikes.
Adam is working hard on a Greek buffet, the hummus is being difficult but I think he's got it! A few Greek dancers / musicians show up, but since we're not sure there's going to be a wedding, Jenna tells them to just focus on…happiness? Okay!
The guests dress for dinner while Ciara and Paget argue on deck. He's really unsure of how to manage his girlfriend of four years as an underling.
The guests mill around and watch the Greek entertainment as the crew wonder if the wedding is on or not. Guy's locked himself in his room.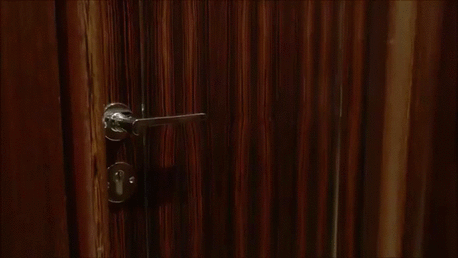 So I'm guessing no on the wedding.
Guy finally makes it down for supper to argue drunkenly with Alessia, who is in her wedding shorts with full hair and makeup, and eat an awesome bunch of Greek food.
Then it's bedtime: still no wedding!
The next morning, Adam and Jenna flirt about how much they're alike.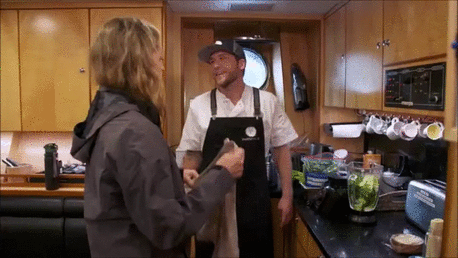 You know, I've often thought that's exactly what you should do, Adam.
Georgia sings in the laundry room, she has a beautiful voice. So husky and musical. Paget likes it too.
Time for our first docking! Parker's not completely up to speed, but Captain Glenn is still happy with this fast and easy docking.
Bai guests! Do they give tips on sailing yachts? YES! They do!! Primary Alan hands over a fat envelope, I can't wait to see what it looks like inside!
Captain Glenn calls everyone into the main saloon for a "charter de-brief" aka TIP MEETING and wow. It's a LOT. $20k! That's $2200/each for the very first charter! Wow.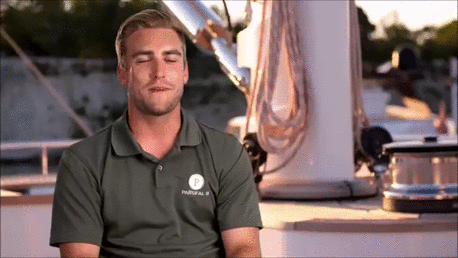 Adam is really digging Jenna.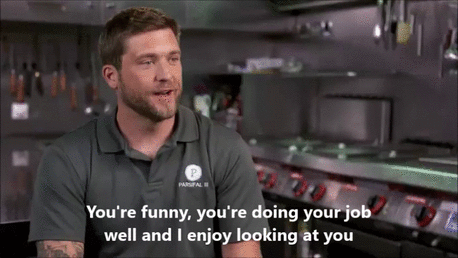 Everyone works hard on cleaning the Parsifal and getting it ready for the next charter, then gets fancy for dinner on Captain Glenn. Everyone looks great! Parker takes longer than anyone to get ready, and that's for "shaving" his stubble. Artfully.
Georgia and Paget are getting on like a house on fire, Ciara is watching closely.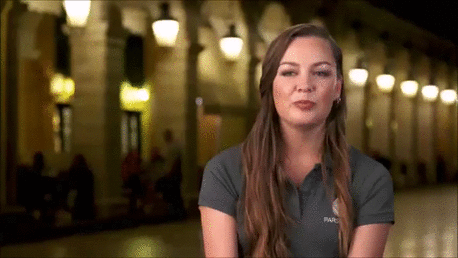 She misses NOTHING.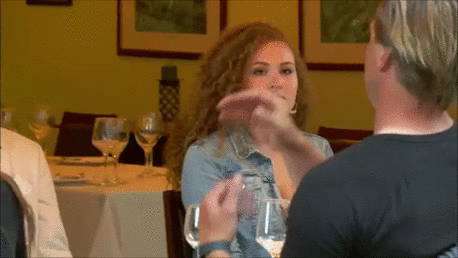 I'm not sure how to put this nicely…I think Paget is…not the sharpest pencil in the drawer. He seems to get lost when everyone starts to banter.
Everyone eats an excellent supper, then they head back to the ship for a shared hot tub. Adam is already getting handsy with Jenna, who is all the way in. Paget and Georgia sing while Parker plays guitar, it's fun!
Control freak Jenna's schwasted.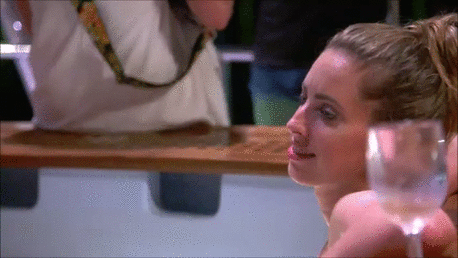 She and Adam end up in a sort-of clinch in the hot tub with his hand on her bum but party's over! Time to call it a night, but Jenna doesn't really want to. Adam's all dunzo and nobody's able to pronounce words of more than one syllable, so goodnight, y'all! Until next time! Cheers