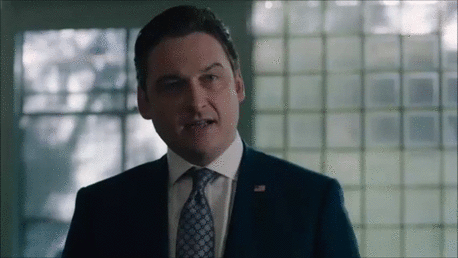 Welcome back to Billions season three, how are you liking it so far? Not too much of the shock and awe variety yet, a small sugar-spike in the season opener but no defined path as yet. I'm good with it, let's find out how our two fave rich people spend their spare time in between penis/fencing bouts.
At the end of the last episode, Bobby "Axe" Axelrod (Damian Lewis) gave up his right to trade, even though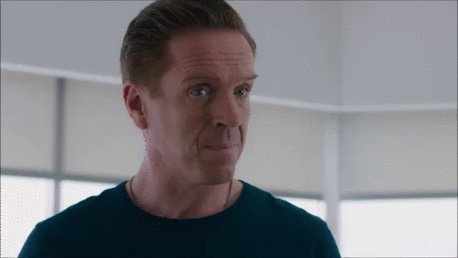 To save his company AXE Capital, whose assets were frozen thanks to Federal Prosecutor Oliver Dake (Christopher Denham) indicting Bobby. Okay, so in theory it was Oliver, but we all know Bobby went down because other Prosecutor (and gubernatorial hopeful) Chuck Rhoades (Paul Giamatti) set him up for a giant fall, as shown in S2:E11 Golden Frog Time . Basically, Bobby got a little too cocky, swinging and missing on what looked like a marshmallow but stung like a bee.
I'm TERRIBLE at sports metaphors.
Now Bobby is conflicted; he can't believe he gave up his right to trade! It's almost like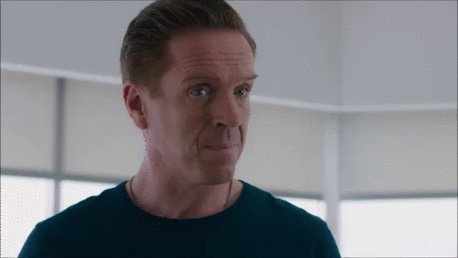 It's late and Bobby is alone in the dark in his bachelor pad listening to the Counting Crows "Round Here" so basically Bobby is ME and who can he call when he's down and doubting himself? His crack psychologist Wendy Rhoades (Maggie Siff), recently reconciled wife of Bobby's nemesis and funhouse mirror double: Chuck Rhoades.
Wendy gins up a quick pep talk for about maybe learning to let go being even better for his development, but an earthquake notification leads him astray. He decides to call in a bunch of old favours instead and trade through other houses for a bit.
Meanwhile, his counsel Orrin Hach (Glenn Fleschler) and the guys prosecuting him, Oliver and Bryan Connerty (Toby Leonard Moore) are spinning the wheel to find out who they'll get for a trial judge. I'm guessing Leonard Funt (Harris Yulin) is better for Bobby.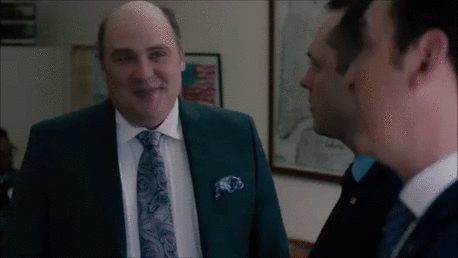 Funt is an old school Libertarian who believes in a free market; absolutely perfect for Bobby. Chuck tries to talk Oliver into "finessing" the head judge but he doesn't want any more judicial blood on his hands.
Chuck calls Wendy? And she thinks it's a BAD thing that her employer got a Libertarian judge, because it's bad for her "family", i.e. Chuck?
Girl.
Bye.
I love everything Wendy does except for when it's influenced by her lying, smarmy, manipulative husband. She deserves better and Bobby deserves an influencer with a more focused vision.
I just used "influencer" in a sentence like it was a real word, somebody hit me with a dictionary.
Oh hey, Man of the People Chuck Rhoades not using cronyism and backslapping, doesn't Judge Funt owe you thanks to a favour you did him? Sure, but when Chuck tried to cash in, the judge went all righteous on his behind.
Side note: I feel this will be probably be a long recap, all four of you reading this, maybe go grab a snack and a cuppa.
Wendy knows just what Chuck has to do.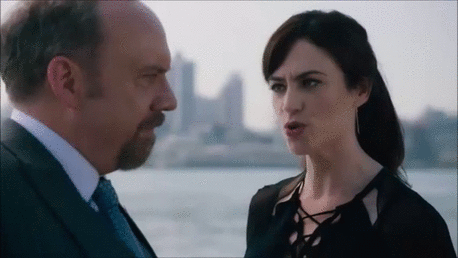 You know, exactly the type of thing she should be saying to her employer and friend.
AXE Cap is being run by Taylor Mason (Asia Kate Dillon), who wants to know why they don't get ALL the billions Bobby left behind? Compliance Officer Ari Spyros (Stephen Kunken) explains that there's a velvet rope around 2 billions, just in case. Just in case Bobby wants it or in case Taylor messes up? They run to Mike "Wags" Wagner (David Constabile) to find out, he'll go find out.
Bobby's hired a new security team, aww, I miss Hall (Terry Kinney). These guys are super young and tidy looking so Wags has to grill them for a bit.They don't have names yet, but they're played by Brian Wiles (Preppy Security) and Tom Lipinski (Young Josh Brolin Security).
Wags would really really like Bobby to not do what he's pretty sure Bobby is doing. One single email or voicemail or text found and AXE Capital would be down for the count. Bobby doesn't think he needs to hide anything, though, he can have Taylor transfer money over to other shops, the heads of which he met with the night before.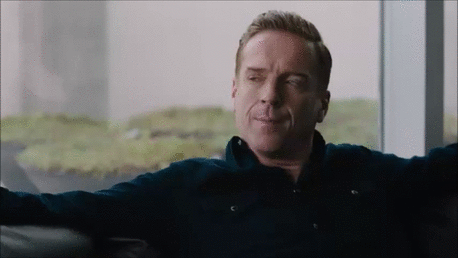 But he'll just do what he wants, coz he's f*cking Bobby Axelrod!
Oooh here's a blast from the past, Bryan's meeting with FBI Agent Terri McCue (Susan Misner) with whom he used to bang the gong slowly until he dumped her for like 8 other women at the office. They're waiting for Maria Gonzales (Helena Betancourt) because she was one of the Ice Juice pukers. She's also Victor Mateo (Louis Cancelmi)'s maid, which was a very poor choice on his part.
See, Bobby wanted to take Chuck down, so he killed a stock he thought Chuck was heavily invested in. Part of killing the stock was having a bunch of people get very sick on Ice Juice, Victor was supposed to pick someone who couldn't be traced back to him. LIKE HIS HOUSEHOLD STAFF. Not a great move on Victor's part, since Bobby and he had just made up after years of enmity. Since Victor was one of the guys Bobby talked to last night, he must have forgiven Victor. AGAIN.
They have Maria on tape dumping a vial into her Ice Juice right before the puking, so dead to rights, except that Victor wasn't the one who gave her that vial. She's convincingly unhelpful and I love watching Bryan squirm.
That five minute conversation was enough to make Maria late, Victor knows something is up.
Bobby is busy drooling on cars with Mark Cuban (Mark Cuban), I basically said Bobby is the fictional version of Mark Cuban last year so I'm glad they're fourth-walling me. Mark Cuban doesn't want anything Bobby is selling, he doesn't need any heat.
Michael Pane (Hari Dhillon) is willing to go in on a car but Bobby doesn't trust him.
Off to see Victor, who gives Bobby the bad news about Maria. He'll handle it. This could be useful, however, they know they have to make sure everyone else is solid too.
Ben Kim (Daniel K. Issac) has bad news for Taylor: there's a tsunami headed for Brazil. They have a LOT invested in Brazil, is that where those chip companies are located? I dunno, they're talking sugar and construction and stuff, Mafee (Dan Soder) being surprisingly helpful, until he says they shouldn't get involved with the main contracting business because over 100 executives have been indicted.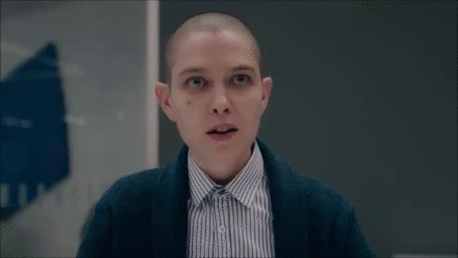 Side note: I watched an interesting program on Netflix called Rotten, they had a whole episode on a crooked Brazilian consortium affecting food prices in the US. You should watch it!
Another side note: Sean Ayles (Jack Gilpin) is there for Public Relations, he must be mentioned because I love what he can do with his face. That is all.
Chuck's gone to see Adam DiGuilio (Rob Morrow!) who wants to know why he isn't a Charlie? Charlie's a great name, a great guy who is chill and easy to hang out with. But Chuck Sr. was Charles, so Chuck was Chuck and never a Charlie between.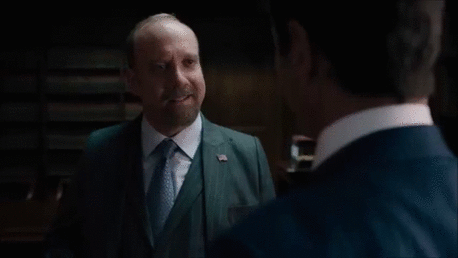 Noooope.
Anyway, Adam owes Chuck a favour but Chuck isn't looking for repayment, but rather another favour in the shape of stepping into the case as soon as he eases Judge Funt out of Chuck's way.
I loathe Chuck's hypocritical shenanigans. So many machinations and it's so unbelievable to me that anyone takes his shite seriously on this DickFlickSoaper.
Taylor is working Axe's desk like it belongs to them, Wendy compares them to Alton Brown and I need a minute. I BEG YOUR PARDON.
Taylor's first set of trades is coinciding with their first crisis, they're worried that it will look like Bobby was wrong for trusting them.
Bobby sees the numbers and freaks out, heading straight for AXE Cap.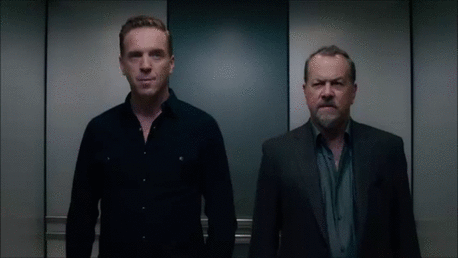 Bobby can't let down his troops, but things are different now that he's agreed to give up his trading license. Taylor watches from above as Ari Spyros records every second Bobby is in AC.
So yeah, Bobby can be there, but he can't do ANYTHING.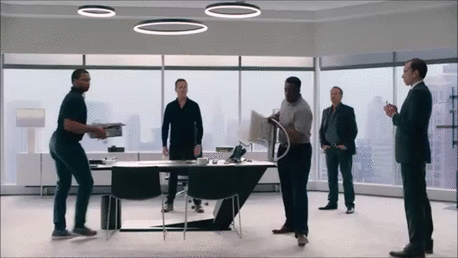 Awww, we get a pool nudity, just like back in the day with Bobby! This is Dan Margolis (Daniel Cosgrove) and he likes to keep nothing between him and the water. No, Bryan, he doesn't need a towel.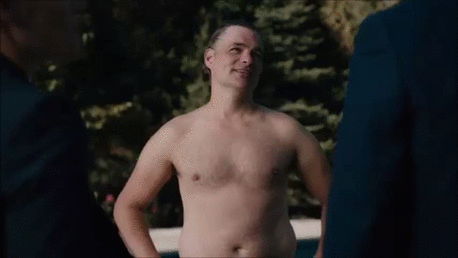 Dan was another one in Bobby's bad books, but he also Ice Juiced himself and that's why Bryan and Terri are sniffing around. I love how the actor is fully nude, with love handles and paunch and a whole lot of joie de vivre. I won't even mention that we'd never see a woman naked on screen unless she was sporting only the current body ideal. Except that one time.
Bobby walks around the office, Ari recording the whole time, Mafee doesn't know what to do but Dollar Bill (Kelly AuCoin) – f*cking LOVE Dollar Bill – will shoot the shit a bit.
Rudy (Chris Carfizzi) fumbling over whether Taylor will tell Bobby about his idea or not tell Bobby about his idea sends an angry Taylor straight to Bobby's office where Wags turns off Ari's camera.
See, Bobby knew when he saw that earthquake that there would potentially damage in Brazil, why didn't Taylor act then?
Maybe because Taylor was an intern 6 weeks ago, BOBBY.
They want Bobby to go home, please, nobody knows who to look to.
Fine, Bobby is leaving, but he's taking his 2 billion with him!
Wendy snags him outside, god I wish these two would hump already. I didn't want that before but now I'm tired of waiting.
Hey Chuck, Oliver's favour just showed up looking for an office! This is Karl Allard (Allan Harvey) and he'll be your new AUSA! Kate Sacker (Condola Rashad) looks somewhat less than impressed.
Poor Ben can't get a sniff, Dollar Bill keeps shutting him down, but Taylor is interested, asking the IT Guy (Ryan Barry) for allls the info Ben's been looking at today.
Hey, we finally get an actual line or two out of Lara Axelrod (Malin Akerman)! She's at the Little League game watching the wee Axelrods, distracted by a friend Lilly (Catherine A. Callahan) who thinks Lara's divorce will give her courage for her own. Lara tells her to sit down, shut up, ignore the schtupping and embrace her shallow, shallow life with all it's attendant perks. It's what Lilly needs. Lilly doesn't know exactly how to respond to that.
Side note: I went through this a few times when I told my friends I was divorcing; quite a few were super happy to talk shite about their husbands at great length. None of them are divorcing, though, still just me, so maybe it's the talking that they needed. I never bring it up with them because I'm not a complete arsehole, but I do sideye some of those dudes.
Bobby sends the kids late for the game in a helicopter because of course he does. Then he meets his security people to transfer money which they don't want to do.
Maria didn't show up to talk to Bryan and Terri, but she was picked up in an ICE sweep and is in Holding. Or is she?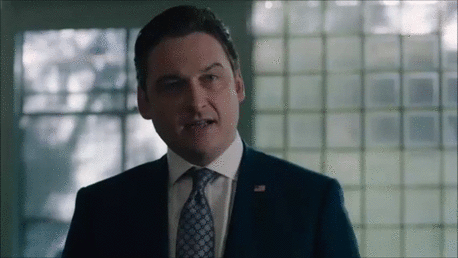 Nope, our Maria is on her way to Guatemala, thanks to Preppy Security.
Oliver doesn't want to call his boss Jock Jeffcoat (Clancy Brown) to ask for help in Guatemala but Bryan makes him. Jock's not going to help him, but he says it WAY better and with more profanity. No animals were harmed in Texas during his speech.
Taylor needs help from Wendy: Ben's idea was great and they want to pull that trigger but they're unsure. Help them, Wendy! Wendy thinks it's good Taylor can't talk to Bobby, this will teach them about listening to their own voice.
Lara's had it, she can't believe Bobby didn't come to the game when he doesn't even have a job right now. She'll tell everyone their custody arrangement is 50/50, but clearly he is still ignoring his family.
I wish they could make up.
Chuck is ginning up his nerve to go after Judge Funt, Wendy pumps him up and sends him out with a slight promise/threat of "after."
Here comes Judge Funt; is Chuck lost? Funt figures out pretty fast that Chuck is trying to top from the bottom and get him to step aside. I love how he calls Chuck out for his machinations but in the end agrees to pay his debt by stepping aside.
Bryan knows immediately that Chuck's fingerprints are all over this move, he's horrified but Oliver isn't in the habit of turning down gifts. Bryan tells a story about a Japanese custom, it gets a little complicated but means: Oliver is going to owe a lot more than he thought for this particular prezzie.
"Round Here" again with Taylor in the office, Bobby coming in late at night. Taylor made the big move and Bobby is giving them back the 2 billion.
He didn't not trust Taylor, he just didn't know what else to do if he's not doing this.
Taylor is going to do what Bobby wanted, investing that 2 billion in outside shops (that he's already picked) and using his knowledge while keeping him off their playing field. He's their hedge.
Maria is back in Guatemala, what a DAY.
We let "Round Here" take us out and don't we all have a little trouble acting normal when we're nervous?
Random thought of the episode: Why was Wags banned for life from Little League? Gambling or booze?
Random segue: Bobby "wanding" his female visitors for security purposes. You have to love Wags and how he talks, there's really no choice.
Funniest line: Bryan, staring at Dan Margolis in all his nude glory "we CALLED first."
Until next time!