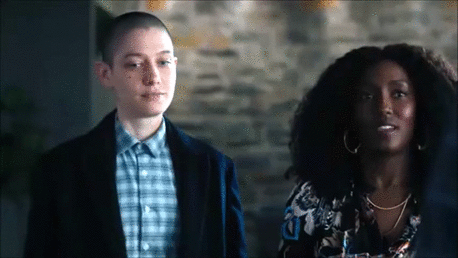 So. Here I thought I was two weeks behind on Billions, turns out there was a week without an episode and I'm only half as late as I thought I was! Woooo! That being said, I'd better knock the dew off this lily right skippy (I'm super terrible with analogies) and skip to my lou tout suite. Rolling Billions S4:E10 New Year's Day after the break!
It's winter-ish in New York, in fact it's even New Year's Day, someone calls Chuck Rhoades Jr. (Paul Giamatti) for a meet while U2 plays.
It's funny, I've forgotten how good U2's music is, why did everyone start hating them again?
Helena (Zina Wilde) opens up shop at a very quiet Axe Capital, she got pulled out of St. Barths to be here, she tells Peach (Lilly Moran), but if it weren't for this job she would probably be pronouncing it just as badly as I do. (Paraphrased)
It's most hands on deck to help Dr. Wendy Rhoades (Maggie Siff)'s prepare for her Medical Board review; she went rogue and used her session notes against nemesis Taylor Mason (Asia Kate Dillon). Her boss Bobby "Axe" Axelrod (Damian Lewis) has been orchestrating various complicated revenge plans against former protege Taylor, it's been SUPER exciting and not at all predictable.
Bobby's not there today, but he'll be Skyping in from Fiji, so almost the same. Wendy is worried; this is a mock runthrough to see if she can beat the review and legal department Orrin Hatch (Glenn Fleschler) isn't being very encouraging.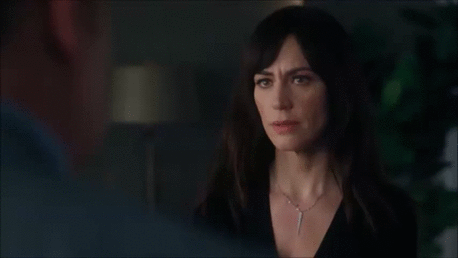 He'll let her know once they're done.
Chuck shows up bitching about having to be done by noon; you can still cut the tension with a knife between these too. Lookit how happy Wendy is to see Bobby showed up instead of just videochatting!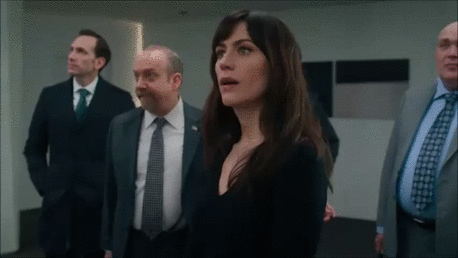 Literally none of that joy for her husband.
The mock review doesn't go very well for Wendy, but I liked the part where Bobby stared down Ari Spyros (Stephen Kunken) for his cosplay gear!
Over at Taylor's shop, they're brainstorming their next move with their team. COO Sara Hammon (Samantha Mathis) and Lauren Turned (Jade Eshete) workshop the problem with Mafee (Dan Soder) but there's some personal stuff going on too.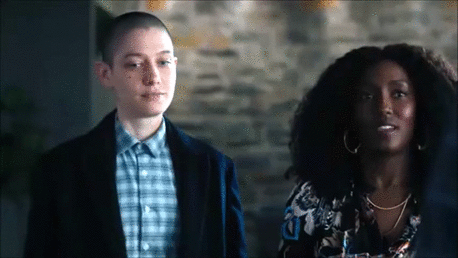 Ohhh and who walks in but Lonnie Watley (Malachi Weir)!! This is Chuck's old mentee, but they've been at odds for ages. What's he doing with Taylor?? They're doing a prep session too (I like the part where he compares himself to Sammy Hagar being kicked out of Van Halen), because Taylor will most likely have to testify directly against Wendy, since it was their medical records that Wendy accessed to figure out how to hurt Taylor the most.
Lonnie asks if Taylor wants to expose themselves like that; it's a risk. Without Taylor, there is no case, so for now it's going ahead.
Over at Axe Cap, Bobby and Chuck chestbump over who should have handled what (Chuck oddly opted to NOT use his favour-trading prowess to save her from this review, even though they were close to the brink of divorce and she asked him directly) while Wendy looks beautifully sad.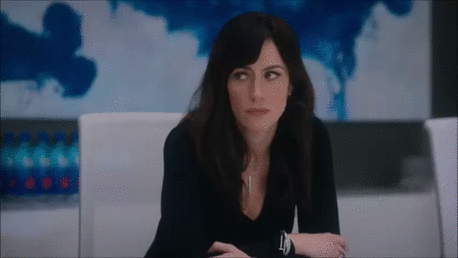 Then snaps at everyone because let's face it: Taylor isn't going to be moved or convinced or intimidated into dropping anything. They're living for this.
Bobby is pulled out of the meeting to deal with a very Billions problem: a Picasso and 17 other art-filled crates will soon be clogging up his lobby. This is apparently a tax issue, he needs Sean Ayles (Jack Gilpin) stat. Peach will stall the delivery people until Sean arrives.
I'd like to believe that the Government is grinding with those small mills on New Year's Day but…US Attorney Bryan Connerty (Toby Leonard Moore) and Head of Crim Kate Sacker (Condola Rashad) welcome Judge Funt (Harris Yulin) to their office so he can listen to Chuck's tapped phone calls.
Bryan is stumping for more surveillance of Chuck and his dad, he gets it, albeit with a lot of restriction. Kate says a junior US Attorney will be overseeing the recordings to make sure nobody oversteps, she just didn't know that meant HER.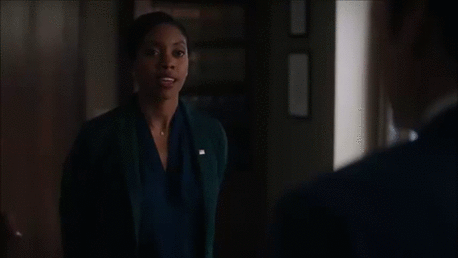 Because she's not going to jail, nor is she visiting him there, so everything will have to be super clean.
It's getting rockier over at Axe Capital, the problem is really the unaddressed animus between Wendy and her husband. She appeared to accept that he couldn't help her, now she's taking shots at him constantly and losing her cool.
I do understand why she gets mad when he brings up someone in the US Attorney's office accessing her files previously, since that was HIM.
Bobby takes her out to walk some laps; she doesn't think the issue is with Chuck but rather with the fact that if they argue she's acting as a performance coach and not a medical professional, anyone could deposition her with regard to what everyone has told her in session.
Uh huh.
She says he should fire her but we know that will happen right after never.
Bobby's COO Mike "Wags" Wagner (David Costabile) has arrived with provisions; do you really think he is an Ellen DeGeneres fan? We'll never know. Chuck pulls Wendy aside for a chitchat; he's got that meet to get to, remember.
Wags has more than stone crabs from Joe's, he's also heard that Taylor has made a move on the supplier for Salers, a business just picked up by Bobby's girlfriend and fellow investor Rebecca Cantu (Nina Arianda). Bobby gets "Dollar" Bill Stearn (Kelly AuCoin) on the phone to shout at him for not knowing. Dollar's coming in too!
Chuck has advice for his wife; she can barely believe her ears.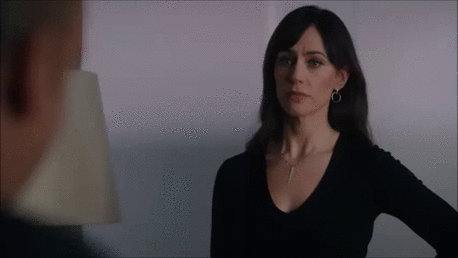 Chuck's already negotiated this deal, Wendy is furious. He just…doesn't seem to care any more. Married people fighting, yaaaay.
Across town, Mafee asks if he can date Lauren (hahahahaha), Sara and Taylor think that's fine. He leaves and Sara reminds Taylor to keep their shite tight; nobody needs to know that the hedgefund manager is dipping into the IR pool. I guess they haven't been as discreet as they thought.
Rebecca pops in to get the full rundown of how f*cked her business is; Taylor's bought up Cling, the company that supplies all the appliances for Salers, which is 63% of sales.
*Salers is SO Sears
Time to find another appliance supplier! Rebecca's off again, just as Sean Ayles and Victor Mateo (Louis Cancelmi) come in to deal with the problem of Too Many Picassos in the lobby. Bobby was using it as a tax dodge, 18 crates of art in a Swiss Bank were not considered taxable assets until the government decided to peek a little closer. The bank got skittish and sent them to Bobby and now here we are. HANDLE IT SEAN. And Victor, inexplicably, although I think Axe just wanted to flex a little and make sure everyone had a crappy New Year's Day like him. Tuk Lal (Dhruv Maheshwari) even shows up, what's the deal with this kid, Billions? He gets a metric tonne of screentime for someone with such a short resume, but I dig it.
Bryan met up with over the top performance coach Dr. Gus (Marc Kudisch) last time, we get a fast look at how that's coming along and then we're right back to Axe Capital with Dollar and his new conquest/workbuddy.
See, Dollar is already a bigamist, but that didn't stop him from making an enthusiastically received move on fellow analyst Bonnie Barella (Sarah Stiles). They won't be working together for a bit, Bobby's sending Bonnie on the road for Investor Relations and have you HEARD this woman talk, Axe?
The bug is in place at Chuck's place, the Fibbie in charge Agent Gyorgy Dancshazy  (Gary Wilmes) reminds Bryan to not listen to anything out of scope so for sure we know Bryan will be using EVERYTHING.
Chuck's not home yet, he's over at his dad's place where Chuck Rhoades Sr. (Jeffrey Demunn, whom I adored until this show. I love that we getta see different naked body types, I was just perhaps not prepared for his) awaits. A quick talk about Sr.'s illicit lovechild and then almost time for the Meeting of Collusion Most Obvious.
You remember Danny Margolis (Daniel Cosgrove, whose soap history is only overshadowed for me by his stint on 90210, best.eyes.ever), the naked guy stonewalling Bryan a while back?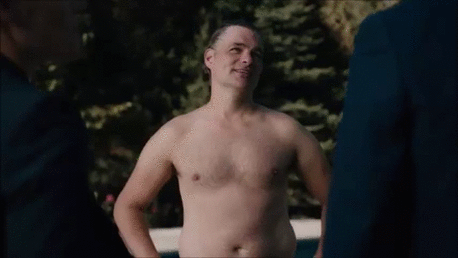 The best part about that scene was Bryan's faint "we CALLED first" after; Toby Leonard Moore does not get enough credit for his comic timing. It's superb.
Danny's in the office for a special project, Wags watches closely with a beady eye.
Another guy has shown up to shake down Bobby for the delivery of those paintings, he's had just about enough of that shite.
Oh hai Mick Danzig (Nathan Darrow) and Everett "Everready" Wright (Keith Eric Chapelle), welcome to the party!
I don't drink alcohol, but I'm trying to imagine an office full of people on New Year's Day not smelling like yesterday's gin sieved through a dirty diaper and I cannot.
Wendy spots a morose Wags sitting by himself in the cafeteria, why did he really end his vacation early? Ah his watch is missing. The Patek Phillipe his dad bequeathed him on his deathbed; stolen by a larcenous 22 year old yacht girl in South Beach.
*I'm trying to feel bad for Wags here, but what the FUCK did he think he had in common with a 22 year old? And what was the allure supposed to be for her? I guess they both really liked expensive watches, so that's one thing they shared!
The meeting at Sr.'s pad is with Chuck, his pal Ira Schirmer (Ben Shenkman – so hot) and Secretary Something Of Treasurer? Todd Krakow (Danny Strong). The political winds have shifted, the financing is at risk and Todd wants more grift. Or as he demonstrates: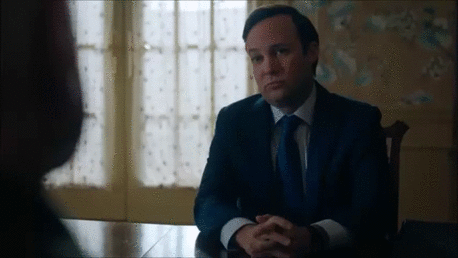 *Unnecessarily drawn out paperwork scene* The only fun part was Ira saying "I'm not touching that f***ing thing."
See, Ira is Chuck's lawyer, now that Krakow is gone privilege is invoked so Bryan and Kate can't listen any more. Bryan pouts, especially now that he's heard them talking about the agreement being on PAPER and stored in Sr.'s safe.
*They put their illegal agreement defining their collusion in WRITING. And then SIGNED it.
Danny Margolis and Bobby catch up; I think Danny's lost some weight! The dimple is back and he's gotten grey. Sorry, silverfoxsayswhat? He has access to a freeport so the pictures can be stored forever in a tax-free state. And just as I'm lamenting the fate of the never to be seen paintings, Danny explains that he can have duplicates made so Bobby can hang the originals while claiming the duplicates are the real deal.
It was Victor who dug up Danny, he and his cheekbones get a shiny gold star.
Wendy has called in some help for Wags; it's a beautiful young woman Michelle (Kelly Dowdle) to hold him while he cries. Do you think this is the sort of service you could find anywhere, like BuFu, Alberta? Or are they recruiting? I'm a heck of a cuddler.
Wags's cries ring through the office as Bobby and Wendy have their own figurative cuddle session.
She wants Bobby to send everyone home.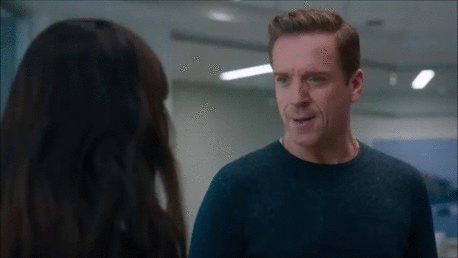 Interesting argument. Wendy with the counterpoint: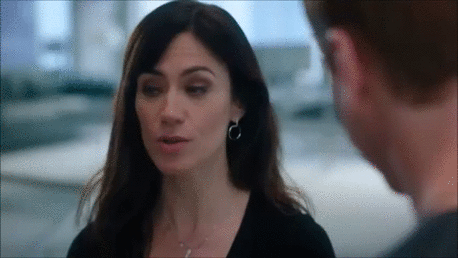 I'm WORRIED. Bobby is talking about the moment he knew he and Wendy would be partners forever; I'm concerned because she seems to be taking it as….okay, maybe I'm reaching. Also: his eyes are like blue lazers in this scene. Anyway! Let's find out how/when he knew!
It was just after 9/11, when he was figuring out how he was going to be able to support all the promises he made to the survivors and their families connected to his company. Wendy doesn't remember the exact moment, so he walks us through it. She defended him publicly while he was under attack, but privately held him to account. So whatever she needs to do to make this go away, she needs to do, win the review or…
Apologize to Taylor and ask for their forgiveness. That's what Wendy is really struggling with; she feels as though she did wrong and can't muster the strength to defend herself properly.
*Wendy was all eyes and lips as she stared at Bobby talking about how much he valued and needed her while holding her hand; I'm unsure if I'm okay with this direction. I've begged the writers to not go the easy Man + Woman route with their partnership and I've also stumped for them to finally hump, so I'm all over the place.
The last person to show up is the only voluntary attendee, Ben Kim (Daniel K. Issac) comes in every New Year's Day to sit at his desk alone. Wags leads him aside for a cuddle as Bobby finally releases everyone for the rest of the day and Wendy goes hat in hand to see Taylor.
Taylor isn't buying Wendy's apology, they see everything Wendy does as transactional. The only way Taylor will consider not attending the medical board review hearing is if Wendy asks them as a personal favour.
Wendy does, but this will be harder than swallowing her pride (which you could literally see her do), because Taylor is challenging her to think about whether or not SHE thinks she should be able to keep her license. Taylor will not show up to the hearing, it's up to Wendy to do as she sees fit.
Bryan is back with Dr. Gus, trying to break a board to FEEL the metaphor.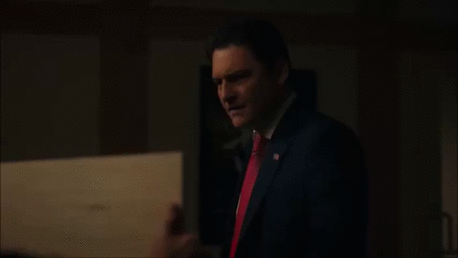 Wendy gets home to find Chuck making supper, when did he know the exact moment he needed to marry her? He doesn't remember.
He.doesn't.remember. We're all going to ask our significant others for the moment, right? Who's with me?!
Bryan heads to a pub to watch a dude get into a fight with two guys, this is his brother Jackie Connerty (Micahel Raymond-James) who just happens to be an ace safe-cracker when he's not pounding the fake-Irish. It looks as though all that board-breaking of Bryan let him break through all those pesky legal barriers as well. We're out.
Sorry to be so late, I hope everyone had a great Victoria Day (Canada) and a decent Memorial Day (US)! Cheers, until next time!