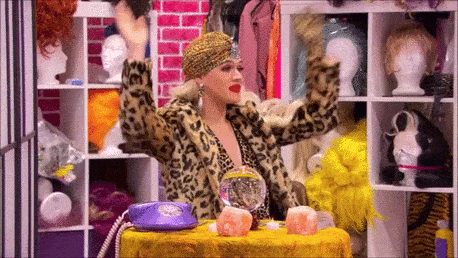 Howdyhuntyhello everyone!! It's time for the glitziest flannel on earth, are you ready to see who rolled past the halfway mark on Canada's Drag Race into herstory? Me too! Rolling into my recap of CDR S1:E06 Star Sixty-Nine after the break!
We open back in the workroom where departing queen Kiara has used an entire tube of lipstick to smear her goodbye across the Mirror of Truthiness, it's always up to whomever sent someone home to do that cleaning and Priyanka is impressed/pissed at the mess.
Side note: Priyanka did a SMOKING lipsynch to "I Drove All Night", I am torn between wanting her to lipsynch all the time and to never be in the bottom again because she should win. Maybe she could lipsynch her way to the crown??????
Jimbo won her first week last time as a hilarious Joan Rivers for Snatch Game.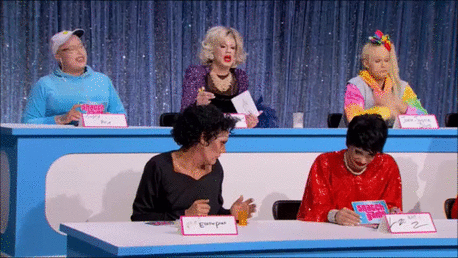 That was an excellent Snatch Game, if slightly shy of CanCon.
There are only 7 ladies left on the road to the crown, we've got Scarlett BoBo, BOA, Rita Baga, Lemon and Ilona Verley still in the hunt for Canada's Next Drag Superstar. But. Doesn't the fact that Brooke Lynn Hytes hosts mean that we've already got our first Drag Superstar? Like, totally. I luuuurrrrve BLH.
Okay, she co-hosts with Jeffrey Bowyer-Chapman and Stacey McKenzie but she's our queeeennnn!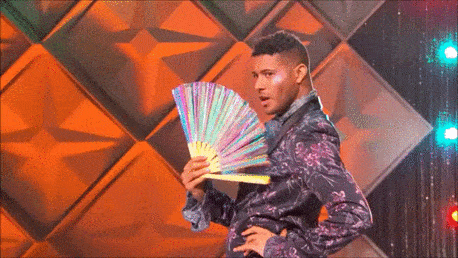 This week our extra special guest host is Tom Green. Sigh. I am not a fan but he's definitely Canadian and by loose definition a celebrity so hai Tom!
Rita Baga is feeling severely outnumbered as the lone Francaphone standing, but it must be said: she's won 2/5 weeks, so no way she's going anywhere soon.
Scarlett BoBo and BOA know each other from Toronto, apparently BOA gets on everyone's tets because Scarlett won't ever get off hers. She's constantly criticizing BOA, now she's telling BOA that the judges critique last time was similar to Tynomi Banks' final warning.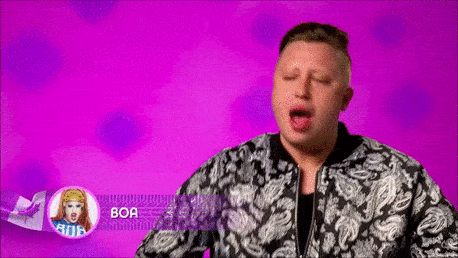 The RuSiren interrupts and Mama RuPaul herself appears to give us the skinny!
I don't know, I couldn't make out one thing that she was saying.
But Jeffrey Bowyer-Chapman is there to help us! The queens will be living out their "Star Sixty-Nine fantasies" as psychic hotline operators?
but
But we just had a terrible Miss Cleo impersonation, was Priyanka ACTUALLY psychic?? Nah, or she wouldn't have tanked so hard.
The dragtestants will be giving advice to a mystery caller, whomever entertains Jeffrey and the caller the most with their improv skills wins!
20 minutes, ladies! Quick drag it oot.
Our mystery guest is Crystal from DragRace UK!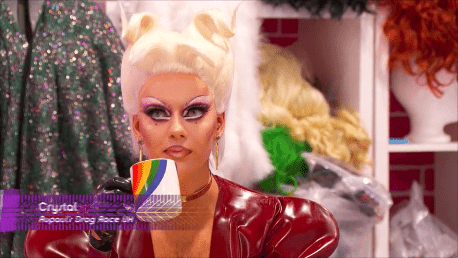 Rita Baga is in full character, hai Crostina!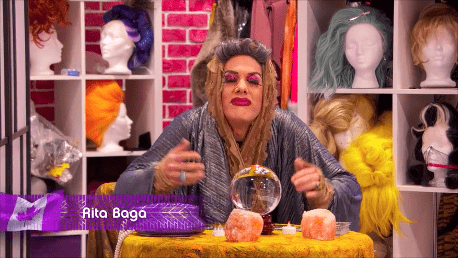 Priyanka makes us cry with her ghost-sex advice.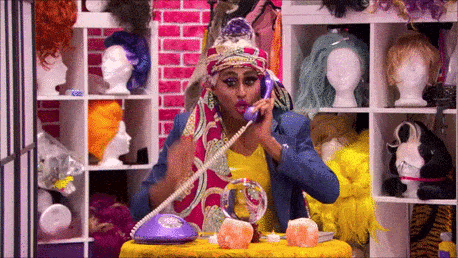 Ilona Verley is just going to be herself! (Oh noes)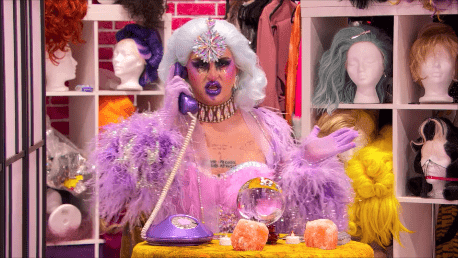 (Crystal hung up)
Scarlett BoBo is just the right amount of cray.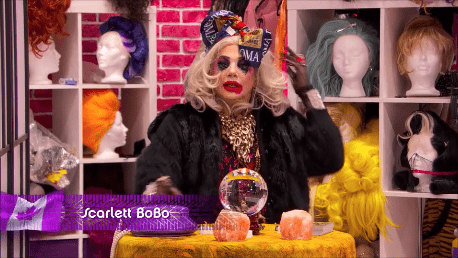 BOA strips. Behind the screen so Crystal can't see her, but strips.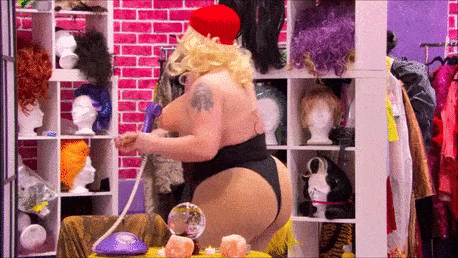 Lemon is super cute, of course.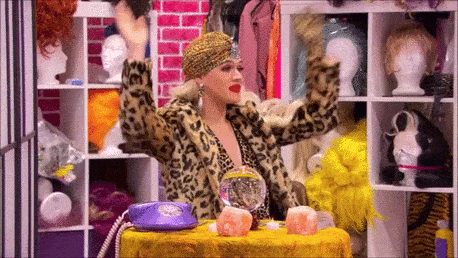 Jimbo.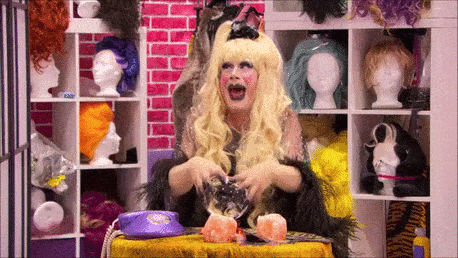 Lemon wins!!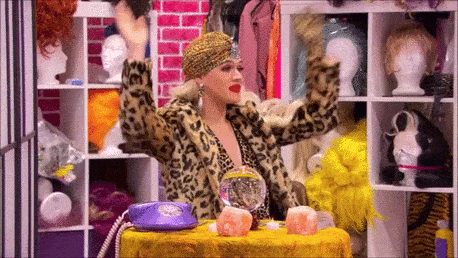 $1000 of Bailey and Nelson eyewear, sure!
Ooooh onto the maxi challenge, the queens will be making their very own late night law firm TV commercials! They'll be working in teams chosen by Lemon!
Lemon chooses the Sissies first, Ilona looks ecstatic (probably to not be chosen last) but Scarlett BoBo is pisssssed.
Lemon snags Priyanka for herself, throwing BOA, Rita and Jimbo together as the team of three.
There is no way Lemon and Priyanka don't have this.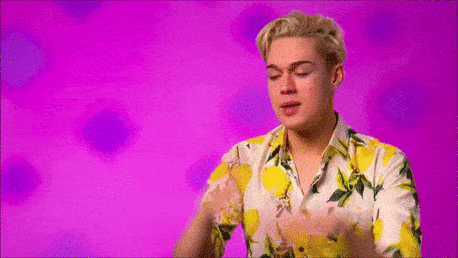 BOA, Jimbo and Rita have come up with a concept involving bachelorette parties ruining drag bars but I have yet to understand how that will involve litigation.
Scarlett and Ilona seem to be working well together but Scarlett gets mean as Scarlett do to less secure queens.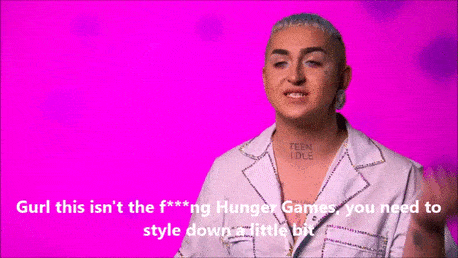 Rita has had some experience with unruly bachelorette parties (a finger in the), she has some rules to be observed!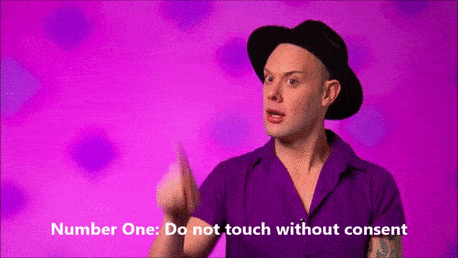 (Also applies outside of bachelorette parties and drag bars)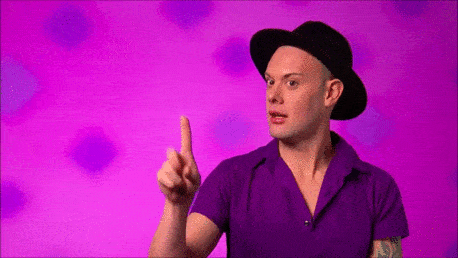 OFF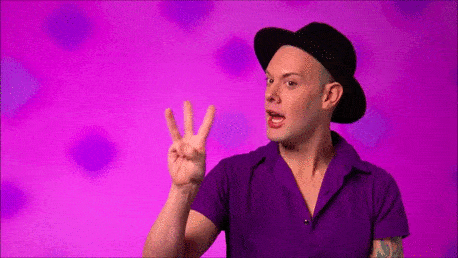 Stacey McKenzie is helping the teams film their commercials, Priyanka loves her.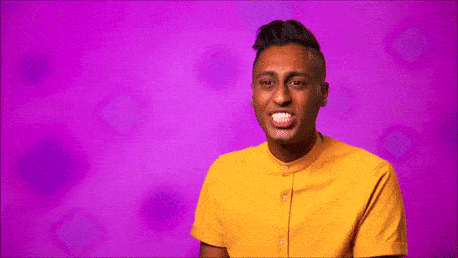 Hahaha Lemon does the splits then raises up a foot and stays in the split while doing her lines, what the effffffffferklovingfeck???
Hahahahahahahahaha Jimbo steals every scene.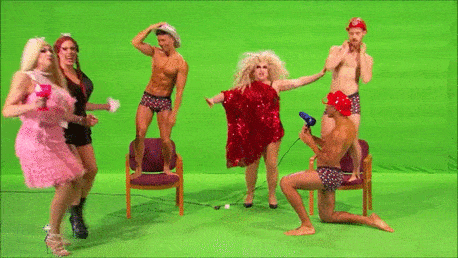 The Sissies do pretty well buuuuuttt blanked on props. They have very little time to brainstorm but throw some stuff in front of the green screen.They're both super funny but I could live without seeing Ilona spit on Scarlett, 100%.
It's almost time for runway, right after a passive-aggressive fight between Lemon and EVERYONE ELSE.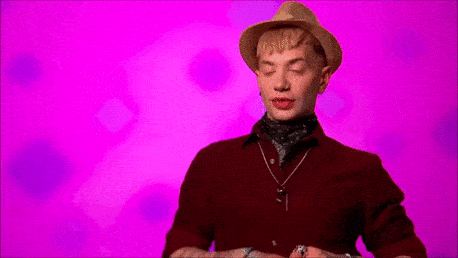 Apparently even Bing Crosby repped the denim-on-denim but really, nobody did it better than Britney and Justin.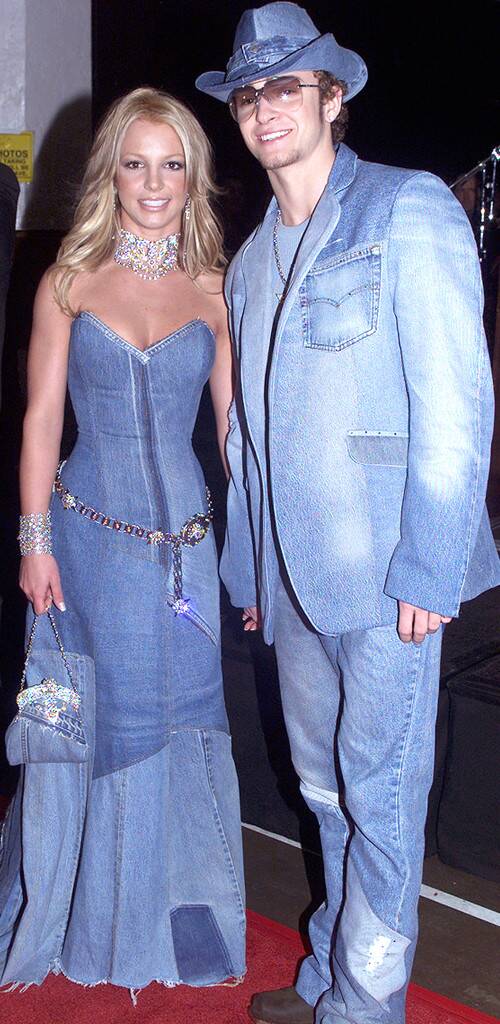 Ah BOA. Rita talks about the problem with bachelorette parties in queer spaces and this leads to BOA talking about taking a psychopathic rapist home one night and the huge amount of damage this other person inflicted. The community rallied around BOA, she now uses her platform to talk about it, to educate about violence and man. Literally we all cried.
And as promised: Tom Green is the extra special guest judge.
Wow, somehow I sustained that much dislike over decades. Interesting.
Let's see some denim on denim action!
Scarlett BoBo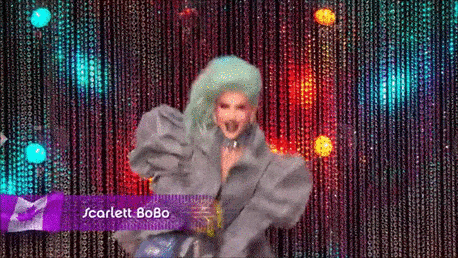 Ilona Verley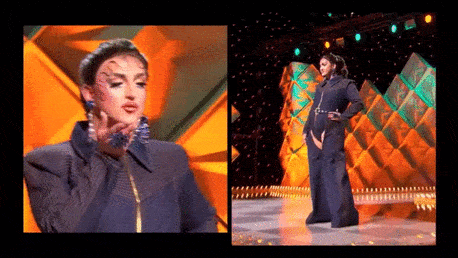 BOA
Wow, I still hate every single look Jimbo rocks on the runway. Especially this bodylong gimpmask.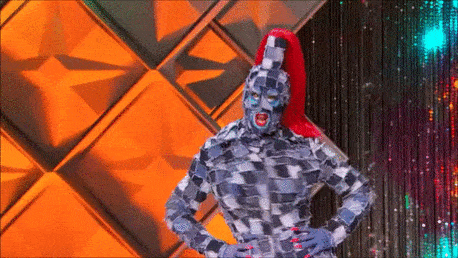 Awesome Rita Baga, until the blue diaper.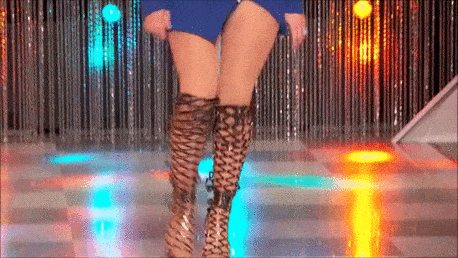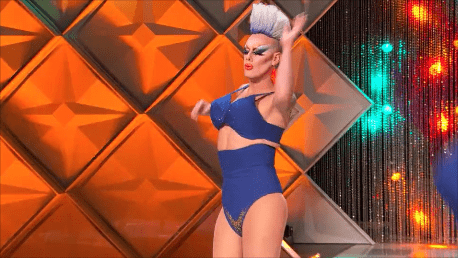 Priyanka as Angela from Oshawa.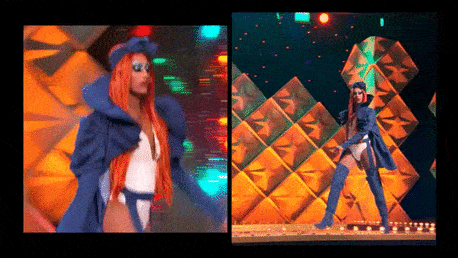 I think Lemon was the only one who read the whole assignment.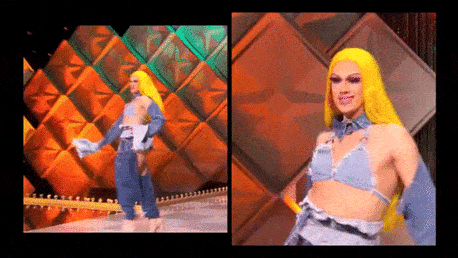 Time for the judges critiques! Scarlett and Ilona are up first, man I love Ilona Verley and I will die on TeamIlona. She's so funny and natural. (I mean, Priyanka or Lemon are going to win but still)
I don't know that Rita, Jimbo and BOA did as well, theirs was complicated and didn't translate well. The only funny part was Jimbo screaming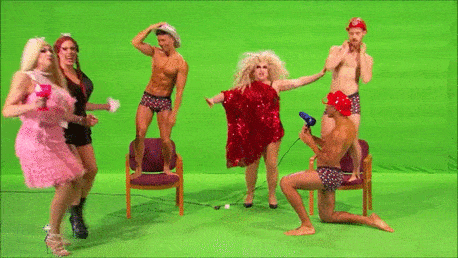 And Rita speaking in French.
Priyanka and Lemon had layers, man! I can't say one thing about their commercials because it was really only about…cats but it had LAYERS.
Critiques!
Scarlett scored high, her performance on the runway and commercial were hella good. Jeffrey skewers Ilona, I'm so over that. She was awesome.
I SAID WHAT I SAID.
During BOA's critique (nobody liked anything), Tom Green does his thing. His schtick is to involve his parents and embarrass them whenever possible, so he calls his mom so he can compare his costume at five to BOAs jean wings.
Jimbo gets great feedback while Rita tries not to swallow her tongue in annoyance.
The judges liked Priyanka's commercial, but not her Angela from Oshawa. Same with Lemon, hated her runway and WHAT. Brooke Lynn! Honestly.
Ohhhhh now for the least Canadian part of the season: every queen is polled to see who she thinks should go home. As they stand:
Scarlett: Lemon
Ilona Verley: Lemon
WHAT
Literally everyone says Lemon because why?
THEY JELLY.
Okay, Rita says Ilona to be different and Lemon of course does not vote for herself. She says Ilona and so does Priyanka so almost a split. How did we get through all of that with NOBODY saying BOA??
Backstage, it's a messy, messy untuck. Lemon is icy perfection; how could they justify saying she should go home based on one outfit? Ah because she's "fake."
THEY JELLY.
Lemon isn't here to make friends!
The judges deliberate, Stacey also picked up on all the royal jelly floating around, she knows a star when she sees one. Brooke Lynn Hytes calls it for tonight.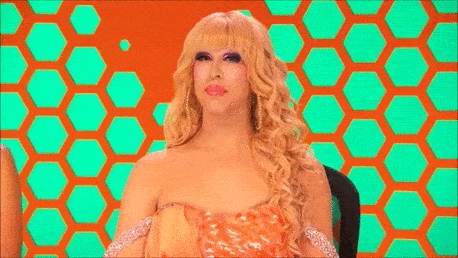 Somehow, Rita Baga has won another challenge, that's literally half of all the maxi challenges of Canada's Drag Race and a strong showing from Quebec, wooooo!
Scarlett, Jimbo and BOA are safe, HOW is BOA safe?, wait, no, that's Priyanka and woooo Lemon is safe. That leaves BOA and Ilona Verley going head to erm, head.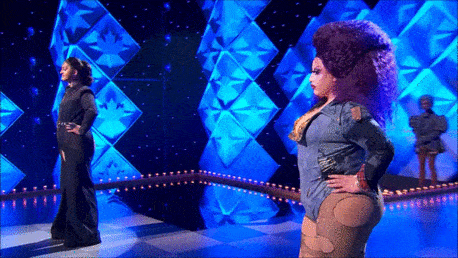 I would be lying if I said I didn't want to see BOA perform, I've got no idea who I'm looking at here. BOA's beautiful face conveys emotion so well, but Ilona uses her whole body and it's very powerful.
I feel bad for saying this, but BOA and Ilona together lipsynching were kind of…boring? Ilona Verley makes it through and we say goodbye to BOA for now.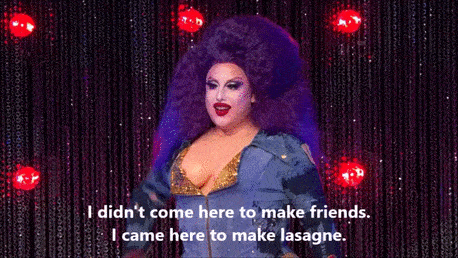 Until next time, cheers!