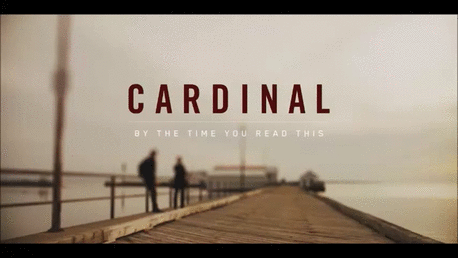 We're almost done the third season of Cardinal, I'm wondering when we'll start to get more of the book storyline…not that it has to follow anything! They are separate entities! Rolling into my recap of Cardinal S3:E05 Mama after the break.
We open in the woods at night in Lloyd Kreeger's (Tom Jackson) cabin where he has become a prisoner. He managed to get free from his restraints but Sharlene "Mama" Winston (Rya Kihlstedt) found him looking for his friend Henry Sizemore (Gregory 'Dominic' Odjig) whom Mama's gang murdered on contact. Henry was a person who had been through things, Lloyd doesn't think Mama and her gang have any idea who they killed. She doubts he does either.
Detective John Cardinal (Billy Campbell) is woken up from his couch slumber by the sound of retching; he gets up to find his daughter Kelly Cardinal (Alanna Bale) throwing up what's left of her night out into the toilet. She didn't mean to get so drunk, it's just that…her mom Catherine Cardinal (Deborah Hay) committed suicide and left them. He comforts her as she cries out more of her grief and loss.
He tucks her into bed then is drawn down to his wife's darkroom by her memory who appears to haunt him regularly, especially in their shared space.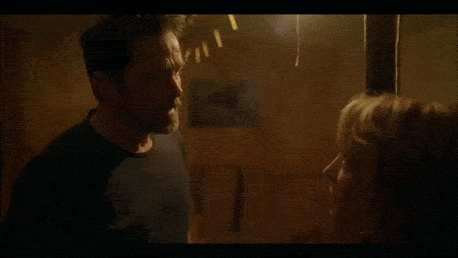 Mama is the head of a ragtag group of street kids she calls her family, one just murdered another so she sits and waits worriedly by the water, comforted by young Nikki (Sophia Lauchlin Hirt) with a blanket.
Family member Jack (Alex Ozerov) shot 'brother' Lemur (Nick Serino) because Lemur robbed another ATM when he wasn't supposed to and was at very high risk for being caught. He also maybe just didn't like him, Jack is incredibly vicious and dangerous and felt Lemur was weak.
Jack says the police shot Lemur, not him, specifically Detective Lise Delorme (Karine Vanasse) which means she's now at great unknown risk. Lise is a badass, but having a homicidal gang led by a messianic figure isn't anything to sneeze at.
Cardinal is feeling ready to exorcise more demons, he pulls out Catherine's laptop to sort through her photographs for an exhibit. A message pops up from GLASSDRKLY, checking in on Catherine after some troubling messages had been exchanged. Upon hearing the news of Catherine's death, GLASSDARKLY asks if she committed suicide, which prompts Cardinal to ask to meet them in person.
Cardinal asks Lise to come with him, it's not enough that he knows what happened, he needs someone else to see it too. She agrees, but most likely because of their friendship, she doesn't think there is anything unusual about Catherine's death.
Jack wakes up with a gun to his face, Nikki knows he killed Lemur. He fakes some tears then manages to get the gun away and sets upon her sexually. Mama pulls him away from Nikki and throws him out of her sight.
Before heading to Toronto with Cardinal, Lise checks into a lead on Lemur, who she's able to identify going through Customs at Pearson International Airport. He's with Mama, so they have her name now, and even identify Jack from the rest of the passengers. They do not note Nikki, since they don't know about her yet.
John meets with GLASSDRKLY in Toronto, it seems she and Catherine both had the same therapist, Dr. Fredrick Bell (Stephen Ouimette) who we met earlier this series. GD left Algonquin Bay because of her therapy with Dr. Bell, she struggled with depression and his suggestion that she write out a suicide note was the opposite of helpful. He called it exorcising demons, but writing out a suicide note is in fact a step towards suicide, not away from it. That's making concrete negative ideas in your melon and is a very dangerous thing to do. So why did Dr. Bell tell GD and Catherine to do that? That does explain why Catherine wrote the suicide note found at the scene of her death then went on to live three more months and plan for his birthday. When John tells Lise all of this, she offers to talk to another psychiatrist that Catherine had seen recently. This is her helping.
Jack tries to make up to Mama, he wants to be her best lieutenant in their dystopian future bunker. She wants a sacrifice to prove his loyalty.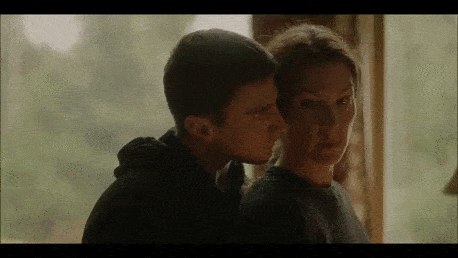 She also wants Lloyd Kreeger's plane to fly her and her family up north, he balks until she threatens his daughter and granddaughter.
John doesn't waste any time, he goes straight to Dr. Bell's office to talk to his wife's therapist. After some weighted pleasantries, John moves closer: how many patients has Dr. Bell lost to suicides? A year? A month? This year, how many? Dr. Bell hopes John isn't choosing to now blame him for Catherine's suicide.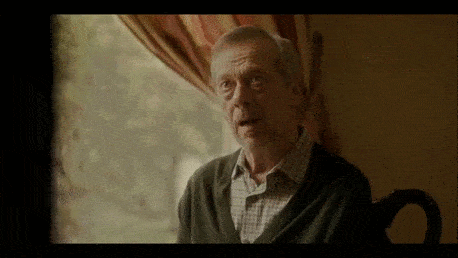 Ooh, he is not without a strong offense, either. John's guilt about his wife's death is massive.
Dr. Bell takes his anger at John out on his wife Helen (Susan Coyne), John's not to be allowed in the house again, does she understand? We're seeing Dr. Bell in a whole new light.
Delorme calls John with details of Mama and her gang, Mama didn't really exist until she turned 18 and joined the army. Delorme thinks her bio is fake but John asks if someone would create a fake identity to go into the army? But maybe they would if they were convinced there was an impending nuclear war that one needed training for, and that's what Mama got kicked out of the army for after five years. "Complex apocalyptic delusions" featured in her prison psych report after she was picked up for transportation of illegal weapons.
Mama met up with Jack via his actual mother, who was in prison with Mama. He was already under suspicion of killing another foster child in his foster home, a girl that he stalked after she was moved to another house. He kept her phone.
What does THAT sound like?? Run, Sam (Devery Jacobs) and don't look back!!
Sam doesn't hear me, she's listening to rap music loudly so she doesn't hear Jack either as he enters through the back door of Detective Gerry Commanda's (Glenn Gould) house with a shotgun. Gerry only left for a moment to get breadcrumbs, this is a big risk Jack is taking and that tells us he's close to out of control.
Or maybe the shotgun tells him differently?
He gives her time to pack, he's here to save her from the doom facing everyone else! He, Mama and Nikki truly believe that, and he wants Sam to come with him so he can explain to Mama that he and Sam must be together for the end of times.
He found her drawing of him, it's an excellent likeness and he thinks that means she can see him, in a way that others don't.
Gerry comes back as Jack is laying this out for Sam, he's downstairs and they're up, how does Jack think he's going to get Sam out?
He continues to talk while Gerry gets his own shotgun and heads up the stairs quietly and calls for backup. Sam tries to convince Jack that she believes him and wants to be with him, kissing him and asking for time. He's delighted, until he tries to kiss her again and she draws back in fear. His eyes change and when we think she's in the most danger, he turns and leaves. She's just like the rest of them and she'll be sorry when the end comes.
*I have to say that Cardinal is excellent at finding intense young actors for each season, Brendan Fletcher in season one and Alex Ozerov is mesmerizing in season three. His face does so much, but he uses his whole body to convey emotion and it's riveting.
Gerry didn't do a very good job of keeping his charge safe in his Safe House.
The Algonquin Bay police all convene there, Delorme and Cardinal catching each other up on the status of their cases. John tells Lise about his conversation with Dr. Bell, who was the doctor on record for 9 of the last suicides in the last two years. That seems like…a lot. Lise is annoyed that he didn't leave it with her as she asked, but passes on what she learned: it would be extremely unusual for a psychiatrist to direct a patient to write a suicide note. The expert she consulted is looking into Dr. Bell's previous work for them.
Cardinal gets home very late, waking his daughter Kelly sleeping on the couch. They have their late night Thanksgiving dinner as Delorme eats hunched over a meal alone in a local cafe.
We haven't checked in on Sergeant Noelle Dyson (Kristen Thomsen) this time, but she's still struggling with the recent death of her sister and even more recent suicide of a young man right in front of her. She's not happy to see her dead sister's young daughter Janey (Rachel Pellinen) at the police station asking why she's sad. They're both sad, so maybe they'll be less so together.
I've only just now remembered that Mama sent Jack after Delorme, she should not be alone out in public walking across a parking lot like that at night! She's a sitting duck.
And she's okay, because we're at the storage facility where Jack scared poor Mick (Jesse Comancho) looking for the missing guns he wanted from the Barstows. They find CCTV footage at another storage place showing Mama and Jack retrieving a whole lot of weapons. This will not be an easy takedown when and if they do find them.
Police set up barricades on all roads in town, one lone officer stops Mama to be shot in the head. I know it's just my particular privilege to be able to see police this way, but I find it so shocking when authority is challenged and attacked like that, I always have.
Jack told Sam he would take her to Driftwood Point, so that's where the police are now. So is Jack, with a rifle trained on Delorme but he can't get a clear shot.
Driftwood Point is otherwise empty, the whole family has been reported missing but we know that's most likely not the case, especially since their boat is also gone.
Jack returns to Lloyd Kreeger's house without being able to kill Delorme, which is all Mama wants to hear about. He has an offering of enough weapons to fight a war, enough to win.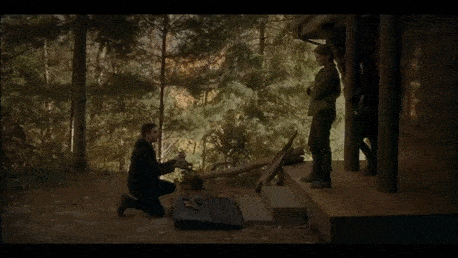 And we're out. Until next time, everyone. There will be an audible recap of this recap, or an audiocap, make sure you check it out if you're into that sort of thing! Cheers!