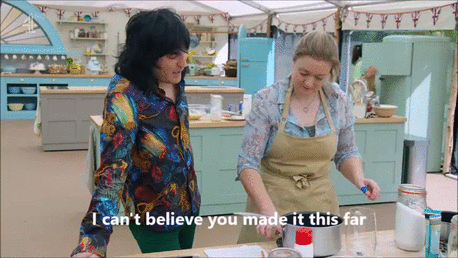 We're in the semi-finals on the Great British Bake Off, woooo!!! Are you excited??!! Me too!! There was yet another sketchy elimination last week, I have no idea how we lost the baker we did, but I'm very excited to find out who will be rolling into the finals next week! Are you ready for GBBO S10:E09 Patisserie Week? Let's goooooooooooo!!!
We open in front of the Bake Off tent with hosts Sandi Toksvig and Noel Fielding contemplating judge Paul Hollywood's fancy sportscar. I don't know how much it costs, but I do know you pay more by how throaty the engine sounds. This is at least an 8.5 on the Lauren Bacall Scale, I'm afraid to even look at it.
We're in the semi-finals, you guys! We still have bakers Steph Blackwell, David Atherton, Alice Fevronia and inexplicably: Rosie Brandreth-Poynter. Nothing against Rosie, please understand, she is a quite accomplished baker. But she should have gone home weeks ago based on her bakes and it's revealed some weird judging. We lost young Henry Bird instead last week and I'm now resolving at this moment to stop gnashing my teeth over it. Let's move on!
Erm, what is everyone wearing? Alice has on a purple tie, and David has a rainbow one over his fish t-shirt. Is that in remembrance of Henry, who always wore a tie to the tent?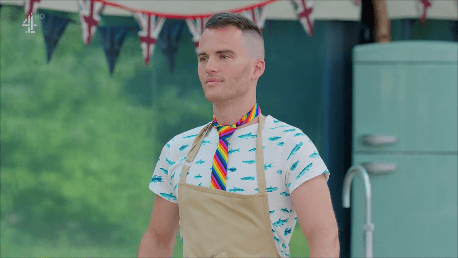 Yes, it must be, because Rosie has on a pink one. Steph is not really one of the gang, is she? She's got on a black and white striped tie but it's so low that it looks like a scarf. Not a follower: that's not a bad thing. It's okay to support friends, however.
Awwww Sandi has a tie on too!!! I don't remember them every having a show of support like this for a departed baker before, am I wrong?
Without one word about it, we're into the Signature Challenge and Sandi is EXCITED. The baketestants will be preparing 8 domed tartlettes.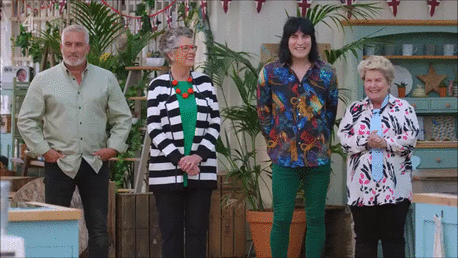 LOOK HOW CUTE SHE IS.
Judges Paul Hollywood and Prue Leith lead us through their expectations. The tartlettes have a certain sense of "je ne sais quoi" (that's Paul, he's so helpful) and be completely identical while neat as pins.
The bakers tell us the ties are indeed for Henry, then they all take them off.
On to judges review! Alice is up first, chocolate, hazelnut and orange!!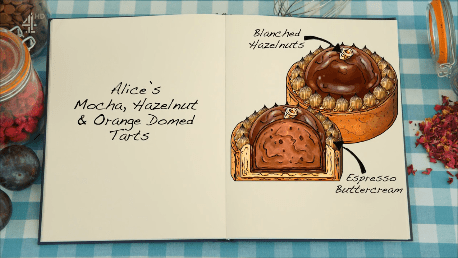 Steph's making something she can't exactly pronounce but it has white chocolate so whatever.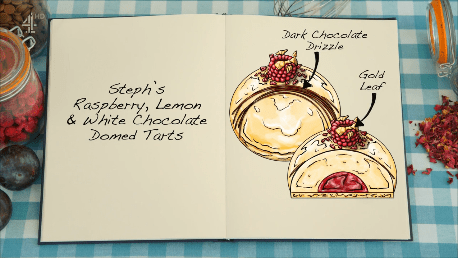 Rosie is making the same kind of pastry (sounds like Paso Doble but is presumably flakier) but with booze in her filling.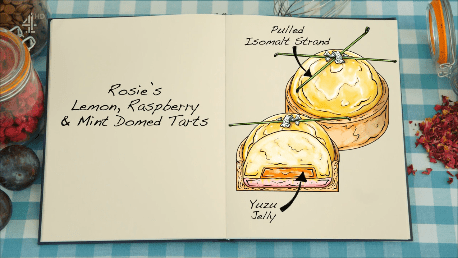 David's sound…odd, but there wasn't any white chocolate so he and Alice are top two for me right now!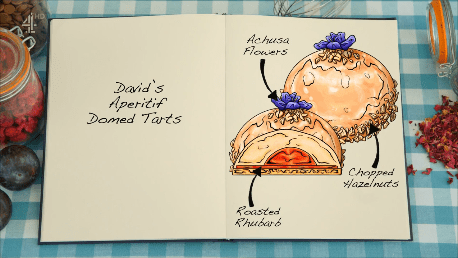 THANK YOU.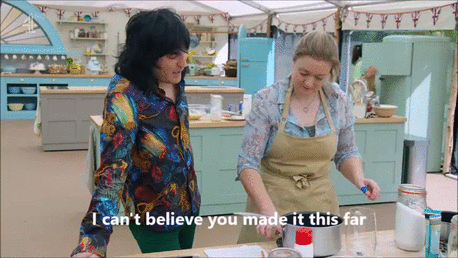 Everyone moves from baking their tart shells to freezing their domes fillings in silicone molds. Do they oil them? Do you need to? I don't like silicone bakewear on the whole, but I'm curious about the molds.
Noel quizzes Rosie about her veterinary work, focusing in on animal castration, like you would.
Everyone works hard on their fillings, Alice's hazelnut praline paste is quite thick and gummy, I hope it's not too dry. David's perfectly proportioned rhubarb looks neat as a pin, his work is so lovely and tidy.
It's time to de-mold the domes out of the freezer, which is proving difficult for Rosie and Steph. They're sticking a bit and much softer than they were at home. I love that Steph and David have made inserts in their domes, it's going to be cool beans!
Now I understand why Sandi was so excited, these tarts look AWESOME!!
Time for judging:
David's adorable domed tarts perfect: look how cute they are!! They come with boozeeeee and Prue has never seen anything like this ever. Delicious!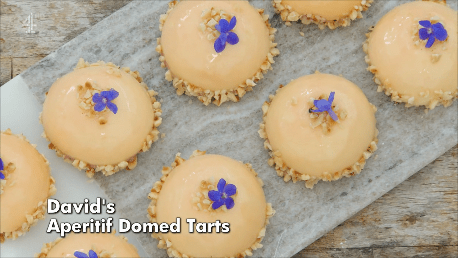 On to Rosie and her not-quite-set tarts, oh no, it comes apart when they cut the domes.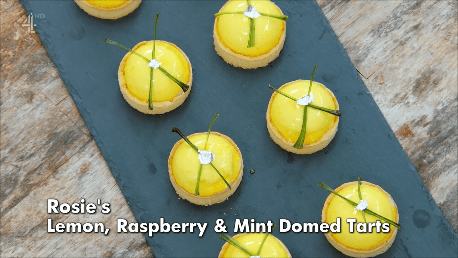 I don't think much of how Steph's tarts look, here's to hoping they're awesome in flavour. Just that little bit too soft, so texture got her.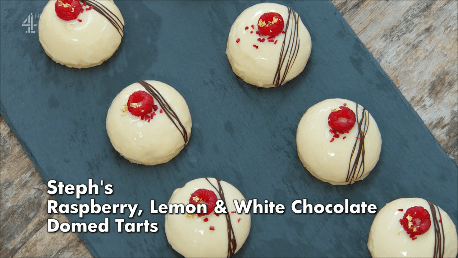 Our final tarts to drool over are Alice's, who I think made the best looking ones out of the bunch (although I did love David's little flowers) and has the best mirror glaze. The pastry is perfect, Paul calls it stunning and gorgeous!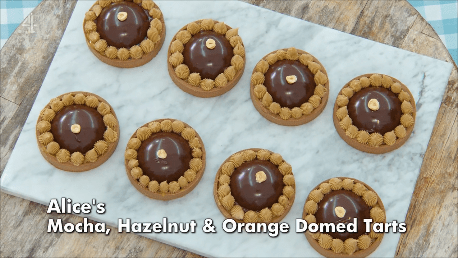 The bakers wisely note that the judges are being super hard on them for minor issues, it's almost as though they're in the semi-finals or something! Perhaps they thought there would be tea and cozies with "oh close enough, good effort, you lot" murmured in dulcet tones? Snap out of it!! Get your bake faces on, bakers!!
It's Prue's challenge in the Technical, she advises everyone that this dessert is very difficult to make look good. That's just mean.
The Technical Challenge is to make Gateaux St. Honoré which looks like a bunch of cream puffs arranged like a pie? Not that they will be making theirs the traditional way, rather Prue has asked that they make a two-layer rectangular pastry with choux pastry on top. There's a chantilly cream filling and caramel and honestly, it sounds awful. So so sweet.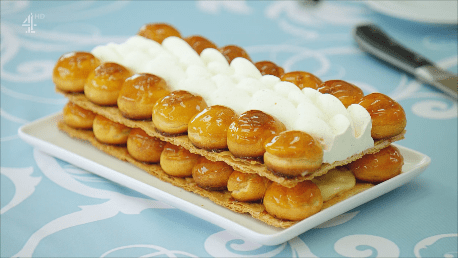 Has David learned how to make choux pastry yet??? He sure didn't a few Technical Challenges ago. The camera shoots to David, it seems we all want to know the same thing!
I mean, it looks lovely when the judges start hacking away at the "diabetes on the plate", maybe all the butter outweighs the sugar.
They bakers prepare the first step of their puff pastry, everyone putting their first draft (do you call it that? I would say "first pass" or "first rise" but it's not quite that either) into the freezer, except Alice, who puts it in her fridge.
What does that mean??? Will her dough not be cold enough? Is there TIME?? There's never time!
On to David, who's figured out choux pastry, whew. I also had a bit of a breakthrough, realising "choux" was much more likely than the "shue" I used last recap. And in emails. Sigh.
Time to turn the pastry while the choux's bake! Rosie's are all over the place for colour and size, she decides to start again. Oh goodness, that's a risky move in the semi-finals, but I've been listening to a podcast that explains this perfectly!
***Side note so people only interested in baking can skip right past the nattering. I've been listening to a podcast called Cautionary Tales hosted an written by a gentleman called Tim Harford. I know him as the Undercover Economist, he's quite brilliant really. Did you know we speed because we're good at risk assessment, not because we're born rebels? Great book. ANYway, more than one of the Cautionary Tales podcast episodes are about plan failure. One cause is related to Getting-There-It-Is, aka, Make It Work, and the other is about our tendency to be boiled frogs. We don't seem to know when we've passed the point of no return as a rule, so we plow on trying the same things over and over with increasing desperation instead of scrapping everything and starting over. Boiled frogs come in when we take small steps away from where we should be (say irregularly-sized choux pastry discs) and think rushing (I'll just take them out when I need them) will help us reach our overall objective in the same way and time frame we planned. IN CONCLUSION: if Rosie had restarted when she realised that her pastry wasn't the right consistency, she may have been able to pull it off without issue. Will this now sink her?
Alice's has forgotten how many turns to do with her pastry, she's looking around at everyone else's work and that's not helping. Butter is chunking and seeping but over at Rosie's station her second batch of choux pastry is running. She starts a third batch.
Her inability to do forty things at once means that her finicky puff pastry has also failed, it's overwarmed and the butter is leeching out of it. She's got to start that again as well. She almost cries while Sandi calms her and we stare at a third batch of sloppy choux.
This is painful, GBBO.
She decides to use the third sloppy batch anyway and her original pastry, what else shall she do? Rosie mutters "it's not over. It's not over" as Sandi ruefully gives the half hour call.
Steph's wee pastries look perfect! Her caramel is the perfect colour! Alice's is very dark and Rosie actually has something to present! Yay!!
On to judging!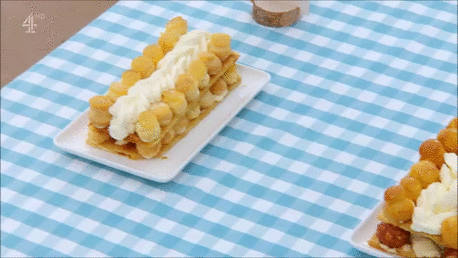 In order of Struggle to Winner, we have:
Fourth – Alice – overdone caramel, overwhipped cream
Third – Steph – untidy, too much caramel
Second – David because of course it is
And the winner is: Rosie. ROSIE. Are the judges high?
After all that stress and carrying on and she won.
We do know from previous judging this season that the Technical means absolutely nothing about who goes or stays on this show, apparently all you have to do is pull off a boring but decent showstopper and you can cruise to several Star Baker badges on your way to the semi-finals.
For the Showstopper Challenge for Patisserie Week, the baketestants will be making a sugar-glass cabinet with something important inside.
Has Alice always been this messy?
Rosie hasn't seen much of her family since she started Bake Off, so she's making a cabinet about them, sort of.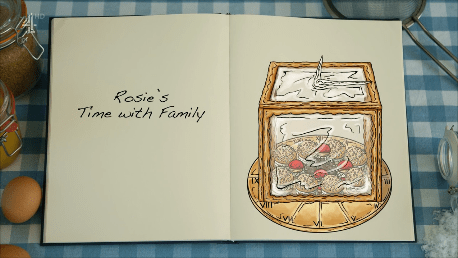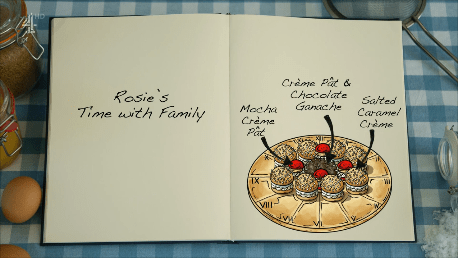 Alice has a beautiful plan!! Lookit this gorgeous pastry whatsit!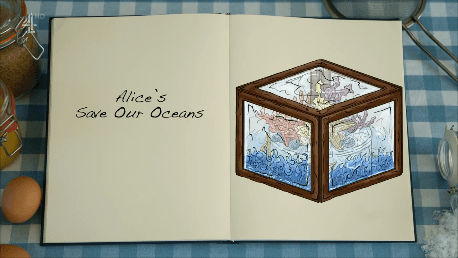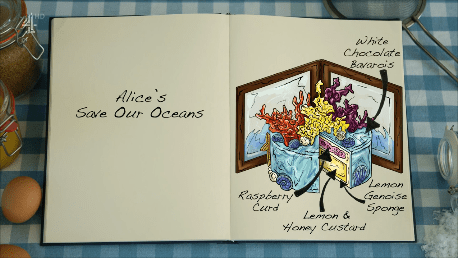 David is using beets. BEETS. In pastry. For the love of all that is holy, why would you do that, David? Why?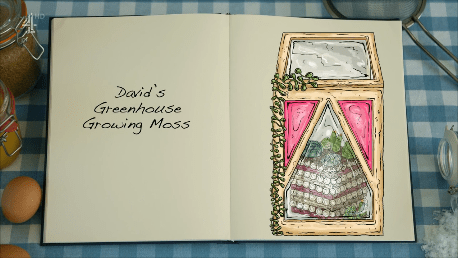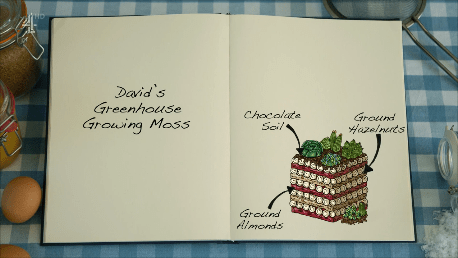 I'm not sure what an Opera Cake is, but Steph's about to show me! Just one note: macarons are bullshit.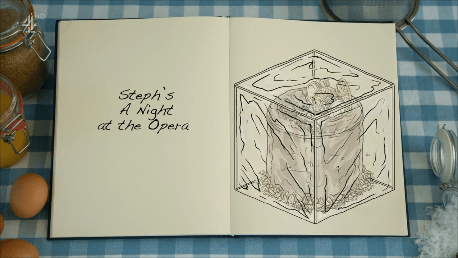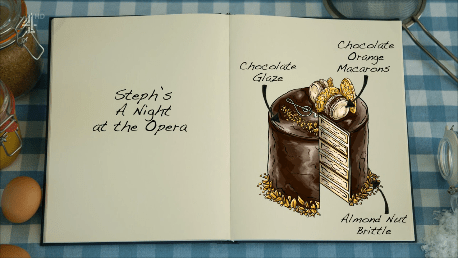 So.much.baking!! It's Rosie who is doing the most pastry, that's interesting. I wanna see how they make the sugar cases! Apparently it involves an inverted sugar called Isomalt that doesn't carmelize at high heat. Oooooh Isolmalt also doesn't have any effect on blood sugar levels OR tooth decay! That sounds awesome, we should have some!
Now all the glass making! Steph's looks quite difficult, she hasn't got any cookie as support, her case is seamless. And bubbly-looking. Hm
David hand-pipes the intricate plant-like icing, he's kind of amazing at decorations. The assembly is terrifying! They only have 15 minutes! Steph's case is practically opaque, but so is everyone's, really.
Judging!
The judges think Steph's case is clear enough, sort of like antique glass. She has a tidy and pretty cake, I'm sure it will be baked well and I didn't fall asleep watching or anything. (Okay, maybe I did). I do think her "glass" is quite lovely.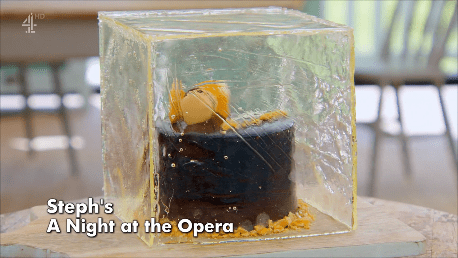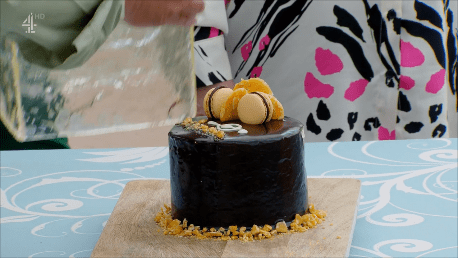 Now David and his murky glass are up for review, Prue calls it wonderfully light. Paul would know his work blindfolded and that is a very good thing. Paul's not super happy with all the sponge on Pastry Week, though. Isn't that literally what Steph just did? That was a cake!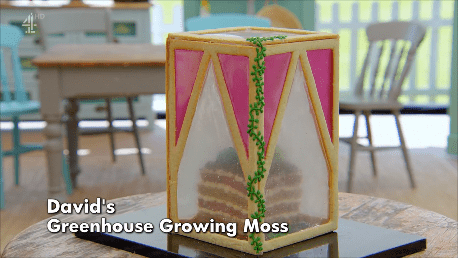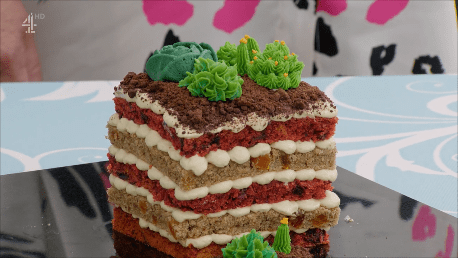 Onward to Rosie's and her amber glass, the judges like that but think what's inside is simplistic. Essentially, they think it's okay, but basic and doesn't taste all that great. Good thing she won the Technical! (LET'S ASK HENRY IF THAT COUNTS. Oh wait. WE CAN'T)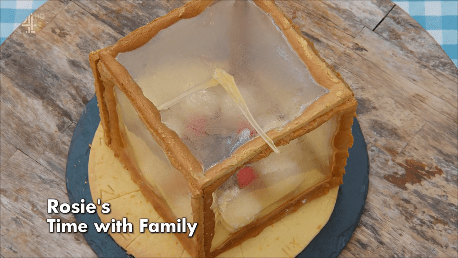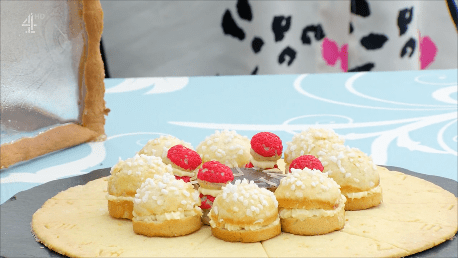 Finally we have Alice's Ocean-themed showstopper, it's so gorgeous but the case is not fabulous.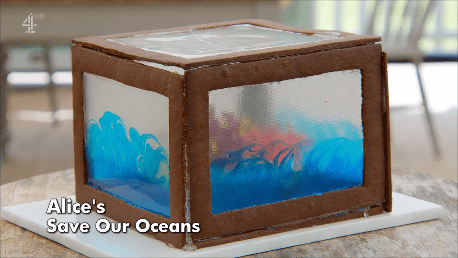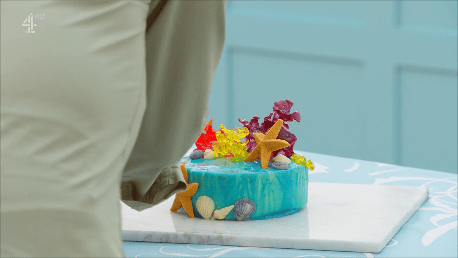 So everyone but Rosie did well, essentially. She did present something, though!! Atta girl, Rosie!
It's time to find out where we're at in the semi-finals, let's all join hands in a non-denominational prayer circle and see what happens.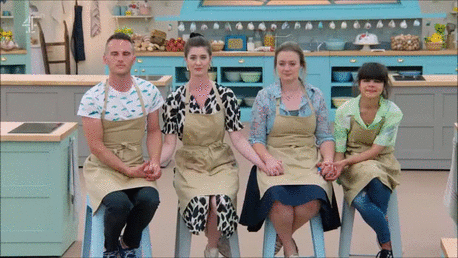 Star Baker this week: David because if it's Steph I shall motherhumping RIOT. Okay, it's Alice! I'll take that, yay Alice! Great job!
And going home: Rosie. You did a great job, hung in there much much much much longer than perhaps expected, but you finished top four in Britain! Top Four!
So in case you were keeping score, that means that David, Steph and Alice are in the finals next week! Yay! I still can't believe they were talking about getting rid of David instead because he used sponge cake, right after they waxed ecstatic about how lovely Steph's cake was.
If you know anything about my history of getting hysterical about television shows, you know I would have perhaps left at that point with all sorts of finger pointing and shouting at inanimate objects. You just ask The Walking Dead what happened when they pulled that kind of malarkey! I don't even know if that show still exists, it's been dead.to.me for years since some seriously dubious shenanigans.
At any rate! That didn't happen, they still have my eyeballs and in just one more episode, I can unmute Twitter and try to join long-over conversations about the series ten finale! Until then, my lovely readers. Cheers!