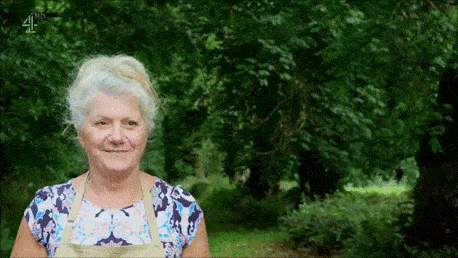 We're back in the tent and the kitchen enjoying the delectable work of our cohorted bakers on the Great British Bake Off woooooo! I can't wait to see what these talented and amazing bakers do with chocolate! Without further ado (because maybe this is super late – it's been a week!!!) let's roll into my GBBO S11:E04 Chocolate Week recap!
Now, when I say it's been a week, I mean it's been a good week! Guess who's got two thumbs and is working as a baker again??? Woooooo! This is in addition to my usual role and my part time job and this here website, so you can see how time got…a little crunchy this last week. However! I could not last any longer without my adored, lovely and weird bakes, so here we are!
Let's roll right into the Signature Challenge because we've got two of these to do today, right? Hosts Noel Fielding and Matt Lucas introduce this super easy bake: 18 brownies. I literally am constantly making brownies, I could make them in my sleep but I've been a bit bored with my recipe and am ready to make a change! So I'm listening closely as Dumb and Dumber introduce judges Paul Hollywood and Prue Leith's expectations.
They have 90 minutes to produce a perfect chocolate brownie, what's this white schtuff I see at your station, Lottie???
HOW CAN ANYONE NOT BAKE A PROPER BROWNIE? It's the absolute easiest thing you could ever bake.
Oh wow, Linda is stuffing a metric tonne of extras in hers.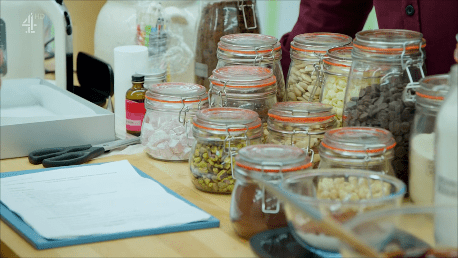 Will there be any brownie in her brownies?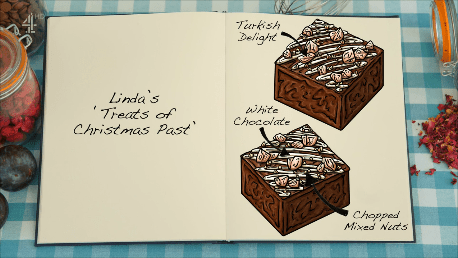 Oh. She's using dates in the batter. I see.
Marc has all my attention with his toasted macadamia nuts, we all know this about nuts, right? You must toast or roast them before you bake with them, they're one thousand percent better. And macadamia nuts are tiny bite sized pieces of buttery joy.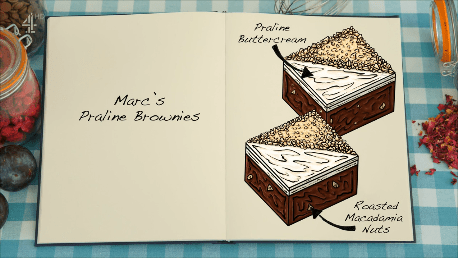 Marc's tired, though, he's been up all week working on this recipe. Look, I'll post mine at the end, you all try it, you'll see. It's foolproof.
I've not been Dave's biggest fan, but I do like the look of his honeycomb brownies! BECAUSE honeycomb is actually sponge toffee, wooooo! That was one of my faves as a kiddo.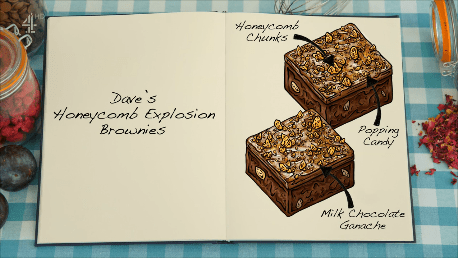 Peter Sawkins has clearly lost the plot with his upside down fig-heavy healthy brownies. Whatever, Peter! I still love your work!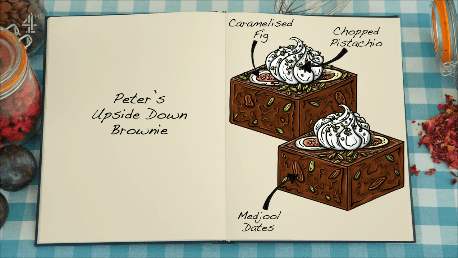 (FIGS) (IN BROWNIES)
Ooooh Sura looks lovely today in her pink headscarf, she's using pink chocolate too!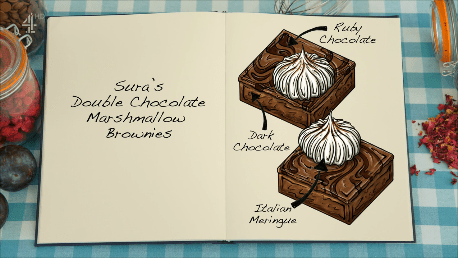 I cannot WAIT to try ruby chocolate, my birthday is in December if anyone was wondering.
Is Lottie high? Why is she baking her brownies for 50 – 50!! – minutes??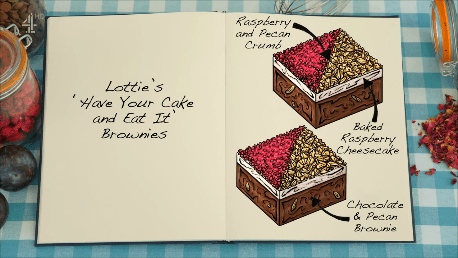 Ah she's set herself up like our departed Rowan of last week, too much work.
Hermine is the second baker to disappoint me, but I quite like her yellow shirt.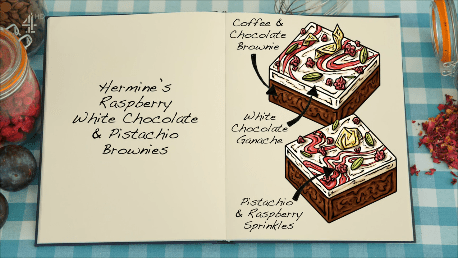 Lottie, this is NOT a cheesecake layer, it's an abomination.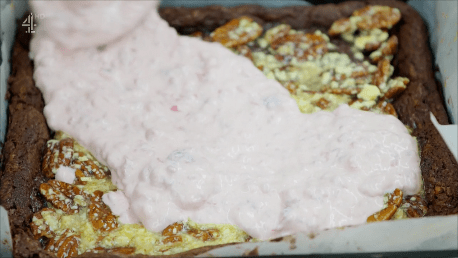 YOU HEARD ME.
Mark's making s'mores brownies.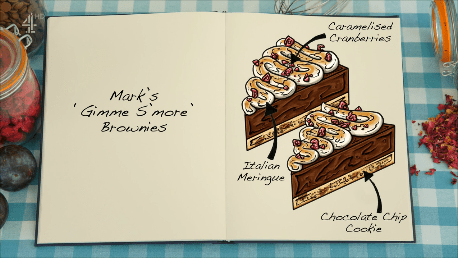 And so is Laura, who's confusingly added salted caramel which has no place in neither s'mores or anything else you don't want to taste trendy but grossly oversweet.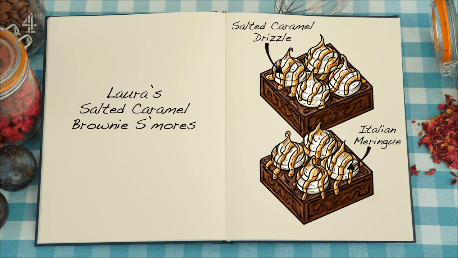 Some day, I'll manage to express my opinion on something instead of being the shy wallflower you have here today. One day.
The fudgy middle is proving elusive, Sura's got two pans full of completely raw brownies and only 30 minutes to go.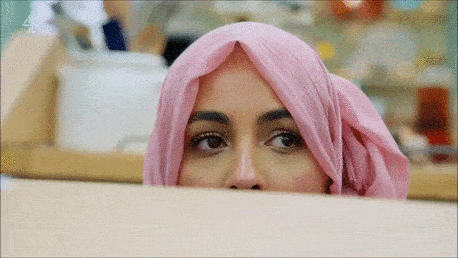 Wow. I do not like the look of Marc's brownies at all, it looks as though the fat was not incorporated sufficiently.
Look at Laura's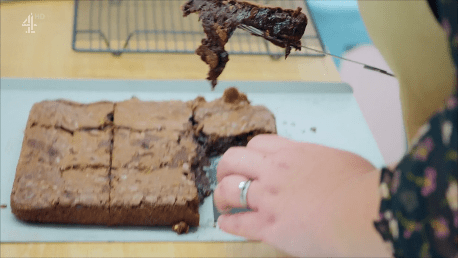 Over which she says Paul's probably going to say aren't quite right. OH DO YOU THINK SO, LAURA, WHO'S ABOUT TO SERVE PAUL HOLLYWOOD A SQUARE OF STEAMING CHOCOLATE PUDDING, DO YOU THINK THAT MIGHT NOT BE QUITE RIGHT?
*Tea break!*
Remember when I said brownies are the easiest thing to bake in the entire world and how could anyone not knock this out of the park? That obviously does not include situations wherein you're in a tent on international TV trying to impress the world by reinventing the humble brownie.
Judging!
Peter first with his figged abominations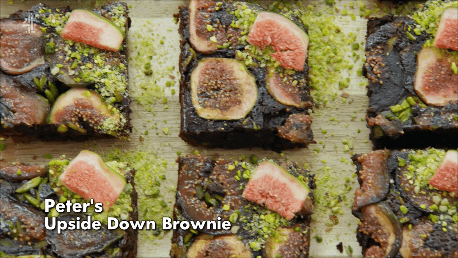 Paul feels meh about the cinnamon and dates and figs and.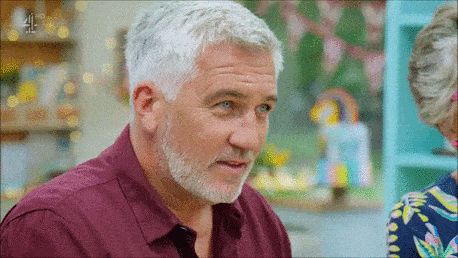 I felt that from HERE.
I may have mentioned that I felt like salted caramel is too sweet, I can't remember, but Paul thinks that plus the Italian meringue on top of a steaming chocolate pudding is too much sweetness on Laura's.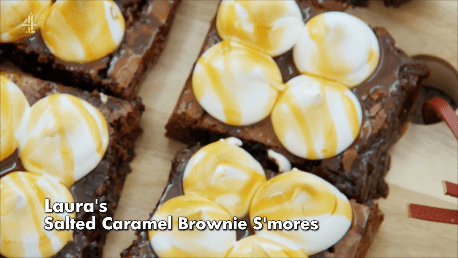 Wait.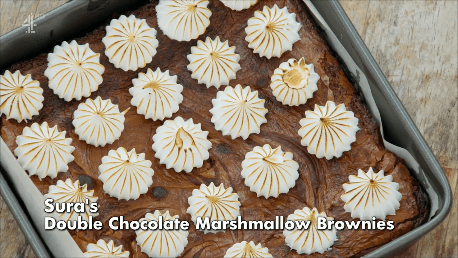 Sura presents one pan of brownies instead of two, inside the pan, saying that the other pan fell inside the oven. I'm rolling tape on that because I feel like I should have noticed a pan going over in the oven. GBBO likes to show that sort of thing on highlight reels.
Hm. She did drop a pan and it fell a couple of inches. I get the sense that it was more that she didn't have time to decorate the second pan so tried to pass off a pan of 9 as 18. I am confused. GBBO is not known to gloss over angst of the sort that would arise when you drop half your bake on the bottom of an oven and end up serving in a pan.
Either way, the bake is tough as old boots and the flavour is not good.
On to Mark, who did a great job and followed the brief in providing 18 brownies without fudging. But with fudge.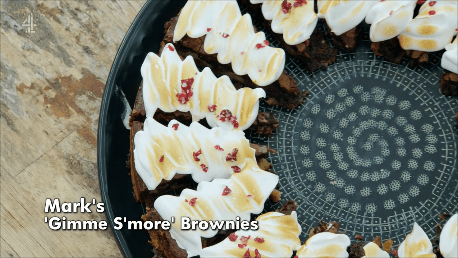 It's only kindness that has Paul calling Hermine's brownies "a little messy"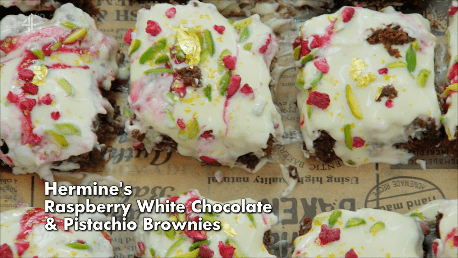 But really there is just too much going on.
Speaking of, hai Linda! Didn't see you there! Slightly overbaked.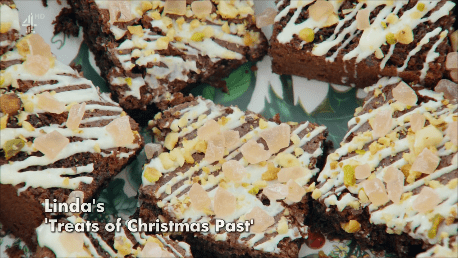 Dave's made a great tray bake but not a bunch of brownies. He swallows his bilious rage and pretends to take this as constructive feedback.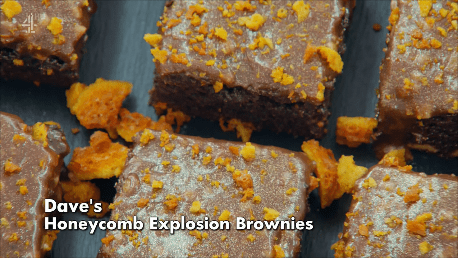 Marc's look awful, but in an unfortunate way because I think his fat has gone rogue.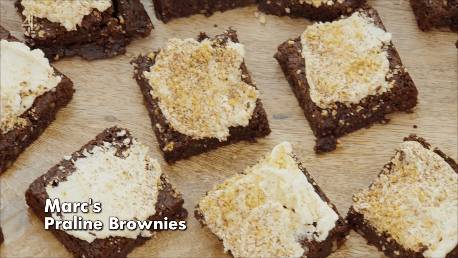 Paul chides Marc for not getting a basic brownie right as Lottie listens in horror.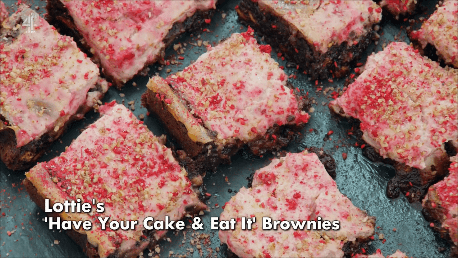 Now! My brownie recipe! You'll note that none of the bakers did what I do: use cocoa powder.
TTM's Chocolate Brownies
1/2 c cocoa powder (Dutch process)
1/2 c all-purpose flour
1/4 tsp baking powder
1/4 tsp kosher salt
1/2 c unsalted butter (NEVER SALTED IN BAKING)
1 c granulated sugar
2 eggs, large
1 tsp vanilla
1 c chocolate chips
1) preheat your oven to 350 degrees Fahrenheit after you translate that from Canadian. Spray a square heavy glass plan with oil or smear with butter. You could also use parchment paper if you've got that handy.
2) mix together cocoa, flour, baking powder and salt in a small bowl with a fork
3) melt your butter gently in a non-stick sauce pan. Remove from heat and add in sugar. Stir well, then add eggs one at a time, mixing to fully incorporate before adding the next.
4) add in the flour mixture, stir to blend without getting at it too much. Fold in chocolate chips, slam into the oven and bake for 25-35 minutes. Start checking after 25, everyone's ovens are different! Cool on a rack, cut and enjoy at will.
On to the Technical Challenge! This week Paul and Prue have given sort of a bread challenge, yes? The baketestants will be preparing chocolate babkas, which include enriched dough, stuffing with nuts the like and shaping. Peter and Sura look confident but Mark just maybe wet himself.
This looks delicious!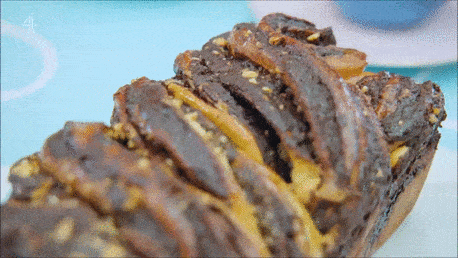 Perhaps it's the loving pan-over.
The bakers do quite well, actually, I'm impressed! The only thing was, I don't think anyone read the whole recipe through, so none of them realised their braid had to be put inside the loaf pan they prepared. They all stare at their miles-too-long braided bread in wonder. Sura actually made hers long enough to double, SO THROWS AWAY HALF HER DOUGH.
I shouldn't say nobody realised there was a loaf pan length to measure by, Linda did hers perfectly.
Lottie. What are you doing?? She's got this misshapen loaf slung into a bag then the oven, it feels like she's not trying at this point, am I right? She must understand how baking works and that the ends are going to bake faster?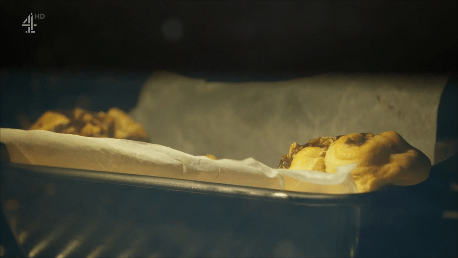 Wow, some of the babkas are lovely! That's not usually how everything looks after a Technical with bread! And some are…Lottie's and Sura's.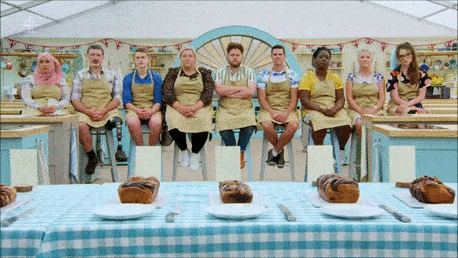 From could-be-slightly-more-awesome to the BEST, we have:
9th – Lottie – obvs
8th – Dave stealing Sura's spot with his underproofed dough
7th – Sura
6th – Marc
5th – Hermine
4th – Peter
3rd – Mark
2nd – Laura
And Linda wins her first Technical Challenge with her excellent babka!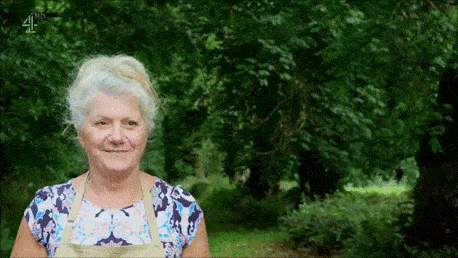 Paul. Prue. Why hast thou forsaken me? Why are you forcing the contestants to bake a white chocolate celebration cake for the Signature Challenge? I won't shout, I'll try my hardest, but surely you must know that white chocolate is not chocolate?
(not shouting)
I'm off to make snaps of previous bakes, you guys enjoy!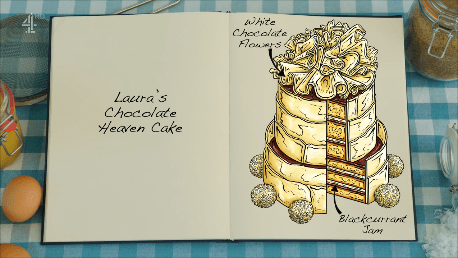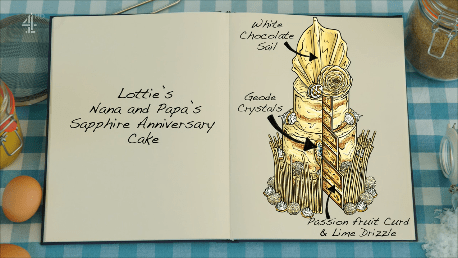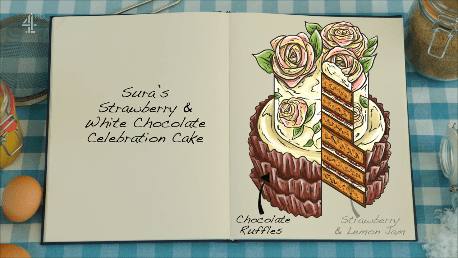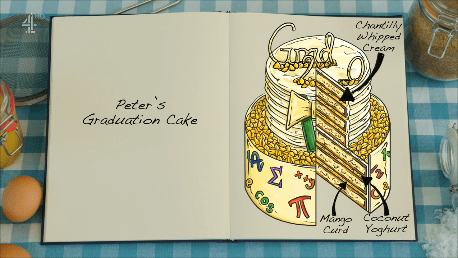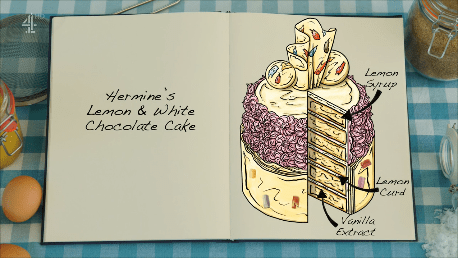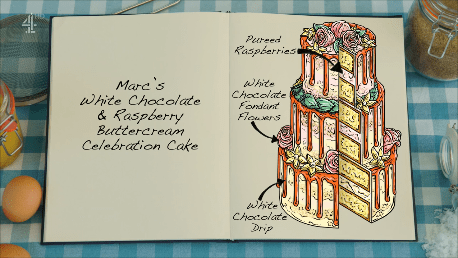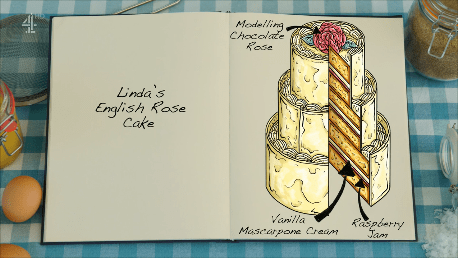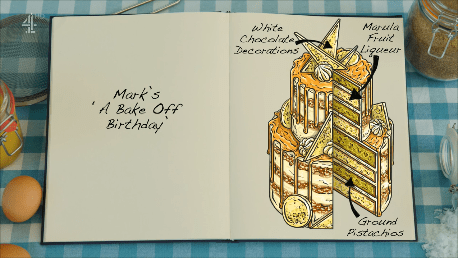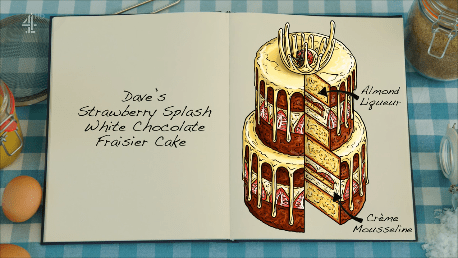 Long story short (as if), white chocolate burns if you look at it, is too sweet and has a high fat content which must be considered when planning your sponges. The cakes brown very quickly because of the sugar content as well, white chocolate is super fun to work with.
Besides working with a cloying and disgusting substance, they're also dealing with it in a very hot tent. This is making collar-work very difficult.
On to the judging! Mark is first with his "great looking cake"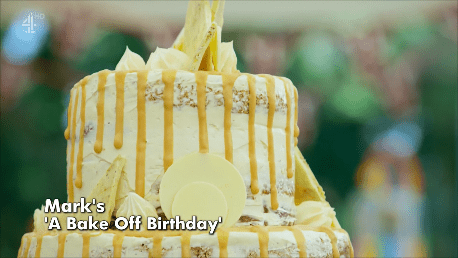 Lottie overbaked what they think is also a great looking cake.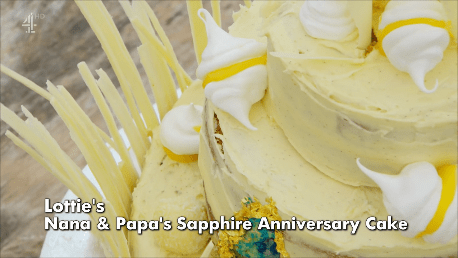 I love Sura's cake but she will hear no praise, it isn't the best she could do.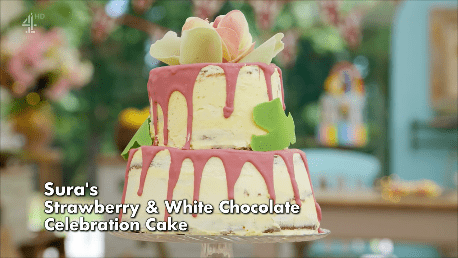 Especially with the raw dough inside.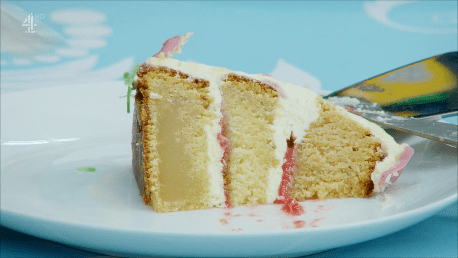 I hadn't understood that we were at risk for losing Sura today and now I see that was an oversight. I think she's absolutely the goods, I hope she squeaks through. As Prue told Lottie: she just doesn't have to be the very worst.
The judges cannot even sample the cake, it's inedible. I guess that answers that.
Dave's looks pretty, Prue loves it but Paul says only that it's a "decent" cake. Dave rolls his shoulders like a duck sloughing water off its back.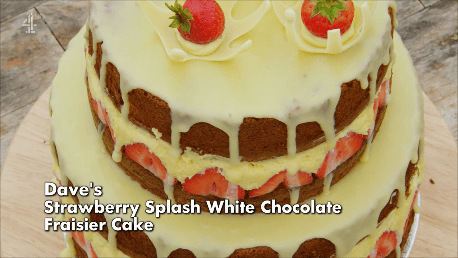 Linda's got quite a lot of off-white on white here, hasn't she? The piping..is not Linda's strongest strength.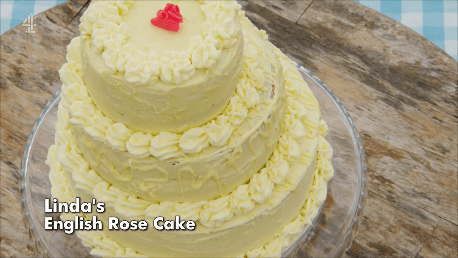 Marc's looks great, for a white chocolate cake decorated with fondant bits.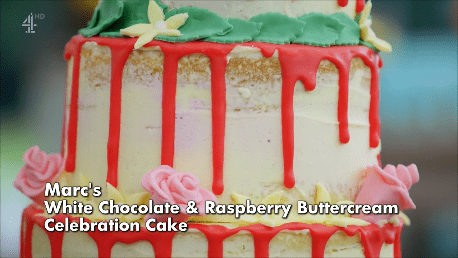 Peter's managed a white chocolate collar in this heat!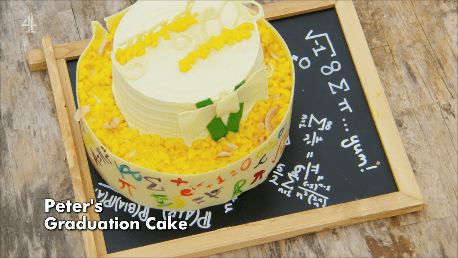 I think Hermine did a great job in this heat, even if the top half doesn't seem to go with the lower bit!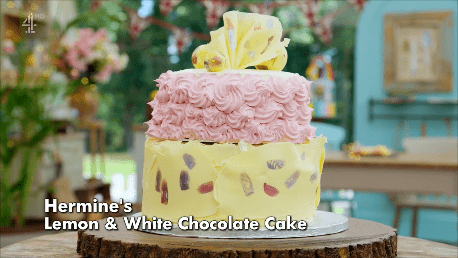 Which makes Prue do this.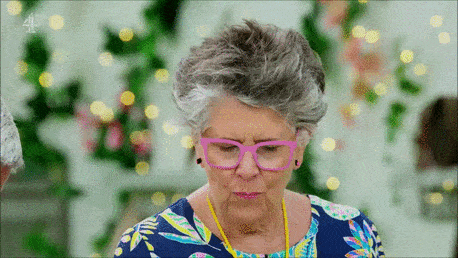 Matt calls that a Prue-gasm, a descriptor I hate almost as much as fondant, white chocolate and Matt.
Laura does much better than her face suggests, she gets a good job from both judges, if slightly over-decorated and over-baked.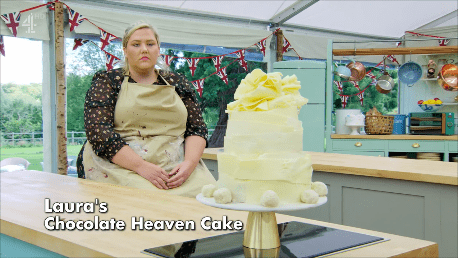 The judges deliberate, who will be going home on this day (should be Lottie) and who shall reign supreme (Mark) of Chocolate Week?
Okay, so what do the judges think?
Star Baker: Mark! Yay! I was right!
and leaving: Sura. Wow. Lottie better buy a lottery ticket on the way home, yo. Until next week (or later on today) when we see each other again! Cheers.