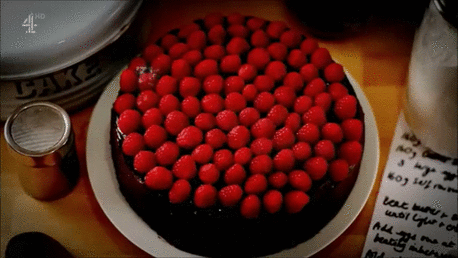 Wooooo we're already in the semi-finals for the Great British Bake Off or Great British Baking Show, depending how you roll. There aren't many bakers left and I have to say: there are a couple still here that I don't dig. But! Overall, we've got a bunch of excellent bakers ready to do their stuff, let's find out exactly what in my recap of GBBO S11:E09 Patisserie Week!
I feel as though it's safe to say that Hermine is going to win this week. She is the French patisserie queen of season 11, this is her week to lose. But I don't believe she will. Young Peter Sawkins is also a patisserie fan, INteresting. I definitely want both of those bakers in the final.
Let's cut right to hosts Noel Fielding and Matt Lucas explaining the Signature Challenge alongside judges Paul Hollywood and Prue Leith. Our baketestants are tasked with creating 12 identical "pateaux St. Laurent" which Google alternatively tells me does not exist/is an apartment. That must be soaked in syrup, yum!
Is Peter…okay?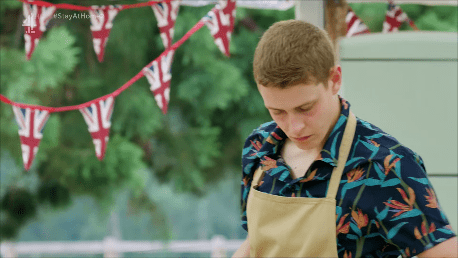 Nope, it's not a St. Laurent at all, it's some kind of yeasted dough that forms the base of a Rhum Baba.
Erhunno.
It's also super hot today, go forth, our bakers and create for your kith and kin for two hours and forty five minutes!
Hermine likes to stick to the classics, I would LOVE it if someone would just clearly say the thing they are making/being asked to make. Just once! You know if I look it up I will be spoiled for evermore.
Laura is also doing a Rhum Baba, but with these neat pipette thingies.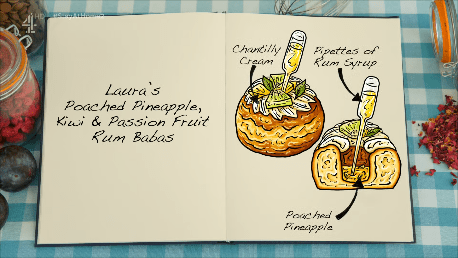 She's using fresh yeast, drawing Paul's laser gaze and she falters. Is fresh yeast better? Does it give a better rise? We're about to find out!
THANK YOU DAVE.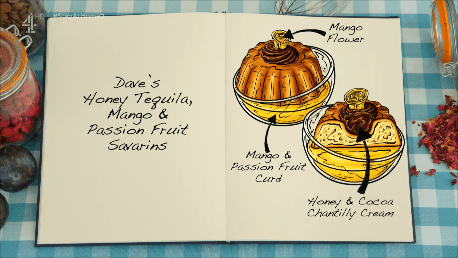 Savarins!! That's what everyone keeps saying, not St. Laurent! Of course Dave thinks he's doing Mexican again and of course there is mango AND passionfruit. Again.
Look at these lovely non-alcoholic thingies from Peter!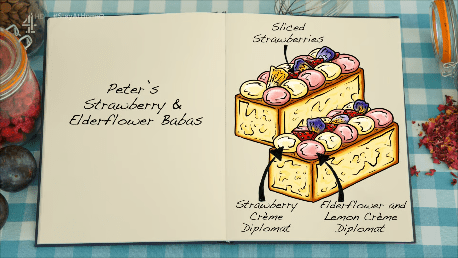 Noel keeps trying to rile our kneading of bakers up into frothy weapons of victory, but literally everyone but Peter is too British for that. Hermine wants to win fairly. I'll tell you what won't win fairly or otherwise: messing up your savarin dough and starting over with half the time as everyone else. I think she underproved the dough, does she have time to start over?
Everyone else is soaking their wee whatsits in syrup for ages already.
The last few minutes are a rush of last steps decorating, I hate to say it but Dave's look just gorgeous.
I know that makes me a bad person. I'm working on it.
On to judging! Hermine is first, getting mostly positive feedback for her slightly underproved dough.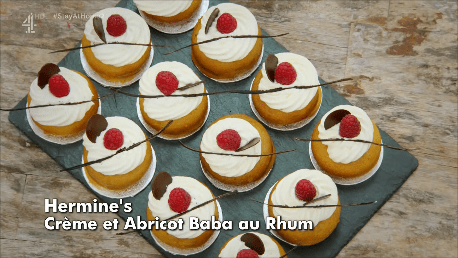 Laura's look pretty, but then, they would, wouldn't they? Well baked and great flavours from our "rough diamond."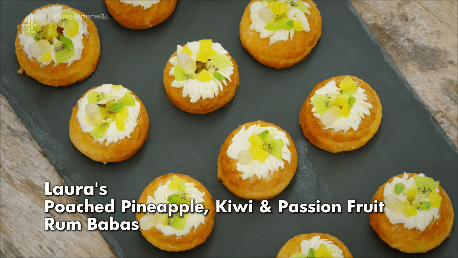 Alright, so I shall comfort myself with the fact that Dave's piping is not excellent. (Bad person). They still look great! He does well, fine.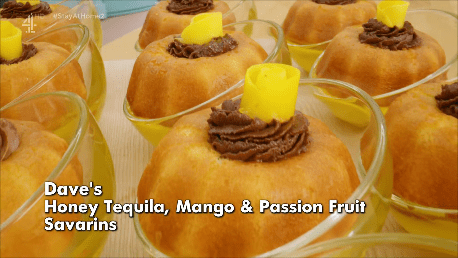 Peter knocks his rectangles out of the park!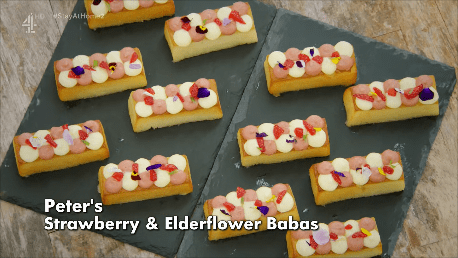 In fact!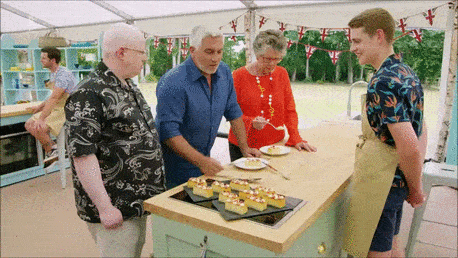 How long has it been since we saw that hand come out??!! And we've been waiting! Yay, Peter's back!
Time for the Technical, let's keep this streak of excellence going! Paul has set our aroma of bakers a herculean task: a Horn of Plenty. Wooooo! Also known as a Danish cornucopia, a celebration cake shaped like a horn. I have seen such things, but never made or eaten one.
How can nobody have heard of these?? Have they not read the Hunger Games series? Honestly.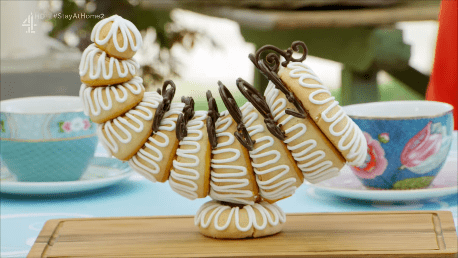 Still don't know why anyone would make one of these on purpose.
Not one baker understands the instructions, which include stencils of shapes of dough.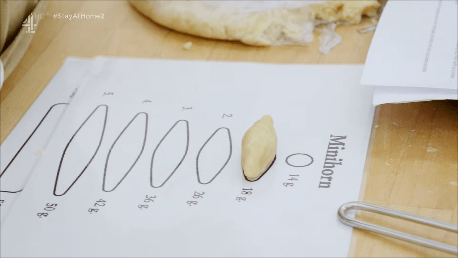 Laura cries as she contemplates the recipe, she doesn't think she has a logical brain. Matt bucks her up, she is here because she can do this and she WILL present something and that's the only single time I haven't hated him onscreen.
Nobody loves this Technical, but only Hermine's effort looks anything like a horn. Most of them look like a child's stacking toy but in beige.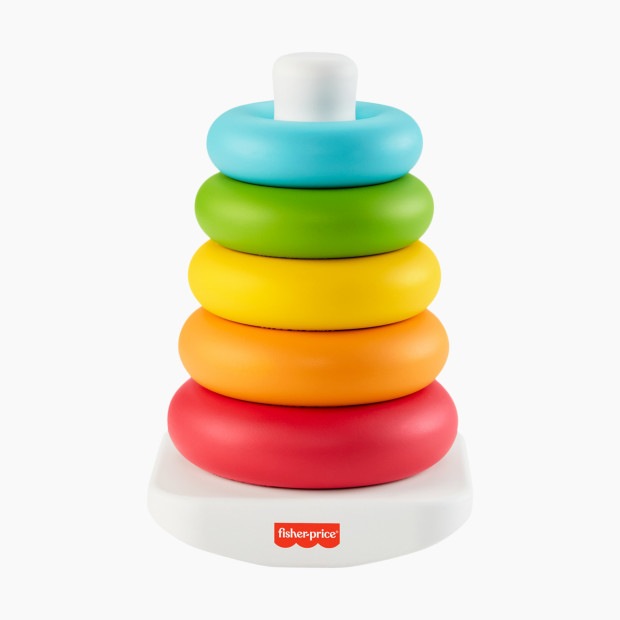 Judging time already!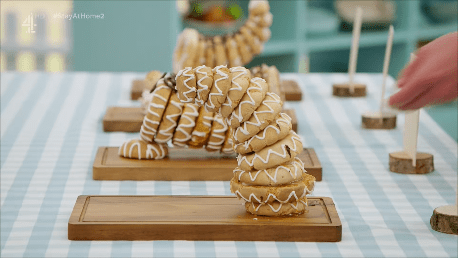 Erm. Dave. They all think phallic, but we know it's from The Grinch Who Stole Christmas!
Peter gets dinged for dry little rings and underbaked big rings, I'm pretty sure every single baker baked all their rings at the same time so get ready to hear that a LOT.
Except that Laura did even worse, some are raw, they're all different colours and the icing…well. Let's just slot her in as 4th place on the Technical right now.
From least amazing to fantastically okay, they are:
4th – Laura
3rd – Dave
2nd – Peter Hermine
and Hermine wins the Patisserie Week Technical Challenge as well she should. It was the only horn! Peter wins the Technical!
WHAT. I always write down my guesses and I'm almost always bang on, but it was PETER who reigned supreme, even without the horn shape!
Alright alright alright, it's time for the Show Stopper Challenge to decide once and for all who is going into the season 11 final. Today our tabernacle of bakers must create a cube cake out of at least 25 mini cube cakes. Non-edible supports can be used, but extra points will be awarded to those cakes that are entirely edible.
Four and a half hours, go!
Peter is using chocolate, raspberry and pistachio flavours in his complicated cube cake WOOOOOOO.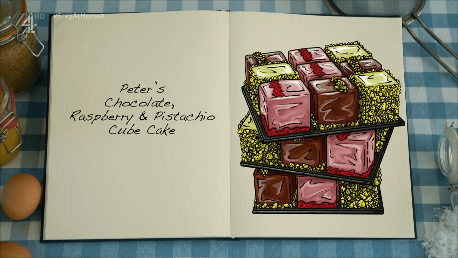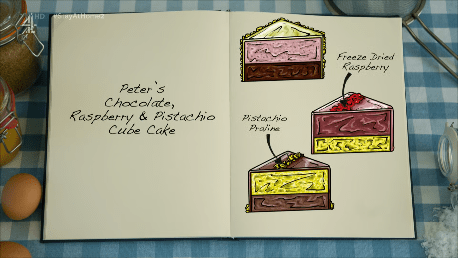 How on earth is he going to be able to do this in time??
Hermine is trying a brand new recipe she just wrote yesterday morning, the day before The Semi-Final Show Stopper Challenge What Decides Who Goes To The Final. Okay!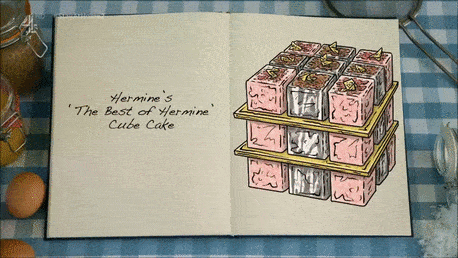 Dave is going with a strategy of chocolate, chocolate and more chocolate and I can't fault it.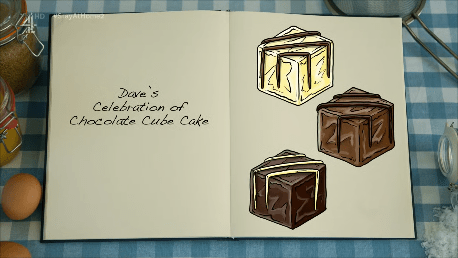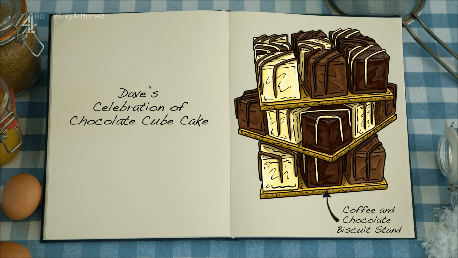 Laura is going straight Black Forrest.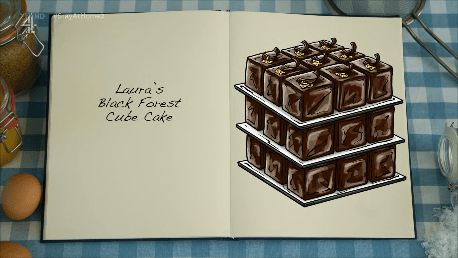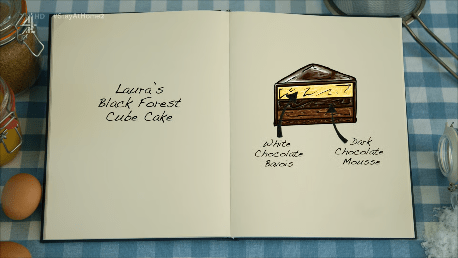 Again: can't fault it.
A full half of the bakers are using those stupid silicone molds for their cubes, even when we saw them ruin other challenges with their wobbly and untrustworthy shapes. Wait! 3/4 of the bakers, only Peter is free-standing!
I cannot stand watching Laura do almost anything in the kitchen.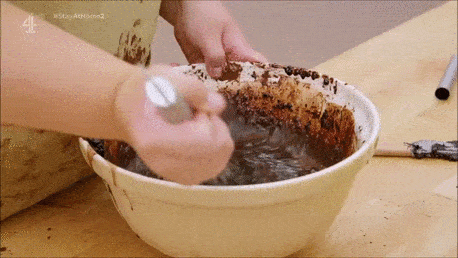 I am sorry, I was right and everyone who used those stupid silicone things is having serious problems extracting their cubes. Dave and Laura are even cutting theirs into pieces, they are crazy expensive too. Just as I'm typing that, Dave says the same thing, they're something like 9 pounds each in the UK.
Laura's mirror glaze fails with minutes to go. Dave's cubes look AMAZING. I love Peter's so much. SO much. As always I am mentally helping Hermine hurry up, girl, it's almost time's up!!
Laura's problem can be summed up in one shot.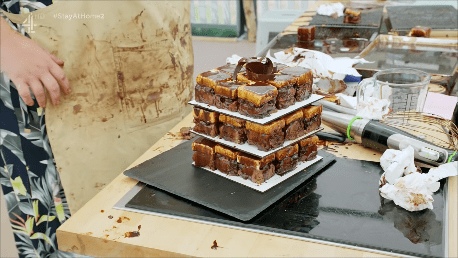 Time for judging already, how did everyone do?
Dave did AWESOMEly. The caramel he struggled with turned out perfectly and you'd never know from looking that the tent is eleventy hundred degrees.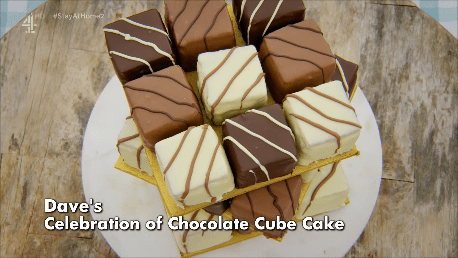 I am going to try to be positive about whatever this is. Okay, that wasn't very positive, was it? Guess what? Laura has excellent flavours!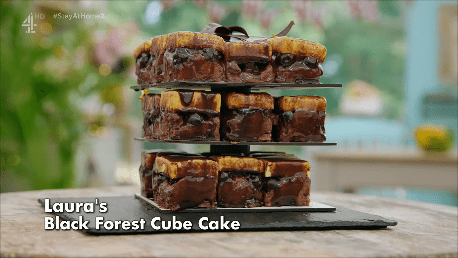 Oh Peter. I couldn't love this more if I tried and neither could the judges. He's a shoo-in for Star Baker this week and absolutely going into the Final.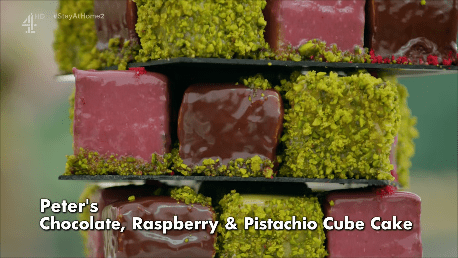 Oh Hermine.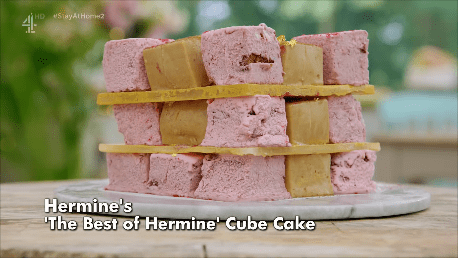 Did we put too much pressure on you? Did you put too much pressure on you? Yes and yes? There is too much gelatin, the cubes are like rubber balls.
Laura looks gorgeous with her hair down!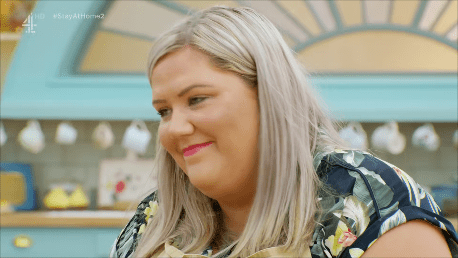 Ah Dave. When you almost cried because Paul called your work a triumph, we all cried and I can't be thinking sympathetically about you! Maybe you are an alright chap.
Let me tell you this right now: if they send Hermine home instead of Laura, I may riot. I may not finish this series. If they keep But Her Flavours and allow the far superior baker to go home on inflated expectation, I honestly don't know if I would watch the final. Allow me to calm myself and see where things have actually landed this week.
Star Baker: Peter Sawkins!
And going home is: HERMINE
ARE YOU KIDDING ME???????????????????????????????????????????
ARE YOU
WHAT THE EVERLOVING T487E6Y587OW4EGY
65T,U
G57
SPOJBOAIPEH
I'm going to have a cup of tea. I will be back. Probably.
I can't. I can't watch that baker slosh and slap her way through yet another set of challenges while not completing the brief or performing to the standard and skating on her flavours. I cannot. This will be where I get off for season 11. All the best, Peter, I hope you take no prisoners. Cheers everyone.
So I slept on it, and I have more thoughts. I appreciate Laura's skill as a home baker. She has pushed herself and I applaud that. She has a solid skillset and four or five key flavour profiles that are yummy and crowd pleasing. When it comes to the Great British Bake Off, she is Salieri.
It is unconscionable that she should advance and Hermine should not.
So I won't be watching and I know it doesn't matter, not in the general or specific scheme of things, but it matters to me that there's some kind of righteous order in things. That while skills can temporarily falter, talent will out and be rewarded. Why else would I watch Bake Off? Until the next series, my lovely readers, cheers.