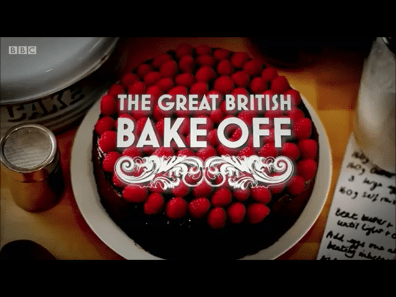 Welcome back to The Great British Bakeoff, I am SO EXCITED to get back to it! Last week I was referred to awesome person to follow on Twitter: Lynn Allingham @Tuck_Shop does miniatures of the winning bakes and they.are.AMAZING! Check it oot! Thanks again PL, DM and my lovely pal Violet for recommending the show!
Last week we lost our sole church-y baker Lee to a dull mirror glaze, a tough sponge and some inexplicable strawberries. All the best, Lee, I'm sure it was just a couple of off days! We're also short Sue Perkins this week, she's had something awful happen in the family, but she'll be back next week.
It's Biscuit Week on GBBO and I AM A COOKIE EXPERT!! There, I said it. Expect lots of grousing and "oh. You're going to do that, are you?" for the next hour! Rolling!
Oh I LURVE the opening sequence, isn't it gorgeous??
We've got three challenges again this week; let's see what they are! The Signature Challenge is first, and Paul and Mary would like 24 iced biscuits (those are cookies, right?) and I just BET uniform will the key component! Right side up, Jane and Andrew! They have two and a half hours and unlike last week where MOIST was emphasized in a totally non-creepy way: this time we want CRISP. Like Paul's hair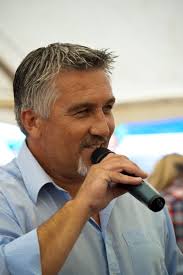 Jane has made loads of cookie / biscuits but hasn't iced many and I haven't either, to be honest. I did just get a giant pack of icing tips that I'm very excited about, does that count? I'm going off on a tangent already, brace yourself!
Five years ago, I found myself pregnant at an advanced age for the third time in approximately four minutes and was tagged as testing high risk for a particularly horrible birth defect. Not one of the ones where you learn where to find large diapers and enjoy the slower pace of life, but of the type where there may be no baby, and if there is, there wouldn't be for very long. I had the most awkward and emotional interview ever with a reproductive care professional and then somehow found my voice and opted for an amniocentesis. If you don't know what that is, for the love of all that is holy: DO NOT look it up. It's essentially inserting a large needle into an expecting mother's belly and drawing out amniotic fluid for testing. I SAID DON'T LOOK! I wasn't going to find out the results for 10 to 14 days, so after two days of resting, I went into my kitchen and baked for 10 days straight. I baked every cookie I could think of, find a recipe for or thought looked intriguing, ESPECIALLY ones which involved a lot of icing and triple-stage handling and the most complicated baking I could do. It is impossible to think of anything else when you are trying to make sure Frosty's nose is in exactly the right spot. I did my entire lot of Christmas baking, in September, in the hundreds of dozens and filling an entire chest freezer with my goods. I got the All Clear and finally put down the butter. That is one of the only and last times I iced a cookie, so I will be watching closely. Tangent OVER! As you were.
Mary tells us that the important part is to not be too ambitious: 24 exactly uniform cookies are very difficult and I would suggest baking more! If ever I was catering a party, I'd always bake extra so I could pick and choose.
Paul is just happy he gets some biccies! He hopes he has a big enough mug of tea to dunk them all in and I JUST dunked my biccie in my tea!! We're twinsies! I don't think Mary approves, though, shhh
Louise is first up for prep look; she's making Rich Tea Biscuits with the Flavour of Barrowbreath (a Welsh fruit loaf). I always thought tea biscuits referred to when you eat them, but she's using 10-12 tea bags so I expect everyone will be wide awake after!
A little more backstory on Louise; she likes to hill-climb with her fiance Simon. All right! Her title is Louise's Baa Bara Brith Biscuits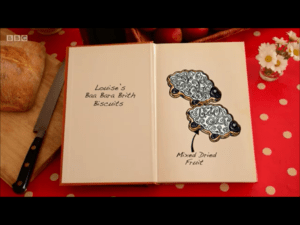 Paul wants to know if he can expect a snap or a crumble? She said moist like four times, silly bird,keep up! It's a softer cookie of course, no snappers at this table.
Val's planning to concentrate on her presentation this time and I have to say, her mirror glaze cake from last week was GORGEOUS! Keeping everything tidy might mean she doesn't mix up her sugars like that time, though, so good plan, Val!
When's she's not at baking in a tent in the rain, she's at home feeding one year old Arthur but her inspiration comes from her past. She's making Val's Sunday Treat Iced Ice Cream Cone Biscuits,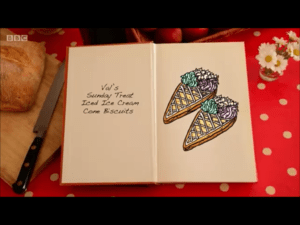 as a bit of a tribute to ice cream cones from her childhood, which were scarce. Hmmm, most people are creaming the butter and sugar with mixers, but Kate, Val and Andrew are working using their fingers. Andrew's dad won a Women's Shortbread Competition in the seventies and that combined with his love of musical theatre (really?) has led to his Beehive Biscuits: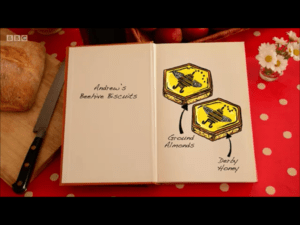 He says it won't be snappy, more like an almond shortbread and I love shortbread! I make a great shortbread.
Kate tells Mary she's making a lavender and bergamot biscuit, and Mary and I make this face at the exact same time.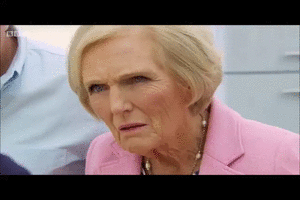 Mary thinks it smells "a bit medicinal" and that is NEVER good, Kate! Pull the cord! "Slightly skin care" is not what you want people to think while they are smelling your dough! Not a euphemism. She's a Brownie leader back home and will be making Kate's "A Biscuit for the Broads" and er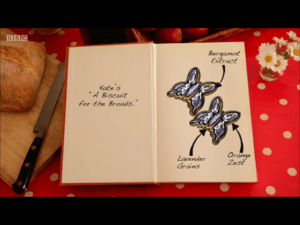 Tom's making a weird coffee biscuit, that's all I got. They're Tom's Chai Frappelatteccino Biscuits and um, they look interesting?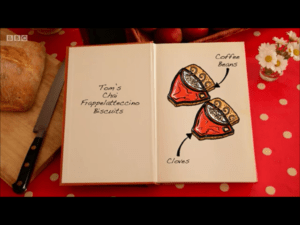 Selasi has lost the bloody plot, he's using Scotch Bonnet peppers, which makes Mary and I recoil in horror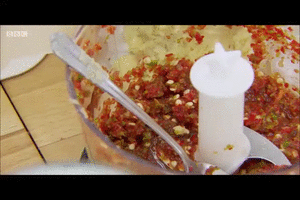 But he swears it's been blended to Mary and Paul's tolerance level, not his. He's a baker, baller and biker, and his cookies reflect at least two of those. Selasi's Wheelie Hot Iced Biscuits and you know I love you Selasi, but Imma have to take a Hard Pass.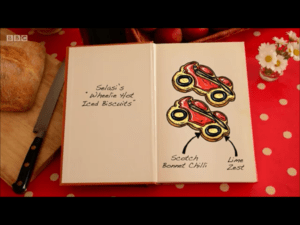 We're on to Michael now, who is captain of his university's hockey team, and pfft: that's not hockey. There's no ice and everybody has all their teeth. There is beer, though! He's making Michael's Malt, Chocolate and Orange Iced "Beer" Biscuits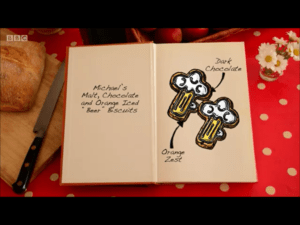 Hmmmm, Andrew and Michael are using these little rubber bands around the ends of their rollers to get a uniform dough, that makes so much sense! Stealing!
Benjamina is a teaching assistant and she likes to bake with the trends and I'll listen a leetle more before rolling my eyes, she's a great baker. Quinoa or flett comes up and I can't control them, honestly. Her cookies look lovely! They are Benjamina's Bouquet Biscuits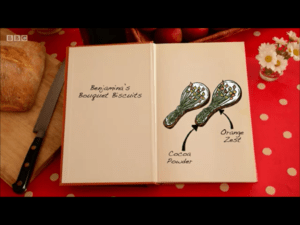 Jane is using her garden designing skills as reference for her Jane's Flower Pot Iced Biscuits and they look nice, but. Kinda rudimentary compared to what the other bakers are doing. She is keeping it simple, though, as Mary suggested! ALWAYS listen to Mary!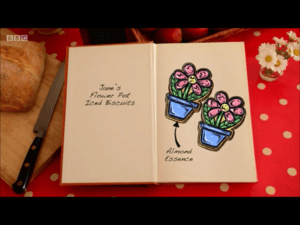 Rav's Union Jack Bunting Biscuits are very simply shaped compared to everyone else's; he's using a triangle of cardboard and they sort of look like fancy pizza, yes?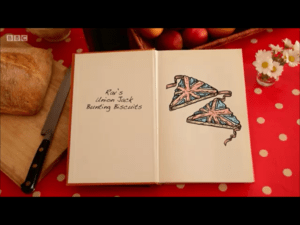 It's the time that will kill our baketestants today; only two and a half hours and with the rolling, baking, cooling and decorating, that doesn't leave a lot of room for error. Oh noooooo and Louise drops a full pan on the bottom of the hot oven! I just SAID there isn't room for error, Louise!! Candice helps while Louise tries not to cry.
An hour in, people are still baking but we've got cooling racks in use! Candice is making Candice's Salted Caramel, Chocolate Iced Shiny Hearts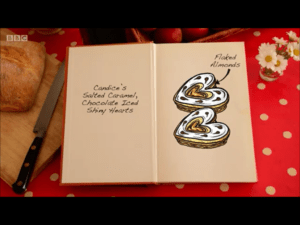 But I don't care, I saw her pug Dennis!!!!! Hallo Dennis, givus a kiss!! If anyone would like a picture of any of my pugs, YOU JUST LET ME KNOW. I miss my Phin and sweet girls. Anyway, anyway, sorry, sorry, her cookies are complicated, of course, but we knew that. She's wearing another ghastly lipshade, but Mel likes it, or says she does anyway. Candice promises to do Red for Bread Week and there's a Bread Week????? I will not be able to contain myself on Bread Week, y'all will have to wear safety glasses.
Icing time!! Jane is concerned because while she did test batches of her biscuits; she didn't time them. That might be "a real error." Val's vow to not be messy isn't going as planned, she's already dropped a rack of baked cookies on the ground... "disaster!" She's not sure if she can serve any of those and NO YOU CANNOT, VAL.
Jane only has half an hour and hasn't started icing yet so Mel runs Jane through the possible scenarios, none of them good and all involving not 24 fully iced cookies.
HAHAHA Mel makes me laugh "I sing, you sing, ICING 'ten minutes to goooo'"
Val's having an awful time of it, but Selasi's having fun, eating the mistakes and looking as though he's out for a Sunday cruise on his motorcycle.
Judging / Tasting time! Michael is first: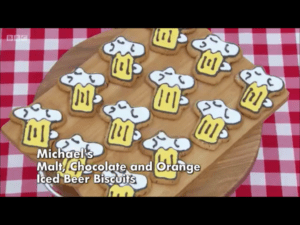 And... uniform, and Paul LOVES the crispiness! Andrew is up next: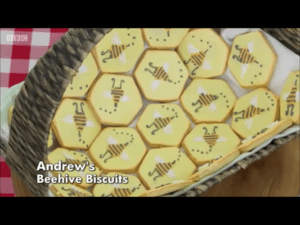 Which the judges think look great: but tastes like a stale biscuit. Andrew makes this face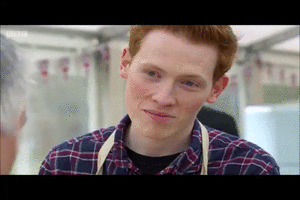 Louise's biscuit are not uniform: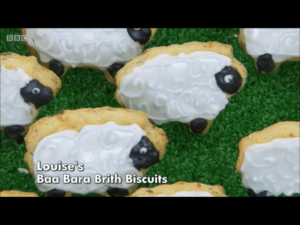 And as advertised, are soft and as a biscuit: she's failed.
Benjamina's are much prettier than I expected!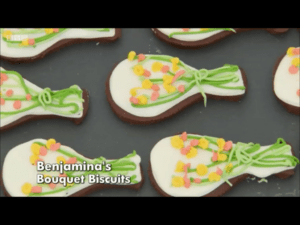 The judges comment on her correct ratio of cookie to icing (which she mentioned in the prep shots) and she's "done really well." She's one to keep an eye on!
Jane's flower pot cookies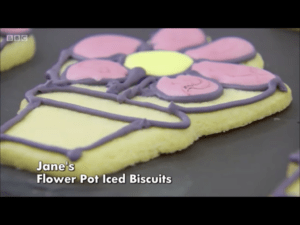 Are only half iced, but uniformly so (we should start a drinking game! Every time I type "uniform", you lot take a shot! C'mon, it'll be fun! None of you have any liver problems, right? and they taste good. Jane is very surprised to hear any positive feedback.
Oh Val. These cookies are the farthest thing from consistent I can imagine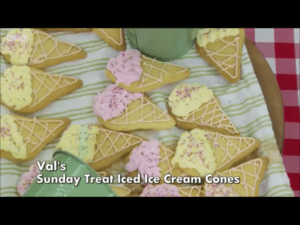 They're poorly decorated (although Mary is sure Val CAN pipe well) and not even 24 of them, so Val should really want to knock the judges socks off the next two challenges.
Candice and her ghastly purple lipstick are next: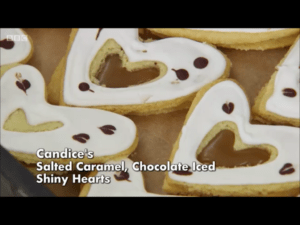 Are a mess; "they look hideous but taste amazing!"
I wouldn't eat Selasi's spicy cookies on a dare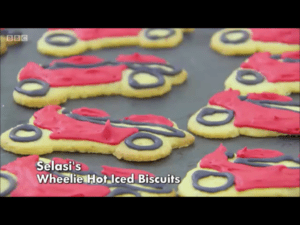 But the judges REALLY like their differentness. More for them then!
Rav's fancy pizza biscuits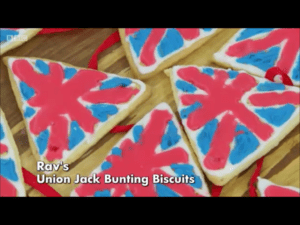 Are finished clumsily but they taste like a nice coconut biccie
Kate's butterflies, eeeh, the finishing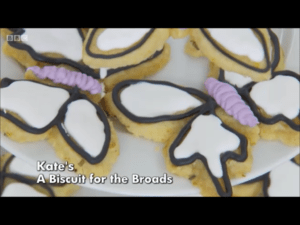 Mary calls the icing "informal" the same way I say "diseased" but the flavour is lovely; surprising lavender and bergamot-hating Paul
Tom's cookies are certainly almost uniform (shot!):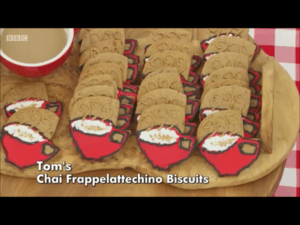 They love it! "Nice one, Tom! You nailed it" and the Hollywood Handshake! Woot!
The bakers give feedback on their feedback while absent Sue takes us to meet food writer Anastasia Edwards to discuss the history of dunking. They eat a lot of baked goods and my favourite line is from Sue about a biscotti "it's like a boulder soaked in Blue Nun." Posh peeps never dunk, apparently.
Now is the Technical Challenge! The baketestants will be using Mary's recipe to make 12 Viennese Whirls and they sound DELICIOUS!
Selasi's made them before, and that certainly helped in the jaffa cakes technical challenge, so we'll see! The biscuits look like this: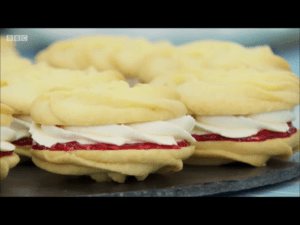 Mary explains why she chose this cookie and what makes it so challenging; the bakers need to make sure they whip the butter enough with the sugar or they won't get it out of the piping bag and into Mary's belly. Paul loves the cookies, bring it on!
Everyone makes the jam first so it can set while they work on the biscuits, most make a very light and fluffy batter but some is still stiff, like Jane's and Michael's. Kate and Louise are also fighting tough batter but Benjamina's look super fluffy. I love how they all drew the circles on the paper first, makes everything uniform (shot!). Selasi's sorted that his dough wasn't whipped enough and drops it back in his mixer but Michael is going to microwave his dough.
Michael is going to microwave his dough......
Michael is going to put the dough he just made in a cooking competition in the microwave.
Rav cannot get his mixture out of the piping bag, so Mel asks if he needs warm hands? "Either on your bag or on you" and then she and I make this face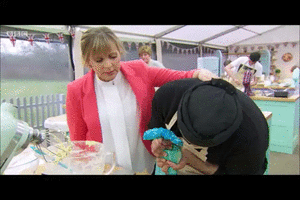 Er
Some of the bakers are chilling their dough before baking, others are going straight into the oven, let's see what works best! I would say chill first, but I gather it didn't say that on the sheet. It also doesn't give a baking time, so we get a lot of people crouched in front of their ovens for 8-12 minutes.
Time for the buttercream filling! They work on that while looking at the cookies out of the oven, eep. Lots have melted out of shape, too much mixing, Selasi? He frowns and that's the first time I've seen him be upset.
The judging proceeds, Andrew, Benjamina and Kate get rave reviews. They CHILLED! Mary call's Rav's "dinky" hahahaha! I'm 12.
In order of worst to best, we have: Selasi (oh buuurn), Louise, Michael, Candice, Tom, Rav, Val, Andrew, Benajamina, Jane and Kate takes first! Yay!
The judges discuss the bakestestants' work; there isn't anyone they're willing to suggest is ahead right now. Time for the next challenge!
The Showstopper Challenge this week is a 3D Gingerbread Story and I can almost smell the overdesigned title Candice will have worked up in her melon. The story should say something about the baker and include at least 8 characters or objects, but don't do you and Paul and a night out with all his friends, because that's only 2. Ooooh, burn, Paul! He bites his lip.
4 hours, BAKE!
Val gets feedback on her time management: take the time to finish! She's making
Louise is doing a wedding scene. With 5 graves.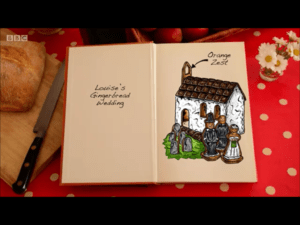 Selasi is also going to church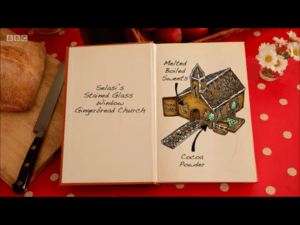 The only thing he's doing differently is using honey instead of treacle. Hm
There are a few other tweaks across the board; Michael and Tom aren't using eggs but Jane is and her idea looks purty!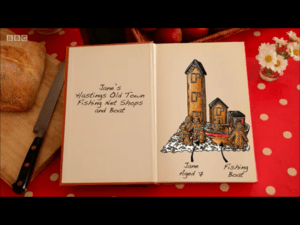 Mel tries to wind Louise up about the OTHER church but Louise is busy, Mel! She's so distracted. Poor Louise has a lot to prove, and I hope she pulls it out. 5 graves at her wedding, though? Hm?
Candice was brought up in a pub, so she's making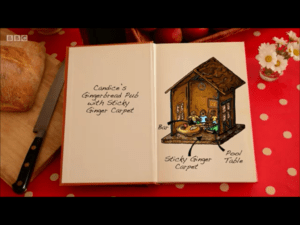 And I am not responsible for my reaction to "Sticky Ginger Carpet"
Michael is going traditional: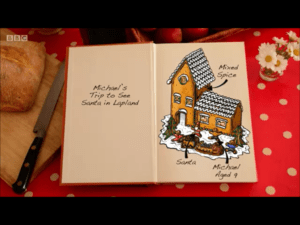 Kate's giving me a serious case of the Oh Come ONs with her titles, but Mary likes that she's got three different dough types.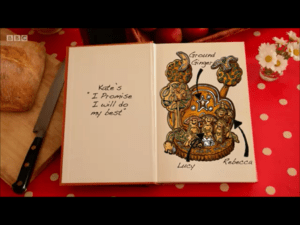 I love watching people knead dough; is that weird?? Mel and Mary were Brownies too! Paul was not and he doesn't wanna hang out with you guys anyway!!
Tom had a bad time a while ago. so he's memorializing it in gingerbread.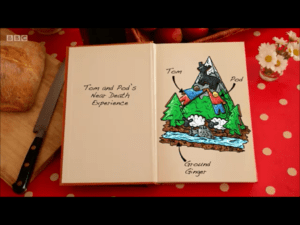 Andrew's gingerbread diorama has 37 elements. 37 ELEMENTS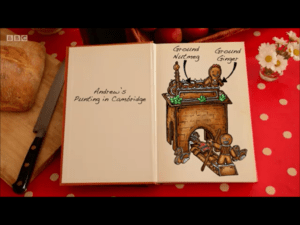 Benjamina's going to New York and if the Chrysler Building doesn't make you think of Annie, WHAT KIND OF MONSTER ARE YOU??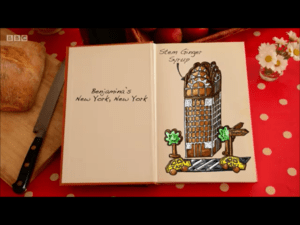 Window construction is ongoing, some using sweets for a stained-glass effect, some poking with a square ended stick and it's time to bake!
I'm worried about Val's, it looks hella thick. Rav's making a Christmas Ferris Wheel and..sure!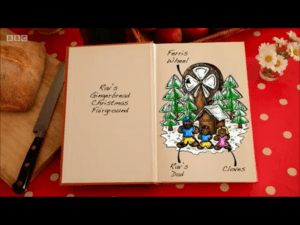 Moar oven crouching! Andrew has got a checklist, I LOVE that! Everyone else is trying to remember as they go, but I guess when you have 37 ELEMENTS and you are an aerospace engineer, you don't leave much to chance.
Oh shite, Rav's burnt a tree badly and time is half over! Paul and Mary are mostly worried about Candice and Andrew, but REALLY: Val. She's been extremely ambitious and she didn't finish the last challenge.
Everyone's using royal icing for glue but oh Val. They're under an hour and Val hasn't made her icing, let alone started assembling. Disaster! Lots of problems and collapses and timers going off and drums beating and things falling over an breaking and will ANYONE have something to show in ten minutes?
Oh Val.
Jane sums it up for lots: "gosh I hate gingerbread" and Louise's is completely flat. Oh Louise.
Judging time and oh jaysus, they have to carry the gingerbread to the judging table? Good lord
In order shown: Andrew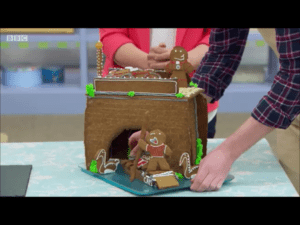 AWESOME feedback.
Val's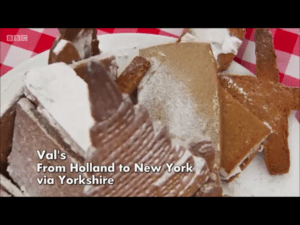 Well. It's laying down. Mary calls Val on her finishing, AGAIN, but Paul thinks Val's sister tastes lovely. Er
Benajamina's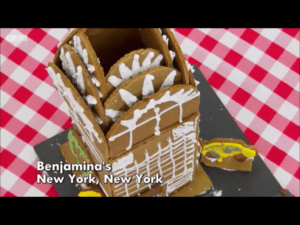 Does not look great. But it tastes okay?
Tom's "quite artistic"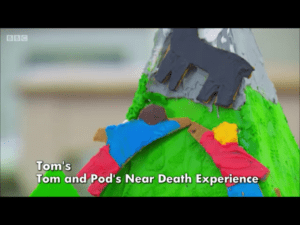 I ADORE Kate's!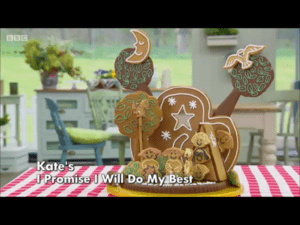 Looks great, but isn't terrific gingerbread, any of the three types.
Jane's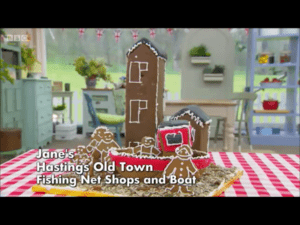 Soft gingerbread and not awesome decorating have left her middle of the pack
Rav's looks...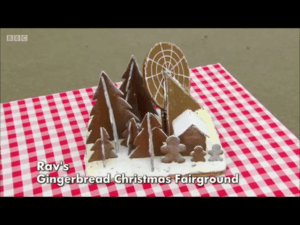 And tastes...
Michael's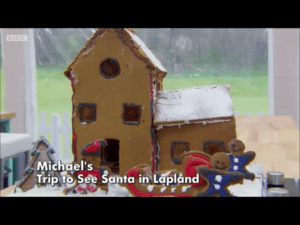 He himself calls it "Santa's Workshop From Hell" but gets kudos for the best gingerbread so far. No eggs! Jane used eggs...
Selasi's church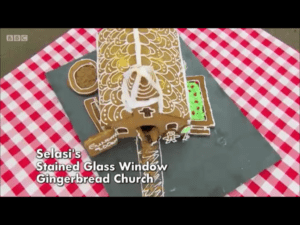 Didn't have quite enough ginger for the gingerbread challenge.
Louise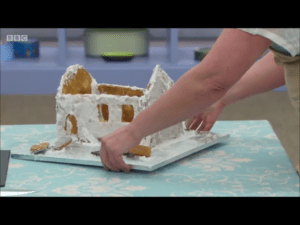 Oh Louise. It looks like the one I made with Biggest at school last Christmas. The cookies tastes good!
Candice needs a bit of help, can Mel come and grab her jugs, please?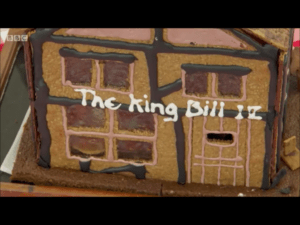 The judges love her attention to detail, I hope it tastes good! Mary is game for tasting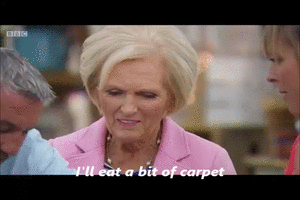 That just made a friend of mine very happy! It tastes good too!! Yay! Paul calls it "superb" and Mary "smashing", yay!
Deliberation time! Then the winner and losers! The Star Baker is: Candice, yay!!That gingerbread pub was awesome! And leaving us is: Louise. Ah Louise, so sorry, you were Top 11! That's amazing!
Val knows how she is on borrowed time. Bring it back 'round, Val, you got this! Until next time, when it's BREAD WEEK!!!! Yay!!!! Love yous, mean it!