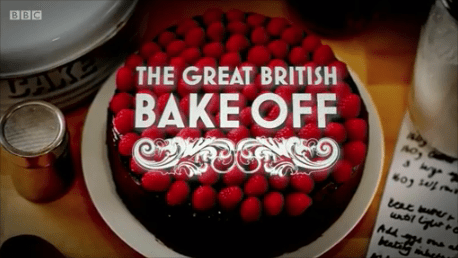 Good morning everyone! Who's had a great week?? Well keep it to yourselves, sisters, it's been a nightmare of sick kiddos and sleep deprivation. I canea WAIT to get started on The Great British Bakeoff, I need my happy place! Rolling GBBO's first ever Botanical Week after the break!
We lost Val last week, Rav and Tom skipped through by the skin of their teeth and Candice was our first repeat winner of the year with her adorable apple whatsits.
Jane figures she has this one in the bag, she's a landscape designer after all! Go Jane, you got this!
It's raining again outside the tent, I assume it does that in England all the time, right? And Seattle! Although the last time I was in Seattle I was trying not to die from the heat, so The Killing LIED to me.
Rav's worried that this is one of those Neat Baking Challenges and here's a tip, Rav: ALL CHALLENGES are NEAT BAKING challenges. Because they all require time management, and you can't manage your time if you can't find anything (coughValcough)
Signature Challenge already! Paul and Mary would like the baketestants to make a very large citrus meringue pie. I like to make those but I don't like to eat them, so... perfect for a competition.
Jane's got her flowered shirt on, like Kate and her swallows sweater and earrings! She's decorated! So is Selasi, HAHAHA, but he sort of looks like a Hawaiian boxer in his.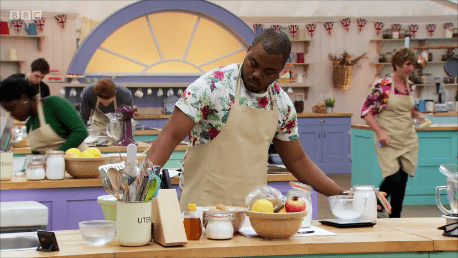 The unusual part of this challenge is that the bakers can use anything that grows in their pie, not just your typical lemon meringue, so I bet we see LOTS of orange and weird stuff from Candice. It's working for her!
Guess who else is doing something different? NO, GUESS!!?? That's right, Tom, unfortunately, that is very much NOT working for him, but we'll see how his non-sweet pastry crust goes for him today.
Everyone is doing a typical sweet pastry crust, Selasi is topping his with Grapefruit, Orange and Mint Meringue Pie. He's piping his meringue into "sharp-edged kisses" which makes Mel lean in a little; what's that with the what now? All I got was that those little orange round fancy fruits you see at the better class of buffet are called Physalis!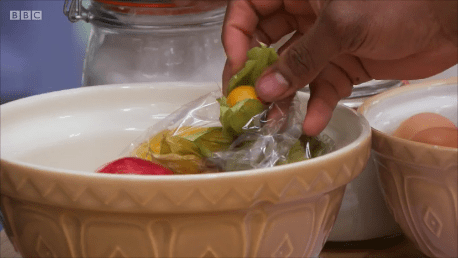 And not syphilis as that sounds. Mary calls them caped gooseberries and I think I like that even BETTER! Interesting contrast here, Mary, Mel and Jane in their bright (and friendly) gear grouped together in solidarity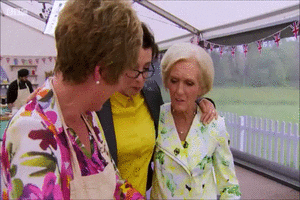 And Paul loitering in the back all alone wearing what Selasi calls an anti-salsa dancing shirt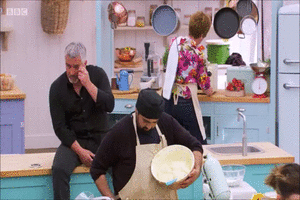 Benjamina's using grapefruit in her pie too. Her Grapefruit and Ginger Meringue Pie sounds... fun! Let's call it fun, it's opposite day!
Andrew's making a key lime pie (for Renoblondee!!)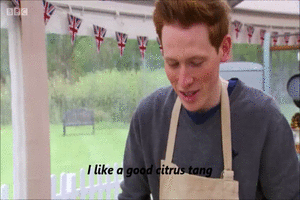 He likes it so much he's basing a pie on it, although his Tangy Lime and Ginger Meringue Pie has a metric tonne of ginger innit.
Pastry rolling time! For real, my pie pastry always looks like a homeless person made it literally on the street. I just have a massive pie plate and really like how the crust tastes, I never quite make enough. And I do it every.single.time.
Everyone's blind baking their crusts while making filling, let's see whatcha got! Rav's making a Mandarin Margarita Meringue Pie and there's tequila innit!! Woo hoo! I've never had tequila in a pie on PURPOSE before! When told that Rav will only be spatulating and blowtorching his meringue and not baking or piping it, Mary makes what can only be an unfortunate face for Rav.
Tom's Blood Orange Halloween Pumpkin Pie looks kind of fun, but I think blood oranges are the quinoa of the fruit world: 99% marketing, 1% aspiration.
Jane and Candice are doing similar bakes as well, involving lime and coconut. Jane's gonna put the lime in the coconut, mix it all up, she's gonna put the lime in the coconut and show us in the mor-ooorrrr-ooorning! Her Lime and Coconut Meringue pie looks lovely in the pictures, she'll be doing a Swiss Meringue instead of Italian like mostly everyone else, she likes the way it crisps. Mary likes it too!
Mary's lovely, you know, you can tell she really wants people to do well, and she beams pure approval when she gets the answer she's seeking.
Jane knows who her competition is, it's Candice directly behind her and you know what? I know people can wear whatever they want, they can wear no makeup, all the makeup, whatever, it's none of my business and it doesn't help or hinder anyone's baking, but WOULD IT KILL CANDICE TO ALLOW HER SKIN TO BREATHE FOR ONE DAY?? She's shellacked in 90s bronzer from neck to widow's peak and between that and the gunky spiderlashes, SOMETHING is gonna end up in one of her complicated dishes. It's her face, her business, but she could get some blending tips from Coco Montrese is all I'm saying.
WITH A NUDE LIP NO LESS!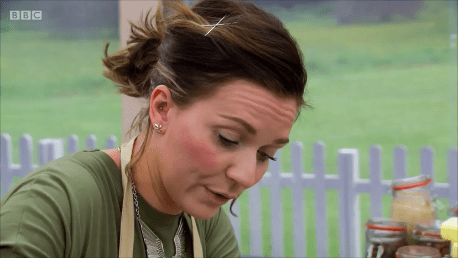 Her concoction is Candice's Lime, Coconut and Lemongrass Sugar Meringue pie; that doesn't sound at all like Jane's so shouldn't be any worries there. All of her answers meet with approval and I canea wait to see what the green piped meringue looks like!
Mary really doesn't like the blowtorching, she wants a baked meringue and I feel bad for the majority of bakers, because that's what they're doing.
Ooooh Andrew's curd looks fantastic! Selasi's does not, but his crust looks better than Andrew's. Tom's looks AWFUL.
Meringue beating time! I have never in my life seen someone hold a Kitchenaid mixer on it's front toes to mix something, I am deeply concerned about HIS toes. That's not safe, Tom!
A whole lot of underwhipping has gone on as far as that goes, I hate how terrified Andrew looks! Candice's didn't turn out how she expected, so she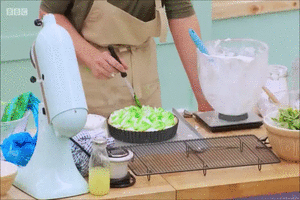 I legit gasped. I thought it looked nice! Benjamina mentioned the rain having an affect on the meringues, so true. I wonder if that's why everyone is struggling.
Well, not everyone is riding the struggle bus, Jane's looks marvelous. Benjamina defends her blowtorching, you can really control how the meringue looks that way. Pftt.
Candice's has not improved with time, and neither has Andrew's. Eeh
Tasting Time!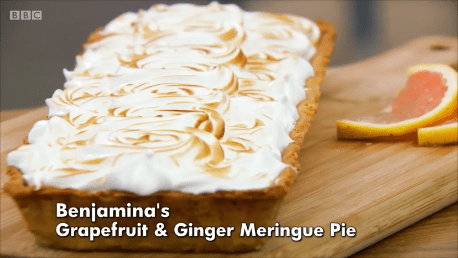 Benjamina's is GORGEOUS, the grapefruit comes through beautifully and all that is making Selasi very nervous.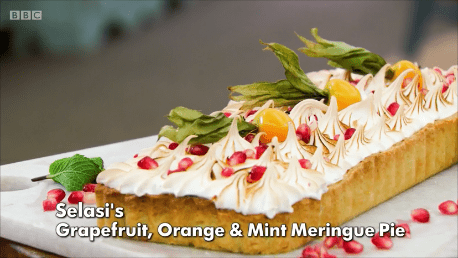 Those DO look like sharp kisses, don't they? The only thing I don't like are the caped gooseberries just laying on top, what's the point of that? The flavour is stunning, but the filling is too thick.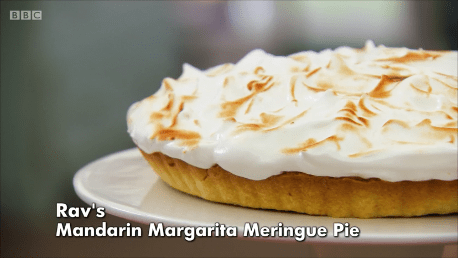 Rav's looks totally pedestrian to me, the meringue is too soft but at least the pastry isn't. Eeeh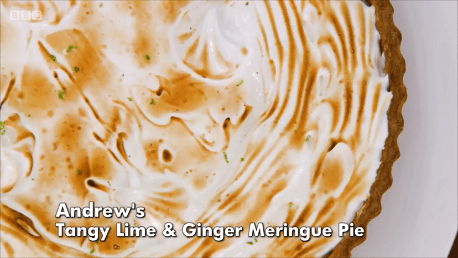 Oh Andrew's looks terrible, his pastry is too thick but his curd is "absolutely beautiful" which I bet Andrew needed to hear just then.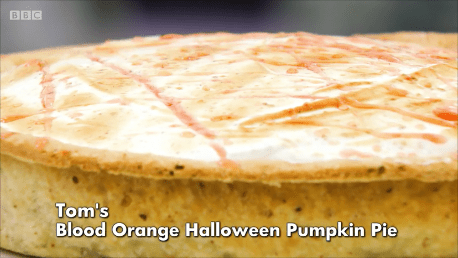 I think Tom's looks unappetizing, and doesn't taste like citrus. He looks resigned.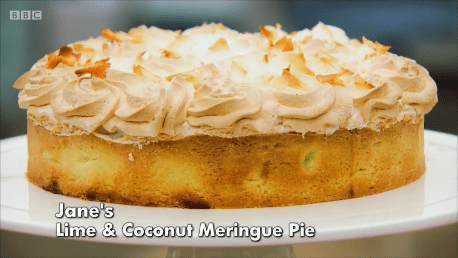 Lookit Jane's gorgeous pie!! Mary likes it a lot and I think I would maybe even eat that one.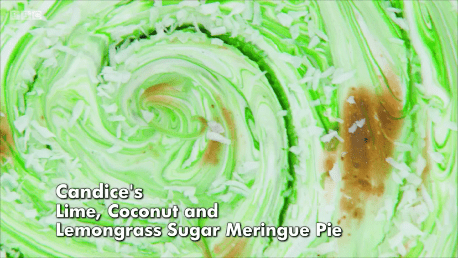 Poor Candice, the curd is delicious but the meringue is terrible so it's a Not Good.
The bakers give feedback on their feedback, everyone's feeling a bit of the pressure.
Botanical Technical! Paul is setting the challenge and he warns them to remember to be patient, and their shaping. So enigmatic! It doesn't actually help a lot when Sue tells everyone what they'll be making, Two Herb Fougasse required an ask of my old friend Mr. Google.
Rav's seen and eaten a fougasse, even if he hasn't made one, so he'll have the shape of it at least. Selasi's only heard of one and now that makes two of us. It looks a lot like focaccia bread: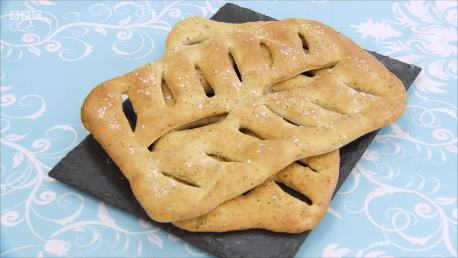 And I'm confused as to what leaves Paul has been looking at if he thinks that's even close to resembling one. I actually have made something similar where you pull focaccia bread into a train track and it looks just like that.
The bakers start, but hey! Tom loves fougasse! He makes it all the time because he loves bread and it makes him feel happy and comfortable. Me TOO! Give me fresh bread and fresh tzatziki and I could make a month of it.
Benjamina's leaving her dough quite wet *looking around the room to see what everyone else is doing* while everyone else slaps it around on their boards. Rav notes that it doesn't have any proofing guidelines: start with an hour and second proof is half an hour, Rav! That's standard. Tom's with me.
While they proof, the bakers draw out their plan for the leaf shape, most look like vaginas, amirite?
Oh darn, people don't know that consecutive cuts means! Andrew, Tom and Benjamina do, but most of the others do side by side slashes, which doesn't leave much space for the six slashes down each side.
Now the bakers have to dress their bread and bake it, Tom's dough looked very nice and plump. Mel reminds him he was Star Baker of Bread Week, you've got this, Tom! Goodness knows he needs a confidence boost at this point.
Tom and Andrew are steam baking theirs, treating it like french bread, but Benjamina's treating it like focaccia bread and she wouldn't steam that. I will say that Benjamina usually has the best instincts, and she ALSO thought focaccia, so I'm with her.
Oh jeez, 15 minutes left and Selasi is JUST getting it in the oven, there's not enough time to burn it, Selasi!
Oh noooo, Jane's looks like a giant vagina, it's not just for pictures any more! Benjamina's are GORGEOUS. Not vagina, but bread, not that I'm saying that
ANYWAY
Blind judging!
Rav's vaginaleafs are cut badly, but it's a good bake. Crispy. Benjamina's are PERFECT. Jane's vaginabread is spongy. Selasi's and Candice's are ehhhh but Tom's are fantastic. Andrew's are underbaked as well.
From worst to best: Selasi, Andrew, Candice, Jane, Rav, Benjamina and best: Tom! Tom knows bread!
He needed that badly
Showstopper Time! The judges discuss who's doing well and who is not; essentially the girls have it right now. Every single male baker is in trouble.
The Show Stopper is a spectacular Floral Cake with at least three tiers and it must have flowers somewhere innit or onnit.
Andrew's worried that his cake might not be wow-y enough, but he has a plan!
Jane is using a Mary special recipe; creaming everything together and does anyone else have High School Confidential in their heads right now? Anyone?
Andrew is making a Spring Elderflower Trio, which doesn't cover how complicated it sounds when he explains it. Lotsa stuff inside.
Rav's making a Blossom Cake, but he's making a risky choice in piping buttercream flowers without being a flower guy, so I'm concerned on his behalf. Also because he's only using one flavour for all three tiers, because it's a bit easier. You know what else is a bit easier? Using a bloody cake mix, Rav, get your head in the game!! They don't want to see Britain's Best Easiest Baker, they want to see the BEST!
Er-ooh, Tom's using chamomile flowers and those taste exactly like nothing, but wet. His Floral Tea Cake sounds like a NIGHTMARE. He really wants to bring tea to dessert and I fully agree that tea has a place at dessert. In my cuppa next to my plate of biccies.
Candice's Four Season Cake looks very pretty in the picture, I can't wait to see it live! Listen to these layers: chocolate and orange for Spring; lemon, raspberry and rose for summer; spiced carrot cake for fall and fruitcake for the top layer for winter.
DID YOU CATCH THAT, RAV?
She's using her nan's recipe for her fruit cake, I wish I knew someone who knows how to bake. I'll just pass on all my recipes to my boys, that'll teach them.
Jane's not using any real flowers and really? I thought for sure a landscape designer would be all over that. She's making a Three Tier Orange Cake with a Floral Chocolate Collar (but she means white chocolate coz I saw it) and making her own sugar paste flowers.
Selasi's making a Three Tiered Ombre Floral Cake and I perked right up when he said glitter, he's gonna glitter bomb his cake! Woo hoo! He's got three double layer cakes, I cannot wait to see!
Benjamina's Floral Tea Cake looks a lot more delicate and pretty than Tom's, but she's also using chamomile, so I'm on the fence. She's doing a new technique called semi-naked, not entirely icing the cake and Mel and I are perplexed. Why would you make a cake and not ice all of it? We'll have to see what it looks like.
Jane's not happy with her cake, so she washed it down the sink. For reals! Andrew has a very wet layer, I'm worried for my ginger! I'm also worried about Rav, his flowers look fantastic, but he doesn't usually do pretty, so why would he do it in a competition for the first time? Maybe mix up your cake layers a bit and use some real flowers? I'M JUST SAYING.
Half an hour left....oh mein gott. Selasi's a GREAT piper, but Rav, well, he's chilling his. Jane's running behind and I don't understand Benjamina's. When my cake looks like that: I ran out of icing. Except I never run out of icing, just joshing!
I think Andrew's looks beautiful, but I'm worried it's too simple. Tom's looks like a fussy nightmare, but I love Candice's higgedlty piggelty one and it's up first!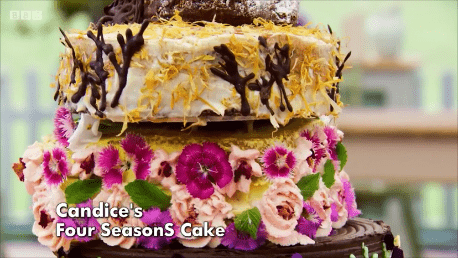 She gets a lot of "okay" and a "good" and the gluten-free chocolate cake on the bottom was the best of the lot. Now. NOW. Why would you make a gluten-free cake and then dump three other layers of gluten on top of it??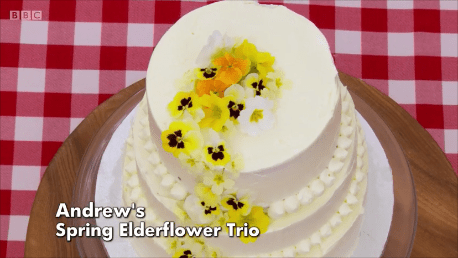 Mary is not impressed with Andrew's piping, the second layer is dry and the third layer is horrid.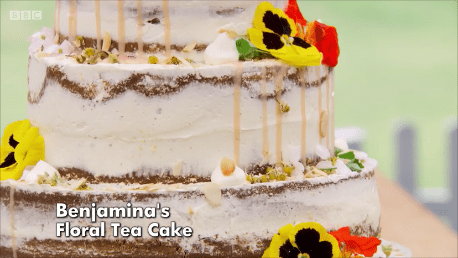 Benjamina's is underbaked and "not quite done", followed by "spot on" and "can't taste the tea."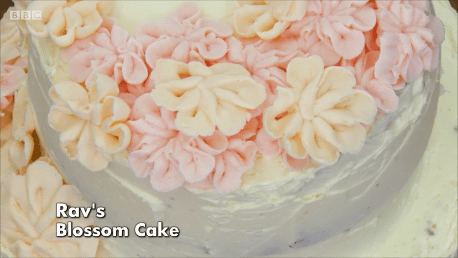 Rav's poor cake is a mess, and dry as well. Not very creative, a bit "samey."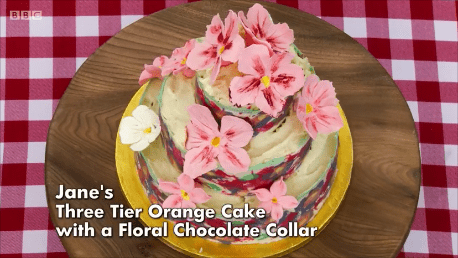 I'm very sorry, Jane, I usually love the look of your bakes, but this one... Paul is also underwhelmed and points out that the cake is overbaked, which surprises Jane. Mary corrects: it's only JUST overbaked, but it is a little overbaked.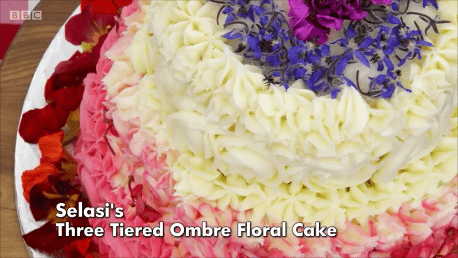 The judges LOVE Selasi's piping! And his cakes! He's done a great job! Well done!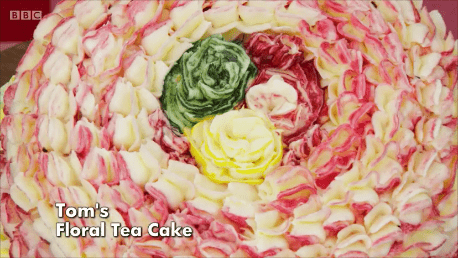 For contrast, we have Tom's, which really isn't awful...It apparently tastes good. Hard pass on the tea cakes, fanks. Mary's impressed with his genoise sponges.
Oh and Andrew cries, don't cry Andrew, you're fantastic! Plus we gingers can't cry cute, we're blotchy messes from the get-go.
IF THEY SEND ANDREW HOME AND KEEP RAV, I WILL RIOT
Mel and Sue carry on about Benjamina's semi-nude cake and I just love them. I will miss them terribly when they're off GBBO, I meant what I said on Twitter: I'll follow those three wherever they go!
The Star Baker is: Tom
Whatever. That pumpkin disaster was NOT a star baked pie.
And going home: Rav
Oh man, you have no idea how much trouble they were almost in for, I was working myself up to quite the lather. Andrew cries and cries and maybe I cried and what of it?? He's brilliant and he just had an off week!
Good job, Rav, Top 7 greatest British baker is nothing to sniff at, my friend! Good luck to you.
Cheers, see you lot next time for Dessert Week - I'm excited!