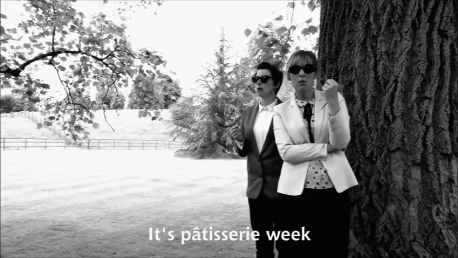 Hi guys, welcome back to the Great British Bakeoff (still) from BBC. It's been a slow descent into withdrawal from the show due to it's move; I saw this week on Twitter that Lynn Allingham (@Tuck_Shop) won't be doing her winning bakes miniatures any more and while I totally get it, I will miss them, they're such gorgeous art! Rolling GBBO S7:E9 Patisserie Week after the break
I still canea believe we lost Benjamina last week. Of all the bakers, she seemed to have the most intuitive knowledge of and Selasi should be sacrificing something large and unwieldy to the gods to be still in the tent at this point.
I DO NOT ACCEPT THIS DECISION!!
This is go time, though! This is the last episode with an elimination, after this is the final and somebody wins. I think it's between Jane and Candice, Jane is consistent but Candice's flashes of brilliance may pull her through. She GOES for it. My fave GinjaNinja is still in this too, go Andrew!
Selasi, I believe you can read between the lines. You're lovely, you truly are, but when you aren't burning things, you're underbaking them, so...Top 4, dude! Plus he's a heck of a piper.
Selasi had a dream, a dream of being in the final and baking in a dress. If he makes it to the final, he'll do it in a dress and that is JUST the kind of enticement an American show producer wouldn't be able to turn down. Maybe he'll show up on Extra Slice in a dress on Friday?
It's the semi-final and since it's Patisserie Week, we're gonna hear Mel's excellent French accent (with just a tetch too much spitting, right?) the whole time, aren't we? First up: the Signature Challenge is 24 savoury Palmiere. Two different styles and favourites and full puff pastry. That means real puff, not rough puff, or tough puff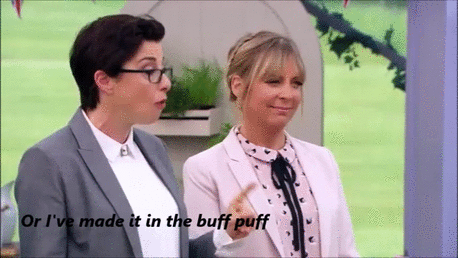 Jane looks concerned AND resigned, she thinks she might hurl. Paul explains palmiere to us philistines, it's all about the puff, about the puff, the puff, not the fillings. I am getting hives just looking at pictures online.
The baketestants work their puff pastry dough while explaining what kind of flour they're using. "Strong plain flour" must be a British thing, coz I'm slightly lost. Andrew brings up something I'd wondered about, everything in the tent is different from home, so you really have to watch bakes carefully.
Candice is using a strong  / plain flour blend in her Red Onion, Cambozola and Walnut Palmiers & Mushroom, Streaky Bacon and Parmesan Palmiers; Paul makes a face like: "I'll tell you later if that's good or not." The palmiers do sound delish, but Mary warned us earlier about having too much filling dragging the pastry layers down, so keep it contained, Candice! Paul's worried about her half-inch thickness as well, but she isn't, it'll be fine.
Jane's doing a couple of different shapes for her Pesto and Sundried Tomato Palmiers & Goats Cheese, Olive and Parma Ham Palmiers. Most of what I could find online looked like wonky hearts, that's the shape Candice went with, but Jane's doing a flower and canoe (?) shape. And strong / plain flour blend too. OHHHHH she got me with the tapenade!!!! I make tapenade! I love tapenade!!
Puff pastry time! Andrew's is looking terrible, butter through everywhere, he thinks it might be too dry. Paul asks what kind of flour: all plain flour which leads to this face: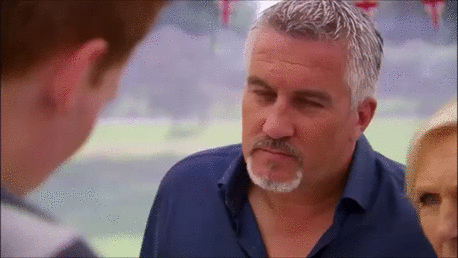 Which is the English equivalent of "Your funeral, buddy!" Andrew's making Cheesy Elephant Ears & Herby Treble Clefs and he has my attention with the cheese! Mary warns him about adding dried bread crumbs to his dry pastry and it's made him think. Oh Andrew, that's a bad dough.
Ohhhh Selasi's using salmon and my salivary glands swing right over from Andrew's to his table. Remember when he was so chill? Now he's in such a hurry that he's not even letting Mary explain!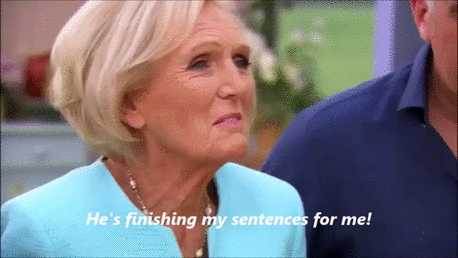 Awww but hes making butterfly palmiers, so we forgive him! His Sundried Tomato, Onion, Peppers and Parmesan Palmiers & Salmon, Spinach and Mushroom Palmiers look truly fantastic. Huh. He's added chesnuts to the second. Let's see how it goes!
Andrew's pastry looks even worse as it goes along and an hour has passed, how can he save this?
Mel and Sue riding Selasi makes me laugh for a full minute, so I had to include the whole video
Oh and Andrew has re-started his pastry, I hope he goes with strong plain flour this time! Thank the gods and the wee boarlets, Andrew's new pastry looks one thousand times better.
Lippy Alert! Candice's lipstick has gone off, time to reapply! Mel helps out
Filling and folding time! Most bakers are clocking their dough in at under one centimetre, but Candice is going a full half inch and if I could do that kind of math in my head, I might be worried.
Mel and Selasi gossip about Andrew. Selasi figures he will leave the crying to our blotchy redhead, but our GinjaNinja seems to have sorted it out. Not that Selasi will have wanted Andrew to sort it out too well, right, suggests Mel? Right?
Andrew's pastry looks so great! Everyone else's looks very thick and I can't judge how well they will look. I really like Selasi's butterfly shape, 10/10 would eat all 12 in the pantry in the dark while the kids were sleeping.
Jane is first in the oven, which is apparently always the case. Selasi's all chirpy today, isn't he? Sue and Jane check out her bakes in a synchronized fashion while Andrew vows to be the last "cock in the hen coop." I really think you couldn't say that on North American television, we've mostly forgotten what 'cock' used to mean.
The stress is getting to Jane, she's not getting any sleep (me either!) but she's glad the butter isn't leaking out at any rate! She drops three taking them out of the oven (DANG YOU HALF-RIMMED BAKING SHEETS!) but that's nothing compared to Selasi's half dozen that hit the bottom.
Andrew's have gone terrifically, he wasn't sure about the lamination in that amount of time but they look great! Candice's are completely overstuffed as usual and look...informal.
2 minutes to go and most of the bakes are still in the oven! Holy shite, that's not much time for presentation. 30 seconds left and Selasi and Jane are JUST pulling them out. Good luck everyone!
Jane's look lovely, nicely browned and nothing like flowers. Not quite done, though, the pesto and sundried tomato seeped into the dough.
Candice..arranged them on purpose like that? The mushroom and bacon ones are terrific. The ones with the onion spilling out the top do not get great feedback. The flavours are great, but it's not a palmier
Selasi's needed longer in the oven but they all like the butterfly shape like me! Great flavour, bad pastry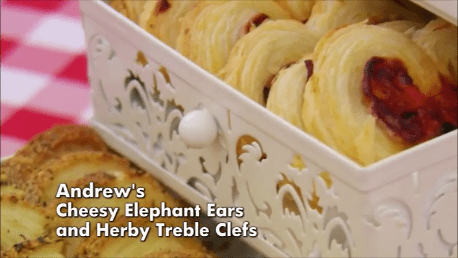 The judges love the presentation, and most of the pastry. I'm getting hungry. Paul gives him props for getting away with it and Mary takes back her bread crumb worries even! Woot!
Technical Challenge time, I am legit worried for these bakers. They will be making one yeasted pastry whose name I didn't quite catch...Savarin! Thank you whoever put that chocolate plate on top spelling it out for me!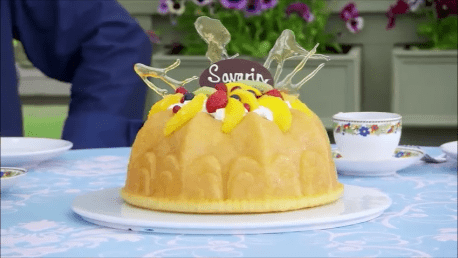 Half the bakers have at least heard of a Savarin, the others look like they need an extra apron for hurling in. The winning will be in the proofing, but it's a very specific rise we're looking for, as well as a look that I'm not familiar with. There's booze at least, good luck, baketestants!
The heat in the tent is getting to everyone, Sue's collecting souveniers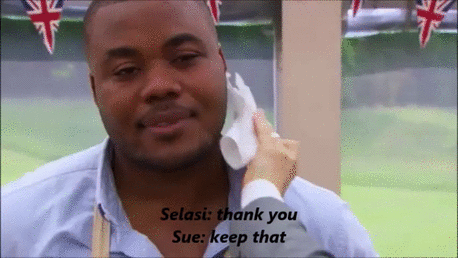 Making caramel seems to be confounding all the contestants, everyone's so nervous! Thank goodness Sue and Mel are there, they make Jane and me laugh the whole time and Jane NEEDED that.
We're at the critical proofing stage and it's going well across the board, and then the baking! There is a LOT of variability for coloration, Jane's looks the most like Paul's, with Selasi and Candice's bakes looking very dark.
Andrew and Selasi are dealing with over-warm bakes while Jane struggles with her caramel: still making it at 2 minutes to go! Selasi is actually piping his cream in the freezer (not a euphemism) and it's kind of neat because they all look different!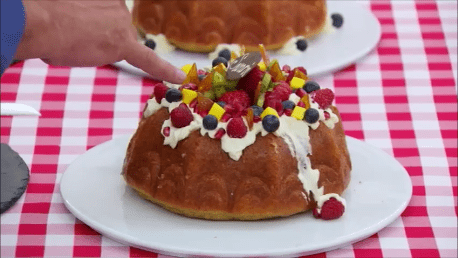 Selasi is up first; Paul says he'll allow for some melting cream, Mary can't believe her ears! But Candice will reap that beneficent benefit but he noticed what I did: too dark. And underproofed as well, but her liquor penetration isn't bad (not a euphemism).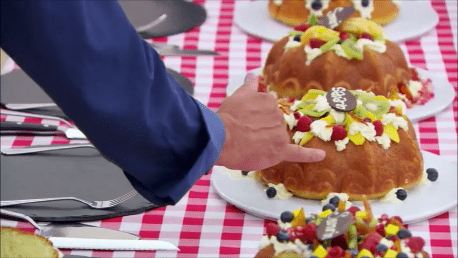 Andrew's cake is also slightly overbaked, but Mary likes his decorating. Always remove your orange membrane! And watch your liquor penetration, Andrew's was not great.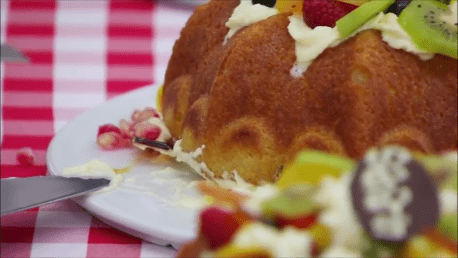 Selasi did NOT remove his orange membrane and his penetration is lousy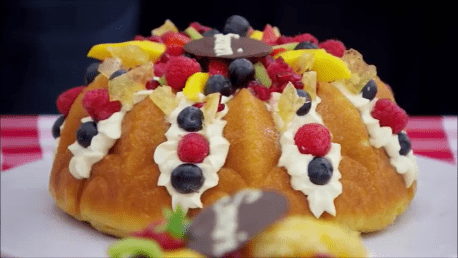 Jane's is the perfect colour (called it!) but even with the slight underproofing, she has this. Except for the crystalized caramel and inconsistent penetration.
From Worst to Winner: Selasi, Candice, Andrew and Jane! I knew it was hers! The colour
Jane looks like she's about to burst into tears at any second, I am worried for my Jane! She looks stressed to the max
At the end of the first day, Andrew and Jane are at the top. We all know who's in the bottom, we don't need to go on about it.
The Showstopper Challenge is 36 fondant fancies! Two types, please! I do not like fondant; I think it's an art project that should not be eaten. It usually tastes like shoes.
Mary tells us the most complicated part of the challenge is the genoise sponge; usually you'd let them firm up overnight before draping pretty shoeleather all over them, but they will have to do their best.
Jane is making heart-shaped Pistachio and Raspberry Fondant Fancies & square Lemon Curd Surprise Fondant Fancies. She's a dipper, but Mary is a pourer.
Andrew's making two square fondant fancies, Philharmonic Fancies even and they look deceptively simple. I'm only concerned because he hasn't timed this at home.
Candice is making two different genoises in her round Chocolate Praline Fondant Fancies & square Cherry Bakewell Fondant Fancies.
Selasi is making square Lime and Ginger Fondant Fancies & square Pink Velvet and Raspberry Prosecco Fondant Fancies and the second ones sound suggestive, yeah? I don't know what's wrong with me! ANYWAY, he has cute little things to pipe on top, but his first attempt at a pink velvet sponge goes awry because he didn't sieve his flour. Mary stares him down and he tells us he's making it again. Later, Selasi sieves his flour for his next sponge while Mary watches from her table.
It's a race to finish 36 tiny fondant fancies in time, there are wee cakes spilling all over the place! I'd still like some of Andrew's, please. Selasi doesn't want to give up, but well, no sense going on about it.
Judging time!
Mary loves Candice's presentation, and the beautiful surprise inside too. They are STUNNING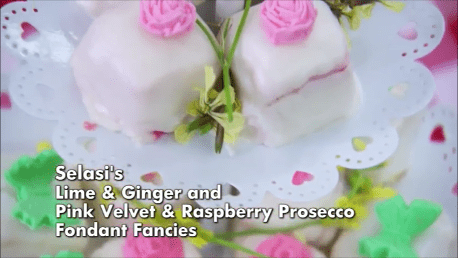 Selasi gets asked about his dainty bakes; that's not usually how he rolls. The flavour isn't great, either, I LOVE the pink velvet, though. He's going home and he's almost crying already.
Jane's are so pretty! They're crumby on the side, but the insides are perfect. Paul weeps for her.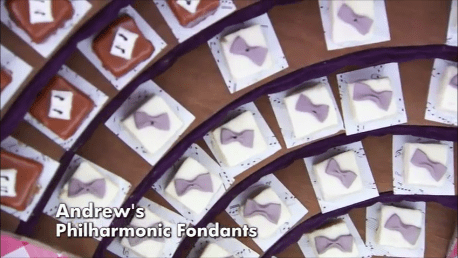 Lookit Andrew's! They were slightly too buttery: THAT IS NOT EVEN POSSIBLE.
The Star Baker is: ANDREW!! Woo hoo! I had no idea, yay!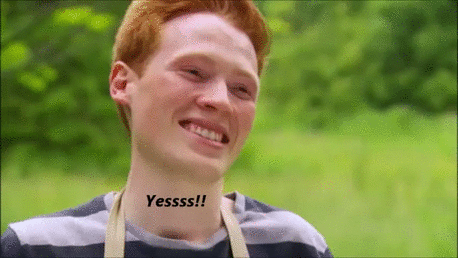 And leaving is: Selasi
They love Selasi, and it's wonderful and he did such a great job! Top 4 is nothing to sniff at, young man!