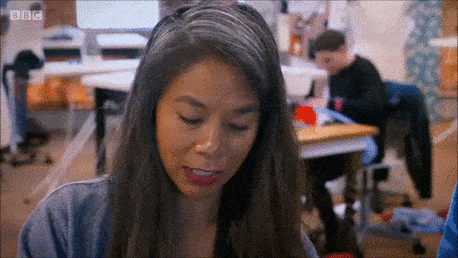 It's been a minute since we danced around the haberdashery on the Great British Sewing Bee, hasn't it? We're still in the sixth season and about to tackle Reducing, Reusing and Recycling! Join me after the break in my GBSB S6:E06 recap!
Last time we got under the sheets with Lingerie and Sleepwear, where once again Therese won Garment of the Week and we lost Ali to an unfortunate sleepset.
Nobody knows what to expect, but Peter Cant, Mark Francis, Nicole Akong, Matt Gage, Clare Bradley and Liz are dying to find out! That's everyone left!
The haberdashery materials have been replaced by used clothing, host Joe Lycett lets the home sewers know they're deep innit now. Judges Patrick Grant and Esme Young don't look quite as scrubby as he, perhaps they have slightly better bins to rummage through.
Esme presents the Pattern Challenge, our sewtestants will be making a men's bomber jacket out of up to four different material pieces. This looks tricky! There's ribbing.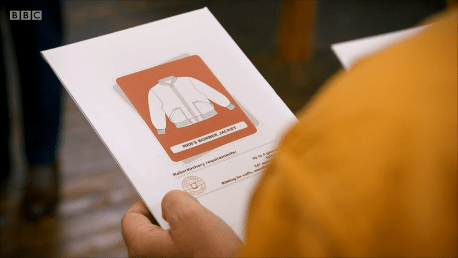 Patrick explains that this challenge, and indeed whole week, is about sustainability. We do have so much clothing on the planet, it feels like using what we've got would be the way to go, right? I do my part by wearing clothing several sizes too large and inadvertently flashing people while bike riding. It's a win-win!
Mark is our careful and tidy banker, he's going with a matching colour palette and I'd expect nothing less. This is completely opposite to Peter who has four discordant patterns bashing up against each other.
Clare has chosen sensible patterns and colours because of course she has. Back over to Peter's bench where he's also added stretch fabric to be attached to ribbing and I'm going to miss him. Nobody survives the Curse of the Stretchy Fabric. It took Ali out last week just after she won Garment of the Week.
Matt was able to scrounge a piece of clothing where he was able to leave in a seam and a zipped pocket, he's saving time all over the place! Therese thinks she's doing fine, I'm glad she's not lost in her head as has sometimes happened in pattern challenges.
The zipper is the next big problem for everyone, lots of switching around after but the neckline and ribbing is no joke either. We need Karamo to do a consult!
Everyone but Nicole and Peter are calm, something's gone terribly wrong as they dress their mannequins. Joe asks Nicole if she's just going to give up?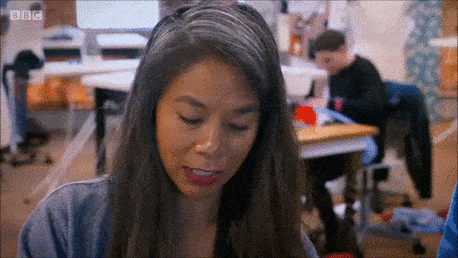 Time for judging from least best to most best:
7th place – Peter and his janky collar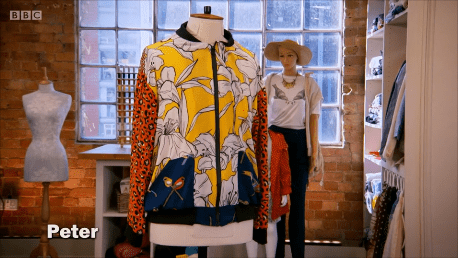 6th place – Nicole and her janky collar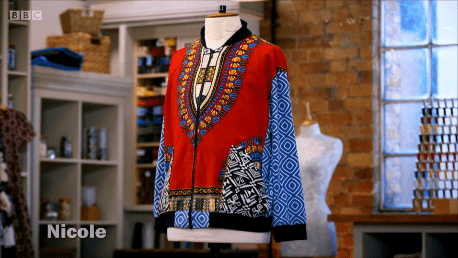 5th place – Matt with his wobble and slack in his fabric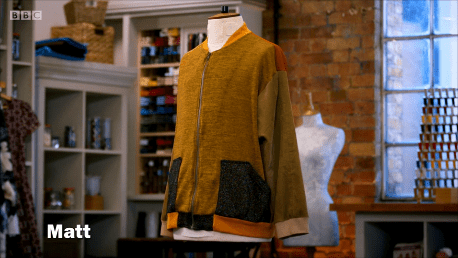 4th place – Therese – who did quite well, all considered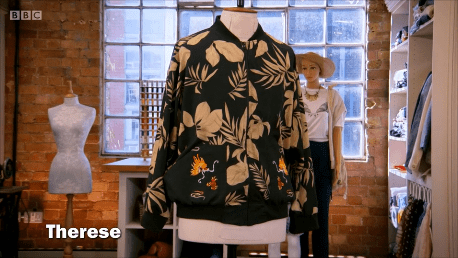 3rd place – Liz with her faux "scratching flap" hahaha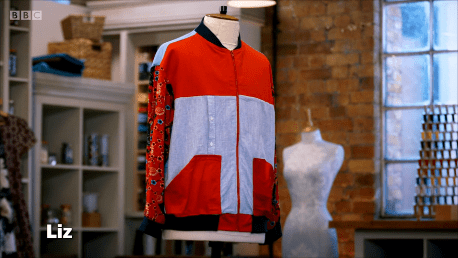 2nd goes to – Clare and her tidy and neat work as always. Chic even!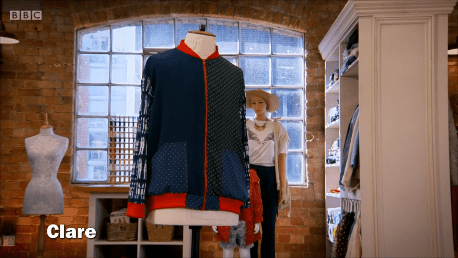 That means Mark has won this Pattern Challenge with his excellent planning and execution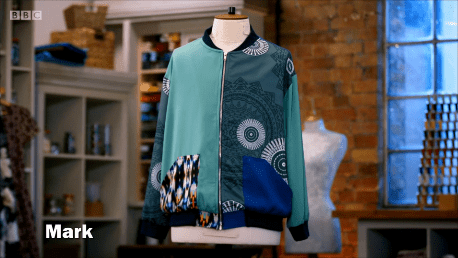 On we roll to the Transformation Challenge after a cuppa tea, wait, didn't we just do the Transformation Challenge? I swear…I'm not the only one confused, the judges have upped the ante and given our contestants a very tricky tart indeed. They have to make a garment out of plastic rectangular laundry bags, that's their only fabric. Le yikes.
Liz is going to stay positive!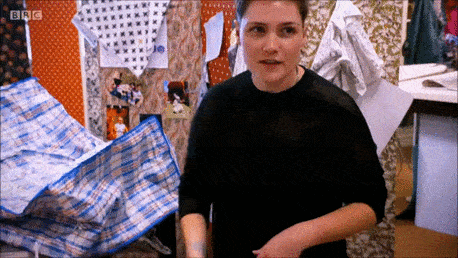 But Matt has gone past positive to mental, he's making a wedding dress out of the plastic whatsits. Every single sewer is struggling with the stiff plastic woven material, the other things is that they look exactly the same so I'm not expecting anything fancy at judging.
And here we go, from the most far from awesome to the furthest from pedestrian!
7th place – Matt with his fancy dress that didn't include any of the boxy 3D aspects of the material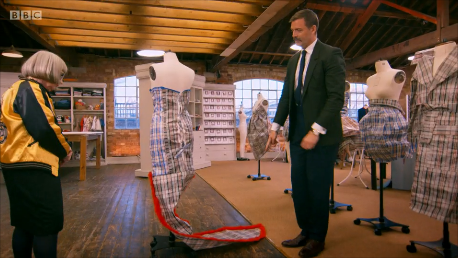 6th place – Mark attempted a trenchcoat but it was kind of…boring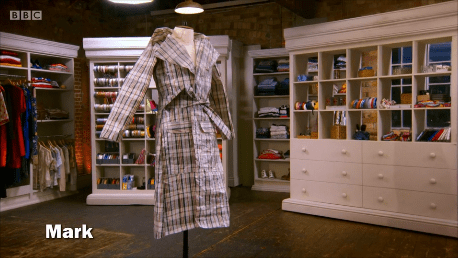 5th place – Clare's boxy skirt that was almost *too* neat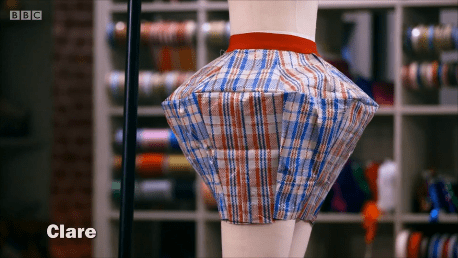 4th place – Nicole made a really neat jacket with lots of fiddly design features, quite impressive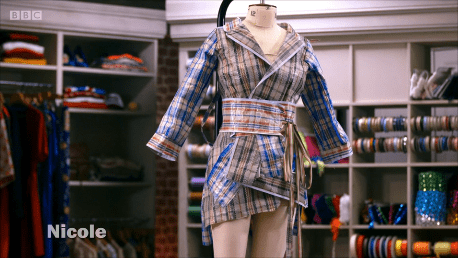 3rd goes to Liz with her sculptural skirt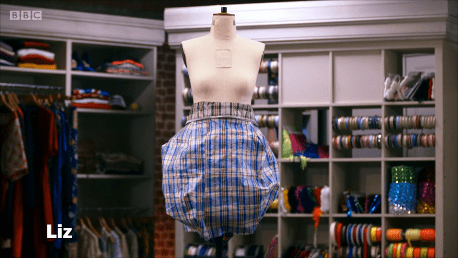 2nd is for Therese's fab pleating and shape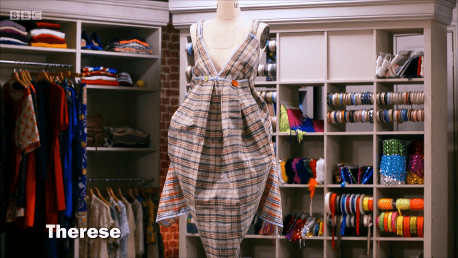 And my favourite one wins! Good job, Peter, with this excellent look! I would totally wear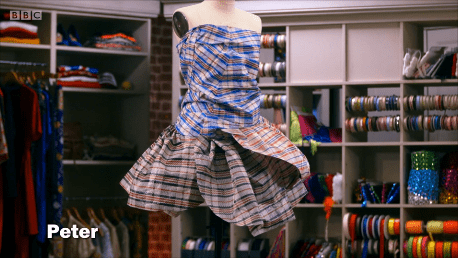 That's Peter all over, from the bottom to redemption all in one day! But. Still the Curse lurks…
On to the Made to Measure challenge, where our sewers will be making winterwear out of recycled knitwear. That sounds…bulky…Of course it's super crazy hot right now so that's making me gag too. Let's see what stretchy and muggy polyester they can throw on in this heat!
This is an even trickier challenge because usually the sewers get to practice their designs at home and just adjust for their models. Since they're using leftover knitwear, they can't really do that so it will be interesting.
I quite like Matt's look, it's based on something his mother wanted.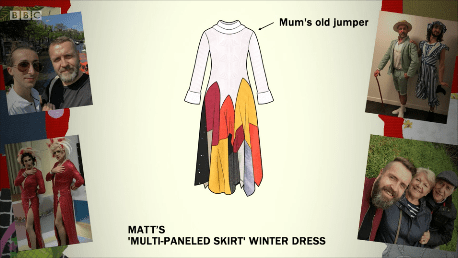 Some other looks: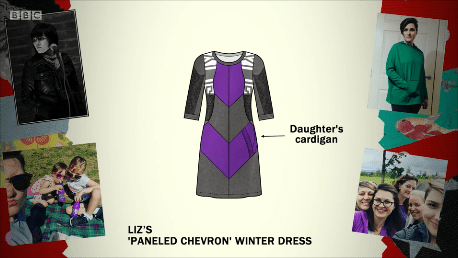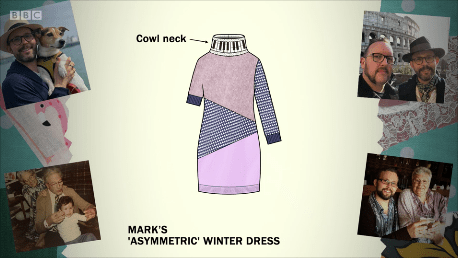 I adore Peter's design, of course, he's got a great 90's eye.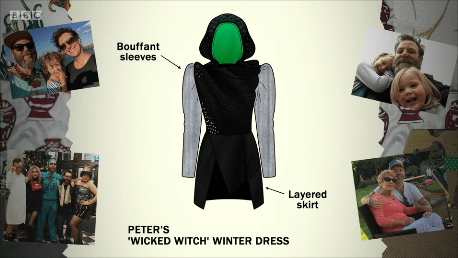 Therese has a very strong look sort of planned.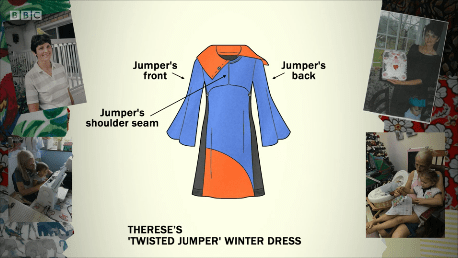 The problem with knitwear is that it unravels like a bugger the moment to put scissors to it. That and the fact that you're usually looking at a synthetic material; this is not a picnic for anyone today.
So. Clare is making a 1920s dress because of course she is AND it's meant to look like a puffin. PUFFIN.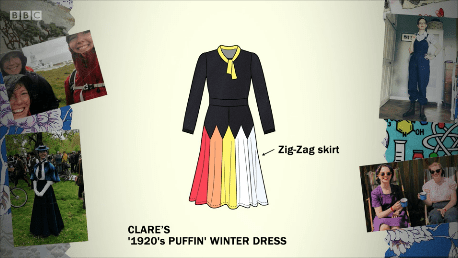 Nicole's making something that already looks out of date.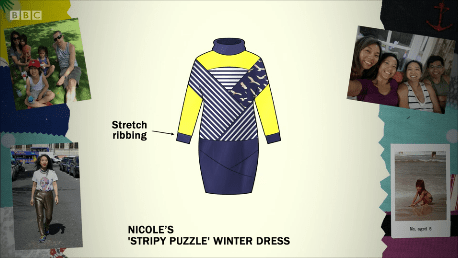 Therese had a wild and crazy design in mind with bat sleeves and everything else, she's happy now with…a jumper. Patrick is skeptical.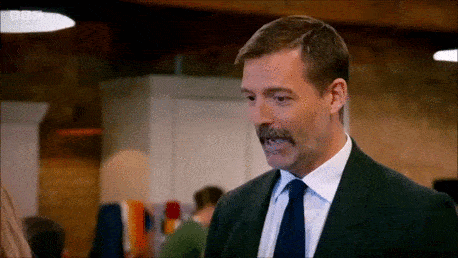 Therese rips it off her model and mad sewing commences. But then she can't find the balance and is stuck, swinging back and forth between a boring jumper and a mad whatsit.
Liz, Clare and Nicole have very precise plans that they're working from, the ones winging it as they go are going to be in trouble for finishing in time. Mark almost shanks his model.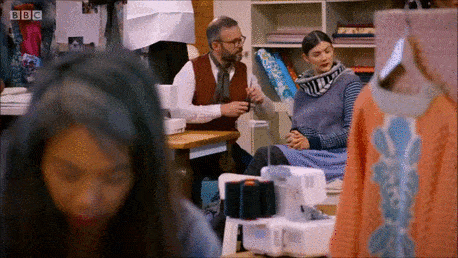 I love Matt's dress and so do the judges!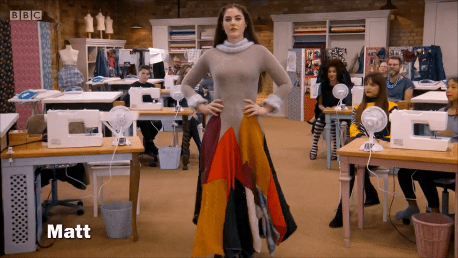 I understand why the judges like Clare's dress, but I think it's a little dull, isn't it?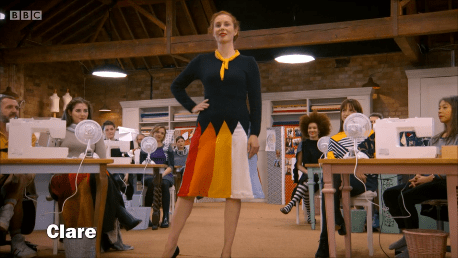 Oh goodness, there's something lumpy going on with Therese's look.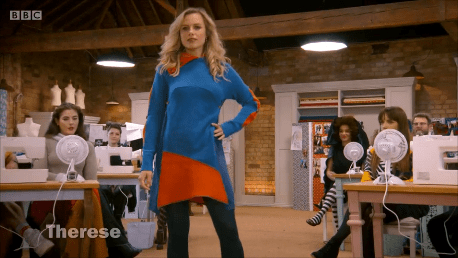 Mark did a great job with his lavender jumper.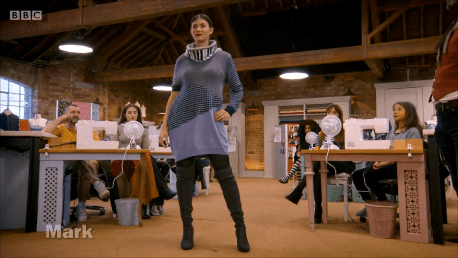 Liz has made a fantastic sweaterdress, I would 100% wear that.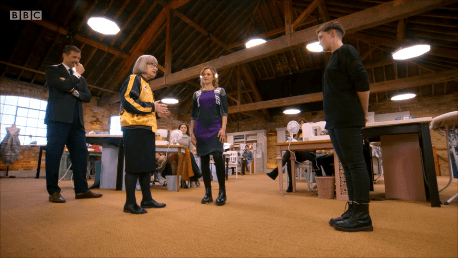 For some reason, Peter's look didn't quite come together. Patrick thinks it might be a little too costumey.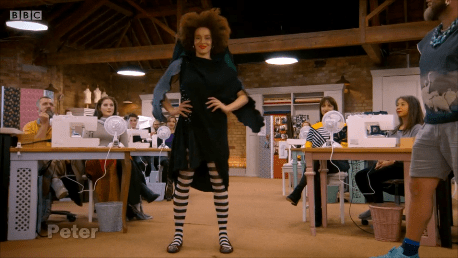 The design of Nicole's cocoon dress is quite lovely, but isn't it miles too big? Patrick can't stop gushing about it, he calls it one of the best things he's ever seen on Sewing Bee.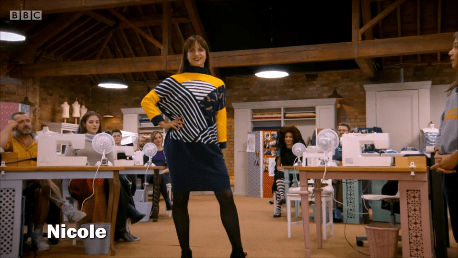 And that's all of them! What's your prediction for going home and Garment of the Week? Obviously we have to consider Nicole's dress for GotW, I'm worried for Peter and Therese for going home. They're both excellent sewers but had some major wobbles today. Let's see how everything shakes out.
Oh wow, Patrick and Esme could not agree on Garment of the Week so there are two! I bet they're Matt's and Nicole's dresses! Yay, we're all right!
We kind of knew we were losing Peter this week (see curse above) and it seems that is so. He's an absolutely smashing sewer, I'd wear almost anything he conceived! Best luck, Peter, I've enjoyed watching your creativity!
Cheers everyone, until next time!