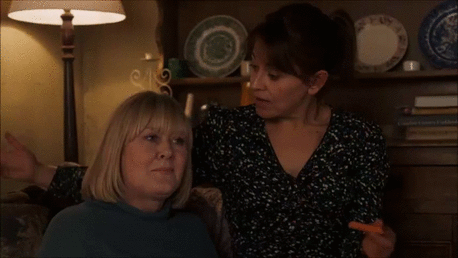 So here we are already, at the end of another series of Last Tango in Halifax. The world is in terrible shape right now, I have been very much looking forward to this ray of sunshine all week. Sarah Lancashire, Nicola Walker, Anne Reid and Derek Jacobi have shepherded us through another four episodes of glory (albeit with some dark parts) to the end of this series, join me as we watch LTiH S5:E1.4 after the break.
This has been quite a week of shocking lightning-quick changes in the world, COVID-19 is wreaking havoc on travel and public gatherings. I am very, very lucky in that I already work from home and have systems set up for such an occasion, I hope everyone else is well and safe.
On to Last Tango!
First off, I have to admit to brazenly stumping for lot of unlikely things, the more important of which is Caroline (Sarah Lancashire) finding happiness in the next 59 minutes. I mean, it's not impossible, but that's not much time to have either of two straight-identifying women throw their lot in with her. Three, if you count her stepsister Gillian (Nicola Walker) and the internet insists I must. For one thing, that storyline features prominently in the better fanfictions (I've heard) and I myself have noted a few moments that made me wonder.
HOWEVER, our scribe and leader Sally Wainwright has publicly disavowed the exploration of a romantic relationship between Caroline and Gillian, so I personally have to place that on the backburner. You may choose to keep it up front and perking, as is your wont and right.
Right, where were we??
Wait! One more thing. I have a new recapping partner, everyone say hello to Dwight!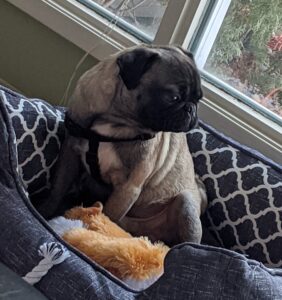 He's under my chair as I'm recapping, handling the gently snoring and silently farting facets of our partnership.
We open with lost boy Harrison (Liam McCheyne) sleeping in Alan (Derek Jacobi who was JUST in Good Omens!) and Celia's (Anne Reid – she really is a marvel, check out her work in Years and Years) garden shed, that's probably not good or safe.
Celia's in the kitchen on the phone with her daughter Caroline, filling us in on her kitchen updates. She and Alan had decided to put in a new kitchen and given loads of money to a contractor named Martin, who absconded shortly after the old kitchen was pulled out. Tradesperson Rick (Jonathan Halliwell) has been kind enough to agree to put in the old kitchen, free of charge, but I'm skeptical. Why is he wearing shorts and short-sleeved t-shirt to a construction site?
Could this be one large game of Appreciate What You've Got, carried out by conventionally attractive men in rolled up shorts and tight t-shirts?
I'm distracted by the appearance of John Elliot's (Tony Gardner) hairy legs at Caroline's kitchen table, it's all right to crash at someone's house, but no need to break out the fuzzy sticks, is there?
Celia asks after John, but Caroline's not minding having some help around the house, especially in the picking her daughter Flora (Issacah Hatzer) after school department after Celia stopped doing that to emotionally manipulate her husband into quitting the job she didn't understand.
Alan's on the phone with his offspring Gillian (Nicola Walker) who is looking into selling her sheep farm for 500,000 pounds. That's all right! Alan thinks Gillian will come to regret it and I understand that, but she looks very, very happy at the thought of unloading the place where she murdered her first husband.
It doesn't just affect her, her son Raff (Josh Bolt), his wife Ellie (Katherine Rose Morely) and daughter Calamity (Tilly Kaye) live on the farm as well. Where will they go?
Alan hops off the phone to chide his brother Ted (Timothy West) to get ready, he's got to come with Celia to drop Alan off at work! They're very protective because Ted wandered off on his own the first night he stopped with them, he's pre-dementia-ish and they were quite concerned. Ted insists that he's fine on his own.
Leaving from the sheep farm, Ellie wonders aloud about Gillian and what's being said about her in town. You remember Cheryl (Rachel Leskovac), the police officer dating Robbie (Dean Andrews) before he married Gillian (there may have been a little bit of overlap there), she haaaates Gillian and has been telling everyone in town what Robbie told her; that Gillian murdered her first husband Eddie.
She totally murdered the violent and abusive Eddie, confessing everything to Robbie before he left her and their marriage right after. HOWEVER, there is no way Robbie told Cheryl this as he's currently wandering around the wilds of Canada and it's not exactly the sort of thing you put on a postcard or Facebook post, is it?
So this must be based on his initial suspicion of Gillian, before he decided he wanted to marry her.
Gillian takes Calamity to school, and before Calamity goes to "sort Brendon Clarke out", Gillian has to explain the concepts of gay, being closeted and whether or not Calamity can marry her cousin Flora. Gillian looks exhausted after.
*I have had several very similar (but not as hilarious) conversation with my kiddos, they went sort of like: "yes, you can marry a woman, yes you can marry a man, love is love and NO you cannot marry your brother. Neither one. I said NO."
Gillian prepares to drive away from school, a car moves away just in time for Caroline to slide right in there.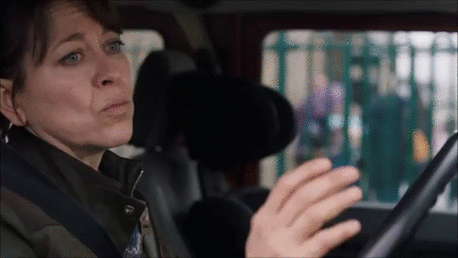 That was for US! That's a lovely re-creation of the first time they met, fighting over parking and calling each other things that did not sound at all like "Nicely done, Caroline."
Caroline hasn't noticed Gillian yet, she's fielding a call from her ex-husband's ex-fiancee Judith (Ronnie Ancona). Judith has decided that Caroline is exactly her cup of tea and I'm pretty sure you're not supposed to date while in your first year of recovery as an alcoholic. Or when you've not starting the "recovered" part just yet.
Judith asks after John as Gillian pulls up alongside, Caroline's "he's fine. He's annoying, but fine" made me laugh. Judith blathers on and on about her growth and using John to get to Caroline as Gillian makes faces and Caroline tries to get off the phone.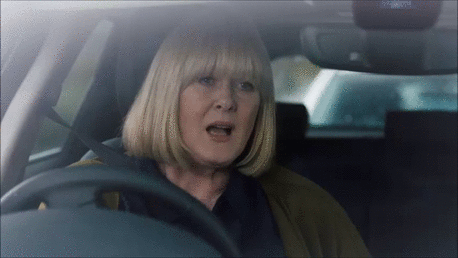 Gillian shouts "tell her you're going out with me!" which will delight some ladies I know!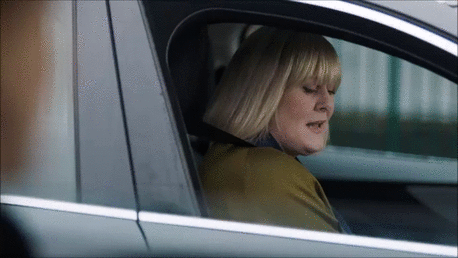 Caroline lists out all the things that would be wrong with her dating Judith:
Judith dated John, which ended Caroline's marriage
Caroline is a busy single mum
Judith is an alcoholic (see my note above)
Judith doesn't really listen and carries on, talking about her recent epiphany that maybe all the crap men she's been dating are the problem, she's about to turn a massive corner!
*Allow me to suggest that being a crap person doesn't change when you change whichever gender you're dating. I don't think sliding to the LGBTQIA2S+ side of the meter is going to make you less of a selfish arsehole. HOWEVER. Lots of times when people have internalized self-hatred, they do self-destructive things like drink, shag everyone and other not awesome behaviours.
Caroline wasn't listening either while Judith was exploring her growth, she was out of the car closing Flora's door.
Back to Celia and Alan's bungalow, where Ted is alone with handyman Rick and receiving Harrison, who's come in from the shed. Ted even asks if he's the fella from the shed, but Harrison denies it while dumping a mind-boggling 7 spoonfuls of sugar into his tea.
They have a lovely chat over toast and jam while Alan rails about his brother's blind arrogance on the way to work with Celia. It's switched right around now, Celia is thinking about Ted in a positive light but Alan is fed up. Celia sees the comparison between Ted being targeted and them being rooked for a new kitchen (as a friend said on Twitter the other day), so she has empathy for him.
Harrison is a terrible influence on Ted, I think they have just made plans to head off to Bridlington. AND he convinced Ted that he's old enough to drive AND has a car down by *Sowerby Bridge. Does he REALLY believe Harrison is 35? Is that dementia? The loss of your reasoning?
*That's a key location for all Sally Wainwright dramas. See also: Happy Valley
Raff calls Alan at work, he has a confession to make. The giraffe on the side of Gillian's barn, that was a friend of his that did that and now Gillian's lost two sheep worth $600 and she's selling and they'll have no place to live and yeah. It was a bad idea.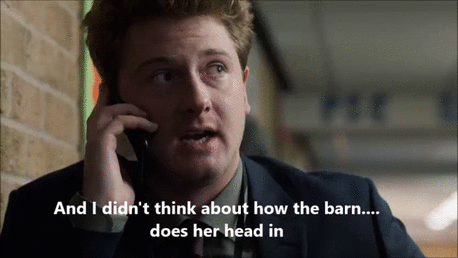 Harrison breaks into a car and successfully hotwires it (UH HUH) and drives over to see Ted, barely over the steering wheel. They're off to Bridlington!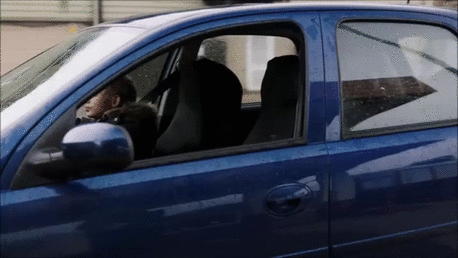 Celia arrives home to find her old kitchen restored and Ted on the lam.
Ahhh Caroline has come up with a plan to save the day! She calls Gillian, what about if they all moved in together and pooled their resources? They work through the idea, but there's not enough room by Caroline and Gillian's place is..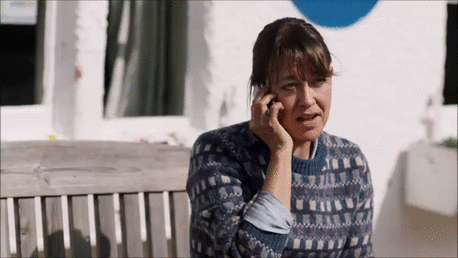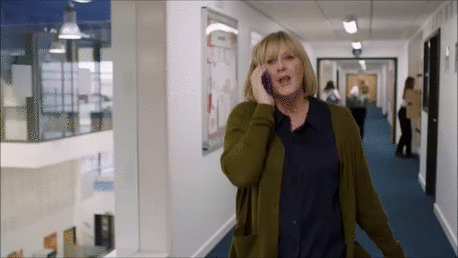 It's been stricken from the record!
Hahahaha. That was for us!
Gillian is distracted by a cuppa handed to her by the hunky business owner she was apologizing to last week. She *literally* watches him walk away.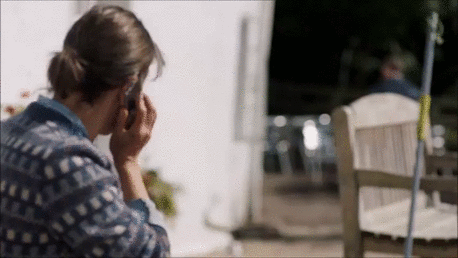 Caroline's got her own trouble at work to deal with, her onetime interest Ruth (Lu Corfield) has had her car vandalized by her ex-husband, with blue paint and "MAD B*TCH" splashed across the back window without the *.
Caroline asks her helper Helen (I don't actually know what Helen does, but she's quite helpful, so here we are) about it, she says perhaps Ruth is as bad as her husband. Hm.
What the Sam Hill? Harrison is actually driving them to Bridlington?? That's not safe. Alan's friend Harry (Paul Copley) finds Alan at the till after Celia raised the alarm, he's been looking everywhere! Alan pooh poohs, Ted's an adult and that's fine. But the thing is, Alan wouldn't know where Ted went anyway.
Back at Celia and Alan's, John and Lawrence (Louis Greatorex) are there to help Celia, who doesn't want to leave in case Ted comes back. Alan, Harry and Gillian arrive next, don't think I didn't notice when John perked up when he heard Gillian was there!
Oh but PC Cheryl too, how long until Caroline shows up?
Ted and Harrison have a great time at the seaside; Harrison is a better parker than I am! I'm not sure what they're coming up with, though, it doesn't sound reasonable. Something to do with flying and/or seeing Alice, Ted's dead wife?
Caroline asked that Ruth be brought to her office, when Ruth arrives Caroline is taking no chances.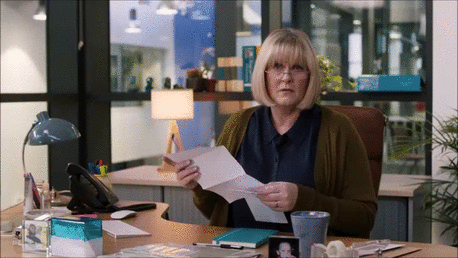 A small powerplay wherein Ruth has to acknowledge Caroline's authority, then we're into it.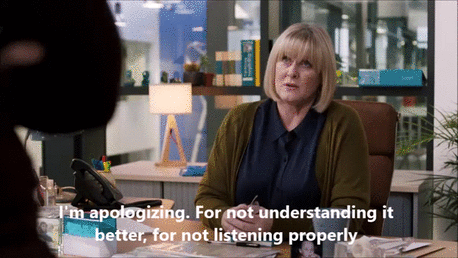 Caroline offers Gillian's help as someone to talk to about her abusive relationship and has arranged for everything to be fixed for Ruth, quickly and efficiently.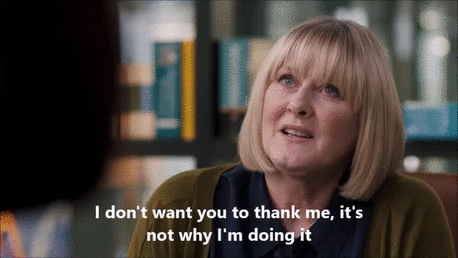 Ruth leaves, initially without a word, then wheeling around to say thanks, thanks really.
Harrison and Ted play in the beach waves, he spies his dead wife from long ago playing in the water. He has lost the plot, poor fella.
Harrison asks Ted if they can go to Sheffield now to see his sister, but Ted doesn't want to go. He asks Harrison to pick him up on the way back and sits on the beach, once again envisioning his young wife from long ago.
She looks like Ellie! That also looks very, very dangerous for Ted to be alone by the ocean by himself. It's no better for Harrison to be driving in a car he can barely see over the dashboard, he can't read either.
The whole family has fanned out across the north looking for Ted, except Gillian who is babysitting and leering at the hunky handyman Rick at Celia's place.
I know Gillian said one time she was thinking about becoming a lesbian, but that's not exactly how she presents.
Alan and Celia are at the church where their parents, Ted and Alice and Alan and Eileen were married, just like back in the day when we found out that Alan doesn't believe in organized religion (oppression of the masses indeed!).
They have a lovely chat in the pews, just like they used to when they were planning the wedding, coming to terms over the kitchen. They're very different people.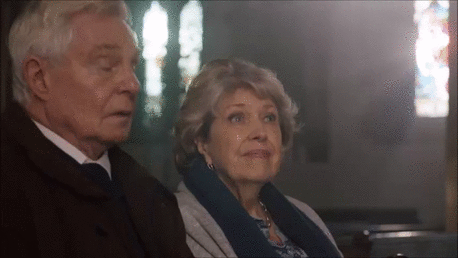 Thank goodness they've got all that love.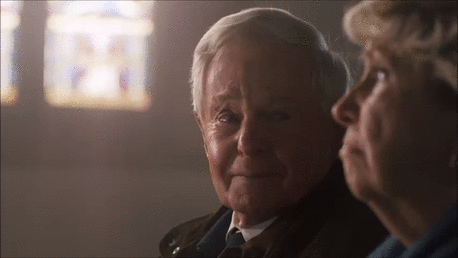 What a relief for Celia! And we're not done yet! Alan got the job because he thought Celia was bored with life and that's why she was replacing a perfectly good kitchen. Celia thought Alan got the job to get away from her and you see what this one little conversation would have saved? Maybe churches are good for something after all.
They argue over who's simple (they both are), do they need a holiday? They have $5000 left over not given to the crooked contractor, should they go somewhere?
Alan suggests exactly what I was thinking: give it to Gillian! For her woodworm, etc! Celia thinks this is her getting her comeuppance and I can't argue with that.
Harrison wasn't going to pick Ted up because he was mad, but he does after all, in time to see a Coast Search and Rescue come to see his body on the beach.
Ah Ted. Ah Harrison.
Gillian agrees to talk to Ruth for Caroline, then Caroline wants to talk about Celia and Alan's wedding anniversary coming up shortly. Does Gillian think their parents are still…in love as they were? They seem so separate lately, Caroline wants to send them on a holiday.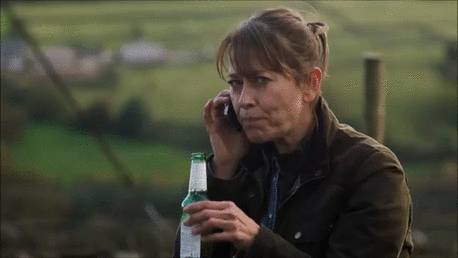 Gillian is again distracted by the hunk of manmeat in front of her, she hilariously makes sure he knows SHE wouldn't be a lesbian going to the Hebden's Women's Disco, rather it's her sister.
(That's just like when Gillian and Caroline were talking on the phone and Gillian said "congratulations!" and then covered it and said "for being a lesbian" – has Sally been on our Tumblrs?? She's hitting all the high points!)
Cheryl pulls up and Gillian prepares herself for another round with her nemesis, but Cheryl is upset and looking for Alan.
Ah Ted.
Cheryl gives Alan and Celia the bad news while Gillian listens, Cheryl is being very, very kind. Gillian offers an olive branch.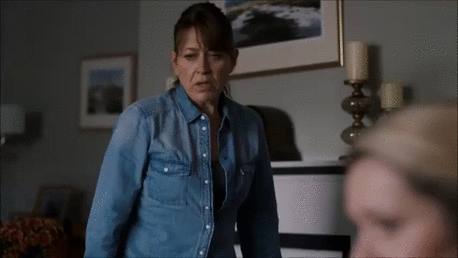 But Cheryl has to go, leaving with an explanation of how Ted got to the beach: with Harrison.
Remember that Ted came to England with a couple of young nurses in tow? One of them, Mia (Catherine Campion) has been having it off with Lawrence, but she's disappeared without saying owt. John offers a hug to his son, but Lawrence is angry, calling Mia a "b***h", which John gamely echoes half-heartedly.
*I hope Tony Gardner gets loads of work, he has great comic timing and is hilarious.
Lawrence asks if John and Caroline are getting back together, that's a no. He'd like to! But no.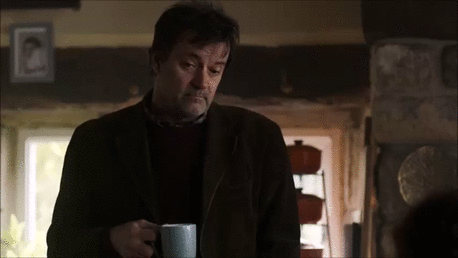 When Lawrence says "WOW"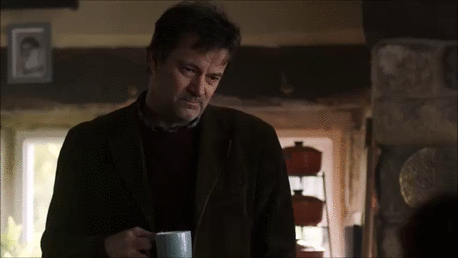 Hahahaha see?
Ruth gets home to her abusive husband, surely she can go elsewhere? Somewhere safe? She spies his car keys on the counter and grabs a bottle of beer, pouring it inside his gas tank.
They may well be as bad as each other.
Now we're at Ted's funeral but. Ellie is holding a baby. Did I miss Ellie having her baby?? WHAT? I don't usually miss BABIES.
William (Dean Smith) is there, as is Nadine (Kerry Fox) and Harrison stealing food, natch.
Caroline and Gillian cuddle up in the corner.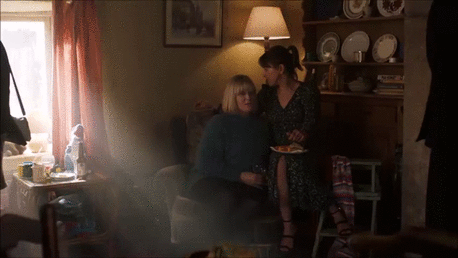 They talk about John, who is frustrating Caroline by acting as though he's moved in, moved in. Gillian says there's only one way to make it clear, send a strong signal. Caroline knows exactly what she means by that.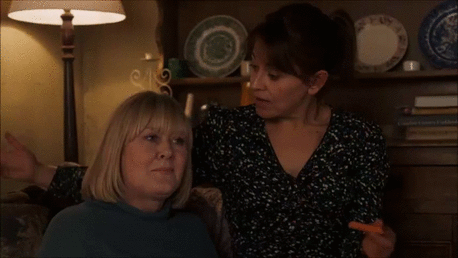 Gillian runs over to tell Ellie and Raff that's where she and Caroline will be going, right in front of John, who doesn't know what that means but senses a disturbance in the force.
Celia tells Nadine she's all happy with her kitchen now, seems Rick cleaned it and made everything square and it's excellent! Yay! They're going away to a little hotel for their anniversary, please say it's Holdsworth House Hotel!!
OOH! And we finally made it to Hebden's Women's Disco! It's just like I imagined, with loud music and women snogging in all corners. Gillian recognises people! Gays, they're everywhere! Just like people!
It's cute, they giggle like schoolgirls doing something naughty. They look happy.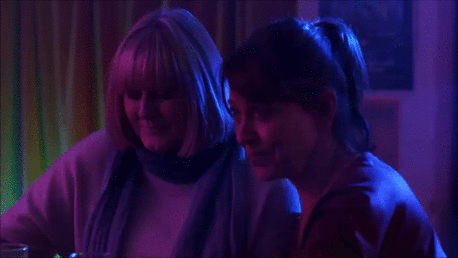 Alan and Celia have their anniversary dinner here, which I'm sure is the Holdsworth House Hotel and Restaurant. Maybe.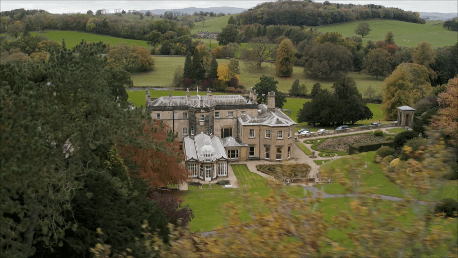 I know two people on Twitter who have been at this exact table, I can't even imagine. How beautiful. One day.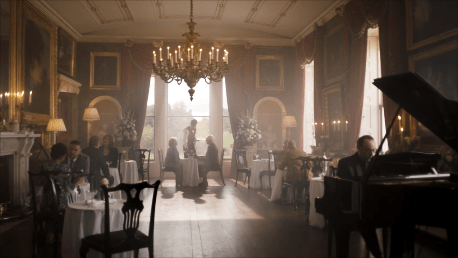 They have to do the math over which anniversary this is, it's the 7th. Well, that explains everything! They were kneedeep in a seven year itch! They dance in front of that beautiful window, we're out.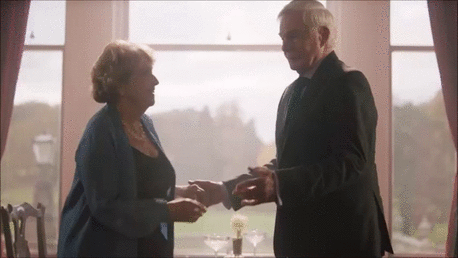 Hm. So Ruth was a bit of a rotter and exactly where she wanted to be, still fully engaged in battle. Not for our Caroline, who seems happy with her new wingwoman Gillian, who is entirely invested in finding her stepsister a date. Hapless John is hapless, Judith is crying on her piles of money and Celia and Alan are still very, very much in love.
Cheers, everyone, thank you for reading. I will see you next time a Sarah Lancashire or Nicola Walker show rolls on through.
Stay safe and inside, my friends.