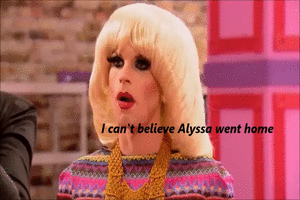 This is it, henny! The RuPaul's All Stars Season 2 Finale and we find out who will be crowned the winner! BeckyMae and I will be doing sharezies!  I'm betting #TeamAlaska but boy is Katya a crowd favourite. I may be biased because when I saw her in person, she was...not awesome. Everyone has an off day sometimes, yo! Even Alaska Thunderfvck 5000
I CANNOT BELIEVE DETOX SENT ALYSSA HOME LAST WEEK! There was no way that made ANY sense with regards to consistency or judges critiques or ANYTHING. She gonna geta cramp from carrying that Roxxxy, you watch. Week before that, Alasks couldn't send home Roxxxy because she was literally wearing the shirt off Roxxxy's back, now the shadiness of Detox not being able to send home her best friend. I mean
BM: I kinda feel sorry for Roxxy at this stage, chica cannae believe that she is STILL in it either. I just wish they were all more honest about RoLaskaTox which is TOTES in session, on da throne and in da house! I'm glad and not surprised that Katya was sending Roxxy home, she has played a clean game and I miss Alyssa too. Mental note to self "WATCH S5!" DO!! Do watch S5!!

Katya was fully planning to send Roxxxy home (uh yeah) but she manages to make it funny and kinda sweet. That's Katya.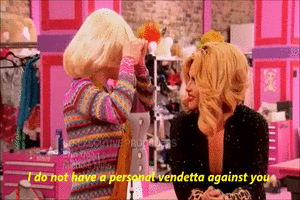 I stick to my theory that Alaska was told to play up the temper tantrum to make it seem slightly more even. Alaska is so polished and this "competition" has been hers to lose all along.
BM: Oh and Alaska's explanation of her tanty?? "I was never in the bottom 2 in my season, I just didn't know how to DEAL!" puh-lease.....there are better ways to deal than throwing all your toys outta ya pram. Still love her though, I am ok if her or Katya win...
Workroom time! And it's Michelle Visage come to direct the ladies, They'll be guesting on RuPaul's latest song "Read U, Wrote U" and AB Soto will be helping in the studio. Roxxxy sounds...asleep. They'll also be appearing on the "What's The Tee?" podcast with Rupaul (full drag! Swoon) and Michelle Visage, Alaska is up first and does not do bad until asked about Ro-Laska-Tox, which is clearly very much together. She tries to play it off, but...
BM: "What's the Tee" is really great, TTM, you should check it OOT! Loving Michelle's shoes, though she can barely teeter in them, lol. Alaska is saying SO many words about how they are not practising Rolaskatoxism but, rilly??
Ohh and Katya's getting blinked at a LOT by AB Soto, who probably appreciates the effort of Katya's faux-Russian rapping but...yeah. BlinkblinkblinkBLINKBLINK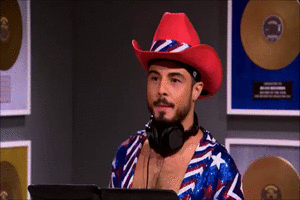 BM: Honestly, I'm just impressed that she got 'Dostoyevsky' into a rap....*golf claps*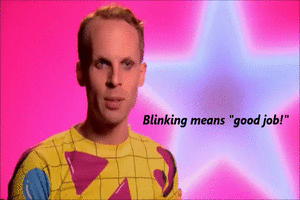 Detox is on What's The Tea pretending to be all humble, gurl I know you. I saw you on season 5, the only thing humble about you is your Dutchboy eyebrows and that's cos they've fallen down again. Detox denies that Ro-Laska-Tox is really a thing too, but she knows that mic is live, right?
Back in the workroom, I swear to Jeebus... did Detox JUST get Botox? All those red dots on her forehead and my background in Real Housewives says yes. Anyway, Alaska freaks out when she realises that they're right back where they were last time: Ro-Laska-Tox plus one lovable weirdo... who won. She is just gonna concentrate on her game, ceeyas chicas.
BM: Hahaaaa, Detox's face when Lasky is talking about Jinkx is CLASSIC! I can almost hear the 'Jaws' theme in the background. They better not underestimate that pseudo-Soviet powerhouse!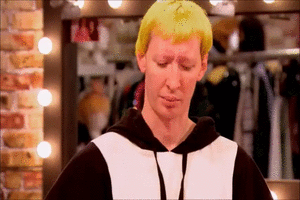 Then Detox is mad and Alaska is crying and Roxxxy is patting people down, just keep going, Alaska! She meditates and thinks about turning adversity into something you can learn from and if you figure that out, girl, you let me know. I have an ocean of regret.
BM: talk about battle of the egos...."No, I DESERVE to be here...."......"No, I DO!!" bloody shut up and cinch you two! Lasky has a point tho, better to focus on your own game than anyone else's, otherwise you risk toppling yourself. Roxxy is the best shoulder to cry on, obvs, she has that one down pat. I can see why they are close but really she is riding dem coattails.
Katya's turn on the podcast; she's named the voice in her head Brenda! And Carl, but not Hot Carl. Side note: I used Hot Carl all through my Bachelor in Paradise recaps and I don't think anybody got it. :
Alaska KILLS her solo on the song, of course, AB Soto loves her energy. It's very B-52s
BM: not sure that 'breathless' Alaska sound works as a rap but she has the most recording experience of all of them so she will nail it. 
Roxxxy's on the podcast, but I think I fell asleep and missed it. Roxxxy, I love you, you're gorgeous, but you have almost nothing to say.
BM: was Ru shading her during that? "When you were on whenever you were on before?" She's a sweetheart but, really, what's her signature look or thing? Is she just beauty/face/beauty/face? It's all a bit too Barbizon for my liking.
Katya, Alaska and Detox sit around the workroom and yak; what if Roxxxy won? Katya and I would be confused... Alaska doesn't think it will be a numbers game, you have to be likeable. And she's been very driven. I don't think there's any shame in Alaska's game, she owns her drive, she's f*cking hilarious and so polished. Katya is SUPER likeable, though.
BM: I literally LOL'ed when Katya said "What if Roxxy wins?" I mean, gurl, pigs would be flyin', dogs and cats would be lovin'....
Katya's incorrect when she says 'it's not an equation', Mama Ru GENERALLY follows an equation just like that. Unless it's s2 and you are crowning bloody Tyra goddamn Sanchez, imma pretend THAT never happened.
Detox is most of that, but I cannae stand her. She looks great, but the arrogance and self-absorption and general trashiness just doesn't do it for me.
BM: I'm surprised she could rap at all through all that Restalyne in her lips...
Heeeyyyyy! Travis Wall from So You Think You Can Dance? is choreographing!! Nobody does well until Katya, and all I got out of that is that Roxxxy is a top. WHUT?? I already knew Katya was hella flexible after all the pounding her vagina in to the floor in her season. She was a MASTER.
BM: Lasky looked the part but definitely came off as an inflexible chicken, bless. Detox channelling Drama Class trust warm up realness with that fall-back, lol. "Chenay over, chenay over to him." WTF is a chenay? I don't watch dance shows, they give me the willies for some reason. Katya was fab, chica knows how to flatbag like a PRO!
Elimination Day! Will there be crying at the makeup mirror? Will there?? Instead, it's a dogpile on Roxxxy, oooohhhh!
RuPaul looks lovely in yellow satin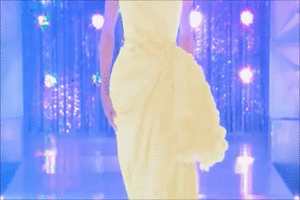 No guest judges tonight but somehow: I LOVE ROSS MATTHEWS. I don't know how or why this happened, but he makes me happy just to look at him.
BM: Ru has some hustle in her BUSTLE! I love Ross too, how can you NOT love him? If you don't love Ross you are a heartless dementor from the planet C.O.L.D.
Supergroup!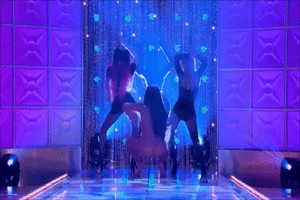 Alaska's first to solo and she's an awesome combo of Nicki Minaj and the B-52s, 10/10 would crown. She looks like a cross between Avatar and a post-apocalyptic Smurfette.
BM: for a completely unco-chicken, Alaska did a really good job! She really worked the 'standing out from the crowd' thing with all that blue, moar golf claps for Lasky! This song is very "Slave 4 U", no?
Detox does great! She looks great, sounds better and I HAVE to mention those butt pads though, right? And the velour jumper thingy? What?
BM: Detox ALWAYS puts more junk in her trunk than she should, Roxxy can get away with that as she is so juicy but a skinny bitch like Detox just comes off as ill-proportioned. LOVE the hair though, that was the best part of a boring outfit. She looked a bit like someone's 'cool Mom' being the chaperone at prom.
Katya: does her usual schtick, which I love, but it's slightly limited, yes? She's bendy!
BM: so bendy and so FISHY! She's giving me Courtney Act vibes, which she hasn't before?
Roxxxy: oh gurl. Stop. It's bad and I'm guessing AB Soto did what he could.
BM: he put the lipstick on the pig but it's still......
I LOVE the song, though, right??
BM: most of the songs are pretty forgettable but this one is ok. Roxxy is wearing a shade of nude that is more '6th degree burns from sitting too close to a heater' than anything else I have seen before, just...no.
Now we have the final runway! Let's see what these huntys got.
Alaska: she's head to toe in gold lame with a glamour wig and red lip, she looks gorgeous.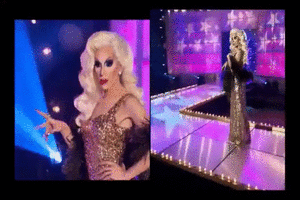 BM: I truly thought it was Alyssa for a split second.....yes, she looks great but it makes me sad to think what Alyssa would have done here. Lasky looks less horse-facey than usual too, me likey.
Detox: serving futuristic prom realness, this is a softer look than we're used to with her, that's a WHOLE lot of burnt umber, however. And that headpiece...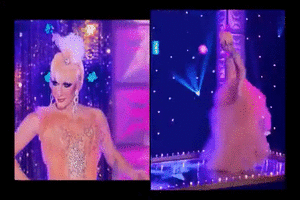 BM: I wonder how many toilet roll dolls she bought from the local granny craft store for that dress.....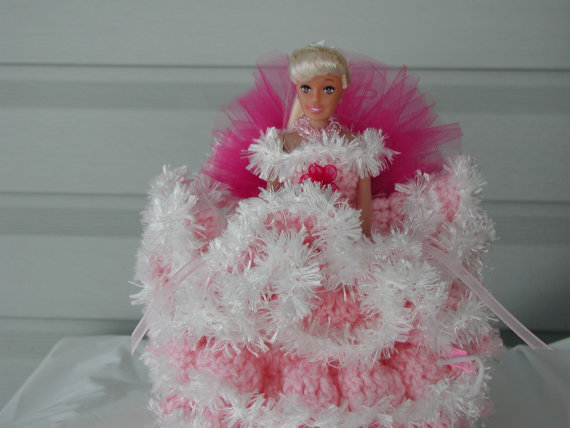 Katya: has a gold lame hoop skirt, cotton candy bleached blonde hair and a mottled turtleneck in between. Oh kay!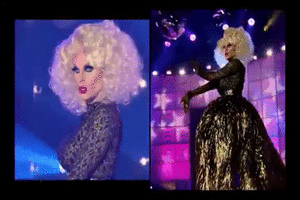 BM: I am very confused by this outfit....does not scream Russian mafia matriarch to me at all, it's more Greek velvet wall hanging...
Roxxxy: no hurr and her arse out, so a typical Roxxxy look. Very monochrome and may have sold better if we hadn't just watched her buttcrack for the past 10 minutes in the Supergroup show. We don't need to see your halo, Roxxxy.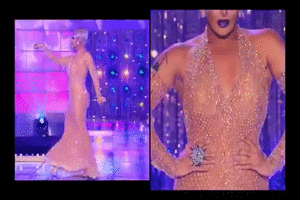 BM: fark, I thought it was RAVEN....lolololol. Always with the noods.....I don't hate it but I am by no means gagging.
So that's it! Final Critiques!
Alaska: gets kudos for her classic look and for her rebound from her tantrum last time
BM: Ross really summed up her journey well, she was just SO invested that, when she lost sight a bit, she just unravelled.
Detox: is LIVING Ross's ballerina fantasy!
BM: Was she the best rapper? I don't know about that....
Katya: Ross digs the weirdness and Michelle still can't look past that skirt, henny
BM: she's not everyone's shot of Stoli but I love her....just not in this attire. I loved last week's runway a lot more than this one...Michelle is right "Insanity is one of the reasons we love you....just NOT in that skirt," PREACH!
Roxxxy: Carson thinks her look is what would happen if Liberace and JLo had a baby, all the claps.
BM: that's the nicest thing you could say....
MamaRu cries while she passes on her torch to the next queen to win, awww, it's okay Mama!
BM: who cuttin' the onions???
Speeches time! Hahahahahaha Alaska references all the previous seasons (Shannel! Gia Gunn!) and ends in an Alyssa tongue pop that gave me pause.
BM: I wonder how many times she practised THAT speech in the Werk Room mirror? Meh, just because you know a lot of Drag Race Herstory, doesn't make you The One.
Detox doesn't want to throw anyone under the bus, but... she's grown so much! In her humility even! She wants to do it for the weirdos!
BM: Gurl, KATYA is doing it for the weirdos... Detox is doing it for HERSELF. That's all I got...they got thrown....
Katya does her speech in a Russian accent until she talks about season 7 and we all cry as she talks about believing in herself, finally. Go Katya!
BM: even if Katya doesn't win she has REALLY won....that's the best part....
Roxxxy talks too, but really: we know she isn't winning, so. She cries too and she's sweet, so good for her.
BM: It was a Miss Congeniality speech, fo sho.
The judges deliberate, just between squirrel friends, a good case is made for everyone but, well, we know, no sense beating a dead in the water Roxxxy to death. She's so preeeeety!
BM: yeah, all I got was...."Lasky is so great even when she's a brat, Detox is so edgy, Katya's so smartly humourous and Roxxxy is hawt.
And the winner is: wait. Alaska, Detox and Katya are top THREE and have to lipsynch it oot? Threeway lipsyching? How does that work? Roxxxy leaves with a "I will forever be thick and juicy!" and it's time! GO LADIES!!
BM: that is SO odd....why bother having a top 3? Maybe to assuage the rage of the masses as she road in on coat-tails? She not mad tho....well, she SHOULDN'T be...
The song is If I Were Your Woman by Gladys Knight and Pips; Alaska smears her makeup by Detox takes RuPaul to church, it's impossible to tell!
BM: hahaaa, LOVED the megaphone! I think Katya nailed the lipsynch really...Lasky flubbed a few lines....but still, I never think the lipsynch matters for much at this stage.
And NOW the winner is: Alaska! Yay!! I knew she had this!! And that's it! I already feel bereft, BeckyMae, what are we gonna do???? Until next time, huntys, thanks for reading the musings of two dedicated drag hags with a love for cheeto dust. Bai bois!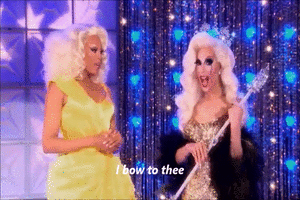 BM: I'm ok with this, I just wish she'd been a bit more gracious but she learned a few life lessons along the way. Cannot wait to see how the interwebs is gonna deal with this decision tho! So...MANY....snake emojis!! TayTay's Snake Queen crown will be snatched from her head! What ARE we gonna do now?? I have no life as it is....I need my queens!! AAAAAAAAAAAAAARRRRGH!!!! Thanks for being a great co-conspiritor, TTM! Till S9...when is S9?? I need S9 STAT!!