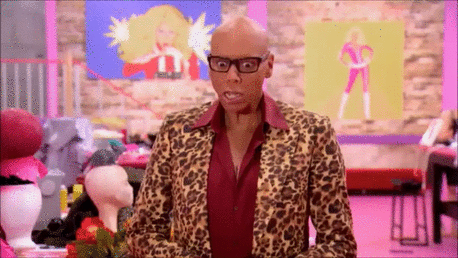 Hallayloo huntys and welcome back to RuPaul's Drag Race! I'm behind so I'm bingeing, y'all don't mind, do you? Rolling S9:E3 Dragily Ever After just past the jump!
The ladies are back in the workroom after Season 9's first elimination, bai Jaymes Mansfield! He was adorable, but somehow his lack of confidence translated to looking budget and underdeveloped.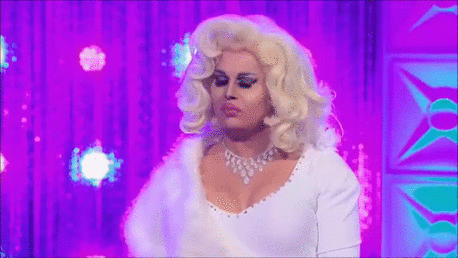 Sorry bout it.
Kimora Blac cannot BELIEVE she was in the bottom with Jaymes, which tells me everything I need to know about her. Gurl, you're lucky you and your fourth of July (totally not white) bikini didn't sashay. The HAT even!
The other girls roll their eyes and focus on the winner; go Valentina! She looked beautiful but up close I'm wondering what the hell is up with her and Aja drawing their lipstick four inches past their lipline. Peppermint throws Valentina a serious compliment; she slaaayyed! Trinity can't wait to knock her out of the top spot; she's ready to be the bride, baby. No more bridesmaid.
Cheyenne Jackson and Todrick Hall are the guest judges and I love the walkins this season!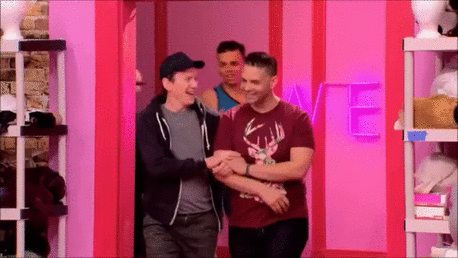 She Already Done Had Herses! It's all about the evil witch (MamaRu) and happily ever after, what's the challenge?? MamaRu is wearing a scorching leopard print suit; is everyone loving the wax Ru from Madame Tussauds?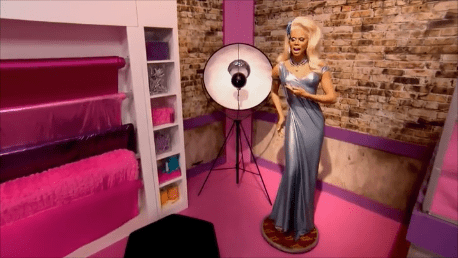 Creeeepy yet beautiful. It's princess party time! The girls will be creating a fairytale princess look, #DragPrincess AND a sassy sidekick to accompany them on the runway. Alexis Michelle figures she's got this, she likes the finer things in life!
Hey, what happened to the mini challenges??
Kimora bitch bitch bitches AGAIN about having to sew, I think her and Charlie Hides struck a deal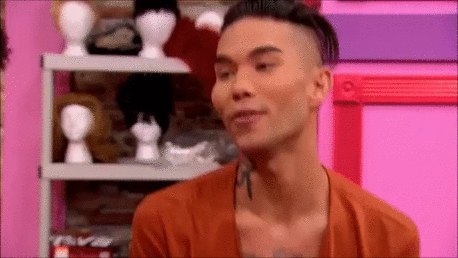 but Aja's all over this! She thinks this is her challenge to lose and it always is for the confident hennys. Now whiny Farrah Moan is in the corner making her mermaid socialite princess swears she's in trouble and my guess is that we're looking at the top and the bottom right now. Just maybe not in the order advertised.
Eureka is making a Sewer Princess with cockroaches and a rat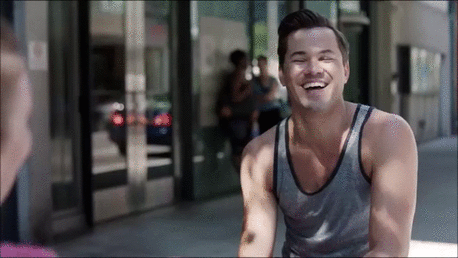 Alexis Michelle is gonna be a Subway Princess…I already forgot her.
Kimora only speaks Kardashian so she has to get English lessons from Cynthia Lee Fontaine and Aja: an adjective is a descriptor!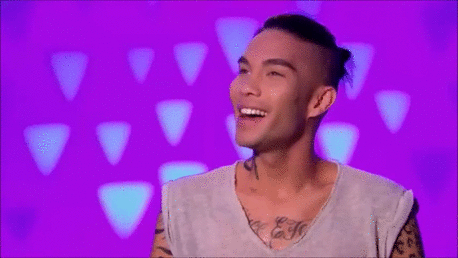 Shea Coulee, whatcha got mama?? We're not gonna find out just yet, but MamaRu is doing Rutiques, starting with Farrah Moan. Farrah's adorable but she can't sew, so.
Aja's doing Princess Disasta based on her volcanic Puerto Rican mother. Guuurl
Valentina has her face covered because she shaved her eyebrows for the first time; it's very caterpillar feet! She's doing an ice princess from planet Azuza.
Trinity Taylor and Ru have great chemistry! She's doing AquaPussy with a sassy starfish sidekick.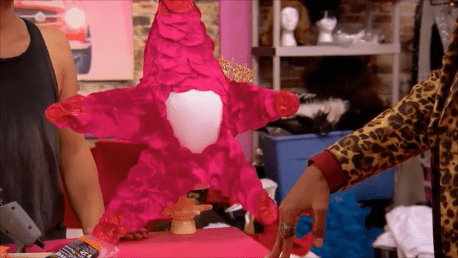 I know, why's it gotta be red? Why not chocolate?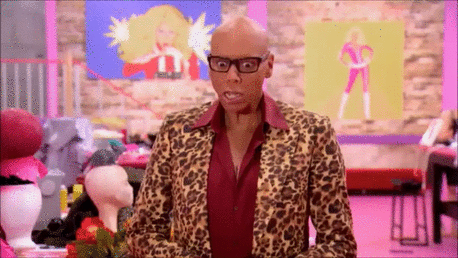 Makeup Mirror Confessions! Alexis comes right out and asks Aja if she's worried about Murica seeing her without FaceTune (vas es das? Built-in photoshop for faces?) but no, she thinks she looks exactly the same.
Gurl, please. You look creative, not flawless like online, that's okay tho. Just gotta own it. Shea's worried for the FANS
Now we get serious, with the girls asking Trinity about the Pulse Massacre, since she's from Orlando. She wasn't there, but the daughter of a friend was and everyone is listening. Cynthia has a story too, she was supposed to play there that night and lost a good friend that came to see her. Ohh Cynthia, it isn't your fault, that was an extremely fucked up young man who ruined his life and ended so many other bright lights: that's on HIM, not you.
The Pulse Massacre was a reminded that LBGTQ people are not safe, not everywhere, but they have to live, they have to not let the hatred and fear win. Group hug everyone! Bring it in.
Monsta!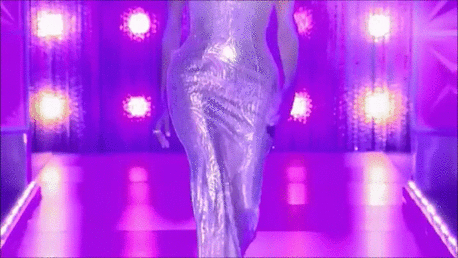 We've got Michelle Visage as always, Carson Kressly, Todrick Hall and the dishy Cheyenne Jackson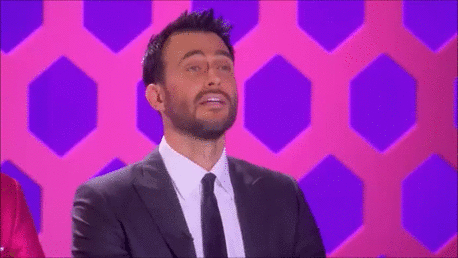 YES PEASE.
Sorry, sorry
Runway time!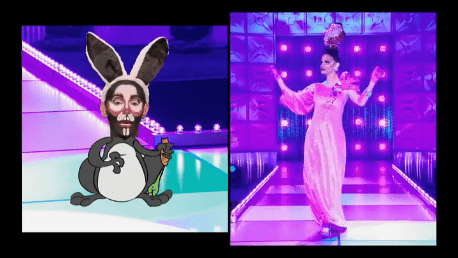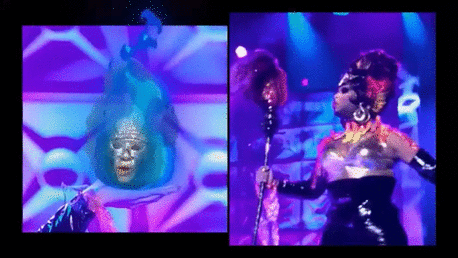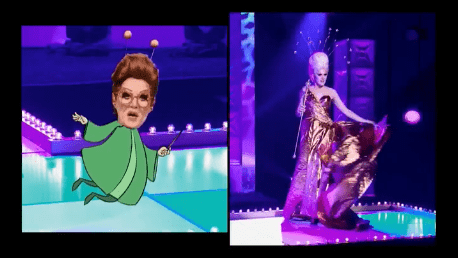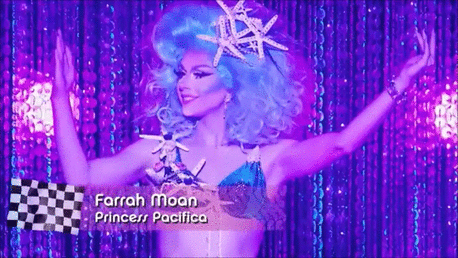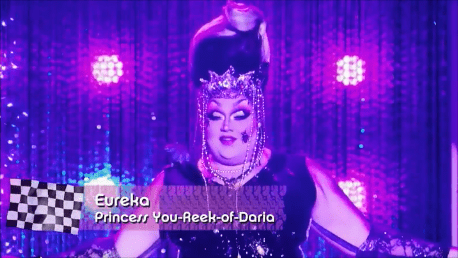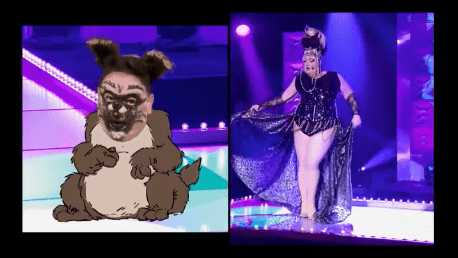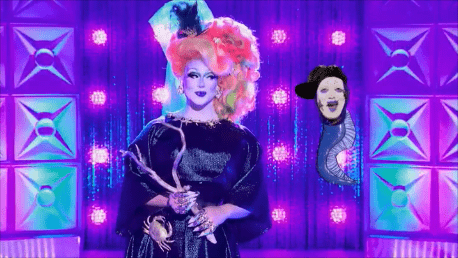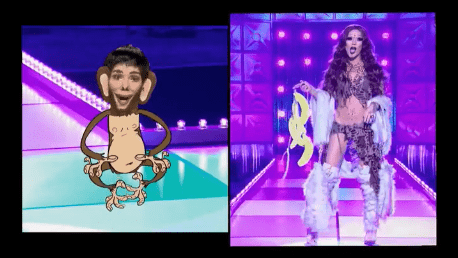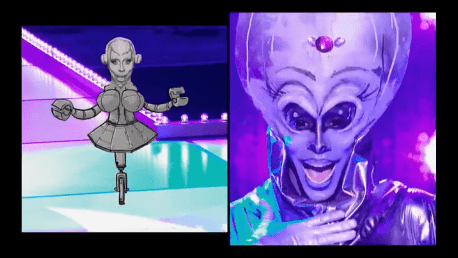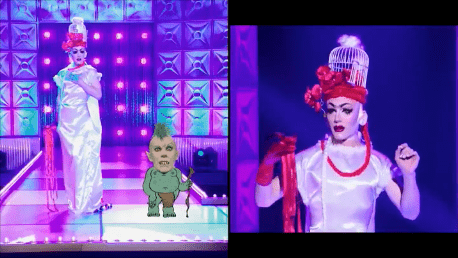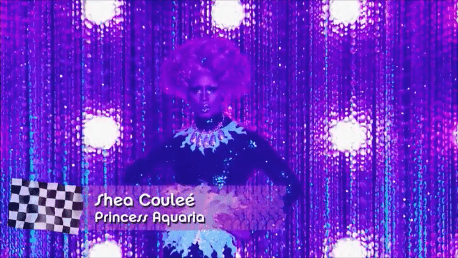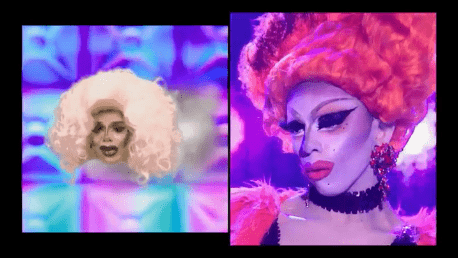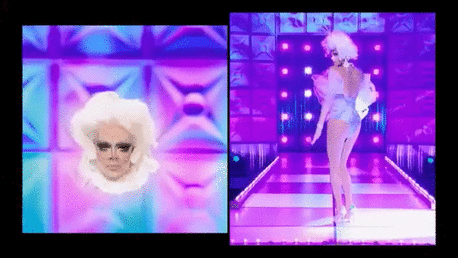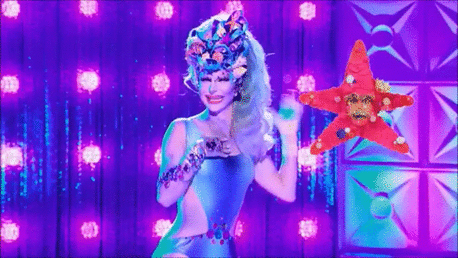 Trinity and Valentina nailed it; gotta be top two again fo sho
Critiques! Cynthia, Charlie Hides, Eureka, Alexis, Sasha, Nina and Shea are all safe, let's see what shook out this week. Farrah is sad again; she was just hoping for safe
Peppermint: they loved the fire and her sassy sidekick, which she is using as therapy to deal with childhood trauma…oka..y. I love Peppermint's look but she's fading into the background for me and I can't think why.
Farrah Moan: YOU HAVE A PIECE OF FABRIC WRAPPED AROUND YOUR WAIST
Kimora: YOU HAVE A PIECE OF FABRIC WRAPPED AROUND YOUR WAIST. She gives a moving speech about how hard it is to be out there without her hip pads, awww.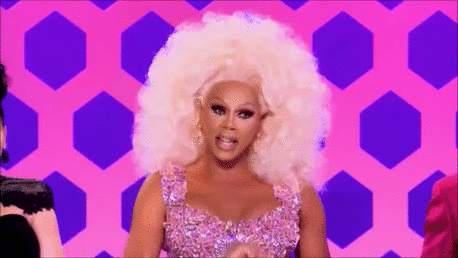 Valentina: ooooooh Cheyenne Jackson called her Linda Evangelista!! Whuuut?? And then Valentina winks back! WINKS! AT Cheyenne Jackson! I wish I had that kind of numpty around celebs, I tend to drool and try very hard to not soil myself. HAHAHAHA and Valentina says "Grathiath" hahahahaha
Aja: gets read hard for her makeup and lack of cohesive character; nobody was laughing, nobody understood banjee or anything like that at all. She almost cries, awwww
Trinity: I think she won this one; the judges laughed even harder with her than Valentina, which must be considered the bar-setter of the season.
And she did! Trinity won this week and made me a believer! Just that little bit more work edged out the incredibly beautiful Valentina and see? I can't stop talking about her even now!
Kimora and her shitty attitude are up for elimination, COURSE, I wonder if it will be Farrah or Aja with her?
Aja! Well. That surprised her, anyway but I'm pretty sure I predicted it way back in the what now. What are they lipsyncing to??
Kimora looks gorgeous but she's one of those people that are so confident that they can't fix anything wrong, you know what I mean? So it's probably got a bunch of insecurity in there, plus the fact that she clearly only shops at tragic hookah stores means that she always looks kinda…cheap.
Aja looks like a firecracker half gone off, none of that is right.
Yay it's Holding Out For A Hero from Bonnie Tyler!!!!!!! I LOVE BONNIE TYLER AND I LOVE THIS SONG!!
Aja has energy, at least, and she pulls off a jump spin bagina pound, woo hoo!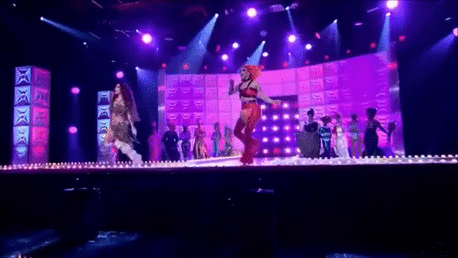 Kimora keeps messing up the words and Aja is dancing all over on top of her, upping each of her moves, yeah, we know what's gonna happen. You want to look at Aja, but then you want to look away, you know?
Kimora leaves with a "I'm pretty" and blames her exit on the monkey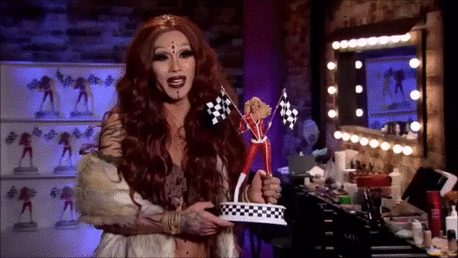 So hmmm, getting to know the girls a little better, I am respecting Eureka more than I thought I would but I feel like I don't know Alexis or Nina at ALL. I need to get into Untucked! My mother yelled at me for not keeping up with the backstage, how do you like that? Until next time kitty gurls, grathiath!