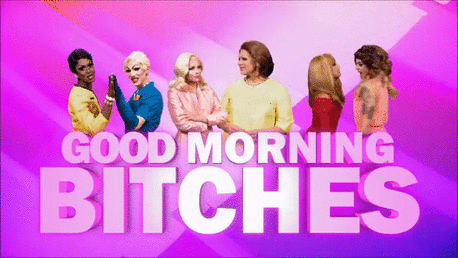 Good evening ladies and gents and welcome back to RuPaul's Drag Race, it seemed fitting to start a Best Friend's Race recap on the anniversary of the Pulse Massacre; rest in peace all you wonderful people. can't believe it's been a year already. Rolling S9:E4 Good Morning Bitches after the break
We're back in the workroom reading Kimora Blac's lipstick goodbye on the mirror; talk immediately turns to Aja and her disastrous Disastra princess concept.
Poor Aja, she looks like a troll doll caught fire and then was blown out midway, so kind of like melty polyester.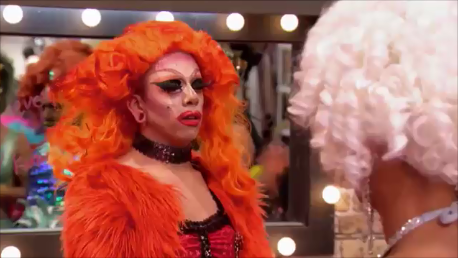 She's feeling shaken; she figured she had this and: spoiler alert: she did not have this. Get back up and keep moving, don't get in your head! You're young, you can do anything! Sasha Velour says the same thing but with much better earrings.
Shea Coulee gets the pink lemonade rolling early; how's it feel coming for Valentina and TAKING HER SPOT Trinity Taylor?? We don't getta hear because Aja's beaking off already about Valentina phoning it in during the challenge.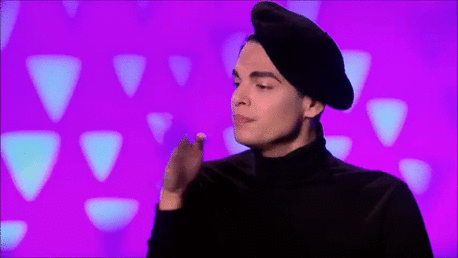 And on and ON, Aja, we get it! You think you're amazing! No, it's not fair that Valentina gets a lot of kudos for being pretty (SO PRETTY) but she gets props for her commitment, editing (ahem) and comedy work, too. She's a whole package; don't hate: appreciate. Besides, you're an artist, nobody can do what you do.Regroup!
Sometimes I get wrapped up in the show and forget how amazing these queens have to be to even get on my screen so I can underestimate them. They're the best of the best and the fact that we even getta see them is a gift. You know where I live? BumHump Nowhere, Canada: we get three drag shows a year and that's in the city. So even in Aja is struggling with her confidence, we know she's already a winner, baby.
Challenge time! We don't getta "she already done had herses" but we do get RuPaul in a flashy yellow suit, woot! The dragtestants will be competing in Morning Talk Show Wars, #MorningBitches!
Aja and Trinity are team captains, let's break it down:
Good Morning Bitches: Aja, Valentina (wut, oh wait, Aja thinks she can mimic Valentina HAHAHAHAHAHAHAHAHAHAHHAHAHAHAHAHAHAHAHAHAHAHAHAHAHAHAHAHA), Shea, Sasha, Alexis Michelle (suuuuch a pretty boy) and Farrah Moan, since they needed a fish
Not on Today: Trinity, Peppermint, Charlie Hides, Cynthia Lee Fontaine, Eureka (whom she apparently hates but wants to prove to MamaRu that she can work with anyone) and poor Nina is last picked and it looked like she felt it.
I watched UnTucked and I can seeeee how down and separate Nina B'onina Brown is from all the other queens; her drag aesthetic is amazing and I've never seen better skin, but she does not seem to be feeling it.
Trinity addresses that right away and Nina gets it; she'll try not to get in her head about the fact that she was picked last but she was totally picked last and that do get in one's head.
Peppermint thinks the biggest challenge Trinity is gonna have is handling all the big personalities…Eureka. Trinity has gotta deal with Eureka and that's gonna be tricky. Trinity shuts Eureka down right away during the planning phase; she doesn't want your suggestions, Biggie! AND RAISE YOUR HAND IF YOU WANNA SPEAK.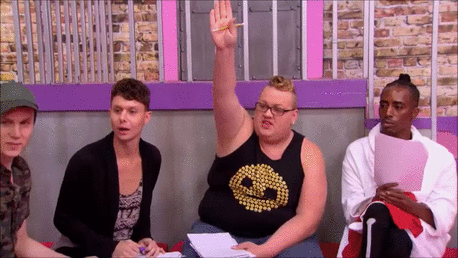 Hahahahahahahah
They break into smaller groups to workshop this shite out; fun fact: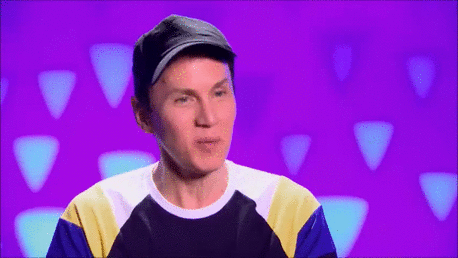 Charlie's working with Cynthia and let's just say scripted shenanigans are not our Lady Of The CuCu's forte. Messing up words are what she does, Charlie! Let her work!
Good Morning Bitches is up first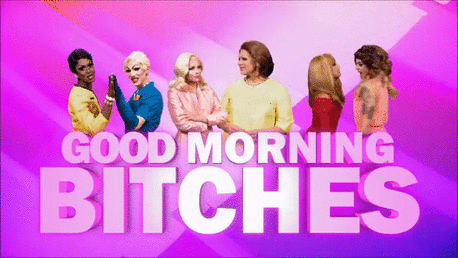 Alexis Michelle and Farrah Moan do great! Valentina and Aja…not so much. You could cut the tension between the two with a knife and it doesn't help that Aja looks like a Dollar Store version of Valentina.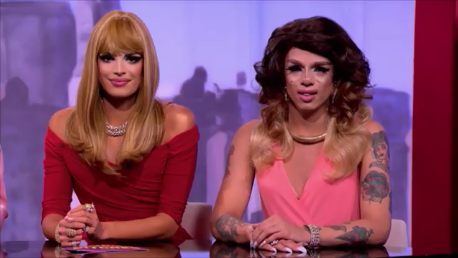 Shea and Sasha are HILARIOUS. Hahahaha I love them! I wanna put them in my pocket and Ross Mathews too!
Celebrity interview; Naya Rivera makes Alexis squeal. She just beams at Naya until they end with Naya's "Best show on television" and more squealing!
Time for Not On Today!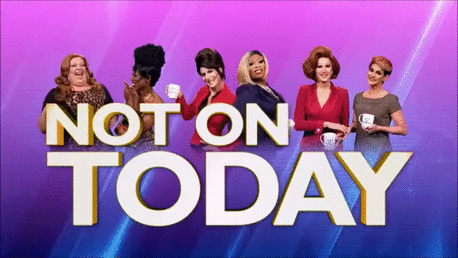 Oh. Oh it's a trainwreck except I totally do wanna look away. Peppermint keeps messing up her lines and Trinity just isn't landing anything. Cynthia is a comedy queen, the best part of the Entertainment segment but poor Charlie. I won't say anything mean because she put her hand on Cynthia's arm after for strength; it was awful.
Eureka and Nina do great in their Drag on a Dime segment, hahahah Eureka walking away after eating their demo ham butt pads.
So. We have the worst celeb interview in history (I'm including anything with Courtney Love) after with Charlie again flubbing and abruptly wrapping up the show without anyone saying goodbye.
Pretty sure we know the losing team, let's do a Naughty Nineties Runway first!
First we have a Makeup Mirror Confessional; Valentina confronts Aja nicely but straightforwardly about talking shite about her in corners; Aja needs to focus on what's SHE'S doing, not everyone else. Aja takes it in the spirit it was intended and they hug it out.
Cynthia talks about her work as a referral worker for people with HIV; she helps mostly the newly diagnosed. This triggers Charlie, who lost almost all her best friends during the 80s AIDS crisis. Sometimes marginalized people feel like there's not point in not hitting the bottle / needle; her message is "you're smart, you're beautiful and you are worth taking care of yourself." I love that the girls crowd around her to console her, you are lovely and worthy, Charlie.
Valentina says she wants to talk about a disorder she has; it get UGLY when Eureka shoots out a "eating?" because now Sasha is triggered.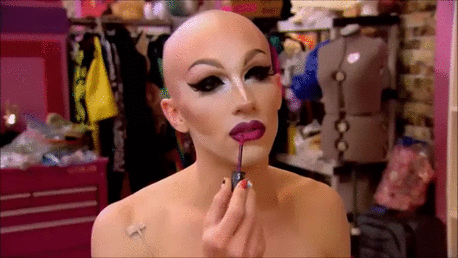 Eureka says she was just playing but…that didn't sound like a joke. Sasha has had people ask if she's anorexic, she doesn't think any of this is funny. They end on bad terms, I don't know WHAT happened there.
Runway Time! RuPaul!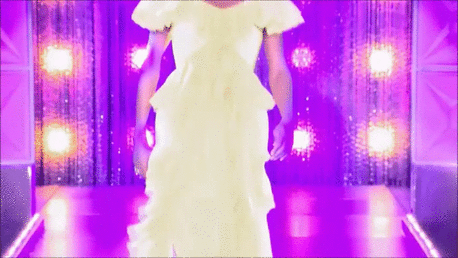 Jeffrey Bowyer-Chapman from UnREAL is there too!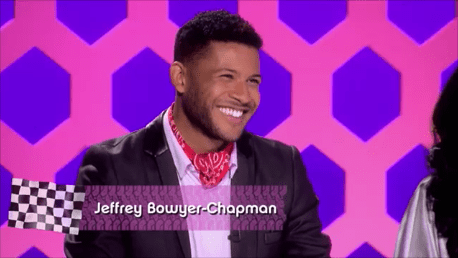 Ohhhh, I totally got that wrong, it's Naughty Nighties! I was picturing some Kurt Cobain tributes or something. This makes more sense.
Fastest runway ever! Seriously, like 30 seconds for all!
And then we race into judging, where Shea and Sasha co-win $1000 each and a year's worth of Hamburger Mary, good job Good Morning Bitches!
Now for Not on Today…
Trinity: gets read for her stiff delivery and lack of personality and lack of proper closing with Naya
Peppermint: that naughty nightie look was a Not and yeah, we know she messed up most of her lines
Charlie: now this is interesting, Michelle Visage calls her a control freak and I hadn't thought of it like that but she totally is! Naya Rivera calls her dead behind the eyes and come ON! Disrespectful.
Cynthia: whack outfit, but you're a star, baby!
Eureka: not exactly a nightie, Michelle calls her side a bunch of whores which makes Eureka laugh like she's fallen down and kudos on her chemistry with Nina. You can't buy that, Michelle knows that's why This One (pointing at MamaRu) keeps her around.
Nina: cries before she even gets her critique, gurl, stahp! They loved you and they loved your work. Ross suggests she might want a thicker skin if she wants to go any further.
And now the question that everybody hates: who should go home?
Trinity: Charlie, based on critiques
Peppermint: Charlie, based on critiques
Charlie: Peppermint, she phoning it in
Cynthia: Peppermint
Eureka: Trinity BECAUSE SHE WOULDN'T LET ME TALK WHEN I HAD MY HAND UP
Nina: Trinity BECAUSE SHE PICKED ME LAST
The judges ruminate; they all love the CuCu and Eureka and are to a one worried about Nina. She's so vulnerable and it's so close to the surface.
I love RuPaul and this show so much. I just want to be there, hanging out for a 12 hour shoot so I can see these glamazons up close and BANTER. Call me?
Trinity and Charlie are up for elimination; I'm so sorry, Charlie. This is not gonna be your night.
They're lipsynching to I Wanna Go by Britney Spears, why isn't Charlie moving? Trinity is working the whole stage, she's sending a message to the other girls about her lipsynch game but Charlie looks frozen.
Double knee drop!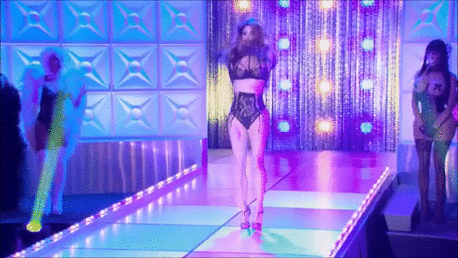 Still: Charlie hasn't moved an inch. Aja thinks she's shooing kids off her lawn but Charlie herself says she's not a lipsynch performer, she sings live. She's just waiting for the Sashay Away and in the meantime, Trinity is KILLING IT. The girls holler at Charlie to dance but nope.
Charlie takes her statuette and begs older queens to send in their application and do better than she did, please! Hey Kitty Girl plays us out until next time, huntys!