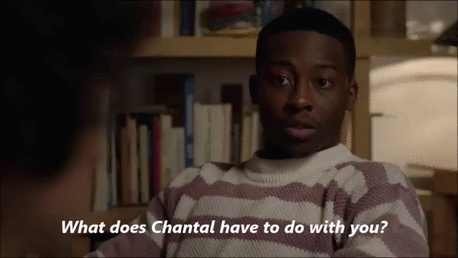 Hi guys! My awesomesauce friend Veronica and Vulture said Search Party is a Girls-like show, but BETTER, and I since I love Girls like I'm demographic-appropriate (so NTD), I had to check it oot. Rolling the first episode after the break!
We open to several people walking through the woods with flashlights calling for Chantal; they must be looking for the Chantal Witherbottom of the ubiquitous Missing posters. A young woman is drawn to a poster and stares: she's Dory (Alia Shawkat) and she's literally standing in shit.
"Don't wear them (shoes) on the train!"
We're eating later with Dory and her pals Elliot (John Early), Portia (Meredith Hagner) and boyfriend Drew (John Renyolds). For the record: Elliot and Portia come across immediately as narcissistic arseholes.
Does anyone remember Chantal Witherbottom? Noooo, then okay, yes, she sucked, she had nothing to offer. She used to brush her hair in public (?) and was just "like, around, like, jealous" of Portia for getting parts in plays.
Portia could like, almost cry when she hears about Chantal being missing! And did she sleep with that waiter back there? Elliot's too busy tweeting out his reaction instead of ACTUALLY reacting, is this what Patton Oswalt meant about clapping for laughing?
Millenials
Dory thinks Chantal had a good heart and IF SOMEONE DOESN'T GET DREW SOME MORE KETCHUP. Honestly. 8 times he brought that up! And then wanted to clean her teeth while she was still eating.
Dory's researching Chantal online, can you call self-publishing a collection of poems a life goal? Isn't self-publishing like blogging: long on werds but short on editing?
Chantal was last seen at her sister's bridal shower in New York, when Chantal was sent to pick up cupcakes and never returned. Drew's tired of her absorption, he needs to eat now.
So
Then she microwaves him food while he plays his tiny ukulele? And asks him if he thinks it's a good idea if she does the Leading Women to Lead thing. He answers in song and I kind of want to hit him over the head with his tiny ukulele.
Later, he masturbates furiously in bed while she lies right next to him, no touchy! Don't talk, don't talk, baby!
I give her one episode to break up with this giant c-word that doesn't moo.
He asks her if she's almost ready, then jams it in her for the ejaculating.
What.the.FECK?
On the subway, she sees CHANTAL written on a bag, guess who's carrying it?? No, don't guess, you'll never get it: it's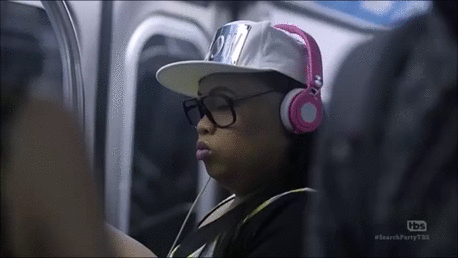 Jiggly Caliente!! Hay hunty!
From what I can tell, Dory's job is doing things that Gail (Christine Taylor) can't get anyone else to do. Like having your boyfriend treat you like a kleenex?
Party time, excellent! Dory is the only one there not deep in the fashion / art world, she's Elliot's "friend....from college! *big eyes"
Corrine (Elia Monte-Brown), the designer from Vogue asks Portia if she's okay? After the post about her friend? Drew has to help a little: Chantal, your friend Chantal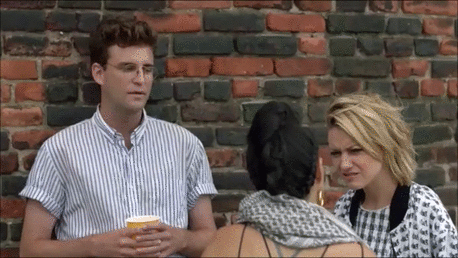 Elliot's boyfriend Marc (Jeffery Self) is not happy with Elliot flirting all and around; Elliot doesn't like labels. As far as Marc's concerned, he swallows and takes Elliot's mother to lunch, so they're a couple, damnit! If Marc feels like that, he should just go home. The juxtaposition of "But we're in love!" and "I feel like we're saying the same thing" made me laugh out loud.
Adorable Julian (Brandon Michael Hall) pops in then for a second, Dory gets weird and so does Drew from across the room. I don't care what happened in the past, Dory, but you jump on that Julian train that makes you light up and get as far away from The Ejaculator as possible.
Drew and Dory listen to their neighbours fight next door; they negotiate over when they do something about it. He's okay with her going over there to something about it if she feels like she has to.
ONE EPISODE, DORY!
Paulette Capuzzi (Judy Gold) breaks it down for Dory: there is no way she'll be Leading any Women to Lead because she's too f*cking boring.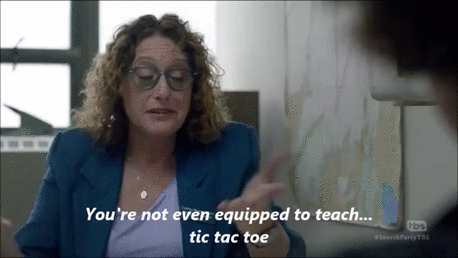 It's just not a good match, okay? Dory didn't even want to do this job, but she's feeling a little lost. Everyone can tell her what she CAN'T do, but nobody's let her know what she CAN do.
Drew tries to ply her with ice cream, what she would really like is for him to walk ten steps behind her. He suggests she think about all the things she should be grateful for.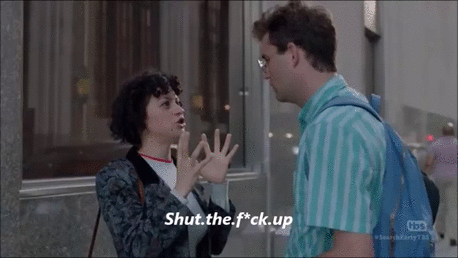 Portia's visiting her mom at work, Mariel (Christine Ebersole) doesn't give one rat's arse that Portia just landed the TV series Surviving Essex. Mariel's coworker Eric (Krister Johnson) remembers, though! Or, well, he thinks she's Portia's sister Alexa, who just got promoted to senior policy advisor.
Who calls a senior policy advisor a "superstar"?
Dory's come straight to Julian's apartment, it's not a good time. He's got company, but not like she thinks. She just wants to know what he liked about her when they were together and he lets her in. He's tutoring a kiddo named Jimmy (Michael Gregory Fung) and tell them both what's up!
See, it started with Chantal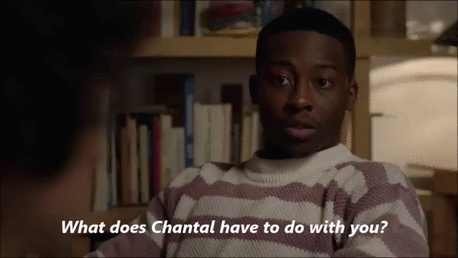 Is she doing that "victim-y thing" again? He hits her with it straight: he thinks she caring about this because she has nothing else.
She forgot that she forgot how he could be. She's leaving.
Drew can't take the screaming downstairs any more, he decides to do something, yay! Oh, not yay, April (Phoebe Tyers) doesn't want any of his "baby-c*ck b*tch" help, he and his comfortable sofa can scram.
Dory wanders the streets (in a REALLY bad interview outfit, seriously, it looks like upholstery, but not as nice) until she thinks she sees Chantal (Clare McNulty) in a restaurant as one of the searchers in the woods, Nancy (Diane Ciesla) stops for a quick pee, they've found Chantal's blouse.
Dory sees the restaurant Chantal has left a book behind, she chases after her as the young woman escapes into the night. Dory stares after her and we're out.
Well, that was a super short episode and I'm not sure what to think just yet, but I'll hit another shortly and we'll see how it shakes out. Until next time!
Join us! One of us! One of us!